It's that time again…
---
Walk Up Songs: A Far More Serious Study Than I Expected
Walk-up songs matter. They give 45,000 strangers a little window into who you are. But there might just be more to it, statistically speaking. Wanna drop bombs? Then you might want to listen to Sinatra. How about a high batting average? Electronic might be the best genre for you. Walk-up songs comes up as a topic of conversation during every baseball game I attend. Does my love of Buster Posey suffer just a little because he walks up to the god-awful "Hell On Wheels" by Brantley Gilbert? Yes. Yes, it does.
Although it's a year old, this page breaks down everything you could possibly want to know about walk up songs and the corresponding stats. Seriously, this is a comprehensive study. We're talking graphs, charts, and a tool to search every big league player's walk up song.
I've just burned 20 minutes poking around this site. The ultimate question – and we'd love to hear from you! – is what would your walk-up song be? While moods change, I think I'd go with "Showdown", by Electric Light Orchestra:
Imagine that blaring during a playoff game with the strings just sizzling on that intro while I sauntered up to the plate with a couple ducks on the pond late in the game. It's not about smacking people across the face with a heavy metal…it's about the attitude. I'd like to have the place grooving. Calm, cool. Collected. A Song with swagger. The place would lose its collective mind!
Best all-time walk-up is a no-brainer – Sergio Romo & "El Mechon," by Banda MS:
And if I were commissioner, I'd hand out the 1-2-3 Sports! Playlist at the rookie symposium, because a good portion of the player song selections are not so good.   – PAL
Source: "MLB Walk-Up Songs", Fanatics (no date given)
TOB: I can't get over how thorough this is. Or how out of touch I am. For example, WTF is Jason Aldean? I also can't get over the author saying that Major League gets lost in the pantheon of great baseball movies. As Phil would say: What the what!? That movie is great and everybody knows that. As for our own walk-up songs, Showdown is a good one. Nice call, Phil. I think I'd be the type to change it up often, perhaps even multiple songs per day. Like, for the first game of a road trip? Willie Nelson's On the Road Again. Coming up with runners in scoring position? Maybe Run to Your Mama by Goat (big ups to the 1-2-3 playlist!) or Refused's New Noise. Stuck in a slump? Lil Troy's Wanna Be a Baller. And as Phil says, the best ever is Romo with El Mechon. I'd throw that in there when I'm leading off the 9th down a couple runs.
---
Scientists to Olympic Marathon Swimmers: Close Your Mouths
Ugh, gross. Remember a few weeks back when I expressed a boy-who-cried-wolf feeling about the Rio Olympics? About that:
"Foreign athletes will literally be swimming in human crap, and they risk getting sick from all those microorganisms," said Dr. Daniel Becker, a local pediatrician who works in poor neighborhoods. "It's sad but also worrisome."
Turns out, with the games right around the corner, the waters are worse than expected, filled with rotaviruses that cause diarrhea and vomiting and drug-resistant "superbacteria" that can be fatal. So keep your mouth shut when you swim, ladies and gents. The oceans are no better, with disease causing viruses at 1.7 million times the level of what would be considered hazardous on a Southern California beach. IOC and city officials tried to minimize that risk by noting that athletes competing in sailing and windsurfing events have "minimal" contact with water. I guess they've never watched windsurfers, who falls into the water plenty. And as a Dutch sailor said, "We just have to keep our mouths closed when the water sprays up." Ew. -TOB
Source: "Aquatic Olympians Face a Toxic Stew in Rio", Andrew Jacobs, New York Times (07/26/2016)
PAL: I tried to tell you, but you just wouldn't listen, would you? Seriously, tell me one thing more frightening than whatever image you conjure up when you hear the word "superbacteria".
---
Finally, All Those Whiffle Ball Games Pay Off!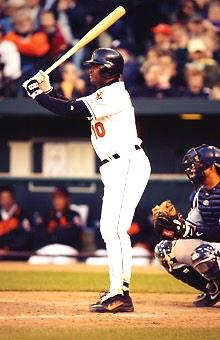 When playing the 20th whiffle ball game in a day as a kid, you go to a different place. Specifically, you start emulating big league batting stances . About 12 people in the world find this interesting, or are there more of us? The New Yorker would suggest I'm not alone. Here's a fun quiz. I expect no less than 5 out 6 correct answers from baseball fans. I'll give you a hint: One of the stances comes from a player with almost as many stances as games played. I registered 6 correct answers for the 6 questions. TOB may have passed the Bar, but his 4 out of 6 barely registers over 65%. I'm not upset. I'm just disappointed.
It's a slow sports week, folks. Just saying.  – PAL
Source: "Quiz: Name That Batting Stance", Zach Schonbrun, The New York Times (7/21/16)
TOB: In my defense, I don't remember ever seeing one of those guys play, and as Phil said: another changed his stance so many times, it's impossible to remember. And in conclusion, may I please remind you it does not say R.S.V.P. on the Statue of Liberty!
---
VIDEO OF THE WEEK
Baseball Players Are Dumb, Fun
Baseball players have a lot of time on their hands, and as with any cross-section of life, it seems there are a lot of dumb ones. Hence, the Detroit Tigers killing time by playing Rock-Paper-Scissors, best two out of three, with the winner getting to bonk the loser on the head with an empty water cooler bottle:
God damn, I wish I played professional baseball. -TOB
Source: "Don't Play Rock-Paper-Scissors With the Tigers", Hannah Keyser, Deadspin (07/27/2016)
---
PAL Song of the Week: Oh Pep! – "Doctor Doctor"
Check out "Doctor Doctor", and all of our weekly picks below (youtube & sp:
---
Like what you've read? Let us know by following this blog (on the right side, up near the top), or:
Email: 123sportslist@gmail.com