---
After the Gold Rush: Charlie Weis
Now that we're a week or two into the college football season (depending if you're counting the Cal-Hawaii game in Australia), you can expect two stories:
Boosters at a big time program calling for the head of the head coach (Les Miles seems like the likeliest candidate after LSU lost to Julia Pflepsen's Badgers)

The next program renovator extraordinaire is identified. The hot stock destined to take the best available job (University of Houston's Tom Herman's stock is at an all-time high after a 13-1 2015 season, followed by a beat down of Oklahoma in the 2016 opener.)
These two stories intersect, but the more interesting story just might be what happens after a one-time savior is pushed out. Remember Charlie Weis?
Offensive Coordinator for the Patriots when they won 3 out of 4 Super Bowls. The chunky giant took the reins of his Alma Mater Notre Dame. He would restore the Golden Domers back to a powerhouse, and do so with the perfect crew cut to boot. It was perfect. Until the wins stopped piling up.
Tommy Tomlinson's "where is he now" profile of Weis is by no means a "good guy, bad luck" story. Far from it, and it captures just what the hell happens to these guys after the the door hit them where the good lord split them. Some of the more interesting moments:
Sitting at home, Weis made $2.5 million from Kansas and $2.1 million from Notre Dame last year, which made him in effect the eighth-highest-paid coach in college football.

Weis and Jon Bon Jovi are friends, and text each other Bon Jovi lyrics. Read that again, folks.

According to Weis, as Notre Dame wouldn't comment on the following: Charlie Jr. was on track to enroll at Notre Dame. Weis says Jenkins himself had promised that he would be accepted, as long as his grades and test scores qualified, which they did. But after Weis was fired, Notre Dame sent a letter deferring Charlie Jr.'s acceptance. Not long after that, Weis says, he got a call from someone in Notre Dame's development office making him an offer: If he'd donate some of the money Notre Dame owed him back to the school — "seven figures," Weis says — Charlie Jr. could get in.
All in all, this was a pretty interesting look behind the curtain after the failure settles. – PAL
Source: "The Lexicon of Charlie Weis", Tommy Tomlinson, ESPN (08/24/2016)
TOB: A few things to note. The wins never really piled up for Weis. When Weis was hired, he promised that Notre Dame would win because they "would have a decided schematic advantage". Translation: I'm smart and everyone else is dumb. He got an insane extension in the middle of his first season, even though his team was just 5-2, based on a close loss at home to #1 USC. That extension was for TEN years and FORTY MILLION DOLLARS. Weis was once quoted as saying ND would never lose to Michigan State under his watch. He went 2-3. When he moved on to Kansas, he went 1-18 in the Big-12. That's not a typo. 1-18.
One last thing: the anecdote was about him texting Bon Jovi is only the second most fascinating Bon Jovi mention in this blog's history. You're welcome.
---
Nothing More to Say: Giants Slump
The Giants are struggling at a bad time, folks. Their atrocious second half has the team with the best record at the All-Star break now 5 friggin' games back of the Dodgers in the west. Can't hit. Bullpen can't do anything but give up hits. Downright tough to watch right now, so it's understandable the beat writers are having a tough time with it, too.
Longtime Giants beat writer Andrew Baggarly shared the lineup in his post the other day, then followed up with this:
"That's it, really. Not much more to say. But the SEO wizards tell us that Google likes articles that are more than 41 words. So here's a little more[…]"
Dog days, indeed, Bags. Let's look on the bright side: Giants still have a .5 game lead in the Wild Card. There's still time, right? Right! I mean, they have the starting pitching for a post-season run, a couple bats can get hot here in the stretch run (I'm looking at you, Belt), and maybe the bullpen…actually the bullpen is just terrible. But, hey, we can never forget what Hova has taught us:
We're getting to the best sports time of the year – baseball playoff runs – and it would be more fun if the Giants stuck around for it. – PAL
Source: "Giants Beat Writer Files World's Best, Laziest Column Amid Team's Massive Slump", Patrick Redford, Deadspin (09/07/2016)
TOB: Ugh. This is an even year, damnit. What the god damn hell.
---
Your Weekly Reminder the NFL Sucks
I can't help myself and I still watch this evil league and this dangerous sport. I commend you if you are able to tune out. Alas. I watched the NFL's season opening game on Thursday night. If you stuck around for the end, it was a heck of a game that ended on a missed game winning field goal by Carolina's (and my fantasy team's) kicker, Graham Gano. But here's what I want to point out. On the final drive, Carolina was around midfield with under a minute left. Cam Newton was flushed from the pocket, facing heavy pressure. He was being tackled and threw the ball away, and just after he did so his head got destroyed by the crown of the helmet of a Broncos defender: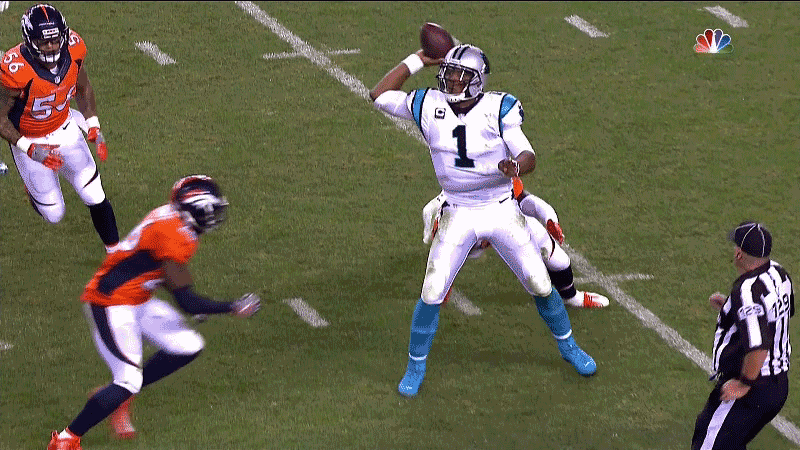 What was the result of this dangerous and intentional play? Thanks for asking. The result was a replay of the down. Why? Because while the Bronco defender was flagged for roughing the passer, Newton was also flagged for intentional grounding because the pass did not make it to the line of scrimmage and HOLY HELL that is the stupidest thing I've ever heard. One penalty is much worse and should take precedent. But in the NFL's wisdom, they offset and it's like the down never happened. Meanwhile, Cam Newton stayed in the game, likely concussed, and apparently couldn't remember the end of the game. Great job, NFL. -TOB
Source: "Cam Newton's Brain Scrambled; Is Left in Game", Timothy Burke, Deadspin (09/08/2016)
---
Your Weekly Reminder that the NCAA Sucks
Not to be outdone, the NCAA suspended approximately FORTY Charleston Southern players, including the entire offensive line, from this weekend's game against FSU. FORTY? Yup. The players' crime? You see, players are given a stipend to buy text books and the players who had leftover money used it to buy supplies from the campus bookstore…notebooks, pens, etc. Those awful kids, trying to put the "student" in "student-athlete". Ugh. What an insanely dumb decision. They might as well forfeit the game, but of course they're likely getting a big payday for making the trip. They being the school, of course, not the players. Ha! Like the players should be paid for making millions for others. What a foolish idea. -TOB
Source: "Dozens of Charleston Players Apparently Suspended Over Bizarre Bookstore Violation", Patrick Redford, Deadspin (09/09/2016)
PAL: You got it wrong, TOB. These mastermind students were about to pull off the perfect crime. Almost got away with it, too. You see, they were utilizing the remaining amount on their stipend to buy extra stuff from the Charleston Southern bookstore (I'm told it's the Ferrari of college bookstores), to then turn around and sell online at a markup, obviously due to their celebrity (I mean, who doesn't want a trapper keeper owned by an offensive lineman at Charleston Southern?). And who knows what these Charleston Southern jocks would've done with the money. If I know one thing, it's that a Charleston Southern football player can do whatever he wants and get away with it. I'm just thankful the NCAA was able to nip this gross misconduct in the bud before someone got hurt. The players at big time college football programs like Charleston Southern are out of control.
---
Video of the Week: 
PAL Song of the Week: Van Morrison – Madame George (The Complete Bang Sessions version)
---
Also, TOB and Mrs. TOB just welcomed their second little dude to the family. It's about to get real in the O'Brien house. Congrats! That's the good stuff.
Like what you've read? Let us know by following this blog (on the right side, up near the top), or:
Email: 123sportslist@gmail.com