There's another team that hasn't won in a really long time…and they went 7-1 against the Red Sox and Blue Jays. Watch out, National League. 
---
Don't Sweat the Technique (?)
Draymond Green is very good at basketball, but more importantly his skill set of defense, rebounding, passing, scoring, and general "eff you" brashness is absolutely necessary on a Warriors team with 3 of the top 12 NBA scorers (2015-16 PPG) in the starting lineup. He's a "heart and soul" guy, but not in the Rudy sort of way. He's one of the best all around players in the league. He gives a team of finesse players a nasty streak. Whether or not you like it, this is a good thing.
Take this quote from a team official: "The guys might be frustrated by his antics, but they had an opportunity to prove themselves without him in Game 5 [of the NBA Finals] and they played like a bunch of [cowards]."
Draymond is also an a-hole, and he doesn't seem to know how to shut that part of himself down after the final horn sounds.
ESPN's Ethan Strauss positions it as a pattern. We know of the Finals suspension, and we know of the lewd photograph, and we know of the arrest for smacking a lippy fan in East Lansing. To be honest, on their own, none of these incidents seem too alarming to me. Put them together, add an organizational divide and some legit run-ins with coach Steve Kerr, and there's some definite meat to this story. Long story to be sure, but it gets us behind the scenes of a historically loaded team and the player who might very well dictate whether or not the Warriors realize its potential by joining the Mount Rushmore of all-time great NBA teams -PAL
Source: "Golden State's Draymond Green problem", Ethan Sherwood Strauss, ESPN (10/19/16)
TOB: Lots of great, behind-the-scenes stuff here (for example, it sure sounds like the Lakers will be disappointed with Head Coach Luke Walton). I love Draymond – he's a character on a team of guys who are pretty vanilla. He's a guy you don't want to battle against, and you absolutely want to go to battle with. He took a lot of heat for his Finals suspension, but as Mo Speights says in the article:
"If somebody put they balls on your head, what are you supposed to do?"
The man has a point. But do you know what REALLY caught my eye in this article? This passage:
IT'S FEB. 27 in Oklahoma City, during halftime of a nationally televised game, and Green is losing his holy mind. Inside the visitors locker room, he's hollering "I am not a robot!" at Kerr. When Kerr tells him to sit down, Green screams, "Motherf—er, come sit me down!" When he goes after Kerr, his teammates, including Curry and Thompson, step in to stave off disaster
Minutes later, in her report following halftime, ESPN sideline reporter Lisa Salters will recite a portion of Green's explosion: "I am not a robot! I know I can play! You have me messed up right now! If you don't want me to shoot, I won't shoot the rest of the game!"
"I'm standing outside the locker room with the Oklahoma City police, which are always stationed outside of every locker room," Salters will later recall. "They kind of moved me aside, and the officer just kind of stood by the door, with his hand on his weapon like he was trying to determine what he should do. It was clear that something bad was about to happen in this locker room. We've never heard anything like this before."
Phil and I try pretty hard to avoid cursing on this blog, but when I read that I said, "MOTHERFUCKER." THIS is what is wrong with police training in this country. Hey, officer, why is your hand on your gun? Even if you make the inappropriate decision to enter the locker room, WHY IS YOUR HAND ON YOUR GUN??? It's not necessary. Your weapon should only be used to protect your life or the life of another. I don't care what was being said in there, I promise no one's life was in danger. This makes me so furious. Now that this article has been published and this incident is public, the Oklahoma City Police Department should investigate and suspend that guy. Maybe get him a psych eval to see if he's fit to be an officer. An officer who even considers drawing his weapon in such a scenario is a ticking time bomb.
---
Kaminsky Keeping It Real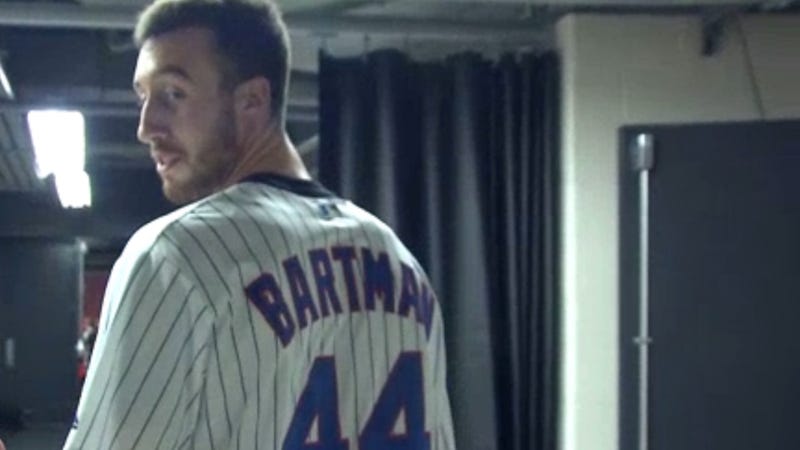 Frank Kaminsky was an excellent college basketball player and is now an average NBA player at best (7.4 PPG, 4 RPG), but that is not the point. Frank is a White Sox fan, and as everyone is climbing over each other to root for the goddamn lovable Cubbies to finally break through to win a World Series for the first time since 1908 (and appear in a World Series since '45), Frank is no sheep.
Dude wore a Steve Bartman Cubs jersey the other night in Chicago. I hate the White Sox, but I respect the hell out of Frank Kaminsky. Gold star to you, sir. – PAL
Source: "White Sox Fan Frank Kaminsky Owns The Cubs", Patrick Redford, Deadspin (10/17/16)
TOB: I wish he was on the Bulls. Between the Cubs and the White Sox, the Cubs are so far and away the favorite team in Chicago.  It would be interesting to see how Bulls fans would react at the first game of the year if a Bulls player had done this. Oh well. Still funny.
---
5-Year Old Misses Game, Calls Team to Apologize
God, this is too funny. That is 5-year old Louis Kayes, a fan of Celtic FC in Glasgow, Scotland. Louis' parents got him season tickets to see Celtic this year, but Louis missed last Saturday's game because he went to a birthday party. The party was "good", but Louis felt guilty for missing his favorite team, so he called up the club and asked to speak to the manager and his favorite player in order to apologize. As his mother said:
"He wanted to let both of them know he'd missed it in case they were looking for him."
Damn, that's adorable. Louis promised he would be at this Wednesday's game, and his mom doesn't think he'll be missing any more any time soon.
Source: "Celtic Fan, 5, Apologises to Club After Missing Match", BBC News (10/19/2016)
---
Video of the Week: 
---
Song of the Week: Curtis Mayfield – "Pusherman"
---
Like what you've read? Let us know by following this blog (on the right side, up near the top), or:
Email: 123sportslist@gmail.com