A historic matchup indeed. 
---
The Tragedy of Jennifer Frey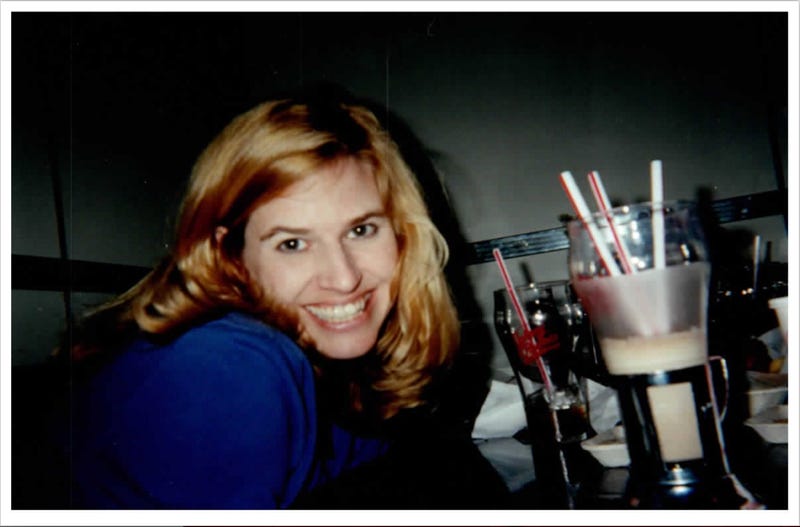 Jennifer Frey was, by all accounts, a prodigious sportswriter. Multiple people in the newspaper industry went as far as to characterize her as a genius.
Jennifer Frey was also an addict. On March 26, 2016 Frey died of multiple organ failure. She was 47.
You likely haven't heard of her. I hadn't until Thursday. But to many involved in college and professional sports in the 90s, Frey was known as the most talented of writers and a joyful force of nature. She was the rising star.
You might be asking yourself why Dave McKenna's exceptionally written profile/remembrance was posted on October 27 when she died back in March. I think you'll find your answer if you read this story (I urge you to do so). McKenna retracks Frey's career – from her first high school internship at the Olean Times, to the New York Times (at age 24), to the Washington Post in its heyday of sportswriting (Kornheiser, Wilbon, John Feinstein), and ultimately to her unremarkable last byline. He speaks with several writers, editors, and friends from every chapter of her life.
The story is heartbreaking because McKenna takes his time capturing just how incandescent Frey was before alcoholism pinned her down. And while she was the 'life of the party', she was also revered as a gracious friend and co-worker, as someone crisscrossing the globe not only for the next great story but also for a spontaneous trip when she learned her friend had been to every state but Alaska. Yes, she was passionate about her job, but McKenna finds the real point that matters: Frey was passionate about life!
This snapshot, which serves as a sort of bookend to the story, captured her success, ambition, and appreciation (remember, Frey's 24 at the time, working for The New York Times):
Mike Wise says Frey, new as she was to New York, acted like she owned the city. He recalls sitting with Frey in her apartment in Brooklyn Heights after she'd thrown a party, and just being really happy. "We're looking out the window at the Statue of Liberty, just this amazing view," says Wise. "And Jennifer said, 'It's a pretty good life isn't it?' It was."
Frey's downfall is terrible – in all the ways you would expect, and in some ways that you might not. The star fades. She mistreats people she loved. The people who loved her run out of stamina. They reconnect when hope is gone but she's still there. The blame and anger so insignificant in the wake of a sorrow that trails the rarest of people whose greatness was enthusiastic.
You gotta read this story. -PAL
Source: "The Writer Who Was Too Strong To Live", Dave McKenna, Deadspin (10/27/16)
TOB: Phil did a really nice job capturing what made this story so great. As with Phil, I had never heard of Jennifer Frey, but damn if it doesn't now feel like I did. Great writing by McKenna. And if you think you might need help, ask, before it's too late.
---
Andrew Miller Was A Bust
Perhaps the biggest difference maker in the World Series wasn't built for this. Cleveland's reliever extraordinaire Andrew Miller was the 6th pick in the 2006 draft. He was on the big league roster 90 days after that, and he was, as writer Howard Bryant puts it, "[T]he new prototype emerging in baseball: the basketball-sized power arm." He was a starter through and through.
So what happened in the years that followed? Why did Miller go from first round draft pick to trade bait to, as Miller himself puts it, "the worst player on my Double-A team" in 2010? Miller sums it up best:
"It just isn't easy. I think we get sidetracked when you see the players who are the superstars, the Kris Bryants of the world, the Francisco Lindors, the guys who are young and having success and don't look like they're ever going to look back. I think that's not normal. Everybody else has to go through a grind, through the ups and downs. Those guys have slumps that last a week. I've had slumps that lasted years."
Spoiler alert: Miller's broken out of his slump, and he just might be the key to a second Cleveland championship in 2016. – PAL
Source: "How Andrew Miller became the most important reliever in baseball", Howard Bryant, ESPN (10/28/16)
---
A History of Badass Women in Sports
Without recognition, "women lose their history," Ms. Guthrie, the racer, said. "They do these extraordinary things, and then they are forgotten and denied ever to have existed, so women keep on reinventing the wheel."
I could try to write a better lead, but former race car driver Janet Guthrie nails it right there, doesn't she? It should go without saying that women athletes are critical to the history of athletics, and I'm sure it comes as no surprise that they are underrepresented in said history, which is why this review of Molly Shiot's new photo-essay book caught my eye.
The women, photographs, and stories featured are more than compelling, but even the inception of the book speaks volumes as well.
Shiot, an established director whose work includes a 30 for 30 documentary about the Boston Bruins enforcer John Wensink, pitched several concepts featuring female athletes. They were all given the thumbs down. Frustrated, she started an Instagram account featuring photos of badass women in sports. However, when she looked to dig deeper for researching her book, she found limited resources:
Ms. Schiot discovered her story in a public library, where she started her research for "Game Changers." "I would pull these books out that were like, 'She's Got Balls,' or 'She's Going to Knock You Out' — they were so funny but so offensive," she said. Eventually she found the LA84 Foundation, which houses a sports archive, and womenSports, a magazine published by Billie Jean King in the 1970s, which chronicled some of the people in "Game Changers."
Two quick observations:
What the hell is Billie Jean King doing publishing a women's sports magazine in the 70s?

Reason number 1 million proving King is a kick-ass pioneer and national treasure.
While you and I may check in on women's athletics when the Olympics roll around, and while you and I aren't exactly rushing home to watch the WNBA playoffs, this matters. It matters on a generational level, and it matters on a human level – far more than how many championships LeBron James wins.
Also, the photos are just awesome. – PAL
Source: "Too Good to be Ignored", Melena Ryzik, The New York Times (10/24/16)
TOB: The photos are indeed bad ass. In my opinion, Title IX is not perfect, but then I read something like this:
Before Title IX, "girls were encouraged to have pompoms and be cheerleaders for their brothers' baseball or football teams," said Lynn Hill, a pioneering rock climber. "Now it's so different that it's hard to imagine."
In the 1970-71 school year, fewer than 300,000 girls participated in varsity sports, Dr. Snyder said. In 2013-14, more than 3.25 million did — a record, and an increase for the 25th consecutive year.
It really is hard to imagine, and then you see those numbers – and it's incredible. The U.S. population has increased about 50% since 1971, but the participation of female varsity athletes has increased 1,000%. That is quite the legacy.
---
Why Hard and Fast Rules on Domestic Violence Make (Some) Situations Worse
The NFL headlines have been dominated this week by the news about Giants kicker Josh Brown's repeated physical and psychological abuse of his wife, Molly. The allegations are awful. But I implore you to read this story by Diana Moskovitz about how "zero tolerance" policies on domestic violence (not just in the NFL), make things so much worse for victims of domestic violence, including increasing the risk they will be killed by their partners. The problems stems from the fact that, like Molly Brown, many victims of domestic violence are financially dependent on their abusive partners. If they know their abuser will be fired, victims are less likely to report domestic violence, and thus continue to suffe. It's a complicated situation that requires far more nuance than any one-size-fits-all, zero-tolerance policy can possibly offer. Good luck getting Roger Goodell to show any nuance. -TOB
Source: "Zero Tolerance for Domestic Violence Will Only Make It Worse", Diana Moskovitz, Deadspin (10/24/2016)
---
Video of the Week: 
Song of the Week: Wilco – "California Stars"
---
Like what you've read? Let us know by following this blog (on the right side, up near the top), or:
Email: 123sportslist@gmail.com