---
See My Loafers? Golden Gophers.
This story came out of nowhere today, but it's fascinating. The Minnesota Golden Gophers football team was pretty darn good this year. They went 8-4, and were a few plays away from playing for the Big Ten title. Their season earned them a trip to the Holiday Bowl in San Diego, which sounds mighty nice during the dead of a Minnesota winter (or so I imagine). But trouble has been quietly brewing in the Twin Cities, and it boiled over today.
Back in September, a woman accused a number of Gopher football players of gang rape. Many of the players were suspended, but ultimately prosecutors declined to press charges, and there's mention in the story of a video that reportedly shows the woman "lucid…and fully conscious". Despite no charges being filed, the woman asked for and received a restraining order against six of the players, and the order required them to stay away from Minnesota's football stadium – as a result, those six players missed a number of home games, but did play away games.
Further, a number of the players were suspended pending the criminal investigation. Following the criminal investigation, the players were allowed to play, but this week the university's office for Equal Opportunity and Affirmative Action concluded its own investigation and recommended penalties for ten players – ranging from probation to a one-year school suspension to expulsion. My guess, based on the grant of the restraining order and these severe punishments is there was some harassment after the woman went to the police.
As a result, the school decided to suspend all ten players from the Holiday Bowl, set to take place, in eleven days, on December 27. In response, the players threw down the gauntlet. The entire team is boycotting all football activities until the suspended players are reinstated, including the game. As far as I know, no college football team has boycotted any game, let alone a bowl game, ever.
Consider the money at stake. The two teams and its fans have bought flights and hotels, and purchased game tickets. Each team is supposed to receive around $3 million. Commercial slots during the game have been sold. I could go on and on. This is kind of an amazing story, and I for one, will be getting my popcorn ready.
I have advocated in this space in the past for college football players to boycott games until they are paid. This was not exactly what I had in mind, especially if the players did harass the woman, as I suspect. Still, I am very interested to see how it plays out, and perhaps it will inspire players across the country to utilize a boycott for other reasons. For example, the fact their coaches get paid millions (Oregon reportedly just hired away Colorado's DEFENSIVE COORDINATOR FOR 1.5 MILLION DOLLARS), while they scrap to pay the full cost of attending school.
On a side note, if Minnesota doesn't play, I believe Cal is first or second in line to be placed in a bowl game and…wait, we already played Washington State and they handed us our ass. Hard pass. -TOB
Source: "Minnesota Football Players Say They'll Boycott Bowl Game in Protest of Mass Suspensions", Patrick Redford, Deadspin (12/15/2016)
PAL: Definitely an interesting development, and – unlike the following college football "scandal" story, this one is very serious at its core. TOB – can you expand a bit on how you're connecting boycotting a game over payment for athletes and boycotting a game until due process is followed? I assume you're speaking to utilizing a boycott as a way to protest unfair treatment of any kind, but I'm interested in hearing a bit more from your perspective, and it seems like your write-up ends on the paying college football players.
TOB: Right. I'm saying college football players don't seem to understand the power they have if they act en masse, until now. They are the workers upon which a billion dollar machine is built. If they stop working, that billion dollar machine comes to a screeching halt. In this instance, a woman may or may not have been raped – the fact charges were not pressed is not a determination the players were innocent, it is determination there is not enough evidence to prosecute. They may well be innocent; they may well be guilty. We just don't know. However, as I said, the fact a judge granted a restraining order and the school has recommended punishment up to and including expulsion suggests to me they are at least guilty of something – and based on history, my guess is the players harassed the woman following her report to the police.
PAL: I sincerely, sincerely hope that these players know with 100% certainty all of the fact and undersatnd what they are doing in boycotting under these circumstances. This is obviously a very serious matter, and one that has lifelong impact for all involved – the accuser, the players, the athletic director, the coach (who tweeted out that he's "Never been more proud of our kids"). At best, those showing public support of the players are standing up for young men who took part in a consensual gang bang and then possibly harassed the accuser after she filed charges.
---
Bieber > Cake Eater
Justin Bieber is from Canada. Justin Bieber plays in a L.A. men's league. Justin Bieber wears the jersey of L.A. Kings captain Dustin Brown during his men's league game. Oofta.
Based on the 5 seconds of actual in-game action on this video, I can tell you this men's league is not very good. I can also tell you there are some real cake eaters out there on the ice (some of which might be "Belieber" cake eaters…we just don't know). You know how I feel about cake eaters, Belieber cake eaters or otherwise.
A closer examination:
It's hard to see from the image, but the "backchecker" that ends up snapping Bieber's stick brings his stick over his head and comes down in a chopping motion:
After considering the evidence, the environment, Bieber is right to be pissed off here. The defender could've just as easily tipped away the pass, but he wanted to be the tough guy. While the defender has a decent bar story for the rest of his life, it's still a cake eater move, man. And while Bieber is a cake eater, too, he's not the biggest cake eater on the ice for this pathetic men's league game. – PAL
Source: "Justin Bieber Has Hockey Stick Broken, Tries To Start Shit", Giri Nathan, Deadspin (12/13/16)
TOB: Whoa whoa whoa WHOA. Justin Bieber, at his core, is the ULTIMATE cake-eater. If they re-cast the Mighty Ducks, Justin Bieber would be on the Hawks, and he'd be cackling after he jabbed his stick at your b-hole. You can't out cake-eat that guy. You get on the ice with the ultimate cake-eater, you take your shot! I applaud this guy.
---
Craig Sager: Dead at 65
Craig Sager fought cancer with everything he had. On Thursday he died at the age of 65. Here is a portion of a write-up we did and a link to Barry Petchesky's beautifully written piece on Sager in what would become his final months. Sager was an inspiration, and Petchesky captures Sager's courage, that is to say his humor, persistence, and optimism.  Petchesky doesn't shy away from the truth either, and writes without sentimentality about the absolute gut punch it is to see someone fight so hard long after the battle was decided. – PAL
Originally posted on September 2, 2016:
Be More Like Craig Sager
You've likely been brought up to speed that veteran NBA sideline reporter Craig Sager (yes, the one who wears the wacky suits) has been in a hellacious cancer battle since 2014. This week he underwent a rare third bone marrow transplant. Add to that countless rounds of chemo, and, well, it the odds are not in his favor. In his words, "I like to bet on horses, I like to bet on dogs. I've bet on a lot of things with a lot higher odds than this."
But, damn, this guy continues to battle, round after round. He's trying everything, and he's sums up why in a way that's downright inspiring. "Man, life is too beautiful, too wonderful, there's just too many things."
There's another reason why I shared this story. Barry Petchesky has become one of my favorite sports writers since we started this blog. Two of our three stories this week – one TOB highlighted above and this one – are his work. He writes with a direct honesty. Never sentimental, but not afraid to write about emotion. Here's a perfect example from the Sager piece:
"This is all very sad, because: Craig Sager is probably going to die. You're not supposed to say or write things like that, because no one likes to be made to think about it. I hate that line of thought, because it'd be better for everyone if we could discuss cancer and illness and dying from a mature and candid perspective. It's not something to dance around. It's serious shit, and we should say what we mean.
"The way to talk about this stuff without being disingenuous is to remember why it makes you sad: to recall how much you've enjoyed Sager's work over the years, to see the impact he's had on those who know him by seeing the love he's getting from family, friends, colleagues, and the general public, and to see if you can't take some inspiration from Sager's own stated motivation for seeing his treatment through…"
Make a habit out of reading Barry Petchesky's work, and think good thoughts for Sager and his family. – PAL
Source: "Craig Sager Remains The Best", Barry Petchesky, Deadspin (8/31/16)
TOB: Craig Sager was great. I really enjoyed the tribute TNT did last night:
---
How to Handle 'Scandal'
Tommy Elrod played football at Wake Forest, then coached there for 11 years. When the new head coach took over, Elrod was not asked back as a coach (in many cases a new head coach = an entirely new coaching staff). Elrod was then hired as a radio analyst for the team.
Apparently Elrod wasn't so stoked about being removed from the coaching staff, and it appears he "provided or attempted to provide confidential and proprietary game preparations to opponents on multiple occasions, starting in 2014."
The disgruntled worker angle is interesting, but – aside from an as of yet unreported gambling angle here – what's more interesting to me is watching the teams who received the info try to explain themselves. As of Thursday night, Louisville and Virginia Tech have admitted to receiving information from Elrod. After digging through Elrod's email and texts, West Point was also contacted. All three schools have or had members of their respective coaching staffs that were on the coaching staff at Wake Forest with Elrod.
The smart way to respond: West Point AD Boo Coorigan
"We were contacted by Wake Forest. We're looking into it."
Gather info and plot next steps while the story plays out a bit more in the press.
However, of the schools named in this story (so far), West Point seems to have the most to lose here – not in terms of wins and losses, but in terms of the Honor Code so central to the culture. "A cadet will not lie, cheat, steal, or tolerate those who do."
The fact that West Point was contacted seems to indicate that Wake Forest has some information leading them to believe that Elrod provided game plan information (rather than attempted to provide), in which case there might be an Army football coach not getting much sleep tonight.
The right way to respond: Virginia Tech AD Whit Babcock
"We hold ourselves to a higher standard at Virginia Tech. We are disappointed and embarrassed that this type of information was distributed to, and apparently received by one of our former assistant coaches. The distribution of this type of information among peers or rivals is wrong and not in the vein of sportsmanship and integrity that we demand and expect, and for this I personally apologize to the coaches, student-athletes, administration, alumni, students and fans of Wake Forest University.
"I am also aware of former head coach Frank Beamer's and current defensive coordinator Bud Foster's public remarks yesterday as to having no knowledge of the situation and I believe both of them whole heartedly," Babcock said in his statement. "It should also be noted that there is no known connection of any kind to our current coaching staff, who were hired in late 2015."
In other words: Some jagweed former assistant received the information, and we have no idea what became of it. Besides, that coaching staff is gone anyway, so let's move on.
The wrong way to respond: Louisville Head Coach Bobby Petrino and AD Tom Jurich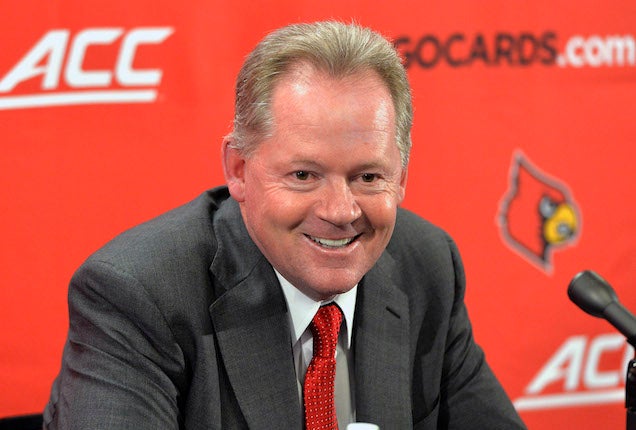 Step 1: Deny knowledge (Bobby Petrino)
"I have no knowledge of the situation. We take a lot of pride in the way we operate our program. As I've stated already this season, my coaching philosophy has always been to play the game with sportsmanship."
Step 2: Deny it happened (Bobby Petrino)
"I can tell you that we didn't. I like our team, and I'm down here (in Houston) preparing for this game, so I don't really understand what they're talking about. I heard about it right before we got on the plane to leave (for Houston on Nov. 16). But I can assure you that we prepare each week the way that you're supposed to prepare, and I like the fact that our team knows how to do that."
Step 3: Acknowledge it happened, but that it didn't matter (via AD Jurich)
"Our offensive coordinator Lonnie Galloway and Tommy Elrod have known each other since 2007,'' Jurich posted. "Lonnie received a call from Elrod during the week of the Wake Forest game, and some information was shared with him that week.
"Among the communication were a few plays that were sent and then shared with our defensive staff. None of the special plays were run during the course of the game. Our defense regularly prepares for similar formations every week in their normal game plan.
"Any other information that may have been discussed was nothing that our staff had not already seen while studying Wake Forest in their preparations for the game and the material was not given any further attention. I'm disappointed that this issue has brought undue attention to our football staff as we prepare for our upcoming bowl game.''
OK, so you're telling me the O.C. of your team was given an upcoming opponent's plays, didn't tell anyone else, like…oh, I don't know, the head coach who's not exactly the College Football's patron saint of character. Keep digging that hole, Louisville.
By the way, I heard columnist Dan Wetzel (I think it was Wetzel) on the Dan Patrick Show on Thursday describe this story perfectly. I'm paraphrasing here, but he said this is the most entertaining kind of scandal. It's not violent, and it doesn't involve players behaving poorly, but it has teeth because it deals with the level playing field. – PAL
Source: "An about-face: Louisville admits it received information from Elrod", Dan Collins, Winston-Salem Journal (12/14/16)
TOB: I don't know what it is, but I disagree with Wetzel. I couldn't get into this story. Is it because it's Wake Forest and so…who cares? Maybe.
---
Video of the Week
---
PAL Song of the Week: Irvin Mayfield (featuring Ellis Marsalis) – "Mo' Better Blues"
---
Like what you've read? Let us know by following this blog (on the right side, up near the top), or:
Email: 123sportslist@gmail.com