---
The Surest Path to the Super Bowl Starts at a D-III School
John Carroll University has about 3,700 students. The university competes in the Ohio Athletic Conference, and it currently has 7 former football players getting ready for Super Bowl LI. They won't be playing, but the little Jesuit school in University Heights, OH has become a N.F.L. pipeline for coordinators, coaches, and general managers.
"New England has seven full-time football staffers who played football for the Blue Streaks and graduated: offensive coordinator Josh McDaniels (Class of '99); director of player personnel Nick Caserio ('99); assistant quarterbacks coach Jerry Schuplinski ('99); director of pro personnel Dave Ziegler ('00); coaching assistant Nick Caley ('06); pro scout Frank Ross ('10); and scouting assistant D.J. Debick ('12)."
The path was created long before the Patriots. Don Shula graduated from John Carroll. Former N.F.L. executive Bill Polian's two sons went J.C.U. went there, too, and it sounds like they found their tribe while playing for the Blue Streak (what a terrible team name): straight-laced football geeks who knew their playing days would end when their college eligibility ran out.
As it goes in so many fields, a recommendation gets an interview, but the person gets the job, and he/she busts ass to rise the ranks. They then hire people they trust. And so it goes.
Nepotism doesn't get a potential hire very far in this scenario. As McDaniels puts it, "[the Carroll connection will] get you a conversation. But if you cannot deliver value to our organization, we're going to have no use for you. Being from John Carroll distinguishes you from a pile of strangers. But don't think that just because you know somebody here, that we're going to take you on because we went to the same school."
An interesting read during the week before a the Super Bowl that's usually filled with the fluffiest of fluff. – PAL
Source: "How Division III school John Carroll became a Patriots pipeline", Lorenzo Reyes, USA Today (2/1/17)
---
More Chicken than G.O.A.T.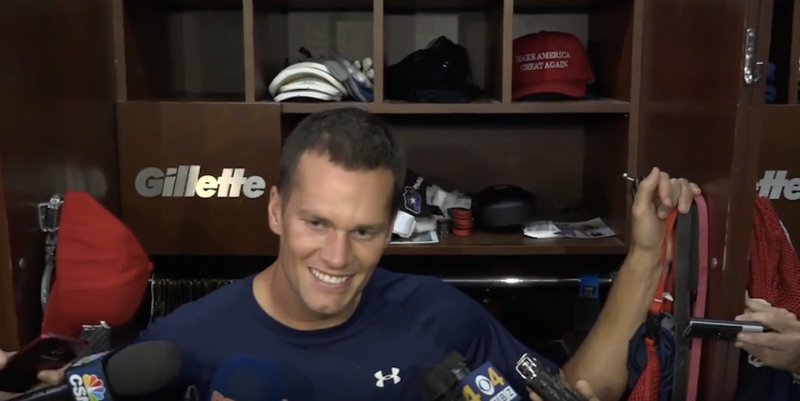 I'm struggling, folks. I realize for the last eight years I had my guy in the White House. It was much easier to defend your guy when he's in charge than it is to acknowledge folks have a very different set of beliefs when their guy's in charge. The dangerous/foolish admission is I have a really hard time believing the majority of Americans are down with some of the recent moves from the Trump White House.
Look, this isn't a political blog, and I have no interest in making it one. But I'm struggling. I don't want to be alarmist, but Trump's first couple weeks have me legitimately alarmed:
The travel order

Trump's insertion of Steve Bannon – a political advisor with a downright scary, nationalist track record – on the principles committee of the National Security Council

Trump's "go nuclear" (bypass supermajority) order in the event the dems halt Supreme Court nominee Neil Gorsuch after republicans filibustered Obama's nominee for a year.

And the ever-present fear: Mike Pence is next in line.
Here's the deal: Donald Trump won the election, and I live in a hyper-progressive bubble. I am not the majority. I really, really want to ground myself in that truth – honest to god I do – but I just don't respect Trump. Not at all. Perhaps this is how many felt when liberals have sat behind the desk in the Oval Office.
What the hell does this have to do with sports? Not a lot, but a little. Once example is Football-obsessed Tom Brady. Touchdown Tommy is a Trump supporter, and initially showed his support by way of staging a "Make America Great Again" hat in his locker way back in September of 2015. He's dodged every question about it since with his "I'm just here to win football games" response.
I shouldn't care. Goddamn, I shouldn't care about a bimbo quarterback's political views. Hell, maybe he's simply friends with Trump and put the hat up there when the notion of him winning the election seemed so far-fetched. It's absurd!
Yet, I really care that Brady answer some basic questions. I care because of the travel order that predominantly targets a religion, which is historically un-American. I care because we have in Bannon a political advisor with a main seat in matters of war, and I care because Supreme Court seats have a much longer impact than presidencies. And if you're going to put the hat up there, then grow a pair and answer some questions.
1-2-3 Favorite Barry Petchesky puts it this way:
Let's be clear: Under ordinary circumstances, athletes' politics are their own, and they shouldn't be expected to have to explain them more than anyone else. But that goes two ways. These are extraordinary circumstances—unprecedented, history-altering circumstances—and the country feels like it's coming apart. Right now, it's not enough for the Trump supporter around the corner to explain his support with a shrug, and it's not okay for a famous one to grin and smirk because Durr, Donald's my friend.
Own it, Touchdown Tommy. If you're going to put the hat right in the camera frame of your locker, then give us some rationale.
No one cares about your TB12 brand (or whatever the crap it is), or your Stetson endorsement, your Uggs endorsement, or whatever the hell else you lend your name to these days. Don't hide behind the Super Bowl, or your wife's mandate you stop talking politics. Whether you know it or not, pretty boy, you made a political statement with the hat, then you shriveled when actually asked about it.
Go Falcons (but, really, I'm picking the Falcons). – PAL
Source: "I'm Fed Up With Tom Brady", Barry Petchesky, Deadspin (1/31/17)
TOB: I'm feelin' it, Phil! Frankly I had a hard time writing about sports this week. My mind is consumed by what the hell is happening in our country, and the world. The scariest, to me, is the fact President Bannon seems hellbent on going to war with China. Which, swell. It's not hyperbole to say that's a potential world-ender. But all of it's bad. Take some solace in the fact you're not in the minority: not only did Trump lose the popular vote, which would have him lose the election in a "democracy", but his approval rating is around 42% (which is still insanely high).
Anyways, Brady is a bimbo and Petchesky's story is really good. Read it. I laugh every time I think of the line, "it's not okay for a famous one to grin and smirk because Durr, Donald's my friend."
---
When Will College Athletes Wake Up?
This story was making the rounds on Twitter early in the week, and I was excited to read an "illustrated guide to a recruiting visit at Nick Saban's house."
ESPN generally sucks these days, and that includes its sportswriting. So I should not have been surprised this story was so disappointing. I thought it would be an inside look at the side of recruiting we normally don't get to see. Instead…this might as well have been a paid advertisement for Alabama. This thing is short, maybe 800 words, and all I learned is Saban has a big house, nice cars, and lives by a lake. Which…yeah, obviously. What a waste of two minutes. But my beef with this story is more than that. Something about it sat very poorly with me. I understand 18-year old kids are 18-year old kids, and they can be impressionable. But these kids are impressed by Saban's big house and his fancy cars. If they did some critical thinking, they might wonder why Nick Saban lives in this insane house, and has fast cars "designed" by his son, while they get a fourth-rate education and no pay. Think, fellas. Expect more. Demand more. -TOB
Source: "An Illustrated Guide to Recruiting Visits at Nick Saban's House", Jeremy Willis, ESPN (01/30/2017)
---
Video of the Week: 
Lane Kiffin, everybody. Feel the energy. And an excellent parody here by SI's Andy Staples.
---
PAL Song of the Week: Darrell Scott – "I Still Miss Someone" (Johnny Cash)
---
Like what you've read? Let us know by following this blog (on the right side, up near the top), or:
Email: 123sportslist@gmail.com