Drink it all in.
---
In Which Tony Hawk Teaches the Writer to Ollie
Sometimes you read an article and realize, "This writer is deeply funny." This is one of those stories. The writer, Kelly Conaboy, had never ridden a skateboard in her life. She decided she wanted to ask Tony Hawk to teach her how to ollie. So she e-mailed him. And he said yes. And they filmed it. The results are funny, but the way Kelly writes it is even funnier. She walks us through the entire process – including video, from pitching the story to various publications, to learning how to simply ride, to Tony Hawk kinda, sorta, teaching her how to ollie. 
Congrats, Kelly. And, please, keep writing. -TOB
Source: "I Asked Tony Hawk If He Would Teach Me How to Ollie and He Said Yes", Kelly Conaboy, The Outline, 03/31/2017
---
Killing Them Softly With His Threes
This has not been Steph Curry's best season. That's undebatable. The bar was set VERY high though, and he's still been fantastic. Unrelated: The Ringer is largely, in my opinion a dud, but Shea Serrano is a Grantland veteran who still does a very good job there. Shea Serrano writing about Steph Curry couldn't have been anything but good, and it was. Serrano discusses the different and devastating ways Curry uses the three-pointer to demoralize a team. But, he does it in a funny way. My favorites are The Wire-inspired "You Want it to Be One Way" 3:
This is the 3 where you want it to be one way, but Steph shoots it to let you know it's the other way. The most perfect example was that 3 at the end of the third quarter of Game 6 of the Western Conference semifinals against the Grizzlies in 2015. The Warriors led the series 3–2 and they were playing in Memphis. The game was close (73–68) and the Grizzlies had the ball with a chance to cut it to two or three. Also, remember, this was before the Warriors had won a championship, so most people didn't quite understand how all the way terrifying that team was yet. There was a feeling that if Memphis could just squeak out a win in Game 6, their veteran leadership would prove the difference in a big, Big, BIG Game 7. Only Jeff Green dribbled the ball up the court in the final seconds, tried to shoot a 3 at the buzzer, had it blocked, and then everyone watched as Steph, who'd grabbed the loose ball, chest-passed a 75-foot shot at the buzzer toward the other rim that swished in. The Grizzlies were suddenly down eight, the crowd was stunned, and 12 game minutes later the Warriors were headed to the next round of the playoffs. The Grizzlies wanted it to be one way, but it was the other way.
And the Apocalypto 3: "This is the 3 Steph shoots where he toasts somewhere from three to five different defenders on his way to getting it off."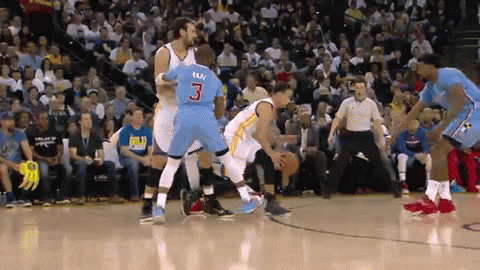 Start the playoffs already! -TOB
Source: "The Five Stephen Curry 3s You Meet In Basketball Heaven", Shea Serrano, The Ringer (03/31/2017)
---
Can a Pair of Headphones Improve Athletic Performance? I dunno. Maybe?
This year, the San Francisco Giants have adopted brain-stimulating headphones from Halo Neuroscience for their players to use during practice. How does it work? Well… let's let the scientists explain it:
When you put on Halo Sport, those special features underneath the headset naturally go over the motor cortex. Those features are actually electrodes that send out electrical pulses that stimulate the motor cortex. After a 20-minute neurostimulation, which we call neural priming, Halo Sport will induce a state of hyperlearning, known as hyperplasticity, in the motor cortex. We tell athletes to use the headphones 20 minutes before their workout while stretching and warming up. When the neural priming session ends, they start their athletic training session and begin feeding their brain with movement-based repetitions. For a basketball player, that can be shooting free throws or dribbling. For a baseball player, it can be throwing or fielding grounders. If athletes feed their brain deliberate and trained repetitions after neural priming, their brain will learn more in that training session than they would've without it.
Makes sense. Does it work, though? The Giants used it on some of their top minor league prospects at their annual winter workouts ahead of Spring Training. Half of the players used the Halo headsets, and half did not. The players who used the headsets "did much better" than the players who did not. The Giants were convinced and adopted Halo throughout the organization. I just hope the bullpen starts using it. That 6.65 ERA after the first series of the year is an eyesore. -TOB
Source: The San Francisco Giants Think These Headphones Will Help Them Win"", Joseph Misulonas, Good Sports (04/04/2017)
---
VICTORY
A few weeks back, we invited our readers to join the first annual 1-2-3 Sports! NCAA Tournament Bracket Challenge. No cash was involved, but we offered a guest column on the blog to the winner. Uh…
I won. Suckers. -TOB
---
Video of the Week
---
Like what you've read? Let us know by following this blog (on the right side, up near the top), or:
Email: 123sportslist@gmail.com