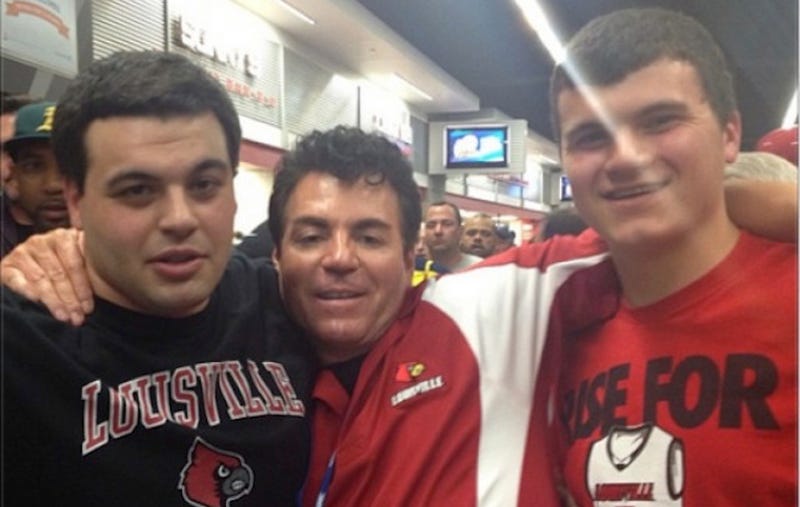 Better ingredients. Better buzz. Papa John's.
---
Long Live the MVP?
Very early this season, the MVP race became, effectively, a two-man discussion: (1) Russell Westbrook, who finished the season averaging a triple-double and dragging a bad, talent-bereft team to 47 wins in the Western Conference, through sheer force of will; (2) James Harden, who moved to point guard under new coach Mike D'Antoni and damn near averaged a triple double on his own, while leading the Rockets to the 3-seed in the West. The online debates are raging, and I find myself firmly in the Westbrook Camp. I don't care if a triple double is arbitrary; I don't care if he's a ballhog. What he did this season is amazing, and will be talked about for decades to come. Harden is a boring player, by comparison, flailing and falling into defenders to get to the free throw line, and doing much of his damage there – he did have a great season, but if we're splitting hairs I'm going to split some god damn hairs.
Finding himself as a complete afterthought in these discussions is the reigning two-time MVP, Steph Curry. Curry got hurt in last year's playoffs and never regained his form, as the Warriors blew a 3-1 lead to the Cavs in the Finals. It was, perhaps, a long-term blessing for the team, as I find it hard to believe they really would have signed Kevin Durant in the offseason. Durant was the league's MVP before Curry first won it two years ago, but seemed tired of playing in Oklahoma City, alongside the mercurial Westbrook. The Thunder, of course, also blew a 3-1 lead in the playoffs…to those same Warriors.
When you look at Curry's numbers, though, you start to wonder why he's not a bigger part of the MVP discussion. Even adding Kevin Durant, though his numbers are not as insane as they were last season, they are nearly identical to his 2014-15 MVP season. His team once again won a ton of games, and they are the favorite to win the title this season.
FiveThirtyEight broke down the candidacy for Steph Curry, and it is hard to argue with, and this chart is Exhibit A:
I'll let Benjamin Morris explain:
There are stories to be told in each section of that chart, but for our purposes, focus on the fire raining down from the sky in the Curry section. Not only do virtually all of his teammates (10 of 11 players with at least 30 shots, representing over 1,700 shots taken without him shoot worse without Curry on the court to draw attention, they shoot dramatically worse. Overall, Curry's teammates shoot 7.3 percentage points worse with Curry off the court, with his average teammate shooting 8.3 points worse. Among our MVP candidates, LeBron has the next-highest impact on average teammate shooting (3.9 points), followed by Westbrook (2.5 points). When it comes to opening up a team's offense, Curry has no equal.
For the uninitiated, "true-shooting percentage is a shooting efficiency statistic that acts like field-goal percentage but is adjusted for three-pointers and free throws. Essentially, because three-pointers are more valuable than two-pointers, and because free throws are not accounted for in shooting percentage, it adjusts shooting percentage based on those numbers to get the "true" value of a player's shooting.
So, looking at the chart, not only is Steph Curry very good, but both the shots and spacing he creates for his teammates makes them all (or nearly all) much better players.
Another chart helps explain the end result of this.
When Curry is off the floor, his team is a good team. When he's on the floor, though, they are great. The delta between Curry on the floor and off the floor is second only to LeBron's impact on the Cavs. There's more, and if you like basketball, you should read the article. You might just end up wondering why there wasn't more support for the two-time defending MVP to win his third. -TOB
Source: "The Case for Stephen Curry, MVP", Benjamin Morris, FiveThirtyEight, (04/13/2017)
PAL: Sold. How can anyone make a case for someone other than LeBron or Steph win this award after reading this article? 
I watched just enough of Westbrook this season to strongly believe he is not the MVP, and Houston's drubbing of the Thunder in the first round only firmed that up (I know – the votes were cast before the playoffs). His season was an unbelievable showcase of effort, volume, and endurance, but that does not equate to MVP. No doubt, that's a critique on Westbrook and the team around him. To be honest, Westbrook seemed a bit like a sideshow.
Surely, LeBron could average a triple double if that was his goal coming into a season (even at this stage of his career), which I think was the case with Westbrook. And I don't doubt Steph could average 35 a game if he shot as much as Westbrook (Curry attempted 18 shots per game, Westbrook attempted 24). If either of those scenarios played out, LeBron or Curry wins the MVP this year.
LeBron and Curry didn't do this, because it wasn't the best approach for their teams to win a championship. Westbrook's approach may have very well been the best way for the Thunder to win, but it was never going to amount to a significant run in the playoffs, which is really easy to say after they lost in first round of the playoffs.
Westbrook's triple double season is historic, and it will age well, but it tastes a bit flat coming right out of the brewery.
---
The Search for 'The Next Jordan' has Ended
Note: All of these graphics are pulled from the original story linked below.
In many ways, Michael Jordan has been our North Star by which we've navigated the past three decades of athletic greatness. While his success on the court is measureable (averaged 30 PPG for his career, 6 NBA Championships, 6 Finals MVPs, 5 season MVPs, 10 All-NBA first team, 9 All-Defensive first team), it's harder to quantify the magnitude of his cultural significance. As Howard Beck writes, every superstar athlete is "playing in a world MJ practically created."
However, in one way his significance has faded, and that's the anchor to Beck's article, which you should absolutely read. At the end of his career, we started looking for 'The Next Jordan'. For decades, anytime a talented player with some hops – be it a high school phenom, or a college kid with a few great games in the NCAA tournament – made a splash, the media asked if he was 'The Next Jordan'.
This premature coronation of promising basketball players spanned generations of players. From Len Bias to Penny to Harold Minor to Grant Hill to Vince Carter to Kobe to LeBron.
We don't hear that curse wrapped as a compliment much anymore – a fact that Google search term stats back up. What's more, Beck asserts "that might be the best thing to happen to the NBA since, well, the Age of Jordan began."
Beck makes a compelling case as to why that phrase has floated away from relevance.
Reason 1: We are not that young.
The following anecdote from Jordan's former teammate and Bulls announcer Bill Wennington captures it all in one fan exchange:
Overheard at the United Center at a recent Bulls game, where two fans were admiring a large photographic display:
Fan No. 1: "Oh, wow! Look at that guy! He's wearing the original Jordans!"
Fan No. 2: "Dude! That is Michael Jordan."
You want numbers to back it up? Beck has numbers for you, and they are not going to make you feel very spritely, my friends.
17 active players competed against the creaky, Wizards edition of Jordan, who sank his last field goal 14 years ago.

Lakers rookie Brandon Ingram was nine months old when Jordan clinched a sixth championship with his iconic jumper over Utah's Bryon Russell. Steph Curry, now an elder statesman and an idol at age 29, was 10 years old.
Damn.
Reason 2: The game today hardly resembles the one Jordan played.
"The hero-ball style that Jordan inspired may be as out of fashion as acid-washed denim in today's pace-and-space, three-point-obsessed NBA. And just three of the league's top 20 scorers this season play Jordan's once-glamorous position of shooting guard (DeRozan, Beal and CJ McCollum), while only two shooting guards made the All-Star Game (DeRozan and Klay Thompson) alongside eight point guards.
"The game has changed radically—more wide-open, more free-flowing, less grabbing on the perimeter, less banging in the post—and it no longer demands, or rewards, the repertoire of footwork and mid-range isolation artistry that made Jordan elite."
Jordan's dunks might be the posters of our youth, but those dunks were set up by a mid-range jumper that is now seen as the worst shot on the court. A higher volume of three-pointers, combined with a higher percentage of shots by the rim is a formula nearly all teams have adopted in recent years. Combine that philosophy with a game that made the hand checking illegal in 2000 and the maturation of a generation of kids shooting three-pointers from grade school on, and you have better long distance shooters in a league where it's also easier to get to the rim.
Michael Jordan made 591 3-pointers in his 13-year career. Steph Curry made 402 last season.
Reason 3: Unique is more interesting than commonality.  
Jordan was transcendent, so it makes sense that we wanted to bask in that greatness after he retired the first, second, and third time (well, maybe not so much the third time). How foolish. Here was this once-in-a-lifetime talent, and we knew that fact while simultaneously criticizing the next phenom who didn't match the once-in-a-lifetime talent. Vince Carter, one who was dubbed 'The Next Jordan' for a minute, provides blunt honesty on the topic:
"I want to be me, man," Carter recalls of his sentiments as a springy 6'7″ guard out of UNC in the late '90s. "I just don't want to put that pressure on myself. In no way, shape or form I'm thinking that I am him, will be him or could be him."
"As soon as I walked in, my first year, that's what you hear. For as cool as it may be, you don't want it. You're like, 'No, thank you.'"
"There was a point where [critics said], 'He doesn't have the approach, his mentality is not like Michael Jordan,'" Carter recalls. "You're right. Because I'm not Michael Jordan. You're right. You're exactly right. And that was starting to get frustrating."
As I'm thinking about this, LeBron, who in Beck's opinion represent the end of 'The Next Jordan' lineage, seem like the first great player that escaped the shadow of Jordan. Kobe, featured prominently in this article, admittedly impersonated Jordan in every way; LeBron is so unique that admiring him within the Jordan context isn't as fun.
Sure, we can compare the numbers, but you don't think of him in terms of whether or not he's like Jordan. Furthermore, the NBA is so flush with unique talents right now —Curry's shooting, Westbrook's triple-doubles, Giannis' essentially playing point guard as a 7-footer in Milwaukee to name a few—that the comparison to Jordan seems not only dated, but downright lazy.
Thanks to my college roomie and battery mate, Ryan Nett, for sending this article along. He threw a good knuckleball one time, and he never misses an opportunity to bring that fact up. – PAL
Source: "The Ghost of The GOAT: Why There Isn't a 'Next Michael Jordan' Anymore", Howard Beck, Bleacher Report (04/26/2017)
TOB: Man, what a fun read, and great job by Phil of pulling it all together.
---
Dion Waiters With the Best Players Tribune Article (And Headline) Ever
Dion Waiters has always struck me as an interesting guy. He seems moody and overconfident in his skills. He's kinda J.R. Smith, but less athletic and less talented. Dion had a very good season with Miami, though, his first with the Heat. The Heat just barely missed out on the playoffs, and likely would have made it if Waiters hadn't been injured for an extended period early in the year. This week, sitting at home, not in the playoffs, Waiters wrote an article for the Players Tribune…and it's REALLY good. The dude is funny. Here's Dion talking about his best friend growing up, Rhamik:
Everybody in our hood loved Rhamik. He was just a legendary kid. The thing people knew him for, other than ball, was skating.
See, in Philly, skating was a huge deal. Still is. I'm not talking about, you know, Tony Hawk. I'm talking about roller skating — the brown skates with the four wheels. Every Sunday, we used to have these skating parties run by Ms. Doris. If you were up to no good in school (which I usually was), Ms. Doris would catch you at the door and be like, "Dion! You're banned from the skating party until you start acting right."
That was a dagger. You did not wanna be banned from the skating party. That was the spot for meeting girls. If you're picturing some disco thing, that's not what it was. This was like 100 Philly kids skating around to Rick Ross, doing the Philly Bop.
Sadly, Rhamik was killed when Dion was away at a boarding school to play basketball. Which is kind of Dion's story. No, it's not a unique one, sadly. Lots of professional athletes came from impoverished areas and buried friends and family members, just as Dion did. But the way he tells it is very good. Including how he responds to his critics:
You know, it's hilarious to me. I'm not a big Internet guy, but I see things. I see what people say about me. I see the GIFs and all that. They say, "He never seen a shot he don't like." "He's got irrational confidence." "He thinks he's the best player in the NBA."
Hell yeah I do. I have to. Listen, now you know where I'm from. Picture yourself walking into a South Philly playground at 12 years old, with grown-ass men, bleachers packed with people, trying to get a run in. You think you can survive in Philly without irrational confidence?
He also tells the story of meeting his boss, Pat Riley, for the first time, last summer:
I walked into his office and … damn. The hair was slicked back, and he was wearing one of those suits of his, you know, real O.G., looking like a million bucks. Behind him, he's got photos of all his championship teams lining the walls. He's wearing one of his nine rings. He's sitting there looking like De Niro in Casino. He's looking like the boss. He's looking like he's seen it all, because he has.
And he gives us a great headline, to boot. Quintessential Dion Waiters. -TOB
Source: "The NBA is Lucky I'm Home Doing Damn Articles",  Dion Waiters (04/25/2017)
---
Truer Words Have Been Written
Stephen Krupin was a speechwriter for President Obama for about a year, but he's been a Washington Capitals fan his entire life. Being a Caps fan means hating the Pittsburgh Penguins, who have beat the Caps in 8 of their last 9 playoff appearances. Ouch! The Penguins won the Stanley Cup last year, which comes with a visit to the White House and a speech from the president. Krupin wrote the president's speech praising the hated Penguins.
On the eve of yet another Caps-Pens playoff series, Kupin shares his experience writing the speech last year, and it's pretty damn funny.
Cody Keenan, our chief speechwriter and a die-hard Chicago sports fan, offered me an out. He recalled that on the day the Super Bowl-winning Green Bay Packers came to the White House, Cody didn't just delegate the speech assignment; he worked from home rather than risk running into any cheeseheads in the hallway. "You don't have to be a hero," Cody counseled.
At one point, a baby in the crowd cried. President Obama ad-libbed an apology for the dad jokes we scattered through the speech. "These are so corny," he said. Good, I thought to myself; the Penguins don't deserve our best stuff anyway.
One of the problems in writing a speech is you have to research the subject, which meant Krupin had to get to know the people behind the Penguins jersey. What he found didn't help: Acts of charity, brotherhood, grace, and community building.
I place speechwriter for the president in the dream job category, and I assume Krupin would agree. I imagine him watching the Penguins close in on another Cup and realize he could play a role in their celebration. Painfully hilarious. Just the the thought of having to heap fake praise on the Yankees or the White Sox disgusts me. – PAL
Source: "The one speech I wrote for Obama that I didn't believe in: Praising the Penguins", Stephen Krupin, The Washington Post (04/27/2017)
TOB: Nah, I couldn't do it. I'd beg off. Because if I didn't, I'd make subtle and not-so-subtle digs at every chance I got. Like, if it was the Dodgers I'd congratulate them on their first World Series win in the last 7 presidential terms! What an accomplishment, I'd say. And then I'd get fired.
---
Video of the Week
That did NOT happen at my school.
Bonus video:
---
PAL Song of the Week: Minutemen – "Corona"
---
Like what you've read? Let us know by following this blog (on the right side, up near the top), or:
Email: 123sportslist@gmail.com