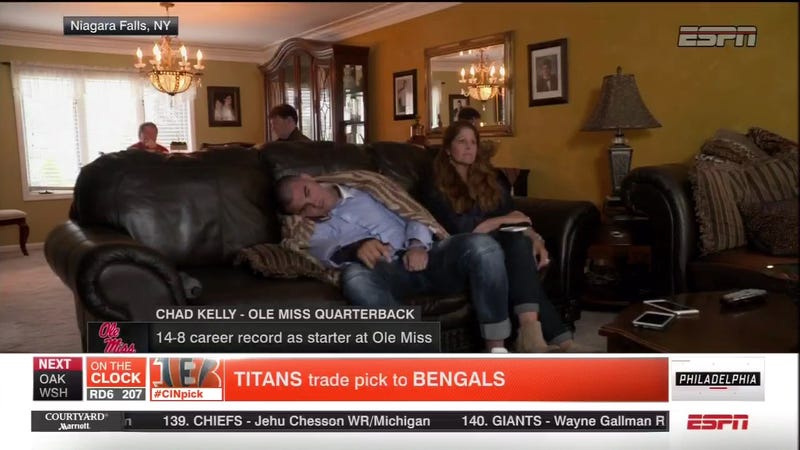 That's how I'd look if I watched 206 picks of the draft (Kelly was this years Mr. Irrelevant – the last player selected)
---
Bad is Good
One of my favorite stories of 2017 so far. Karen Rinaldi is a "kook" surfer. That's slang for someone who's not good at surfing. It took her five years to catch her own wave, and she's far from good now, but she loves it. It's not just the sport that she loves, but what it gives her: The freedom from a world polluted with perfection.
When I do catch a wave and feel the glide, I'll hold onto that feeling for hours, days or even weeks. I'm hooked on the pursuit of those moments, however elusive they may be. But it's not the momentary high that has sustained me. In the process of trying to attain a few moments of bliss, I experience something else: patience and humility, definitely, but also freedom. Freedom to pursue the futile. And the freedom to suck without caring is revelatory.
No one ever tells you how much you suck at something. Unless you have a mean boss, an abusive parent or a malicious friend, most people are happy to help us maintain the delusion that our efforts are not in vain. No, we cannot count on people around us to let us know how much we suck. It is far more acceptable to compliment than to criticize. So the onus is on us as individuals to admit to ourselves how much we suck at something. And then do it anyway.
To the physical meditation in humility and sympathy in a culture of "cocksuredness" – that strikes a chord with me. Doesn't it feel like everyone's super into everything they do, and they are super serious (re: proficient) about it, too? It's not enough to go skiing, you have to go on some epic Art of Flight type excursion. It's not enough to mess around on the guitar, you have to be in a band playing Hardly Strictly. It could be that I'm projecting here.
I read this article, and I wonder how much our pursuits are influenced by Facebook or Instagram. Do we do things for the feeling, or do we do things for the reaction? Rinaldi provides a great reminder to do it for the feeling, no matter how bad we look in pursuit of it. – PAL
Source: "(It's Great to) Suck at Something", Karen Rinaldi, The New York Times (4/28/17)
TOB: Surfing seems to me an activity that would be ok to do even if you sucked. You're in the ocean, floating around, catching some rays, etc. What's not to love? Though, doing it for FIVE years without EVER catching a wave takes some persistence that I doubt many possess. But, I get it. Though I am not a good singer, I love to belt out any song I know. Hell, as I type this, my 2-year old and I are singin' the hell out of the Frozen soundtrack, his latest favorite. But otherwise, I don't particularly enjoy spending time doing things I suck at. For example, I wouldn't often choose to play soccer, because I'm not very good, and I'd rather spend my time  doing something I enjoy more. I get her point – it's freeing to not be good, and still take enjoyment.  But the trick is finding an activity that you suck at and still enjoy. Easier said than done.
---
When to Put an Old Catcher Out to Pasture
Catchers, generally, are not great hitters. The venn diagram of people who are great hitters and have the skill-set to be great catchers has a very small overlap. So, when a great-hitting catcher comes along, almost immediately people start to ask, "When are we going to move him to first base?" Playing catcher is very tough on the body; it shortens careers and saps power. Moving to first base allows the player a longer, more productive career.
The question has been asked of Giants catcher Buster Posey pretty much from the time he entered the majors. He won a batting title and hit 28 home runs in 2012, being named MVP for his efforts. But that was five years ago. He just turned 30 and has hit just 5 home runs since last year's All Star break. He's still got a good batting average, but he hits for almost no power. History shows there will be no reversal – he will only get worse. And so, the discussion about when to move Posey to first are heating up. Move him to first, prolong his career another five years, and maybe even improve his hitting. Seems simple, right? Well, maybe not.
First, Posey doesn't want to move:
"If I ever got to the point where they said, 'Hey, we feel like this is better for the team,' I'm not gonna be a guy that's stubborn and says no," Posey says. "Until they tell me that, my value is behind the plate. As cliché as it is, it's about winning ballgames."
Perhaps more importantly, is the concept of positional value. Even diminished, Posey is probably the best hitting catcher in the league. He would be far from the best first baseman in the league, though. As Jerry Crasnick points out: "[I]f a catcher is a strong producer behind the plate but middle-of-the-pack at another spot, what's the point?" He'd also force Brandon Belt, at this point the Giants best hitter and a good defensive first baseman, to move to left field (or out of the organization) to make room. And THEN you have to replace Posey at catcher, who will not be as good of a hitter OR a catcher as Buster.
And if you think moving him to first will improve his hitting because he's no longer enduring the grind of catching every day – look to Twins first baseman Joe Mauer. Mauer also won a batting title and an MVP. Then, injuries and the catching grind took its toll. Mauer became a singles hitter and could barely stay on the field. So he moved to first base…and he is a bottom of the league first baseman, ranking 22nd in slugging percentage last season. So, as Posey says, "I'm not saying this in an egotistical way, but I think there's value in having a good hitter behind the plate and being able to put a bat at first base as well."
He's right, and the Giants know this. As Grant Brisbee points out in a companion article:
"Are the Giants better with Posey catching, Belt in left, and Shaw at first, or are they better with Nick Hundley catching, Posey at first, and Belt in left? You know the answer to this. And it doesn't have to be Belt in left, either. The same question applies to the outfielder of your choice. Let's say the Giants do something wild, like 'acquire a good left fielder.' Are the Giants better with Hundley catching and Belt on the bench in that scenario, just to get Posey out from behind the plate?"
You know they aren't, and you know that they aren't better with Hundley catching and Belt sitting in any scenario. This is an argument about the short-term, which isn't really the primary concern elaborated by Crasnick, but it's going to work for every season. If 
Replacement catcher + Posey at first + left fielder
… is better for the Giants than …
Posey catching + first baseman + left fielder
… then the real issue is that the Giants need to get a new left fielder.
Exactly. Let Posey, still a great hitter for a catcher, and the best defensive catcher in the league, well…catch, damnit. As Buster said: "Maybe my career is three years shorter this way. But I know I'm getting the most out of it." -TOB
Source: "A Catcher's Dilemma: How Much Longer Can Buster Posey Stay Behind the Plate", Jerry Crasnick, ESPN (04/27/2017); "Buster Posey Still Wants to Catch, and the Giants Will Let Him", Grant Brisbee, McCovey Chronicles (04/28/2017)
PAL: With the exception of 2 years in his career, Mauer's been primarily a singles hitter from day one. That MVP season was a sticks out like a sore thumb on his baseball reference page. 
As a guy who logged a some time in the squat, I love watching Buster Posey play. Favorite Giant to date. He's one of those guys that is so good at something so difficult that he makes it look ho-hum. And while his power numbers at the plate have been declining, I think he just might win a batting title this year. You heard it here first!
Mauer, known as 'Baby Jesus' back in Minnesota when he was winning batting titles (2006, 2008, 2009) and Gold Gloves (2008, 2009, 2010) for the Twins, was everyone's favorite catcher. My mom remains in the "Joey Mauer" super-fan club. He should have been mine, but his knack for dumping singles into left field with two outs and nobody on base drove me nuts. 
I'm lucky to have been in San Francisco to watch Posey – every bit as good defensively as Mauer – rake at the plate while leading the teams to titles.
I'd take Posey over anyone else of his generation. You can have Molina and his neck tattoos. It's also worth noting Bruce Bochy, a former catcher, has been captaining the Giants ship throughout Posey's career, and I like how they are utilizing interleague play, mixed in with some games at first, to keep his games played in the 140-150 range, while limiting his catching games to a bit over 100. That move, which they've been doing for a couple years now, will buy Posey at least a couple more years behind the plate.
---
Video of the Week:
Ahem. That's a former Cal Bear with the smart, and patient, play.
PAL: Cal, Cal, Cal. A Cal fan would appreciate patience. They've been waiting for a winner since god knows when.
---
PAL Song of the Week: Monsters of Folk – "Whole Lotta Losin'"
---
Like what you've read? Let us know by following this blog (on the right side, up near the top), or:
Email: 123sportslist@gmail.com