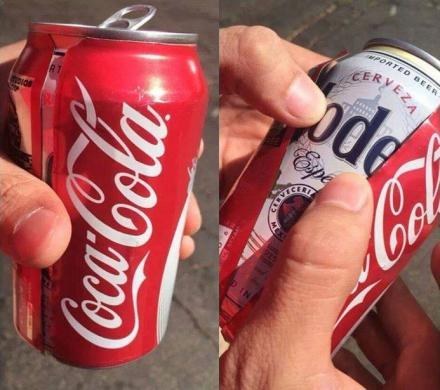 Ingenuity is a beautiful thing.
---
Big Baller or Big Bluster
We have covered Lonzo Ball and his one-man-hype-machine father, LaVar, before. I thought LaVar was kinda funny. Not everyone agrees. After proclaiming he'd be looking for a $1 billion (yes, with a b) dollar sneaker deal for Lonzo and his brothers (both still in high school) or he'd start his own shoe company, LaVar and Lonzo made the rounds at the big sneaker companies. He…did not get a billion dollars. LaVar reported Nike offered Lonzo a 5-year, $2 million per year deal. The Balls did not accept, and I would have loved to have been in attendance at that meeting.
Instead, this week, LaVar announced Lonzo's first shoe, on their own "Big Baller Brand". It's…fine.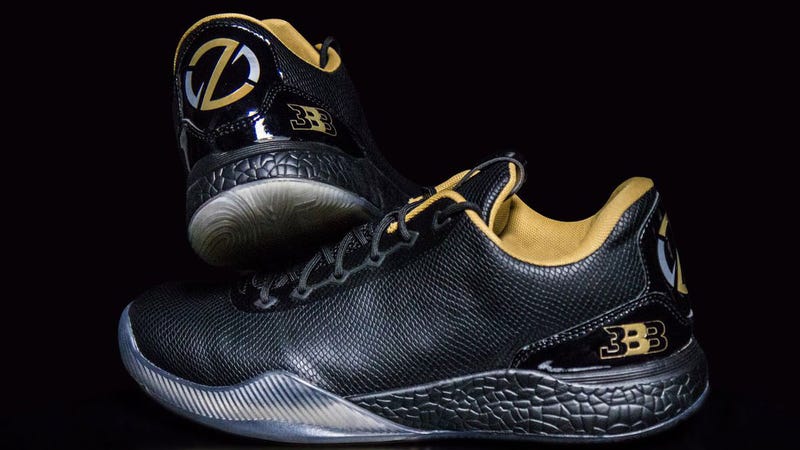 If it was under $80, I might even wear them. Others have pointed out they look like the Kobe 8, which isn't a bad thing. That's a nice shoe!
But these shoes are not under $80. Or $100. Or $200. These shoes start at $495. Five hundo!!! For a pair of shoes! And they go MUCH higher. Plus, there is no way to know if they are even decent shoes. It's not like LaVar Ball has been producing shoes for decades. Five hundred dollars!! GTFOOH. Even funnier, they are also selling these stupid slide sandals for $220.
These are not affordable for most anyone…but that's kind of the point.
LaVar is attempting to market the shoe as a luxury item/brand – to create a status symbol. I'm betting he will fail spectacularly, but I imagine people thought he was insane when he was guaranteeing his kids would play in the NBA, so who knows. Check out the article, though. It breaks down why Lonzo's offer from Nike was so small (compared to, for example, John Wall's $15 million per year deal given before he played a game). The economics simply don't make sense for shoe companies, unless you become a true star who can give your company credibility. -TOB
Source: "Why the Hell Are Lonzo Ball's Sneakers $495?", Dan McQuade, Deadspin (05/05/2017)
PAL: The Balls are DIY, and I'm all for that as a business philosophy. We need more of it! The problem is that LaVar Ball doesn't know his product, and he's impatient. That's a dangerous starting point for a business.
The value of Big Baller Brand (a cringeworthy name) is currently based on one unknown data point: Lonzo Ball's ability to excel in the NBA. If he appears to be a transcendent player next year, then BBB has a slim chance of success, and that's looking past, as one expert notes in McQuade's article, the fact that LaVar knows nothing about the sneaker business. I'm not sure Lonzo being great is good enough. As McQuade's article points out, there are a lot of great players in the NBA who can't push shoe sales.
It's reported that LaVar was not just looking for an endorsement deal from the likes of Nike, Adidas, or Under Armour; rather, he wanted them to license Big Baller Brand. Do you think the execs openly laughed him out of the room when he made that demand, or texted each other what a piece of work during the meeting?
If LaVar was looking to negotiate with the big three shoe companies, or — better yet, a bidding war to ensue — then he grossly overestimated his leverage.
I can understand two options for the father-son duo (let's keep the younger Ball boys out of this for the moment):
Play it safe. Take the $10MM as an insurance policy and renegotiate after the 5 year endorsement. If Lonzo's for real, then he's essentially a sneaker free agent in the early stages of his prime. That's when you have the leverage. Worst case scenario, Lonzo has a career ending injury day 1 and you walk away with millions.

You bet on your son. Don't take the $10MM. Put every ounce of energy making sure Lonzo is ready to kick ass game 1 of his rookie season. He has a fantastic first half of his rookie season. Surpasses the hype and he's a legit MVP candidate. At that point you go back to the shoe companies with some leverage and demand the licensing deal + a whole lot more money. Or, you launch Big Baller Brand with some some juice that's based on actual performance.
The path they chose doesn't make business sense to me, and that's why I don't buy LaVar when he says it's all about his kids. Right now, until Lonzo steps on an NBA court, it's about LaVar. That's why they launch Big Baller Brand now. That's why he makes foolish demands with companies that have a pretty good idea of how to market athletes. He doesn't want to wait, and marketing his son is his job right now. Waiting either minimizes the father's role as a public figure (at that point, it will be about Lonzo the player), or worse, demonizes him as a father who got in the way of his son's ability to succeed.
---
Back At It Again
The Golden State Warriors are sweeping their way towards a NBA Finals for a third consecutive year (8-0 in the playoff so far). They're stacked with talent: 4 of the 5 starters were All-Stars this year. Some would argue that anyone could coach this team to a championship, but head coach Steve Kerr has played a major role in turning a 50-win team team into a historically great, championship team. I include him in the "stacked with talent" category.
As many know, Steve Kerr is not coaching the team right now. He had back surgery in July of  2015, and it did not go well. He missed 43 games last year, and now he's missing the playoffs this year due to nausea, head, and neck pain stemming from the original surgery. He had a corrective spinal-cord-leak procedure at Duke last week (how terrible does that sound?), and there's no timetable for his return.
The Warriors are on a historical run that Kerr's leading, and it's so strange to see such large chunk of it take place in his absence. When his coaching career is complete, I'm sure some hot take talking head will look to minimize his success due to his absence, and that will be dumb argument. Even while away, Kerr is making his impact known.
He's watching tape, strategizing offensive schemes and player rotation with acting head coach Mike Brown. He's also communicating directly with players. It all makes for a easily written story—Kerr's impact is felt in his absence—but I just come back to how difficult it must be to be put in such a great coaching position (his first coaching gig), only to have to watch from afar, especially for a former player whose professional life has largely taken place on the court.
Suffering through greatness. This also seems to be foundation of Kerr and Bob Myers (GM) friendship.
I would be shocked if the Warriors didn't cruise to another championship, but I wouldn't be shocked if Kerr isn't on the sideline to see it, and that doesn't seem right. – PAL
Source: "Warriors' Steve Kerr trying to help without imposing orders", Connor Letourneau, SF Gate (05/09/2017)
TOB: This whole story has me very sad. As longtime readers (3 years!!) of this blog know, I am a huge Steve Kerr fan. I don't have much else to say. I have actually avoided clicking tweets or links about Kerr, because I don't want to read bad news. I am hoping his body will heal, and he'll return to continue making the game of basketball even better.
---
Talent > Technology
Nike wants to own the first sub-two-hour marathon. It is the driving force behind a multi-year marketing campaign called "Breaking2", and last week they put on quite a show.
The concept: Create the absolute ideal conditions to run the fastest marathon possible. It would not count as an official time, but that was not the point. If you asked Nike, it was about human potential, and as Sarah Barker points out, it's also about selling merchandise through a production of awe.
Nike announced their plan to breach the two-hour marathon six months ago, though they said they'd been working on it since 2014. They made soaring statements likening their mission to a moonshot, Roger Bannister's four-minute mile quest, a dreamer's starry-eyed push at the limits of human potential, but let's face it—Nike is a retailer, first and last. The plan was to control external factors—weather, altitude, course—and apply the latest and greatest shoe and clothing design, hydration, fueling, training techniques, pacing strategies and physiological knowledge—all with marvelous retail potential—to already accomplished athletes. They chose Kenyan Eliud Kipchoge, Ethiopian Lelisa Desisa, and Eritrean Zersenay Tadese, in the same way they chose the Formula 1 racetrack in Monza, Italy, as the perfect parts for their marketing machine.
I've watched chunks of the race (it's worth skimming through here). It's essentially a three-hour Nike advertorial mixed in with live footage of the runners making laps on a Formula 1 track. Pre-taped features on the science, the gear, the nutrition, and short bio features on each of the runners. It's heavy-handed, but done cool and interesting in a way that Nike has mastered over the years. It motivates you to run, but only after you buy some new-fangled Nike shit.
Of the three runners, only one – Eliud Kipchoge – finished the race within a shouting distance of the pacers (the pacers would rotate in 5K increments). His time: 2:00:24. With the current world record standing at 2:02:57, it may seem like we're very close to breaking the two hour mark. We are not. Running – not racing – on a closed track in ideal settings with a pelaton-like wall of world class runners to draft off of is far from racing. I'd say it's a 50/50 shot that a clean 1:59:59 marathon happens in our lifetime.
Barker's beautifully written article is not only a dissection of the infomercial, but the surprising conclusion. While Kipchoge did not succeed in Nike's "moonshot" (its comparison), watching a generational talent do the one thing he was seemingly born to do under ideal conditions is mesmerizing:
It was the Kipchoge show. The commentators blathered endlessly about Nike science, but that all went out the window the minute the camera focused on Kipchoge. Nike's gimmickry did little for the other two unfortunates, which was driven home like a knife with every velvet step Kipchoge took. Flying on after 30K, faster than any human had ever run, it was increasingly clear that this part, going over the wall where the strain on mind and body must have been excruciating, this was about one extraordinary athlete. The shoes, all that, had fallen away, useless, silly. What was happening was not Nike-made, and had very little retail potential. It cannot be reproduced on others. Though no doubt unintended, Nike produced a two-hour opus by Kipchoge, on Kipchoge.
Good work, Kipchoge. Good work, Sarah Barker. – PAL
Source: "Nike's Two-Hour-Long Eliud Kipchoge Documentary Was Beautiful", Sarah Barker, Deadspin (05/08/2017)
---
It's Back: The WHL Bantam Draft Name Game
We covered this last year, too, and it's still so goddamn funny. The WHL recently held its Bantam Draft (14-15 year olds), and the names are so stupid and hilarious. God damn you, white people. As Barry Petchesky points out, "This is a snapshot of a time and place: naming conventions in the American and Canadian Wests (including Mormon Country and the Prairie Provinces, crucially) circa 2002." Behold:
There are FOUR different ways to spell "Kaden" and FIVE different ways to spell "Braden". As Petchesky says, "We will have a President Braeydaen in our lifetimes." I can't argue.
Other highlights: Cohner. Come on, what? TRUE!!!!! They named their kid TRUE.
Nurse: You need to come up with a name for the birth certificate.
Parents: Oh, that's true.
Nurse: Got it, thanks.
There is a Talon and a Talyn. There's a kid named KRZ. WHAT THE HELL COME ON. KRZ??? What kind of name is that? Oh god, it's pronounced "Cruise". I am dying laughing.  A kid named Cannon? Ok, actually, that's pretty dope. If only LaVar had named one of his kids Cannon. -TOB
Source: "The Future of Hockey Remains a Bunch of Kids With Irritating Names", Barry Petchesky, Deadspin (05/05/2017)
PAL: People can name their kids whatever dumbass name they want. I feel the same way about standard names as I do about people without tattoos. In 10 years, nothing will be edgier than a tattoo-free college student named John.
The thought of an expecting couple in bed kicking around these names, then talking about the spelling of the name has me laughing out loud right now.
You know what the shit of it is? Krz might grow to become a grounded, generous, kind person, and I would never know it because it would be damn near impossible to get over that first impression.
---
Machismo and the Mexican Fighter
This is a great article putting Julio Cesar Chavez, Jr.'s blowout loss last weekend to Canelo Alvarez into historical context. This article explores the Mexican psyche, the origins of "machismo", and goes in-depth on the 1996 fight between Oscar de la Hoya and Julio Cesar Chavez (Sr.), including why Mexicans and Mexican-Americans embraced Julio Cesar Chavez and considered Oscar de la Hoya a "gringo". I urge you to set aside 45 minutes and read this. -TOB
"Julio Cesar Chavez, Jr. Lost So Much More Than a Fight", Roberto Jose Andrade Franco, Deadspin (05/11/2017)
---
Video of the Week
---
PAL Song of the Week: Bob Dylan – "Abandoned Love"
---
Like what you've read? Let us know by following this blog (on the right side, up near the top), or:
Email: 123sportslist@gmail.com