---
Mission: Accomplished (?)
Now that the Astros are in first place and laying waste to the rest of baseball, this is an interesting read. Written in 2014 in the midst of the Astros rebuild, the final year of a 4-year stretch in which they lost 416 games, Ben Reiter got Moneyball-level access to the Astros braintrust as they prepared to make an unprecedented third straight #1 overall pick in the draft. The Astros considered 4 players and weighed the merits of each, using their blend of analytics and traditional scouting: Carlos Rodon, a college pitcher, Alex Jackson, a high school outfielder, and Brady Aiken and Tyler Kolek, high school pitchers. They eventually settled on Aiken, despite their reservations about taking a high school pitcher – historically a very risky pick. It's fascinating to read, three years later, because I have the benefit of hindsight to see how they did. So, of course I did.
Aiken is a major bust at this point, and making matters worse for the Astros is the fact they never even signed him. After the draft, they claimed their doctors found an issue with his elbow, and so they offered him a lowball signing bonus. Aiken called their bluff, and re-entered the draft the folllowing year. He has since undergone Tommy John surgery and has never pitched above A-ball. Yikes.
Kolek has not fared much better. He went #2 to Miami, also underwent Tommy John surgery, and has also not pitched above A-ball.
Jackson at one point was rated highly enough to warrant me taking him in my keeper league as a prospect, but has failed to develop.He strikes out a ton, and has also not produced the kind of power expected from a player who led the entire state of California in home runs as a high school sophomore. Needless to say,  I released him.
Finally, Rodon – the guy they should have taken. Rodon was called up in 2015, and has been a nice addition to the White Sox rotation, if not a star. He strikes out just over a batter an inning, doesn't walk many guys, and has a career ERA of 3.90.
All told…yikes. I wouldn't be too harsh on the Astros, though. I checked – it was a pretty bad draft. Not many of the guys are even major league starters, let alone stars. Interestingly, Houston's #1 overall pick from the previous season, Stanford's very own Mark Appel, has also been a complete bust, never appearing in the majors, with a career minor league ERA of 5.27 and a K:BB ratio of just 2:1. Houston finally gave up on Appel last year, and he's in the Phillies' system at present. So, the Astros did a complete rebuild and got zero from two straight #1 picks, making their current destruction of the league all the more impressive. The players leading the charge are featured quite a bit in the article- then-prospects like Jose Altuve, Carlos Correa, and George Springer were so promising at the time that Sports Illustrated even wrote, at the end of the article, a fake "Dispatch from the Future", discussing the Astros' victory over the Cubs in 2017 World Series. That prediction does not look bad, at the moment.
If you read and enjoyed Moneyball, or wanted to read Moneyball but never found the time, you will enjoy this look into the braintrust of an innovative, and ultimately successful, baseball front office. -TOB
Source: "Astro-Matic Baseball", Ben Reiter, Sports Illustrated (07/27/2014)
PAL: Great stuff. I loved Moneyball, and, as Reiter points out, the Astros represent the evolution of innovative baseball analysis. Projecting MLB talent is absolutely gambling. If a player represents a blackjack hand, the team is trying to figure out whether to hit or stay on him.
Definitely worth the read!
---
The Legend of Frank Deford
"His stories, along with those of other Sports Illustrated writers including Dan Jenkins and Mark Kram, helped raise sportswriting from the daily chronicle of victory and defeat to something with more literary ambition."
I can't imagine a more honorable quote for a sportswriter, but Frank Deford wasn't just a sports writer.
Deford, Jenkins, and Kram set the groundwork for the legend of Sports Illustrated, and the impact of that publication on sports lovers cannot be diluted in the world of Bleacher Report, Deadspin…hell, even 1-2-3 Sports! Box scores are a snapshot, but to those of us with the sports hook firmly set, we want more, and we want more because of the types of stories Deford wrote.
"For Mr. Deford, it wasn't enough to present in-depth profiles of familiar names, such as coaches Paul "Bear" Bryant and Bobby Knight. He sought to grasp how sports were an inescapable part of the American soul, an emblem of loyalty, aspiration and, all too often, heartbreak."
That heartbreak was uncovered in Deford's story on Kirby Puckett's downfall. It still pains me to read, but you can't discredit the writing.
I came to Deford when his prime as a writer was in the rearview, and some of his later work could lay the Americana storytelling on a bit thick, the guy was a giant. Here's to the next who will redefine it for my nieces and nephews. – PAL
Source: "Frank Deford, who wrote about sports with panache and insight, dies at 78", Matt Schudel, The Washington Post (05/29/2017)
---
No Fan Left Behind
God damn, this is funny. The morning after the Coca-Cola 600 NASCAR race last weekend, clean-up crews filed in to clean up the mountains of trash left behind. They found the usual – beer cans, etc., but also found tents, a kiddie pool, a woman, a couch. Wait, a woman!? Yes, Jody Nash, whose friends and/or family left her behind. I'm guessing they had difficulty rousing her…but it sure made for a great local TV spot.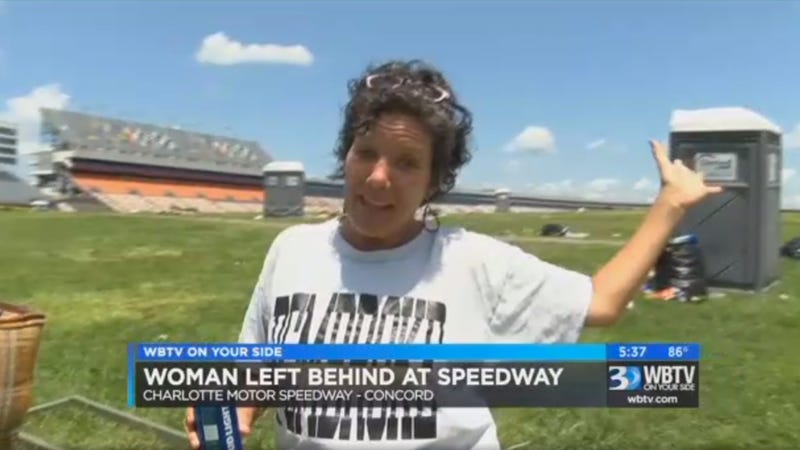 "Hey, Mom, I'm okay!" Nash said, holding a Bud Light. "I'm still here in Turn 2!" Y'all come get me?"
Follow the link for the excellent video. -TOB
PAL: I think we might have to go to a NASCAR race. One of the funniest videos I've seen in quite some time.
Source: "Woman Left Behind at Charlotte Motor Speedway", WBTV (05/30/2017)
---
Video of the Week
Richmond, California's own Takk McKinley. I'd be dancing like that, too, if I got a $5.5 million signing bonus.
---
PAL Song of the Week: Delicate Steve – "Butterfly"
---
Like what you've read? Let us know by following this blog (on the right side, up near the top), or:
Email: 123sportslist@gmail.com