Our thoughts exactly.
---
What's Right with Sports, c/o Tour de France
MONT DU CHAT, France — A white-haired man was dancing naked in the middle of the mountain road, his sunburned body rocking imprecisely to a pop song pounding from a set of speakers. His halfhearted attempt to cover himself with one hand as he swayed was mostly ineffectual, which only made his friends laugh harder and cover their eyes. Behind them was a 20-foot-long, homemade banner that read, "VIVE LE TOUR."
This could be the first line of a novel (and one I'd no doubt keep reading). Instead, it is the opening to a story about the rabid crazies who run alongside cyclists as the chug, heave, and trudge up mountains in the Tour de France.
Every year fans make their way up winding mountain roads, set up camp to witness a sporting event they will see with their own eyes for less than 30 minutes (the overall race is takes place over the course of 21 stages and covers over 2,000 mile). Some fans come up days before, and others scope out the prime real estate along the route weeks before the riders suffer past them. They pass the time with seasons of Top Chef, wine, endless games of pétanque (a french lawn bowling game), more wine, late night firecrackers, and beer, all along a mountainside. Obviously, the race is just a small part of it. Said one spectator, "If the cyclists never came up on Sunday, we'd still be O.K."
It's not just retired guys crossing off a bullet on their bucket lists, and it's not just college kids looking for an excuse to drink on a mountain. No, it's all of them and everyone in between. And it's exactly the kind of loose, unsponsored tradition that hits me just right.  You've got some experienced crews, who've learned over the years that a little class and fine cuisine don't weaken the camping experience:
And then you have these idiots (I use that term affectionately):
The fridge, the TV on someone's desk from school, the grocery cart – it all screams college adventure. Of course, all of this leads to the race. Spectators choose to watch on the mountains because of the speed. On flat portions of the race, teams whiz by in a blur. It's different in the mountains:
Crowding the course, inches from the cyclists, the spectators could yell almost directly into their ears and look straight into their eyes. George Bennett of New Zealand cracked a big smile when he spotted a man dressed like an insect, furiously snapping his cloth pincers. But otherwise the riders had blank, detached expressions. Some seemed pained. A few of the stragglers received pushes from helpful fans.
The irony of my speaking to the purity of the spectator experience of a sport that has been anything but on the up-and-up is not lost on me, but I want to do this. It looks like a lot of fun. Hell, a woman from a nearby town brings up fresh baguettes each day! – PAL
Source: "On Tour's Mountain Roads, Beer, Baguettes and, Briefly, Bikes", Andrew Keh & photographs by Pete Kiehart, The New York Times (07/18/2017)
TOB: I'm certainly not one to turn down a party, but there's something about this I can't get behind. Hanging out for up to a week to see some dudes ride by on bicycles for a few minutes? As one of the spectators said, "You're here so long, and then it's over so quick. It's bizarre, if you think about it." I'm with you, dude. I would have a lot of fun, but I don't think I'm traveling to France for that. 
---
The Greatest Tennis Player Ever is Still Doin' the Damn Thing
I'm not really a tennis fan, though I find it interesting to follow from afar. That doesn't particularly make sense, but it's true. I don't watch, but I like to read about the players, and the rivalries, and the records. From a distance, I've become a huge Roger Federer fan, despite watching maybe three Federer matches in my lifetime. The first was his Wimbledon Final in 2008 against Rafael Nadal. Nadal won in an epic match, and I woke up at like 5am to watch (it lasted nearly 5 hours). The most recent time I watched Federer was this year's Wimbledon Final, last weekend, against…honestly I already forgot his name. Celic? Cilic! Roger crushed him, though to be fair Cilic was suffering from a truly gnarly blister on his foot.
There's something about Federer that makes him easy to root for. A lot of it, for me, has to do with his age. He's just a few months older than me, and he's playing tennis at a level no one his age has ever played. He's also simply, undeniably, great, which is something I can always appreciate in an athlete. And there's something just likeable about him. As Giri Nathan points out…it shouldn't be that way. Federer should be an absolute tool. But he's not! Or he comes off not that way. Even his opponents report being unable to dislike him. He's just too goddamn nice. And not in a fake way. He wipes the tennis court with his opponents. He's an absolute killer out there. And then he smiles and embraces his foe afterwards, almost apologetic for the whuppin he just gave.
I tuned into this year's Wimbledon Final (ok, on DVR-delay – Roger and I aren't 26 anymore, ok?) because this really could be his last. After last year's Wimbledon, even Federer thought he might be done. He needed a break. So he took a full 6 months off from tennis. When a 35 year-old athlete does that, the end is near. But what did Federer do? He came back and won the Australian Open and Wimbledon this year.
But how long can he keep it up? He's now outlasted his once young, upstart nemesis Nadal, age 31 (while he won the French Open this year, it was his first since 2014, after having won 9 of the previous 10). He's also outlasted his even younger upstart nemesis, Novak Djokovich, age 30, who failed to make a semifinal in a major this year for the first time since 2006, and is battling injury.
So, this might be it for Fed. Or it might not. I hope not. The match last week was nothing special, but I will gladly watch him do things like this a few more times:
-TOB
Source: "There Is No Hiding From Roger Federer", Giri Nathan, Deadspin (07/17/2017)
PAL: We have some really great writing in the stories this week. Giri Nathan's musing on rooting for Goliath nails it:
If he is in your commercial break or in the pages of your magazine, he is peddling things outside the realm of almost every viewer's means. If he is on the tennis broadcast, he is doing things outside the realm of almost every peer's physicality. Nor is he particularly bashful about any of this. His personal monogram, a precious little gilt alloy of his initials, could inspire a world of resentment, but, somehow—no, this makes a weird sort of sense, even when it appears on corny cream blazers or cardigans. Maybe this is the most direct way of framing the issue: I see a man walk onto court caked up in all this, as Federer did in 2009—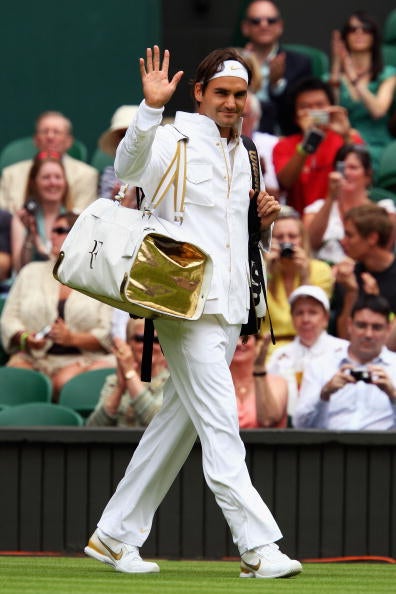 —and not only do I not loathe this man or cheer for his humbling, I even hope for him to win, and want him to keep winning even after he's already won more than any other man ever has.
Like TOB, I've maybe seen Federer play five times, and yet I was sucked into watching a "best Federer shots" compilation at lunch today. That one-hand backhand is…damn, if it isn't a thing of beauty, headband and all. I don't really care enough to take into account whether or not Federer is a good guy. I just like to see obvious, masterful grace in a sports.
---
Do It for the Bumper Sticker
With SF Marathon taking place on Sunday (remember that, drivers), it's fitting to share this cool, interactive series of 7 runner profiles from the Chronicle. In addition to their varied backstories and reasons for running, the subjects also share training logs. It's pretty interesting to see the different approaches. Jorge Maravilla, who finished 3rd in last year's race, has a very different training program than someone who's trying to finish his or her first marathon. That much is a given. But would it surprise you to find that he doesn't log the most miles, or even the most elevation gain?
It's also a bit alarming to see some of the training logs, and you find folks only putting in 3 days of running in a week. Not going to lie – I think Lauren going to be struggling at mile 19 on Sunday. She's averaged 18 miles of running a week in her training.
And then you have the over-achieving family. The dad runs ultra marathons at record-setting times. The dude's 70. He's the guy running more miles than the guy hoping to win the damn thing. His daughter ran seven 20+ mile runs in her training and is hoping to qualify for Boston. Hell, they ran together on her wedding day.
All kidding aside – all the best to the runners this weekend. Don't poop your pants. – PAL
Source: "Seven Runners, One Mission", Erin Allday, Emma O'Neil, The San Francisco Chronicle (no date given)
---
Goals.
This is a shameless shoutout to my father-in-law, Ed, a loyal reader of the blog. Ed loves soccer more than you love any non-living thing. I'm fairly certain of that. Ed is 71, which sounds old (sorry, Ed), but he doesn't let that keep him on the sidelines. Ed plays soccer every week (multiple times per week?) with a group of guys around his age. But they aren't a bunch of old dudes struggling to motor around the pitch. No, Ed and his team, Golden State Legends, also travel the world to lay waste to the competition. In recent years, soccer has taken him as far as Peru. Last week, Ed traveled to Nashville, Tennessee, for the United States Adult Soccer Association's Soccerfest, and, for the third straight year, Ed's team took home the championship. Competing against teams from as far away as Japan, Golden State Legends won the title 3-1 against a team from Georgia. Ed even scored a goal in the tournament, while wearing a do-rag, and there's photographic proof!
I have mentioned before that I play a weekly basketball game in my neighborhood with a bunch of guys as young as their 20s and as old as 70 or so. I have always hoped my body will hold up and allow me to continue to play basketball until that age. But now I have a new goal: play basketball at such a high level, at age 70, that someone gives me a big ol' trophy.
Congrats, Ed! -TOB
PAL: The things guys will do to curry the favor of the in-laws, am I right, folks? I kid! I kid! Love that Ed and his buddies are getting after it, chasing down titles, and doing it with a little do-rag flair to boot.
---
Video of the Week
The drive-by-dunk challenge. Not nearly as cool as the pool slam dunk craze from a few summers back. Good lord, teens are bored.
---
PAL Song of the Week: Pink Floyd – "Have A Cigar"
---
Like what you've read? Let us know by following this blog (on the right side, up near the top), or:
Email: 123sportslist@gmail.com