TOB and family are off camping this week. Looks like it's just me. 
---
The Biggest Catch
When I stop to think about it, the notion of upper decks in baseball stadiums are crazy. Go up a couple hundred feet in the air. Sit on ledge on a steep incline, and drink alcohol. Then, when a $6 baseball is hit in our direction, we lost all sense of where we are. Multiple decks holding tens of thousands of people are stacked on top of each other with short railings to keep us from falling to the deck below us.
People die at baseball games from falling over short railings. In 2011, a fan died after falling over a 20 foot wall in Arlington while trying to catch a ball Josh Hamilton tossed him between innings. Tyler Morris fell 35 feet from the upper deck a year before that in the same stadium. He broke his skull, but didn't die. Another fan died at Turner Field in 2015 after falling from the upper deck. 
The thought has crossed my mind at nearly every game I've watched from the upper deck. It wouldn't take much. A missed step at the wrong time and I'm in a bad way. It's a nightmare scenario, and Randy Kobman has lived through it. Per Dave McKenna:  
On April 22, 1981, an Ohio teenager named Randy Kobman skipped school to go to Riverfront Stadium to see the Cincinnati Reds play the Atlanta Braves. In the bottom of the 8th inning, Reds slugger George Foster fouled a pitch from Gaylord Perry into the grandstands behind home plate. The ball caromed off the the press box and headed back toward the field. Kobman, sitting in the front row of seats in the stadium's second deck, moved toward the aisle to make a play for the bouncing ball. He caught it. Then he flipped over the railing.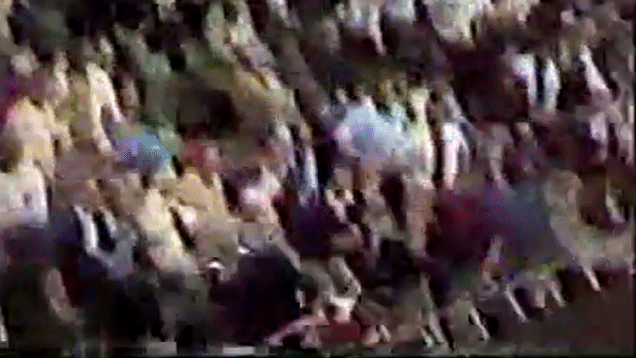 How he holds on, I'll never know. I can't believe I've never heard this story or seen this clip.
McKenna's story isn't just about that clip; rather, he uses that moment as a junction to explore multiple paths of the story. In fact, we have two stories that use a blurry instant in that manner. McKenna digs into those impacted on that day (George Foster, and Lee Corso – yes, that Lee Corso of College GameDay, among others). He and Kobman explore Kobman's life after that moment.
But perhaps the most alarming component of this story is the fact that people continue to fall over railings at baseball games. Kobman's catch happened in 1981! Last I checked, it's 2017.  The notion that anyone has fallen over a railing at a baseball game in the last in the last 26 years is at least absurd and quite possibly negligent. Of course, I understand not wanting to obstruct a spectator's view, but there has to be some common sense here.
On a lighter note, Kobman ditched school to catch a the Reds play the Braves. While he didn't die, his cover was most definitely blown. Solid read! – PAL  
Source: "The Kid Who Didn't Die At Riverfront Stadium", Dave McKenna, Deadspin (8/1/17)
---
Glove Love
This is some fun writing here, folks. The premise: home runs alone make for bad highlights. What's more important is Sam Miller absolutely nails just what does make for a good highlight:
A great highlight is like a magic trick, in which the magician pledges to do something impossible, does it in a way that surprises you, and manages not to fully give away the secret. How did Nolan Arenado make this throw? How did Kenny Lofton make this catch? How did David Wright use his bare hand?
How did Aaron Judge hit a ball so far? Well, the answer's pretty simple. He's stronger than everybody else and he hit the ball squarely. It's not that that's not incredibly impressive. It's just impressive in the way that a great clean-and-jerk or a record long jump is impressive. He was capable of an act of extreme strength and this is it. It's less like a magician doing a trick and more like a guy who can bang a gong loudly. Like, incredibly loudly, but still, that's the act.
To prove his point, Miller gives us some spectacular 'magic tricks', including this gem from Mark Buehrle:
And then you're in a YouTube wormhole of great baseball plays – most all of which are defensive plays. It's a delightful wormhole, one from which I reluctantly emerge. Fun story, excellent writing, great video clips. – PAL
Source: "Dig the longball? Here's why home run highlights are the worst"*, Sam Miller, ESPN (7/21/17)
*When did we officially give up on headline writing? "Dig the longball? Here's why home run highlights are the worst" – really? That's the best we can come up with? I'm guessing there's some pretty convincing research telling websites and blogs that clever headlines don't get the clicks that painfully obvious headlines receive, but this headline sucks even by those standards. How about "The Worst: Home Run Highlights"? Do we have to reference a Nike ad from 20 years ago? Give me a little effort, guys!
---
How To: Iconography
This is the second David Davis story we've shared on 1-2-3 Sports! Both are about iconic olympic photographs. The first, posted on 8/19/16 examines the moment olympic favorite Mary Decker realizes her dream is running away from her. Today, we look at sprinter Ben Johnson.
There's no point in avoiding the cliché: if a picture is worth a thousand words, then give me both. That's exactly what Davis does in his deep dive into Ron Modra's photograph from the '88 Olympics: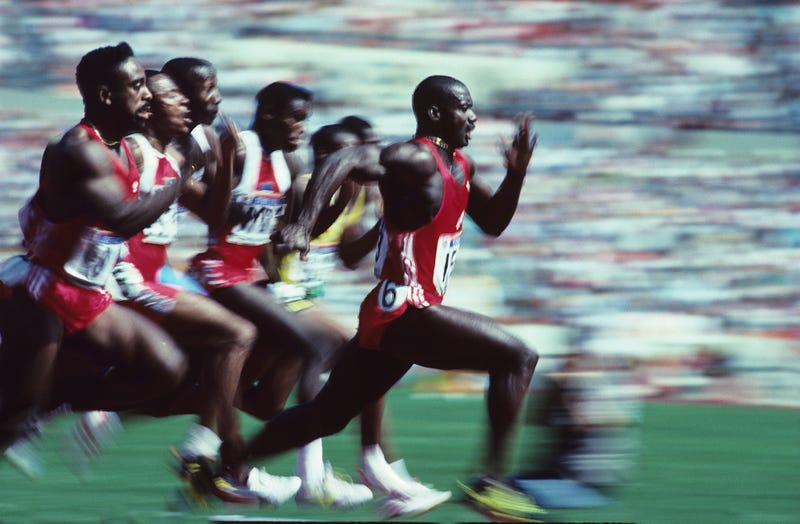 For all-time photographs like this, the right person needs to be at the exact right place at the exact right time. The circumstances matter, and the circumstances are many. How Modra captured this shot is not just about snapping the shot, it's about how he got there. There being 20 meters off of the start line instead of the finish line. There being Sports Illustrated. There being in Canada leading up to the Olympics. Hell, there being a photographer in the first place.
As a kid he helped out around his dad's small printing business. One of his jobs was to shoot displays. After serving in Vietnam, he avoided college by shooting sports for local papers in Milwaukee. Turns out, 1970 was not a bad time to be earning your stripes as a sports photographer in Brew City:
A self-taught "grinder," Modra finagled credentials to shoot Milwaukee Bucks games. The Bucks were an expansion club, but behind their big three of Kareem Abdul-Jabbar (then known as Lew Alcindor), Oscar Robertson and Bob Dandridge, they won the 1970-71 NBA championship in only their third year of existence. Modra's work was noticed by the PR department for the other new pro team in town: the Brewers, owned by Bud Selig, a local car dealer who had bought the Seattle Pilots out of bankruptcy and moved them to Wisconsin in the spring of 1970.
He worked hard, produced, and was eventually noticed by Sports Illustrated, which was the leader in sports journalism. His wasn't a meteoric rise. Hell, he wasn't even on the 'A-Team' at SI when he snapped the shot of Johnson at the olympics. I'll leave it there, because you should really read the entirety of Davis' story.
There's the story of the photograph, and then there's the story of what the photograph has come to represent. Davis puts it simply and powerfully: "Indeed, Johnson's transgression was the first time that a major sports star was caught, exposed publicly and penalized harshly for steroids."
Turns out, there's a hell of a lot of luck involved, too, which makes this an even more fascinating read. Take the time to enjoy every word of it. – PAL
Source: "The Story Behind The Iconic Photos Of The Olympics' Dirtiest Record", David Davis, Deadspin (8/2/17)
---
Video of the Week: 
PAL Song of the Week: Led Zeppelin – "Rock And Roll"
---
Like what you've read? Let us know by following this blog (on the right side, up near the top), or:
Email: 123sportslist@gmail.com