---
You Got This, Twinkies
The Minnesota Twins lost 103 games last year. For context, the Giants have been unwatchable this year, and they're projected to lose 99 game this year. After back-to-back games with walk-off home runs, the Twins have a 3 game lead on the Angels for the final Wild Card spot in the American League with 12 games remaining. They've got some mojo working this week at a crucial moment in the season, and I'm very excited.
Consider this: a month ago the Twins front office punted on the season. After losing seven of ten, the team became sellers on the market. They traded pitcher Jaime Garcia  – who they acquired in July and made one start for the Twinkies – to the Yankees (which would be their opponent in the Wild Card play-in game). They dealt their closer to the Nationals for a prospect.
They are a fun team, but they aren't a great team. As Lauren Theisen points out, they are an above average team in a top-heavy American League, which is the perfect scenario for team to slip into the playoffs with a winning percentage just above .500.
What makes them fun? Byron Buxton, for one. I love watching this guy run and play center field. Rather than trying to tell you how fast he is, just watch these two highlights:
Buxton, who was a can't-miss prospect from day one, has been talked about for years (I can't believe he's only 23). Unbelievable speed and athleticism, and a guy that mashed in the minors. His defense has never been in question. People have been waiting for his bat to come around. Many started to think it wasn't ever going to happen (again, the dude's only 23). Take a look at his monthly splits from this year:
He's cooled off a bit in September, but 3 months is more than getting hot. Most of all, I love him because he wants this so bad. He wants to win, and he wants to be great, and his enthusiasm is contagious. Love it.
The team can hit the long ball, too, thanks in large part the emergence of Miguel Sano (28HR) and vet Brian Dozier (30HR). Historically, the Twins are not a home run team. Twins fans have never asked for a '27 Yankees lineup, but consider this: in the history of the organization (the Washington Nationals relocated to Minnesota in 1961), two players have hit 40 or more home runs in a single season. Harmon Killebrew (my dad's favorite player and doppelganger) did it six times for the Twins, and Brian Dozier joined the 40HR club just last year. That's the list.
This year's team doesn't have a 40 home run guy this year, but they have 6 players with 15 or more home runs.
And while the pitching isn't built for a long run, I do like Ervin Santana in a 1-game playoff. Add to all of this, every Minnesota Mom's favorite good Catholic boy Joe Mauer, a.k.a, Baby Jesus, is hitting over .300 again, so all is well (except he has 6 home runs as a first baseman with a slugging percentage below the league average).
Now for the sobering stat. Like I mentioned earlier, the Twins would play the Yankees in the play-in game if all holds as it stands today. Here's the Twins record against New York in the playoffs: the Yankees have ended the Twins playoffs 4 of the last 5 times Minnesota played in the postseason. The Twinkies won a grand total of 2 games in the four series. Still, as Andy Dufresne taught us, hope is a good thing, maybe the best of things. – PAL
Source: "The Minnesota Twins Are Still Here", Lauren Theisen, Deadspin (9/13/17)
TOB: Geeze, ya know Phil, I'd love to get on the Twins bandwagon. I really would. But, I need the best chance to beat the Dodgers, and the Twins just aren't it. Besides…
---
The Cleveland Indians Will Never Lose Again And Are Fun As Hell
Wow. The Cleveland Indians have won twenty-two games in a row. That's incredible. I started paying attention heading into last weekend, when they were at about 15 or 16. For wins 20 and 21, I even glanced at my phone every 30 minutes or so. But for win 22 last night, I actually listened to the game on the radio. And what a game it was. The Indians had smoked every team they played for darn near a month, outscoring them 134 to 32 over the first 21 games of the streak – and didn't need any walk-off or extra-inning wins, either. But Game 22 was a little different. The Indians didn't capitalize on some early chances and were down to their last six outs. They loaded the bases with one out in the 8th, and popped out harmlessly in foul ground twice to end the threat. In the 9th, they were down to their last strike, with a man on first, when Francisco Lindor (one of the game's most fun to watch players, along with Phil's aforementioned Byron Buxton), crushed a ball to the opposite field. The ball went off the wall, just over the outstretched glove of Royals' Gold Glover Alex Gordon. It would go to the 10th, where a lead-off double by Jose Ramirez was followed by a Jay Bruce double to win the game. Bedlam. In Cleveland, and at my house. I love win streaks, and I had just won $10 dollars from my co-writer, Phil, who did not think the Indians could do it. We're now officially even for the 2013 Miami Heat win streak bet, buddy.
The Indians are fun and young and talented. They deserved to win the World Series last year, and I really hope they do win it this year. Hell, that'd mean the Dodgers did not. Also, read this great story by Grant Brisbee on why this win streaks has been so much fun. -TOB
Source: "Why I Love the Indians' Winning Streak So Much", Grant Brisbee, SB Nation (09/13/2017)
PAL: Fun read, even when I just can't root for Cleveland, an A.L. Central foe of the Twins. It's cool they got the record, but a World Series? Nope. Never.
I enjoyed Brisbee's writing, especially this section:
The home run records are fantastic, but they always require a next step. Barry Bonds has the single-season and career records, but they came in a high-offense era that was also the peak of performance-enhancing drugs. Giancarlo Stanton hitting 62 in that context might impress you more, but he's doing it in an era where every Tom, Dick, and Barry is hitting 20 and the ball might be different. This guy played in this decade, that guy played against expansion teams, and it's all a varied cornucopia.
Winning streaks are the same, mostly. It's hard to win five games in a row, and it always has been. It's exceptionally hard to win 10 games in a row, and it always has been. It's wildly, unfathomably hard to win 15 games in a row, and it always has been. When you get to 20, it's looped back around to normal, as you forget yourself and expect baseball to be predictable again, but that's always going to be the case.
---
Am I a Fair-Weather 49ers Fan? Ya God Damn Right
Last weekend, I did not watch the Santa Clara 49ers' season opener. They suck and they're boring, a bad combo. But when taken with every idiotic thing that franchise has done to its fanbase the last 10-15 years, I don't know why anyone spends their time watching this team right now. Consider:
In 2004, they passed on a local kid, who grew up a 49er fan, named Aaron Rodgers. They took Alex Smith. Big mistake.

It takes them nearly a decade to recover from that, and other, mistakes. They finally do when they hire Jim Harbaugh. He

immediately

makes them a Super Bowl contender through sheer force of personality. Bitter for years about the team passing on Rodgers, they finally sucked me back in. Then they fire him because he didn't kiss Boy Wonder Jed York's brass ring.

And, of course, the coup d'etat, Boy Wonder moves the team from San Francisco. It's way down in hot, boring Santa Clara, the magical land of strip malls and business parks. They take hundred of millions in public funds, try to tear down youth soccer fields to build

more

parking lots, and build a sterile, absolutely charmless stadium, that absolutely no one likes, and which gets so hot on one side of the field during day games that the stands are practically empty.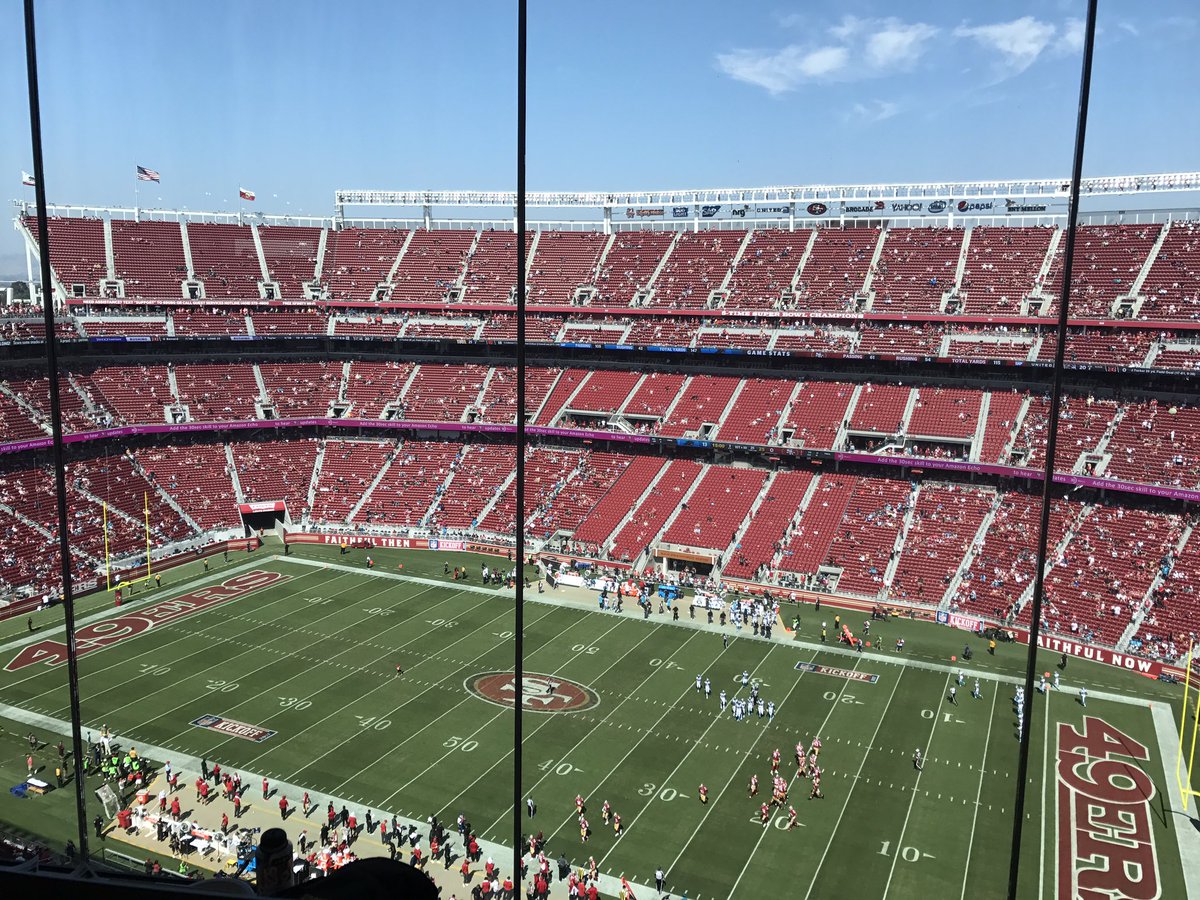 So, yeah, I'm a fair-weather fan. Wake me when they're good again, or at least when Jed is gone, Rowe. -TOB
Source: "The 49ers Stadium is as Empty as it Deserves to Be", Lindsey Adler, Deadspin (09/12/2017)
PAL: The Niners got what they deserved. You spin it anyway you want – state of the art stadium, public transportation, no more gridlock parking lot nightmares – but moving a team 40 miles from its city matters. Maybe the die-hard fans won't admit it, but the casual fans are lost unless the team is making a deep playoff run. Community matters in professional sports. Maybe not in terms of TV contracts, but it surely does to the fans. You better be really, really good if you expect people to care when you're no longer around.  
---
You Can't Lose If You Vacate
10 years ago I watched Texas and USC play one of the most entertaining football games I've ever seen. USC was riding a 34-game win streak coming into the championship game and was full of college stars – Reggie Bush, Matt Leinart, LenDale White, Dwayne Jarrett were all bonafide studs (with Bush and Leinart receiving Heisman Awards). USC was also going for a third straight national title under Pete Carroll. Texas had Vince Young. Vince Young proved too much. In one of the most impressive performances on the massive Rose Bowl stage, Young went 30-40 for 267 yards through the air and also ran for 200 yards and 3 touchdowns. Longhorns win the national title on an iconic fourth-and-five scamper from Young with :19 on the clock. Longhorns win. Trojans lose.
Few would argue that this was anything other than one of the greatest football games ever.
However, according to USC, the loss no longer exists. Austin sports anchor Joequin Sanchez first surfaced this little nugget from the USC program:

The 2005-06 Trojans had to vacate all 12 of their wins in the wake of the Reggie Bush scandal. They thought – Hey, if we're losing all of the wins, we might as well ditch the loss as well.
You can't exploit a punishment to cross out losses with the wins? This might be the best example of how little an NCAA punishments have on the past, save for the extreme cases like Penn State football or Baylor basketball. The punishments doled out only hurt current and future players – not coaches (Carroll is doing just fine with the Seahawks), and not former players. The games were played, the winning team's band played, the losing team filed off the field amongst a celebration.I watched the game, I've seen the documentary about the game. Our collective memory is far more pervasive than a NCAA sanction.
Carl Lewis might have a gold medal from the '88 Olympics, but Ben Johnson won the 100-meter dash. The University of Minnesota might not have a Final Four banner hanging from 1997, but I watched Bobby Jackson carry the Gophers to a Final Four. I'm all for punishing those that break the rules, but an attempt to wipe away the record of events that occurred is in most cases comically foolish.
It's also quite possible the pissant that was given the task of writing up the USC program copy this year went rogue and thought, shit, if we're wiping away the season, then why don't we throw out the loss to Texas, too? If that is the case, then I applaud the effort. – PAL.
Source: "USC Pretends Like It Didn't Lose The 2006 Rose Bowl", Patrick Redford, Deadspin (9/12/17)
TOB: Yeah, this was most likely an intern or low-level employee USC dipshit trying to be cute. The NCAA vacates wins from the cheating team. USC cheated that whole year, and half the year before that, stealing a Rose Bowl from Cal in the process. All those wins were vacated. But the losses are not vacated. It's the most perfect USC story. They're cheating morons.
---
What Kaepernick Teaches Us About Race in America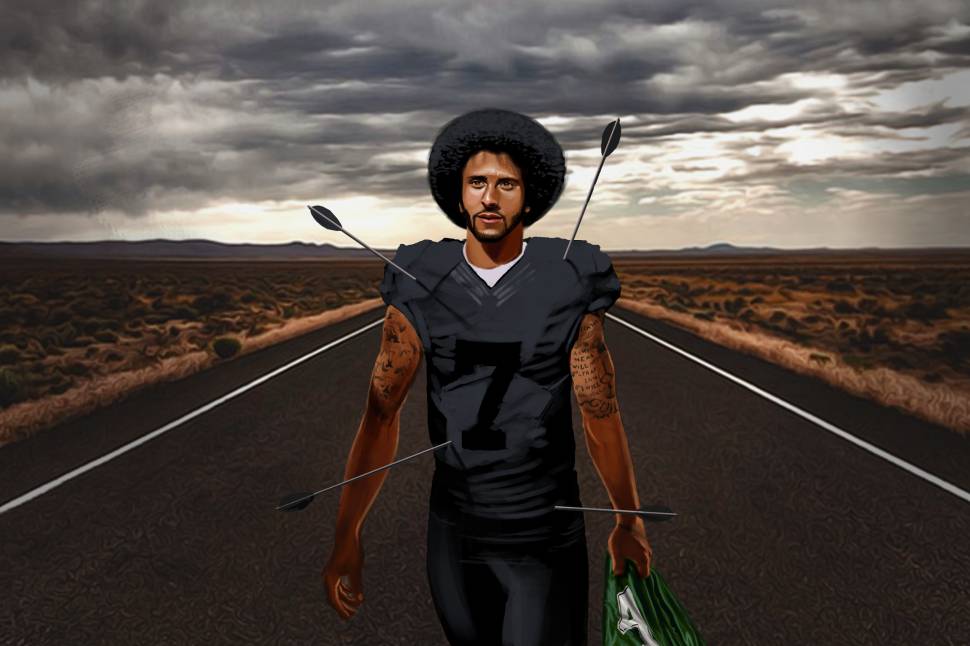 Former Grantland writer Rembert Browne presents what I believe will be the defining piece of the Colin Kaepernick saga. Similar to the story we brought you last week, but this goes very deep on who Kaepernick is – where he came from, what he's been through, who has helped shape him, how he became the (silent) face of a movement. But it also talks about where we are, as a society, on race. Needless to say, it's not pretty:
The clear, overt racism is a beast in itself to fight, without the faux-liberalism further complicating the matter. But the race to unity is, and has always been, a trap. The inconvenience that is Colin Kaepernick brings this denial to the forefront, a presumption that this country is anywhere near a hug. We've talked about shit, but we haven't talked through anything. For white Americans to accept that things are bad—and then just jump ahead to kumbaya and #ImWithKap—is a profoundly deep-seated defense mechanism for hiding from what white America did, and continues to do, to the rest of us.
One of these days
When you made it
And the doors are open wide
Make sure you tell them exactly where it's at
So they have no place to hide.
Langston Hughes told Nina Simone that, before he died. And while Colin is no Langston (and Bennett no Simone), what's behind that door has always been the true history of this country.

Through that door, the true history of this country. Through that door, the unpleasant reasons behind this country's greatest success and failures. And through that door, flashbacks to all the times this country's ways have helped you and the ones you've loved, all the ways it's hurt.

Colin Kaepernick found that door. He's been showing us where it is, for a year now. And it's on us now—all of us: to invite discomfort enough to take that walk, down this dangerous road that so few travel, and understand that you could experience all this hurt, all this pain, then you could walk back out into the same America you left behind.
I strongly urge you to read it. -TOB
Source: "Colin Kaepernick Has a Job", Rembert Browne, Bleacher Report (09/12/2017)
PAL: A lot to digest in this piece, which reads like a director's cut of the article we posted last week on Kaepernick's backstory. But Browne, an undeniably talented writer, brings more of himself into this piece. This version of Kaepernick's story is a long, meandering stroll through his past and present. In the absence of Kaepernick speaking to the media, Browne wants to say everything, but I think the most compelling point he makes addresses Kaepernick's silence:
"To be a work-in-progress is nearly unacceptable, because the currency that drives our culture is not self-improvement, but instead the ongoing erosive process of each person, on each side, designating who is wrong and who is right."
Yes, Kaepernick has the right to be a work-in-progress, and to educate himself and do so privately. It makes me wonder if the cause needs Kaepernick to be front-and-center anymore. Does he need to be the face of debate, or can others take the baton? I do think Kaepernick is at risk of becoming a symbol instead of a leader if he choses not to speak (maybe he's good with that).
I don't think the public's interest in his story will sustain much longer. A lot of these stories are connected to football. Add Charlottesville tragedy in the weeks leading up to the start of the NFL season, and it makes sense to circle back on Kaepernick at the start of the season when Kaepernick's not on a roster.
Even as I write this, I worry we've spent so much time, anger, support, frustration on Kaepernick instead of the issues. We like to reduce extremely complex issues down to 'takes', and it's far easier to have a take on Kaepernick than it is to address inequality and discrimination as a part of the American experience. When we talk about Kaepernick, we're talking about someone else; when we talk about inequality, we're talking about ourselves.
TOB: I just wanted to add that I really liked that part, too. Kaepernick took a stand, and in doing so made some mistakes (as Browne notes, the police/pig socks, for example). But instead of vilifying him, we should understand that he's a human, and he's not a finished product.
---
Video of the Week (tomorrow's leaders, folks):
---
PAL Song of the Week: The War On Drugs – "Holding On"
---
Like what you've read? Let us know by following this blog (on the right side, up near the top), or:
Email: 123sportslist@gmail.com