Well, yeah.
---
Extend the Netting, You Twits
A few years ago, MLB "recommended" teams extend the protective netting behind the plate to the ends of the dugouts for the fan safety. Most teams ignored the recommendation. The Yankees were one of those teams. On Wednesday, Yankee Todd Frazier lasered a foul ball line drive into the seats along the third base dugout, and immediately dropped to his knees: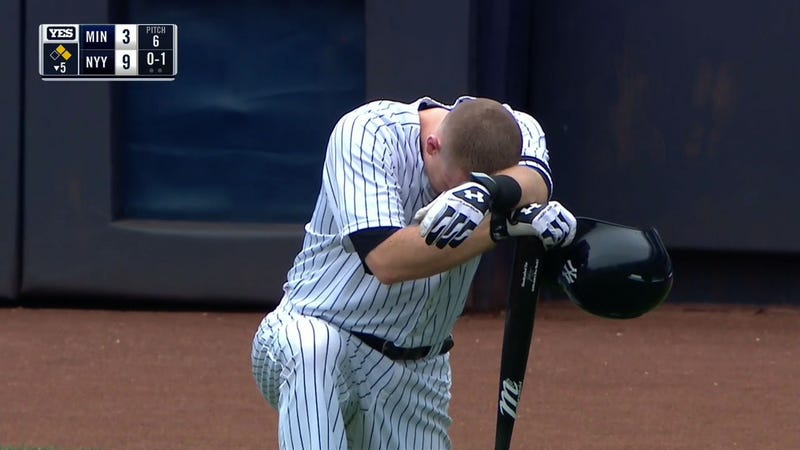 Frazier's ball had struck a young girl, attending the game with her grandparents.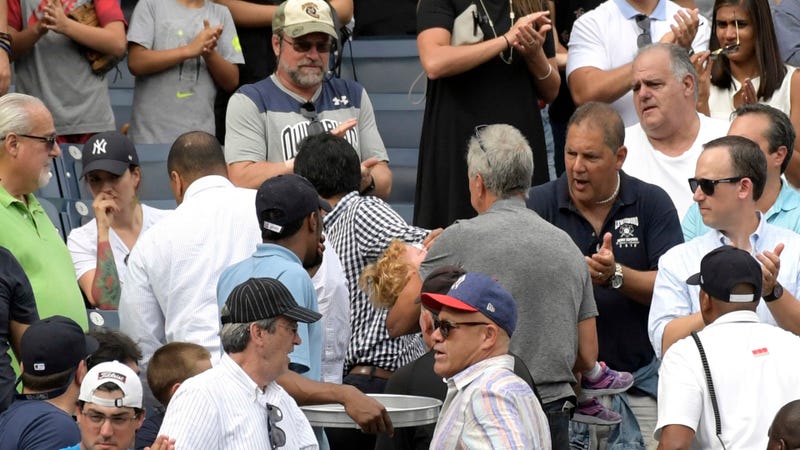 A decade or so back, the NHL raised the nets behind the goals, but only after a child died after being struck by a puck. Are we going to have to get there in MLB before they extend the GD nets? Thankfully, it sounds like the young girl in the photo above, while hospitalized, is not going to die. But why even put her in this danger?
(I know some will blame the parents, in this case grandparents, for bringing her to a game that close. But the odds are so low that as a parent you think it's fine. Hell, it's more dangerous to put your child in a car and we don't blame parents for putting children in cars when they die in an accident).
This is just so easy to fix, and I just don't get the resistance. The most expensive seats at baseball games already have netting. Why are the seats farther down the line so sacred? And if you've ever sat in seats behind the netting you know that you don't even realize it's there. Just extend the damn nets! This is insane. In the aftermath of this girl's injury, four teams announced immediate plans to extend the nets to the ends of the dugout. Let's hope the rest of the league follows suit. I'm looking at you, Larry Baer. -TOB
Source: "Small Child Injured By Line Drive Foul Ball At Yankees Game", Lindsey Adler, Deadspin (09/20/2017)
PAL: In Japan, they already extend the nets down the foul the line and have done so for a long time. As you'll see in the HBO Real Sports below, they take it to an entirely different level:
There has to be a happy medium. At the very least, protective netting should extend to the edge of the infield. It's time teams followed Japan's lead. While some teams, like the Twins, already have, more need to follow.
---
Jared Goff: Not a Bust
I have been a Cal football season ticket holder for over 15 years now, and Jared Goff is the second best quarterback I ever saw play at Cal (behind Aaron Rodgers), including on opposing teams. That list includes NFL quarterbacks like Alex Smith, Matt Leinart, Trevor Siemian, Derek Carr, and, yes, Marcus Mariota. Goff played 3 years behind an incredibly poor offensive line, and had an amazing ability to side step the rush and deliver dimes to well-covered receivers for big yards and scores.
I was, and remain, convinced he will be a very good NFL quarterback. But after seven freaking games as a rookie, not everyone agreed. They pointed to his spread offense in college (and high school), and his poor performance his first year. He was widely panned as a bust. But was that performance his fault? This article makes a strong case that Goff's rookie year problems were due in large part to his coaches and the players around him. The Rams fired dinosaur Jeff Fisher and his awful staff and hired some innovative offensive coaches, including 31-year old head coach Sean McVey. They also went and got him some better offensive lineman and weapons at wide receiver. The early results are quite good. Goff picked apart the 49ers defense last night, finishing 22-28, with 292 yards, 3 touchdowns and 0 interceptions.
For the season, he's thrown for 817 yards and 6 touchdowns, against one interception and a quarterback rating of 118. Ya boy! More than that, he's throwing the darts all over the field. He's averaging almost 11 yards per attempt, which is very good, and he's stepping up in the pocket in the face of pressure. I am very happy that, when Aaron Rodgers retires, there will be an elite NFL quarterback from Cal to take the baton. This article is actually more about how NFL teams can, and will need to, adapt spread offense college quarterbacks to NFL systems in order to survive, with Goff as the example. But, ya know. In Goff We Trust. -TOB
Source: "Jared Goff, NFL Disruptor?", Adam Kilgore, Washington Post (09/15/2017)
---
NFL Offenses Are Conservative and Boring
NFL offenses are in a paradoxical rut. Scoring is up this decade (though down significantly in the early going this year from last year), and quarterbacks are more accurate and productive than ever before.
Why, then, does it seem like NFL offenses are so boring? Football Outsiders has an answer. They have a stat called, "Failed Completions". Failed Completions occur when a team doesn't get 45 percent of the yards it needs on first down, 60 percent on second down, and 100 percent on third or fourth down. While completion percentages and yards are way up, so are Failed Completions. So, while quarterbacks are more accurate because of increased reps (year-round 7-on-7 leagues in particular contribute to this), the real reason quarterbacks are completing at such a high level is because offenses have gotten very conservative. Coaches and quarterbacks would rather throw 3 yards short of the first down and punt than risk an interception down field. Of all people, Chris Friggin Simms nails it, quoted in the article:
Then you have the offensive coordinators, who, Simms said, are doing whatever they can to limit mistakes in order to earn the "quarterback whisperer" label on the back of some decent statistics.

"Everyone looks at the box score and says 'The offense wasn't that bad!' But well, they sucked," Simms said. "Quarterbacks and coaches are now very wary of mistakes."
For years, I've looked at stats and said, "Wow, quarterbacks are so much more accurate now than they were 20, 30, 40 years ago." NFL quarterbacks now routinely complete 65% (last year, Sam Bradford set a new NFL record with 84.4%). This was not remotely true a few decades ago, when anything over 50% was pretty good, and the league leaders were in the low 60s. Now I understand why: Failed Completions. It is not often that I read an article that blows my mind, but this one did. -TOB
Source: "How Football Stopped Being Fun", Kevin Clark, The Ringer (09/19/2017)
---
HOT TAKE: Both Guys in this Story are Lame
This is hilarious. Generally, professional athletes keep their off-the-field/court beefs private. Especially baseball players. But this week Rockies reliever Pat Neshek aired his beef with Diamondbacks pitcher Zack Greinke on the Sportscollectors.net message board. Neshek, apparently, is a big card/autograph collector. Yes, a professional baseball player, who has made $23 million dollars in his career, collects baseball player autographs and takes it super (duper!) seriously. He's also a former Cardinal, obviously. And he posts about it on a corny-sounding message board, a message board of which he's clearly a regular:

I will admit it: I LOL'd at all of this. Neshek being so upset. Neshek confronting Greinke twice. Greinke telling Neshek, "I wouldn't even sign for your kid if he asked." Neshek clowning on Greinke's social anxiety disorder. It's all so funny. I thought long and hard about it and I decided: Greinke is a turd (just give the GD autograph) and Neshek is a whiney dork. As for me, I am grateful for the hearty chuckle. -TOB
Source: "Pat Neshek Is Pissed At Zack Greinke For Not Signing Autographs For Him", Dan McQuade, Deadspin (09/20/2017)
PAL: I'm with team Grienke on this one. Why is Neshek, a MLB vet, collecting autographs of his peers? So lame. If that wasn't enough, Neshek, an All-Star pitcher, is crying about it on collectors' a message board. Also, the line about Greinke telling Neshek that he wouldn't even sign for his kid sounds…well, it sounds made up. It sounds like Neshek was bummed because Greinke didn't want to give him, a co-worker, an autograph (because it's lame), and Neshek ran an told all his friends about what a meanie that Zack Grienke is.
---
Desperation is Never Attractive
Pitt football has a proud and accomplished history, but in the last 30 years or so has been mostly bad. It's hard to be relevant as a college football team in a major metropolis when there's an NFL team in town, especially one as successful as the Pittsburgh Steelers. Pitt is especially suffering. As a result, early on this season they have resorted to desperate tactics to attract and retain butts in seats:
Aw, geeze. So sad. And so many questions. What kind of beverage? A beer? A soda? A bottle of water? What is it? Let's check in and see how this worked out for them:
Ouch. So many empty seats, and the ones that are filled are occupied by people who are literally asleep. Thanks to my mom for sending this story along. -TOB
Source: "Pitt Offers Free Drinks to Get Sleeping (Literally) Fans to Stay in Stadium During Blowout", Sam Cooper, Yahoo! Sports (09/16/2017)
PAL: That's quite a price to pay for a experimental flavor of Mountain Dew:
---
Video of the Week
He's a national treasure.
Bonus Video: 
---
PAL Song of the Week: Tom Rush – "Wrong End Of The Rainbow"
---
Like what you've read? Let us know by following this blog (on the right side, up near the top), or:
Email: 123sportslist@gmail.com