The Twins are back in the postseason. I'm not pulling your leg. 
---
Twins Win
This is a great time, folks. The Twins are in the AL Wild Card game on Tuesday night, and from now until then it's all possible. I just got off the phone with my buddy Nett. All optimism:
Call me crazy, but – I gotta say – I have a good feeling about this.

The Yankees have OWNED the Twins in the postseason

How good can he be? I've never even heard of this Servino guy 

Yankees likely Wild Card starting pitcher with a 14-6 record and a sub-3 ERA

I'll take Ervin Santana

They might even get Sano 

back…

Twins slugger who's been out with a shin injury for over a month

There's just something about this group of guys, you know?
This, my friends, is a good week to be alive. The Twins are in, and I don't have to think about the prospect of them losing a 1-game wild card playoff until next Tuesday. Don't get me wrong – they are going to win – but I don't worry myself with the possibility of them losing until Tuesday.
The best part of it is that no one really expected anything from this team. Minnesota columnist Patrick Reusse nails it: "I've always contended there is nothing more enjoyable for sports followers than unexpected success, and seeing this team in the American League's final five ranks as incomprehensible."
This team is not supposed to be here, but then veterans have had comeback years and the young guns finally got it. Combine that with a top-heavy American League, and you slip into the playoffs as a Wild Card team with at most 86 wins (there are still 3 games to play)
Join me, won't you, next Tuesday at 5PM PT. There you will see the difference between me watching a Giants postseason game and a Twins postseason game. Over the Giants recent World Series runs, I was in the safe position. Excited if they won, bummed if they lost, but no sleep was lost either way. This will be different, but I will enjoy the wait.
I will fill the time between now and then imagining a band of Twins misfits making an unlikely run deep into the postseason. I will hold out hope that, come October 18, they will still be playing when Nett flies out to visit and old friends will sit at an empty Oakland bar watching a Twins playoff game. I will consider last second flights back to Minnesota to pay way too much for World Series tickets with my brothers and my dad. I'm an optimist. Bad times happen. Good times are forecasted. – PAL
Source: "Did you expect the unexpected from Twins after the trading deadline? Me neither", Patrick Reusse, Minneapolis Star Tribune (09/28/2017)
TOB: Excited for you, and excited to see you lose your goddamn mind, win or lose. However, can I say: if the Twins make it even as far as the ALCS…just GO. Don't wait for a World Series. A division series is fine, but the stakes feel lower. "If we win, we still gotta beat another really good team before we're in the World Series." But the League Championship series? My friend, there is nothing like the feeling, as an adult, of looking at your friend and screaming like a little kid, "We're going to the World Series!!!!!!!"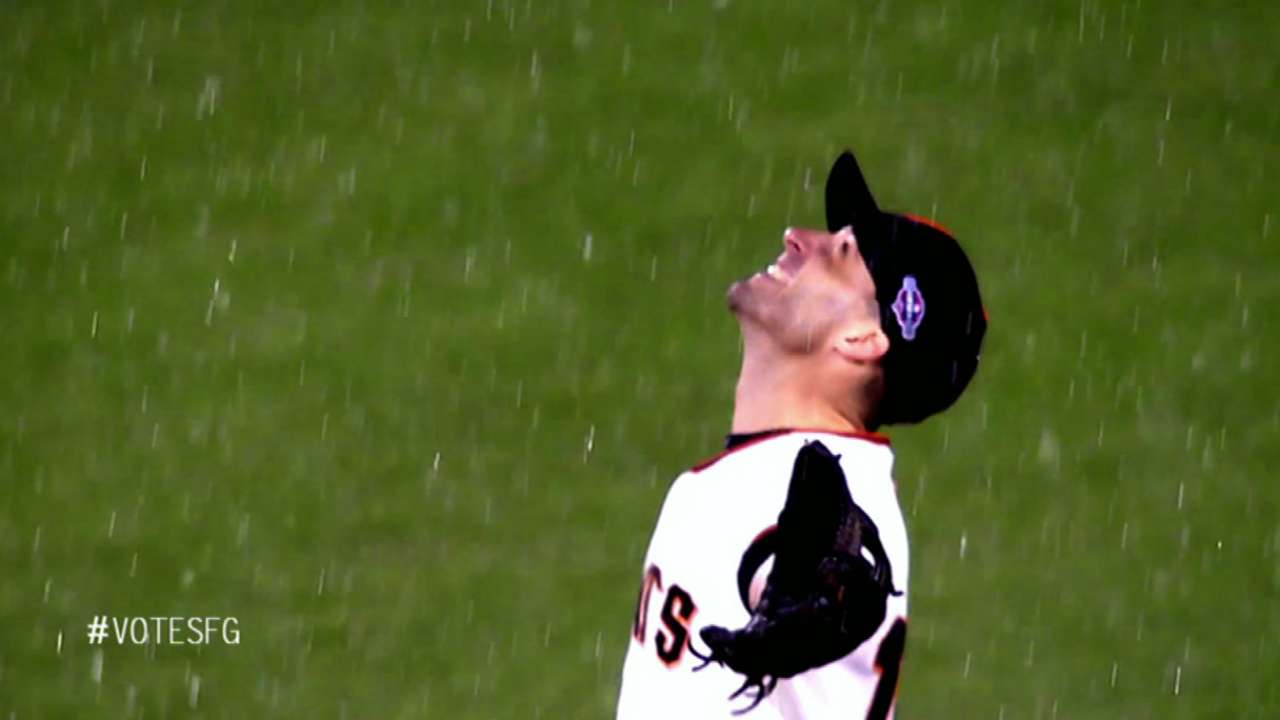 ---
Colin Kaepernick: Future Historical Hero
Last weekend felt like a turning point. For the past year, a handful to a few dozen NFL players had been kneeling during the national anthem as a sign of protest against the oppression (in particular by the police) of people of color in this country. It all began, of course, with Colin Kaepernick.
Last summer, Kaepernick sat on the bench during the national anthem before a San Francisco 49ers preseason game. Nobody seemed to notice until he did it again, and then again. He explained to observant reporter Steve Wyche that he could not stand and salute a flag that represented a country where inequality and police brutality existed. He sat in the aftermath of the killings of Philando Castile and Alton Sterling by police officers in Minnesota and Louisiana. A Green Beret and former collegiate long snapper, Nate Boyer, reached out to Kaepernick and explained kneeling would be a more respectful form of protest, and so Kaepernick started to kneel. It has become a defining pose for NFL players, an act the country will remember years from now more than any pass, run or tackle this season.
And then last Friday night President (shudder) Donald Trump got on stage at a campaign rally and called these players, exercising their First Amendment rights, "sons of bitches" and said NFL owners should fire the players who do not stand for the anthem. Trump's words drew cheers from the Alabama crowd, but galvanized players across the league, many of whom had been hesitant to join and face the same fate as the unemployed to join the protest. The players seemed to understand the moment: our country is divided; what has happened to Kaepernick is unfair; but as citizens we cannot allow the supposed leader of this country to smear the names of private citizens who are exercising their constitutional rights.
On Sunday, players kneeled en masse. In some cases, entire teams elected to stay in the locker room during the anthem (though many argue, I think correctly, this prevented players from actually protesting). Even the white, rich owners, many of whom had contributed to Trump's campaign, released statements denouncing Trump's words, and many joined their players kneeling in protest (of course, as Deadspin points out, you can cynically argue that the NFL saw a moment to enhance its brand, and certainly some of the participants (*cough* Daniel Snyder, Jerry Jones *cough*) oozed photo opportunity over sincerity).
But what did it all mean? As The Ringer's MJ Baumann notes:
"Is kneeling or sitting or raising one's fist during the anthem the same as kneeling before the anthem, or locking arms? Or do those two actions blunt the message, watering it down to make it palatable to as many people as possible? Was the president's commentary just a catalyst for dozens more athletes to mobilize against racism and police violence, or is this now a protest against Trump himself?"
I had the same thought. Trump managed, as usual, to make this about Trump, instead of about police brutality and murder, and the value society places on the lives of people of color. As Baumann further points out:
Solving American racism, whatever that means, would be like putting a man on the moon: It can be done, but it'd be a time-consuming, expensive, and tedious process that might not even be possible as long as "America is the greatest country in the world" remains a bipartisan call-and-response. Exceptionalism, after all, doesn't tend to foster self-reflection.

But Kaepernick's words pinpoint a specific expression of racism in American society, one that is identifiable and soluble—one that the citizens of St. Louis are protesting right now. Those "bodies in the street" include Michael Brown, Tamir Rice, Sandra Bland, Freddie Gray, Philando Castile, Eric Garner, John Crawford III, and countless others—mostly African American—who were either killed by police or died suspiciously in police custody. Castile's and a few of Gray's killers were acquitted, and Rice's, Crawford's, Garner's, and Brown's killers—along with the other officers investigated in the Gray case—have not stood trial.

This isn't about the anthem, or the flag, or the military, or even specifically about the president. To Kaepernick's broader point, modern police brutality is part and parcel of our nation's racist legacy, from the genocide of Native Americans to slavery to internment camps to Jim Crow to the suggested brutality of "welfare reform" and the prison-industrial complex, and now to a president who rode to power by emboldening hateful people to say openly what once was merely insinuated.

It's about the fact that police officers can mow down people of color without any consequence.
This isn't about Trump, which is what it seems it's becoming, and that's a problem. All weekend I couldn't help but think of the man who started it all: Colin Kaepernick. Where was he? Why is he still not on an NFL roster? What does he think of what he began? One thing seems for certain: Kaepernick's legacy will be far greater than anything he would have done playing football. As his high school guidance counselor said:
"One day, maybe my youngest, who is in second grade, is going to open up a history book and he'll read about Colin. And it won't have anything to do with throwing a touchdown."
We've written about Kaepernick now three of the last four weeks, and perhaps you're sick of reading about it. Writing about it is exhausting, too. But I write it, and I hope you read it, because it forces us to think about why Kaepernick did what he did, and why what is happening is unacceptable. And it is unacceptable. We cannot accept it. As Baumann points out, while there are always at least two sides to a debate, those sides are not always worthwhile:
Some say cops shouldn't be able kill people of color with impunity, and others want everyone else to shut up and go back to watching football. There aren't two worthwhile viewpoints here, and there's no greater condemnation of our culture than the idea that both sides deserve equal consideration.
The fact we need to convince people in this society that Kaepernick is correct is troubling. But we do. Change is difficult, and slow. There are some things that can be done, though. We need better training and mental/stress screening for police officers. It begins with tightening laws that give officers too much leeway by not second guessing their use of deadly force in the streets. And the best way I know how to get that done is to talk about it. To keep talking about it. To talk about it until the people in power can't stand hearing about it anymore and do something about it, or until they get voted out of office and replaced by people who will. So, I'll keep writing, in this small little corner of the internet. I hope you'll keep reading. And maybe give a little bit of money to the organizations that Kaepernick has donated nearly $1,000,000 to, as he pledged last year. -TOB
Sources: "The Only Side of the NFL Protest Debate", MJ Baumann, The Ringer (09/26/2017); "The NFL Couldn't Keep Colin Kaepernick Off the Field", Adam Kilgore, Washington Post (09/26/2017)
PAL: For me, the time has come –  I really want to hear from Kaepernick. Of course, he doesn't owe it to anyone, but the message behind the protest is twisting and turning, and I just want to hear from the guy that started this.
I am starting to lean towards the opinion that him being out of the NFL serves his bigger purpose more than being on a team. He's absent. He's put his money where is mouth is on the issues off the field, but I want to know he wants to be on a team, as a starter or a backup, or if he's an eager martyr. The notion that he wants to play is starting to feel disingenuous, and I think up until Trumps comments last week, people still were interested in Kaepernick because he's a football player, and that interest was fading.
The protests last week shifted away from the original message. We aren't talking about the police anymore. That's so far in the rearview. Jerry Jones, and owners like him, sure as shit weren't protesting the police. Jones and his cohorts sought a middle road that leads to nowhere, offends no one, and inspires nothing. Now we talk about who is standing, who is kneeling, how are teams handling the protest, what the president tweeted.
How about this. People love the flag debate, and we made this about the flag even when Kaepernick's issue was never about patriotism. We debate the flag because it's an issue people have confidence talking about. Police treatment of black people – we aren't as comfortable discussing that, regardless of what side you come down on.
We're engaged in a never ending debate about Trump. We are so focused on the person, and personally, I need to worry less about him and more about supporting the issues I care about.
This past week it was about his half-baked comments about the NFL. The scary part is we all get swept up in it so easily (myself included), and this time it occurred while the Affordable Care Act was in threat of being repealed (again), we are investigating the current administration's knowledge/involvement of Russia's involvement in the election, North Korea is getting real cocky about nuclear missiles, we're slow to send aid to Puerto Rico after two hurricanes, and there's been a massive budget cut on the floor. We need to stop falling for the Trump misdirection play.
---
Ode to a Dying Dynasty
As the Giants play out the string, possibly ending with the worst record in baseball just three years removed from a World Series win and one year removed from a ninth-inning collapse that prevented a decisive Game 5 against the eventual World Series champions, Kansas City Royals fans are knowingly witnessing the end of an era. The Royals narrowly lost the World Series to the Giants in seven games in 2014 and then won it the next season, but they missed the postseason last year and will miss it again this year. The pieces from those teams have been slowly departing over the previous two or three years, but this offseason will see the likely departure of their four core guys from those World Series teams: Hosmer, Moustakas, Cain, and possibly Escobar. All expected to be gone (another key cog, Yordano Ventura, passed away early this year in an automobile accident).
Baseball playoff runs are different than most sports. A deep run lasts a month, and the team plays damn near every day. If you're a baseball fan, you live and breathe a deep playoff run: Where are you going to watch the game? Who are you going to be with? Can you get tickets? You analyze the matchups and every single pitch has your stomach in knots, because every pitch can bring that one moment, good or bad, that turns the game. Some of my favorite memories of my entire life came during the Giants' World Series runs. Shared joy with strangers is a powerful thing.
Baseball writers are often cynical. The job and the people they cover beat them down. So it was refreshing to read this Kansas City writer's ode to those Royals teams. He writes about each of the departing players' best moments over those two postseasons. Some of them I remember, some I don't. But he saves his best writing for that same communal feeling:
The feeling of singular importance at Kauffman Stadium when playoff baseball returned after nearly three decades is impossible to explain. Nothing else seemed to matter. Around Kansas City, at least, nothing else seemed to be happening. There wasn't time. Or energy. Just baseball. Just the Royals. Those of us lucky enough to watch those games can remember the noise, the joy, the way the stands filled with more blue than ever and the way the old concrete beauty below our feet shook in the biggest moments. Forty thousand people, mostly strangers, but on those nights it felt like the best kind of reunion. If the guy next to you was a stranger when you sat down, that didn't last long, because here comes Wade Davis.
As Phil's Twins gear up for a big Wild Card game in New York after having lost 103 games last year, I am hopeful the Giants can get back to the playoffs next year, and give me back that feeling. But if this is the end of the era, we'll always have those wonderful Octobers. -TOB
Source: "Catch 'Em While You Can: Royals' Stars Have One More Stand in KC", Sam Mellinger, Kansas City Star (09/26/2017)
PAL: Our friendship was pretty much solidified over the Giants World Series runs and several Lone Stars at McTeagues. This Giants core won 3 World Series. Nothing else needs to be said. Great teams.
---
CTE Research: The Game Done Changed
This week, Boston University researchers announced they have developed a method that may help diagnose CTE, for the first time, in living patients. It is for the first time conceivable that in the near-future we will be able to reliably determine if a person has CTE. This, obviously, would have unimaginable effects on the sport of football. Would every current player be tested? What happens if they test positive? Are they allowed to continue to play if they choose to do so? Are there certain tolerable levels of CTE within a person's brain? I don't have the answers to these questions. But I did find this unbearably sad:
I suppose, for some players, it's like the old adage of if you could know exactly when you'll die, would you want to know? Most don't, and want to pretend the day is never coming. But the difference between death and CTE is that CTE is avoidable. And while some current players may be beyond the point of helping at this point in their careers, there have to be some who are at such an early stage of CTE that they could quit now and avoid the most severe side effects*. NFL owners should be terrified. -TOB
*not a doctor
Source: "Boston University's CTE Breakthrough Could Forever Change Football", Kevin Clark, The Ringer (09/26/2017)
PAL: Astonishing, potentially life-saving discovery. Clark sums up the implications on the NFL clearly. We consider CTE after a player has died, and part of that might give us just enough space to keep watching football. But that space could be closing. "No sport commands as many viewers as the NFL, and no sport can retain as many sponsors and navigate as many crises. But the ability to test for CTE at any point during a player's career—including long before he ever reaches the NFL—could send the sport spiraling."
---
Remember The Truth About Pat Tillman
It's been 13 years since Pat Tillman's death by friendly fire in Afghanistan, and in the midst of this NFL-Trump standoff, people are resorting dusting off the old the Pat Tillman card as proof those that kneel during the anthem are unpatriotic. If we're going to use Tillman as an shining light of America (which he should be), let's make sure we're telling the truth.
Prior to becoming an Army Ranger, Tillman played for the Arizona Cardinals. After 9/11, he enlisted (with his brother), passing on a lucrative contract. He became a hero – one that the NFL and the US Military sought to lionize. They lied about his cause of death, and if it wasn't for his incredible family who demanded the truth, we'd probably still be telling a folklore version of Tillman's life and death.
The above is well-documented, yet people still cling to the cliched version of a patriot story. It just ain't the truth. His reasons to enlist came from a personal, Hemingway-esque source. Per Gary Smith:
Everybody who thought he'd enlisted purely out of patriotism, they missed reality by a half mile. Sure, he loved America and felt compelled to fight for it after more than 2,600 people at the World Trade Center were turned to dust. But his decision sprang from soil so much richer than that. The foisting of all the dirty work onto people less fortunate than an NFL safety clawed at his ethics. He had uncles and grandfathers on both sides who'd fought in World War II and the Korean War, one who'd taken a bullet in his chest, another who'd lost a finger and one who'd been the last to leap out of a plane shot from the sky. On a level deeper than almost any other American, he'd reaped the reward of those sacrifices: the chance his country afforded him to be himself, all of himself.
He yearned to have a voice one day that would carry, possibly in politics, and he was far from the sort of man who could send others into a fire that he had skirted. His relentless curiosity, his determination to live his life as if it were a book that would hold its reader to the last word, pushed him into the flames as well. The history of man is war, he told his distraught brother Richard, so how, without sampling it, could he ever know man or himself completely? "Are you fucking crazy?" was all Richard could splutter.
"The chance his country afforded him to be himself, all of himself." Well, that's it, folks. That's the whole ball game. That's the best summation of what we should stand for. At least that's what I want to stand for. 
That Pat Tillman took on the opportunity to be all of himself is heroic. How he died is so tragic in that the cause was so stupid and without merit. A dumb, colossal mistake. When we're talking about a guy who pursued truth over seemingly everything else, for anyone to misrepresent his life and death is unacceptable. As is usually the case, I'll leave it a brother to explain better, as Pat's brother, Richard, did at Tillman's memorial service:
We should always remember Pat Tillman, but only the truth. – PAL
Source: "Stop Using Pat Tillman", Patrick Redford, Deadspin (09/24/2017)
TOB: Ugh. It's just so gross.
---
WHAT IS WRONG WITH YOU JON LESTER?!?!?!
This week, Cubs shortstop Addison Russell fell into the stands trying to catch a fly ball and knocked over the nachos of a Cardinals fan in attendance. Russell got nacho cheese all over himself. There were nachos all over the field. Later, Russell brought the Cardinals fan a new plate of nachos because it's the right thing to do. They smiled. They laughed. A good time was had by all.
Hell, it was such a refreshingly nice story, that Scott Van Pelt led off his Monday Sportscenter with it, instead of the NFL anthem protests. Who, possibly, could object to this story? Russell's teammate, Jon Lester. That's who:
"A guy fell into him and got nacho cheese on his arm and now he's taking pictures and signing autographs. It shows you where our society's at right now with all that stuff."
Jesus, baseball players. I'm so goddamn tired of your crap. "It shows you where our society's at right now with all that stuff." What stuff? What does that even mean? Lighten the hell up, Jon. And learn to throw to first while you're at it, you mentally-soft dope. -TOB
Source: "Jon Lester Nacho Problem for Cubs on Night of Good News, Better Vibe", Gordon Wittenmyer, Chicago Sun-Times (09/26/2017)
---
Video of the Week: 
---
PAL Song of the Week: George Jones – "I'm A One Woman Man"
---
Like what you've read? Let us know by following this blog (on the right side, up near the top), or:
Email: 123sportslist@gmail.com