This is your future, Klay.
---
What Is The Point of Youth Sports?
I can't remember exactly how it came about, but during the fall of my senior year in high school, I was asked to play in a fall baseball league. It was a wood bat league, and there was one team for the state. I'm certain there was a price tag involved, which my parents graciously paid without a second thought. Not only was it the promise of more games with a bunch of really good players, but the idea of college recruiting was attached as well. It was the first I had heard of a fall baseball league, and it was called Perfect Game, which now touts itself as a premier scouting service and tournament organizer. Read between the lines, and their pitch to parents and players is "play in our league, and you'll get noticed by colleges and pro scouts."
It worked. Players on my team played baseball for University of Minnesota, Creighton, Troy State, Arkansas, Valparaiso. Hell, I met a lifetime friend and college teammate Ryan Nett, who's visiting right now, 18 years later when he suggested I check out this article.
Yes, it worked, but little did I know where it would lead. That's what this three-part series from the Star Tribune is examining. Is the era of high school sports on the way out? Are we adopting the European, club team approach to youth athletics?
"Youth sports are an estimated $15 billion industry, and the increasing specialization of these budding athletes is irrevocably changing Minnesota's high school landscape in softball, baseball, soccer, hockey, basketball, volleyball and lacrosse — basically, every team sport except football."
I like how the Star Tribune is examining youth sports from every angle: the players, the coaches, the business, and even the health impacts of specialization at a young age.
For one, this ain't free, and that impacts who gets to participate. One parent conservatively estimated doling out $7,500 a year on softball for his daughter. Another dad didn't even want to think about it. "I'd hate to look at the number. And we're on the low end."
So who is actually taking part?
"While some athletes and their families can approach these pursuits with open checkbooks, others can't. In 2016, children from families making $25,000 or less were only half as likely to take part in a team sport as families making at least $100,000, according to the Sports & Fitness Industry Association."
It's easy to say all of this is crazy from a distance – and maybe it is – but I can understand parents with the means wanting to give their children every opportunity to excel at something they love. It feels good to be very good at something. It breeds a confidence that can absolutely be carried throughout a life beyond sports. It teaches the hard truth about the time needed if you want to excel. I understand all of that, but all of this is not unique to sport. Music, science club, debate, student newspaper, and many more examples can teach the exact same life lessons. I do think a large part of this has to do with a desire – both on the parents' part and on the child's part – for a scholarship. And if that is the prize, it's a difficult one to achieve.
"If scholarships are the goal, there are no guarantees. According to the NCAA, only 2 percent of all high school athletes receive some form of college scholarship."
And what is the impact on high school sports? In Minnesota, the Minnesota High School Hockey Tournament is the stuff of legend – an event that truly captivates the entire state. But as club teams take root, and where scholarships and draft projections outweigh the glory of making a deep run into the tournament with kids from your community, you have to wonder what the hallowed tradition will look like in ten years.
Again, the article digs in deep on all sides of this issue. Do yourself a favor and give it a read. I'll make sure to write up a summary of the upcoming installments in the weeks to come. PAL
Source: "Game On And On", Joe Christensen, Star Tribune (10/19/17)
TOB: This is really sad. What's scary is that as a parent, logically, I read it and think, "I will not let that be my kid." But at the same time, I understand how we got here. You want your kids to be happy. For many kids playing sports, happiness is being good. So, to be good, you have to keep up with the arms race. But it's so cringe-worthy. One of the dads in the article said, "Like we always tell her, there's always somebody getting better, faster, stronger — ready to take your spot." I know he means well, but I think that's bad parenting. What he said is true, because some people are naturally driven and are working harder. But so what? It doesn't have to be true for his kid. The fact he has to "always tell her" means she's not that type. Parenting is wrought with fine lines, and certainly you need to steer your children in the right direction. But if you are pushing your kid into year-round focus on a single sport and need to constantly tell them they better work harder because someone out there is working harder than they are, maybe you should back off a bit.
---
There's No Chair There
Remember that infamous video of Yi Jianlian's predraft workout against a folding chair? He was crossing over, spinning, and dunking all over that chair. It was hilarious because it was so absurd, and we all saw it and laughed and have talked about it for years and years to the point Yi became a punchline, and the video became the symbol of all the dumb pre-draft workouts we ever see, to this day. Except, uh, it almost certainly didn't happen and we have not seen that video. Wait, what? How is that possible? It's all thanks to the Mandela Effect, a phenomenon where a group of people manage to create a collective false memory.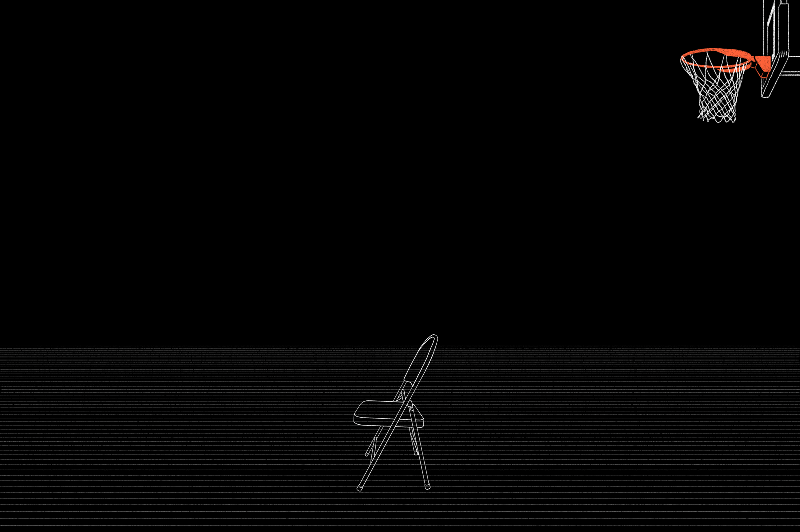 The chair workout story got told, and re-told, and told some more, and along the way we imagined it so many times that we all started to believe it really happened, and we really saw the video, when we did not. This honestly blew my mind. When I started the reading, I had no idea where this was going and I was certain I had seen the video. But then I started to think…had I seen the video? Deadspin's Matt Giles does a thorough job debunking the chair workout video story, speaking to many of the parties involved with Yi's pre-draft workouts. It just didn't happen. And you'll never guess whose fault this is. Bill Simmons. Of course. Boston GM Danny Ainge made a joke about Yi working out against a chair, because it was a one-on-zero workout, and the big dummy Bill Simmons seemed to believe it, and then said he had seen the video. He had not. Simmons then repeated it over and over for years. Friggin Simmons. Still, this is worth a read. Fascinating stuff. -TOB
Source: "The Totally Unexpected True Story Of Yi Jianlian's Magical Mystery Chair", Matt Giles, Deadspin (09/19/2017)
PAL: It's bad comedy during the NBA draft. I'm assuming there are about 200 guys the experts need to know seemingly everything about. A chair punchline is a good sound byte, and so they use it and in the process perpetuate the myth. Simmons just keeps giving TOB reasons to get a good lather going. 
---
Interviewing Your Childhood Sports Nemesis
Dom Cosentino grew up a Pirates fan, and was 17 when the Braves' little used Francisco Cabrera hit a game-winning two-run single in the bottom of the 9th of Game 7 of the 1992 NLCS. 25 years later, Cosentino interviewed Cabrera. It was a fun read. But it got me thinking: Who is your equivalent? What opposing athlete gave you the biggest sports heartbreak as a kid, and what would you ask him today if you could? First I tried to think of what loss I took the hardest. That would probably be Cal football at USC in 2004. First and goal at the 9 with a chance to beat SC and likely go on to the National Championship game. But I was 22, and that seems too old for this exercise, plus no SC player really did much of note to win that game. Cal more or less gave it away. Robert Horry's shot to win game 4 of the Kings/Lakers 2002 Western Conference Finals is right up there, but again…I was 20, and it was only Game 4 of a seven-game series. Ah, I know. 1993. I was 11. Notre Dame football was my passion. The Irish were 10-0 late in the season. They had beaten #1 Florida State the week before and were then #1 themselves, hosting #16 ranked Boston College. The game was ugly, and Notre Dame trailed by 21 points in the 4th. But they scored 22 points in just over 9 minutes to take the late lead, 39-38, with just over a minute left. Boston College put together a drive and then…
Look at that ball. It's like a knuckle ball. Half way there, it's veering hard to the right, and then suddenly corrects and splits the uprights. I remember being absolutely shocked. "That wasn't supposed to happen. BOSTON COLLEGE? We just beat Florida State!" But it did. And that's sports. So, I guess the guy I'd interview is David Gordon, BC's kicker. What a dick. -TOB
Source: "A Pirates Fan Talks To Francisco Cabrera, 25 Years After The Worst Game Ever", Dom Cosentino, Deadspin (10/16/2017)
---
Again: Marshawn Lynch Is Awesome
I was all set to go to bed last night and made the mistake of checking Twitter one last time, and now here I am writing (once again) about how awesome Marshawn Lynch is. As we all know, Marshawn came out of retirement this year to join his hometown Oakland Raiders, just before they leave for Vegas in 2019. He's played ok, averaging 3.7 yards per carry, but he's been fun. Tonight was probably the best. Early in the game, Lynch was ejected after running out to protect his QB after a late hit.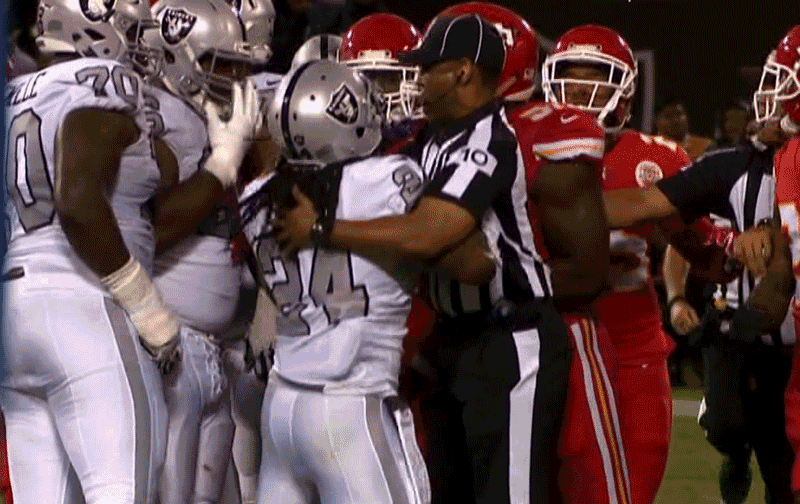 He went back to the locker room, changed, and then watched the game from the stands in disguise (sorta).
And then…
HE RODE HOME FROM THE GAME ON BART. I repeat: HE RODE HOME FROM THE GAME ON BART. HE IS THE PEOPLE'S CHAMP. -TOB
PAL: Uh, this is all most excellent and hilarious.
---
The Man Behind Hugh Freeze's Fall
Not long before the current college football season began, Ole Miss head coach Hugh Freeze abruptly resigned. In the days to follow, it was revealed that Freeze had placed a phone call to an escort service. The phone call was discovered because Freeze and his coaches told national and local writers that the ongoing NCAA investigation into the Ole Miss program was mostly focused on Freeze's predecessor, Houston Nutt. Nutt was not happy about these leaks, and sued Ole Miss. As part of that lawsuit, Ole Miss turned over Freeze's phone records to Nutt's attorney. Nutt's attorney, though, is not the guy who found the call. That would be Steve Robertson, a fan of Ole Miss' rival, Mississippi State, and a writer for Mississippi State's Scout.com affiliated website.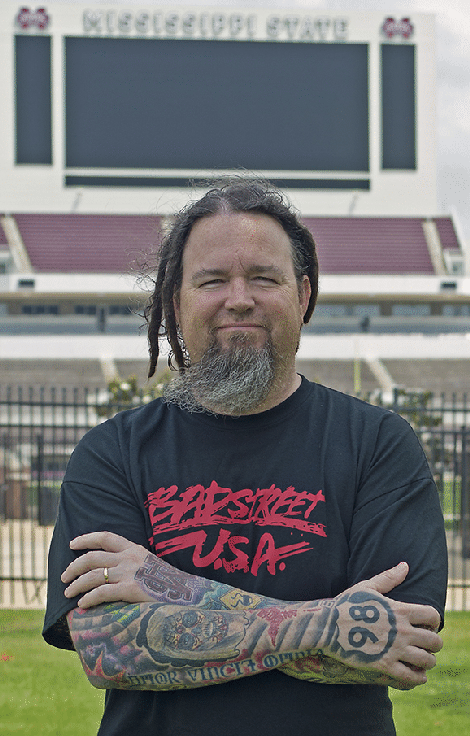 Robertson is an interesting guy. A lifelong Bulldog fan who began his writing career posting a weekly prediction of each SEC game, Robertson is now deep into the bowels of the small community that is college football in Mississippi. Robertson got word of the shenanigans at Ole Miss years ago, and has publicly called out Ole Miss for its false public statements about the investigation in the last few years. Robertson couldn't understand why the traditional press took Ole Miss at face value and refused to accept what he was telling them. After Nutt's attorney got the phone records, and mountains of other documents, he tasked Robertson with sorting through it all. Robertson found "The Call", and now Freeze is gone, and Ole Miss is staring down the barrel of the NCAA's big guns. This is a really good and interesting read. -TOB
Source: "The Mississippi State Fan Who Took His Revenge On Ole Miss And The Football Press", Caleb Hannan, Deadspin (09/18/2017)
---
Nightmares Do Come True
The NFL players went on strike 30 years ago this week. NFL teams put together haphazard rosters comprised of economics teachers, ski instructors, fans, and guys with part-time jobs while they finished up their degrees. They were given the chance to play in the NFL. All they had to do was cross the picket line.
Knowing that this was either their last or only chance to live out their dream, it's hard to blame these guys for jumping at the opportunity.
And then the best player in the NFL crossed the picket line with these nobodies: Lawrence Taylor.
So you have one of the few truly transcendent players in NFL history competing against guys that couldn't make an NFL roster a few months prior. There are so many funny anecdotes from this story, but my favorite comes courtesy of Bills coach Marv Levy.
When speaking to the replacement offensive lineman for the Bills, Levy put it this way: "I have some good news and some bad news. The good news is that Lawrence Taylor has crossed and will be back playing for the Giants. The bad news is that you're going to have to block him."
Running back Bob Dirico, one of Taylor's teammates, had a hard enough time even practicing with him.
The running back also remembers the time he had to line up against Taylor in a one-on-one blocking drill and was expecting to be bull-rushed. If I just get a piece of him, DiRico thought, I'd look like a hero. Then Taylor came flying around the edge and put a swim move on the running back, blowing past him on the way to the QB.
"Honest to God, I didn't get a hand on him," DiRico says. "Not even his shirt."
Why did L.T. cross the picket line in the first place? It turns out, it wasn't that complicated to him. "I've been rich, and I've been poor. And I like rich a helluva lot better. And losing whatever the F I was making per game check … stung."
A fun read, to be sure. – PAL
Source: "The 'Worst Game' in NFL History Was the Best Game Lawrence Taylor Ever Played", Ben Baskin, MMQB (10/18/17)
TOB: ESPN recently had a 30 for 30 on the 1987 NFL strike, focusing on the Redskins, who were by far the best replacement team. The movie is pretty good, focusing on some of the replacement guys – where they came from, where they were at the time the players went on strike, and where they are now. The movie culminates in the final replacement game, against the Dallas Cowboys, whose roster was mostly populated with the "real" Dallas Cowboys, as most of them had crossed the picket lines. Shockingly, the Replacement Redskins won, and it was a heck of a story. By the way, another interesting picket line crosser: Joe Montana. Say it ain't so, Joe.
---
No Debate: Chris Long Doing Good
Chris Long has made around $90MM over his 10 year NFL career. He was the number 2 draft pick, and has been a very good player for an extended period of time. In the later years of his career, he's also made a huge impact off the field with waterboys.org, bringing water wells to East Africa. And now he's decided to donate all of his 2017 game checks (he has a $1MM base salary this year) to education in the cities he's played for in the NFL (St. Louis, Boston, and Philadelphia).
"My wife and I have been passionate about education being a gateway for upward mobility and equality," Long told the Associated Press. "I think we can all agree that equity in education can help effect change that we all want to see in this country."
There's no bigger story here, folks. I just wanted to help spread the word of a professional athlete making a positive impact. – PAL
Source: "Chris Long Will Donate All His 2017 Game Checks To Charitable Causes", Patrick Redford, Deadspin (10/19/17)
---
De'Aaron Fox is Awesome, But His Taste in Food is Not.
Kings' rookie De'Aaron Fox was interviewed this week. Fox is new to California and was asked what he thinks of In-N-Out. Fox said:
"All I gotta say, you can tell everybody that lives in the state of California this: In-N-Out is not good….Their burgers are overrated. They're OK….[The best fast food spot] is Wendy's."
Now, look. I think In-N-Out is good, but everyone is entitled to their opinion. HOWEVER, saying In-N-Out is not good and that your favorite fast food is WENDY'S is objectively wrong and disgusting. I love De'Aaron. He's my boy. But Wendy's? Bruh. C'mon. -TOB
Source: "Kings' Rookie De'Aaron Fox on Video Games, His Beef With In-N-Out Burger", Seerat Sohi, Rolling Stone (09/16/2017)
PAL: You nailed it, TOB. I'm not offended that he thinks In-N-Out is overrated; I'm offended that he places Wendy's on such a high pedestal. Jamie Morganstern, a long time 1-2-3 reader, swears by Wendy's chicken sandwich. Please. And I'm over the gourmet fast food trend while we're at it. 5 Guys, Smashburger, Super Duper – they all try to fool us with an ambiance that feels a little nicer than fast food and a higher price. I'll put a Whopper against any of them, including a Double Double.
---
Video of the Week: 
---
PAL Song of the Week: Dire Straits – "Romeo and Juliet"
---
Like what you've read? Let us know by following this blog (on the right side, up near the top), or:
Email: 123sportslist@gmail.com