Ben Reiter called it…3 years ago. 
---
Why Didn't the Dodgers START Kershaw?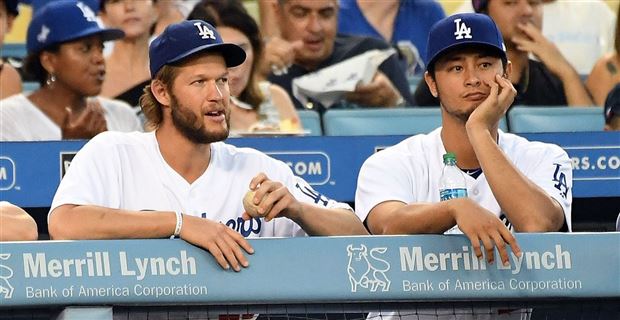 This article was written, and I read it, in advance of Wednesday's glorious Game 7, where the Houston Astros extended the Dodgers non-World Series winning streak to 29 years. Here's to 30, a nice round number. Now that the gloating is over, I just can't get over how badly I think Roberts managed this, and why everyone seems to take it as a given that he didn't. Specifically, why didn't he start Clayton Kershaw in Game 7? In the last few seasons, managers have really begun to get creative with their bullpen use in the playoffs, especially in Game 7, and especially in Game 7 of the World Series. I don't know if it began with Bumgarner in 2014, but it seems like his performance that night, after having dominated in Game 5, made every manager since realize you should live and die with your best. Before Game 7 this year, both managers said every starter, save perhaps the starter from Game 6, was available to pitch out of the bullpen if necessary.
But…this is what I don't get. Kershaw is an excellent pitcher. Possibly the best of his generation. He's struggled in the playoffs, but he was great this year at home, where the Dodgers were playing Game 7. He's available. And not in an emergency. It was reported that Kershaw texted manager Dave Roberts and told him before Game 6 that he was available for that night's game, after having been rocked and giving up two different 3-run leads two days prior in Game 5. Roberts replied, telling Kershaw he'd be closing out Game 7. So we know that Roberts intends to pitch Kershaw for at least the last 3 outs. This is not a break glass in case of emergency situation.
For his starter, though, Roberts went with Yu Darvish, who gave up 5 runs in 1 ⅔ innings, the same as he had in Game 3.
The Dodgers were down 5-0 when they brought in Kershaw. Yes, the pressure on him at that point is lower, but he was lights out and gave his offense a chance to come back. So why not start Kershaw? If you have the best pitcher of his generation, and you're going to pitch him, why not start him? You can let him go until he begins to fatigue or gets into trouble. Here's what Sam Miller says:
So, ideally, in a perfect world, you'd do the only logical thing: You'd start with your best pitcher, Kershaw. You'd let him go until you realize he's not your best anymore. You figure out as you go how many pitches that is, and you figure out as you go how many outs that is good for. Then you bring in your second-best pitcher, Jansen. You do the same. Once he's not your second-best pitcher anymore — which you'll see, because you're a baseball genius and spot these little tells that a pitcher has that he's tiring — you look up at the scoreboard. Maybe it's the third inning at this point. Maybe it's the eighth inning. The difference between those two situations is massive, and you're glad, looking at the scoreboard, that you chose to do it this way, because now you know exactly what you need to get from your third-best pitchers and beyond.

But you can't do this, can you? Because, most likely, you're still going to be asking a lot from Yu Darvish, and he needs to be good for this plan to work. He needs to be Yu Darvish good. And you just don't know whether Darvish, coming out of the bullpen for the first time in his career, with all the nerves of Game 7 of the World Series affecting his preparation in the bullpen, is going to be able to handle that. If he can, he throws the final six or four or two innings and you hold the parade. If he doesn't, you've just ruined the third-best pitcher you've got.
I just don't buy that argument about Darvish. Later in the game, after their starter Lance McCullers also struggled, the Astros called on normally starting pitcher Charlie Morton. He slammed the door shut for 4 innings and finished out the game. Did Morton turn mentally soft because he wasn't asked to start? No. Did Kershaw? No. If I'm managing Game 7 of the World Series, I am trusting my best pitcher, especially if he's Clayton Freaking Kershaw, to get as many outs for me as he can. So, thank you, Dave Roberts. Thank you for starting Darvish. I had an enjoyable Wednesday evening. -TOB
Source: "Managing Game 7 is the Most Difficult Job in Sports", Sam Miller, ESPN (11/01/2017)
PAL: Why did the Dodger pick up Darvish midseason? So they don't have to think about starting Kershaw on two days rest in a game 7. Because Kershaw can't be the only guy if they want to make a World Series Run.
You ride or die with your generational talent. As much as I like to disagree with TOB, he's right on this – if Kershaw's told he's pitching anyway, why not just start him and see how many innings you can eek out. Kershaw's already great (3x Cy Young Winner, with a 2.36 ERA, averaging 248K per season, and his team wins almost 70% of the games he's pitched), so you bet on him to be legendary.
Roberts (or the Dodgers front office – I wonder who was calling the shots, to be honest) completely and utterly overmanaged the world series, and they sh*t themselves, quite frankly. They wrote out a plan that made sense on paper, and then they proceeded to run their entire bullpen into the ground. The bullpen, which was perhaps the one facet of the game where they had an advantage over the Astros, ended up overworked and couldn't deliver, which is understandable since they pitched the majority of the innings in the series.
As loaded as that team is, there is no guarantee the Dodgers will ever get back to the World Series. I think you need to keep this in mind when you manage. If this is the last World Series game this collection of Dodgers ever plays, who do you want on the mound. A fresh Yu Darvish – no scrub by any means, but did pitch awfully in game 2 – or Clayton Kershaw on ½ of a tank. I'd see how far Kershaw's tank gets me – from the beginning of the game.
TOB: What's wild to me is how many sportswriters (like Ben Lindbergh and Michael Baumann from The Ringer) I saw after the game saying Roberts was correct not to start Kershaw. Now, this reminds me of the scene in Swingers when Trent tells Mikey you always double down on 11, and when Mikey does and busts, Trent keeps insisting, "You always double down on 11." Mikey says, "I lost! How could you say 'always'?" But I do get their point. The outcome was unknown when he made the decision, so you shouldn't take the outcome into consideration when determining if he made the right call (plus, who knows how things turn out if they do start Kershaw. Maybe he takes a liner to his head that ends his career or something). But my point is this: I thought this before the game, and I just disagree with the logic. Baumann and Lindbergh's argument is that you don't know what could happen, so go with Darvish because that's why you traded for him. Sorry, if I'm a manager, I'm winning or losing on the back of a generational pitcher. If you beat him, so be it.
---
What is the Point of Youth Sports, Part III: Coaching High School Sports in a Club World
Let's start the third and final chapter on youth sports with a quote that seems to pretty much sum up the current state of coaching high school sports today:
The e-mails from angry parents come faster and more often than any time in his 25 years as a high school coach, sometimes waiting for Carl Pierson by the time he arrives home from a game.
Each time it happens, the Waconia girls' basketball coach knows a long night is about to get even longer.
After he enters statistics, uploads and edits game film and creates a scouting report for the next day's practice, Pierson faces a choice: Take the time to carefully craft and send a response, or put it off until morning and endure a lousy night of sleep dreading the thought of hard feelings festering with a parent and their player.
The old adage says there is no 'I' in team, and that seems to be the problem in high school sports these days. As we've written about the previous two weeks, players and parents are investing a lot of time and money on personal athletic pursuits through pay-for-play club sports and 1-1 training. When a varsity high school coach – who gets about $6K stipend in Minnesota – doesn't have little Johnny in the regular rotation – well, there's trouble in paradise.
When expectations aren't met, parents blame the high school coaches — whose work now extends well-beyond a season's start and end — and even push for their ouster.
After the ouster of two high-profile boys' hockey coaches — Jeff Pauletti at Roseville and Tony Sarsland at Elk River — Rep. Dean Urdahl authored a bill in 2013 to forbid parental complaints for being the sole reason to not renew a high school coach's contract. The measure was passed into law, but its effects are hard to discern.
Fast-spreading complaints via social media can further stoke tension. In 2016, Tony Scheid resigned as Stillwater girls' hockey coach, saying he and his family had been subjected to "unrelenting and vicious" verbal attacks from a group of parents.
Let's just pause for a second. We can be such wimps. Such frauds. I include all of us – whether we have kids or not – because we are parts of communities where this crap happens every day, and 'our kids' isn't limited to flesh and blood. We want our kids to learn about character and competition and teamwork and perseverance, but only if that happens in a way that's acceptable to us – only while making varsity as a sophomore, and playing regular minutes/innings/shifts. When it doesn't go our way, we act like wimps. We post pithy complaints on social media like teenagers, and we either work to get the coach fired or acquiesce to those that do. We don't use the most minor of setbacks – a youth sports setback – to actually have a moment to say to our kids, "This is a challenge, and I've got news: You will be challenged for the rest of your life. It's actually a big part of each day. How you respond tells yourself and the world what kind of person you are. This is what the word 'character' means."
Full disclosure: I absolutely failed my first sports character test.
I was a sophomore on the high school baseball team. The catcher ahead of me, a junior, was suspended for two weeks (maybe I was a junior and he was a senior…I can't remember). He served his suspension, and was back in the lineup. I was the designated hitter for a couple weeks, I'm wouldn't be surprised my hitting cooled off, and then I wasn't playing. The guy in front of me was a natural athlete, but didn't seem to care too much, and that just ate at me. I wanted to succeed with every ounce in me. I had quit hockey to spend more time on baseball. I wanted to play D-I baseball. It was my only goal, I had a plan worked out to the day, and my plan was getting off course because an upperclassmen who didn't seem to care about anything. I wanted to know why I wasn't playing (even when maybe deep down I knew he was more gifted than I was), and I was worried that I wouldn't get any college looks if, you know, I wasn't on the field.
My brother and I met with the coach in the dugout. My feelings about his coaching are beside the point here, so I'll just leave that alone. My brother did most of the talking while I sat there.
To this day I regret that I didn't find the guts to talk with my coach one-on-one. Ugh. This isn't something that comes up once every few years; I think about it pretty regularly.
What is the point of youth sports? It's all the stuff we rolled our eyes about as kids – teamwork, competition, the feeling of earned success and a camaraderie that can only be achieved by spending seasons of ups and downs together with teammates you love and teammates you learn to get along with over time. It's all the cliches. The cliches are true. They were when I was playing as a kid, and they are true at my job today. A great day at work is due to teamwork – and everyone buying into that idea. After reading this series, it's hard to make a case that parents and players share my feelings on this.
Individual success in sports – like any other facet of life – is not guaranteed just because there's been an investment of time or money or desire. We all know life isn't fair. While adults seem to understand that truism when it happens to them, the idea that their children are faced to learn that lesson destabilizes mom and dad.
High school coaches – the good ones, the bad ones (and there are bad ones), and the indifferent ones – have always had to deal with crap parents, but they had leverage. With the ubiquity of club sports, it seems that leverage has shifted.
What's lost in all of this is the the most beautiful part of high school sports – a team made up of kids from the same neighborhood or city winning a state championship. A group of guys or girls, who grew up playing together from when they were 10 years old all the way through high school bring home a goddamn state championship to their hometown. It's beautiful.
Pride. I fear that's what's lost in all of this. – PAL
Source: "Crunch Time Never Ends for Coaches", David La Vaque, Star Tribune (10/24/2017)
---
$100k for an Elite Basketball Recruit is a Steal
As we've written about here before, NCAA basketball is embroiled in a developing pay-for-play scandal that broke when a number of assistant coaches from some of the top programs around the country were simultaneously arrested a few weeks ago. One of those recruits, Brian Bowen, was preparing to start his freshman year at Louisville. It has been alleged he, or his family, were paid $100,000 by Adidas for choosing Louisville.
At first blush, that sounds like a lot. But $100,000, even for one year of basketball, is not a lot of money.
Economist Dan Rascher, an expert witness in the O'Bannon case, estimates that Division I football and men's college basketball players only receive about 10 percent of the $10-12 billion of annual revenue that they generate. By contrast, NBA and National Football League players receive roughly 50 percent of total league revenues. Three years ago, the National College Players Association, a campus athlete advocacy group, applied that same split to athletes in Football Bowl Subdivision conferences and estimated that the average basketball player was worth $289,000 a year.
That's the average player at the average program. Bowen of course is not average. Louisville is not average. If Louisville paid its players 50% of revenue like NBA players get, each player on the team would be paid $1.72 million per year. The tenth pick in last year's draft, for example, is making over $3 million this year, thirty times what Bowen was allegedly paid. This well beyond stupid at this point. Maybe he doesn't need to get paid $1.72 million, but $100,000 is a bargain, and the players should get paid a fair amount.
Source: "Brian Bowen is a Bargain at $100,000", Patrick Hruby, Deadspin (10/26/2017)
PAL: I hate the notion of paying college players, but any semblance of amateurism left big time college basketball decades ago (UCLA in the 60s, right TOB?). Wherever you stand on the issue, this article breaks it down by the numbers, and it's a pretty logical, measured argument. Glad TOB posted it this week. We just didn't get to it last week.
---
Sports Screaming Explained
It's in every sport now, the screaming. Tennis, Football, Track & Field, and all of the others. The screaming is to a point where we don't really notice it anymore, but there was a time – not that long ago – when this didn't happen.
After losing the first set to Monica Seles in '92 Wimbledon semifinal, Martina Navratilova went to the chair umpire to make Seles stop grunting after every shot. It was so unprecedented at that time that the umpire didn't know what to do, so he gave Seles a warning. Seles went on to win the match, and by the end of the match, the grunting had turned into screams. Seles had opened the screaming door in women's tennis, and "[o]ver the next 20 years, Navratilova watched in horror as an entire generation of tennis players proceeded to copy Seles."
Nick Zarzycki does a nice job organizing a handful of theories as to why athletes now scream.
There have been several studies, including some that contend screaming can "increase our maximum jumping distance, improve our ability to withstand pain, and increase coordination." As Zarzycki points out, there seems to be connection to the fight or flight response.
And fear is part of the fight or flight equation.
Working with neuroscientists at Dr. David Poeppel's lab at NYU, Arnal found that screams are different from any other kind of human vocalization because they possess a sonic attribute called "roughness," which is particularly good at activating the brain's fear and danger processing centers.
So perhaps there's something to either creating or reacting to danger when it comes to today's sports. Vikings great John Randle was a big yeller (and all around gab machine on the field). What's fascinating is when you wonder whether or not he was yelling at the offensive line as a reaction to danger or in an effort to create fear. Maybe a bit of both.
There are less combative sports where the breakdown between creating and reacting to danger is less complex. Take, for instance, the skeleton (the luge-type winter olympic sport where one competitor sleds head first down an ice track at 75 m.p.h.
Why do athletes scream? Because we're all animals! – PAL
Source: "Why Do Athletes Scream", Nick Zarzycki, Deadspin (10/31/17)
---
Sporting Event Proposals are Never, Ever OK
There is no scenario in which a proposal of marriage at a sporting event is acceptable. I don't care if you just won the World Series, Carlos Correa. There are no exceptions to this rule.
Sure, he was having the best night of his life, and – to repurpose a phrase TOB uses in the Dodgers writeup, he doubled-down and proposes. Exuberance is at an all-time high, she's a total babe. He goes for it. I get it. It's just the wrong play.
We are conditioned to give it the ah, that's so sweet. Resist that urge. It is not sweet. To propose at a sporting event is unoriginal, thirsty, and puts the fiance being proposed to in an impossible position.
What's she going to do – say no? Hey, honey. I know you just won the World Series, and you're an incredibly successful, young, good-looking, wealthy shortstop who bats cleanup for the World Series champs, but…can we talk about this? Yes, the diamond the size of small island is beautiful. It's not that. I just don't feel like we've talked about each of our visions of the future.
So – yeah – that was never going to happen. Did I mention he's the shortstop and bats cleanup? Hell, I might have said yes. But that doesn't make it OK. Propose on your own time, and make that day special because you got engaged on that day. Of all the moments in your life, don't tack that one onto any other special day, and don't do it at a baseball game.
What's that? Yes, I am 35 and never been married. – PAL
Source: "Carlos Correa Celebrates World Series Win By Proposing To Girlfriend Daniella Rodriguez", Emma Baccellieri, Deadspin (11/01/2017)
TOB: I have mixed feelings here. First, I think everyone should do it their own  way. She looked happy as hell. He looked happy. It was a sweet moment, good for them. On the other hand, when it happened I did think, "It makes for a bit of an awkward engagement night." I mean, now he's gotta leave for the trophy ceremonies, then head to the locker room for the champagne celebration, and then get absolutely hammered with his teammates. Is she in the locker room? Either way, once the celebration is done, Correa is drunk and celebrating his own thing, while also trying to celebrate their thing. In the end, I go with my gut: They seemed happy, so…
---
Video of the Week: 
https://clips.twitch.tv/InventiveLazyYamKeyboardCat
(Sorry, can't embed)
---
PAL Song of the Week: Jeffrey Foucault – 'Lodi' (Creedence Clearwater Revival)
---
Like what you've read? Let us know by following this blog (on the right side, up near the top), or:
Email: 123sportslist@gmail.com