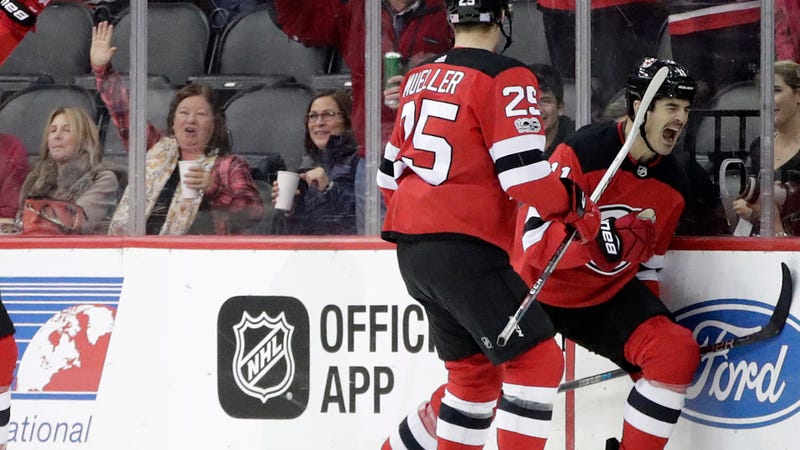 Get it, Brian Boyle! This week, he scored his first goal since being diagnosed with chronic myelogenous leukemia in September.
---
Signed, Sealed, Delivered: Counterfeit Autographs
I've said it before, and I'll say it again: the draw of autographs – sports or otherwise – is lost on me. As we find ourselves in at least the second decade of the online marketplace, the hobby of collecting autographs is an even more removed experience. The signature symbolizes no interaction, no moment when the ordinary and extraordinary paths cross. There is no story, only an online bid.
While it should come as no surprise there are counterfeits out there, here's a story that highlights a case which uncovers the how and the why behind one such counterfeit – Cliff Panezich.
Before Panezich forged the vast majority of 27,000 ebay items and sold more than $2MM worth of items on eBay, he was a baseball player looking for a shot. He was also an autograph seeker. The autographs were not for a personal collection.
2009 was his first year out of baseball. Panezich had gone undrafted after college ball, but had workouts with MLB teams and fared well enough in an independent league to earn another minor league tryout with the Phillies. His physical with the team revealed not one, not two, but three tears – two in his labrum and one in his rotator cuff. Surgery. Two years of rehab for an undrafted guy means the dream is pretty well squashed. This gave him more time for autographs. He and a friend took a road trip to Tuscaloosa to gather some signatures from Crimson Tide players.
This is what autograph investment looks like. Not exactly the kid waiting after the game for a glimpse of his hero:
//players.brightcove.net/2157889318001/default_default/index.html?videoId=5634642729001
This was a business trip, but the end did not justify the means:
Altogether it took Panezich and Bollinger nearly a week to gather the signatures they wanted, and Panezich says they shelled out more than $1,000 to players—but he figured the investment was worth it. He'd seen a team-signed Bama ball sell on eBay for roughly $800 earlier that month. Even if his own fetched just $500 apiece, "we were in pretty good shape," he says. But once Panezich made it back to Ohio and listed the items on eBay, he says he found a marketplace newly flooded with what he believed to be forgeries—most selling for less than $150.
You can see where this is heading. Panezich embraces the forgery route, and he has a talent for copying signatures. When the feds close in on him and finally question him – they dubbed it "Operation Stolen Base" –  they wanted to see him in action.
The most surreal autograph session of Panezich's life takes place a month later in a conference room in the FBI's office in Boardman. He wasn't arrested during the raid, but he's since agreed to be interviewed under proffered protection in hopes of improving any future plea deal. The FBI and the Mahoning County prosecutor's office have decided to pursue the case under Ohio's version of the RICO Act—rather than bring federal charges—because of the number of potential defendants at the local level. (More than 20 other people, mostly in Ohio, are suspected of being involved in selling the forged items.) This makes Martin Desmond, a Mahoning County assistant D.A., one of the lead interviewers.
"I'm curious," Desmond tells Panezich from across a conference table. "I want to see how good you are."
Panezich shoots a look at his lawyer, Robert Duffrin—Is this really happening?—and is reminded that he's under protection. He grabs a pen and a legal pad and asks Desmond to name an athlete.
"LeBron," Desmond says, assuming Panezich will then ask to look at an example.
"Number or no number?" Panezich replies.
"Number."
"Six or 23?"
"Do both."
Panezich signs two variations—one the way James signed it during his first stint with the Cavs, the other the way he did it in his Heat years. One of the Ohio policemen at the table fires up his iPad and finds a real LeBron, and they all compare it with Panezich's work.
To the investigators' untrained eyes, it's difficult to tell the autographs apart.
Panezich got six years for what is one of the largest eBay frauds on record. Hell, he even had his mom working for him. And while I find it hard to imagine anyone questioning his responsibility in all of this, Sports Illustrated's Luke Winn brings up an interesting point – what about eBay's role, if any?
The most successful party—in the end—appears to be eBay, which would have earned more than $300,000 on auction and PayPal fees on $2.4 million in sales. Although eBay cooperated in the case, a company spokesman declined to answer SI's questions about whether it had contacted potential victims or returned any of the fees.
So – yeah – I have no problem with athletes turning down adult autograph seekers (story four from our September 22 post). Honestly, I have little sympathy for folks buying autographed items on an online marketplace, too. I don't get it, and stories like this surely don't help. – PAL
Source: "Operation Stolen Base", Luke Winn, Sports Illustrated Longform (11/06/2017)
---
Man, Roy Halladay Died, and I Barely Knew Him.
A bummer out of baseball this week, as former pitcher Roy "Doc" Halladay died after he crashed his small plane into the Gulf of Mexico. He was 40, and leaves behind a wife and two kids. This story hit the baseball world hard, as Roy Halladay was not just the best pitcher in baseball for a decade, but widely known as one of the nicest and hardest working players, too. He was tall and lanky, and he was all angles when he pitched. He was incredibly difficult to hit, winning two Cy Youngs, a remarkable 7 years apart, in different leagues. He only played in two postseasons, but boy did he make it count.
In his first ever postseason game, Game 1 of the 2010 NLDS, Halladay threw a no-hitter. It was only the second ever postseason no-hitter (the first being Don Larsen's perfect game). I remember the game distinctly, even though I didn't watch it, which is a perfect microcosm of my experience with Halladay's career. As I recall, it was the first game of that season's playoffs, and it started during the day, when I was still at work. I was intently focused on the Giants' soon to begin series against Atlanta. I even had tickets to Game 1 the next night, so I wasn't paying attention to the score of a Phillies game while I was at work. But I remember leaving the office right around 5:00pm, and heading over to a bus stop directly in front of Irish Times, a sports bar in San Francisco's Financial District. I peeked inside and saw the Phillies leading 4-0 in the 9th. Meh. I got on the bus, and just before it departed, I'll never forget a HUGE roar from the crowded bar. I thought, "Geeze, it's only Game 1 of the NLDS, and the Phillies have won a World Series and another pennant recently. Calm down, Phillies fans." Moments later I got an alert on my phone, telling me Roy Halladay had just completed a no-hitter. I had not only missed a playoff no-hitter, but unknowingly walked out of the bar, in the 9th, as he was closing it out. UGH.
As I said, it's a microcosm of my, and many baseball fans', experience with Halladay. The postseason is when many fans get to watch the best players in the league, but because Halladay made just five postseason starts, I simply did not get to see him pitch much. I did see him in person that postseason – he started Game 5 of the NLCS against the Giants, beating Tim Lincecum 4-2, in a rematch of the Giants 4-3 win in Game 1. But…I don't really remember too much about Halladay that night. And I didn't remember that Cody Ross' two huge home runs in Game 1 came off Halladay, either.
But this week, I read a lot about how others experienced him. Like Blue Jays and Phillies fans, who saw him pitch every five days, the best in the game at the peak of his powers. I know how fun that experience is. Phillie fan Michael Baumann summed up why we love sports, and why we are sad when athletes die too soon:
But for me, and for numerous others who had the good fortune to be Phillies fans in a certain time and place, this is different, because of the memories he created, the community his team fostered, and, above all, the ineffable feeling of being part of something special that he inspired. I never met Roy Halladay, never high-fived him as a fan or interviewed him as a reporter, but he changed my life all the same.
Deadspin rounded up many of the tweets from players who played with and against Halladay. Brandon McCarthy seemed to capture Halladay best:
And I really enjoyed this old SI article, written at the height of Halladay's powers, about his early career struggles, and what Halladay went through to turn it around. It's really quite a remarkable story. Rest in peace, Doc. -TOB
Source: "Roy Halladay Changed My Life", Michael Baumann, The Ringer (11/07/2017); "Roy Halladay Was 'Your Favorite Player's Favorite Player'", Barry Petchesky, Deadspin (11/08/2017); "What Makes Roy Run", Tom Verducci, Sports Illustrated (04/05/2010)
PAL: I enjoyed the Baumann article as well. I actually highlighted the exact same passage TOB pulled out above. And to those asking why he was flying so dangerously – implying that he deserved it in some way – just go away (I'm not going to even link to the story about it, but you can find them if you want).
---
Damn The Birds, Build The Stadium in Oakland
The Raiders: Vegas. Warriors: San Francisco. Sports teams are dropping Oakland like a high school boyfriend or girlfriend come second semester of college. The A's are looking to stay in Oakland with a privately funded, 35,000 seat stadium. They want to put it right by Lake Merritt near downtown Oakland.
But what about the birds?
Cindy Margulis, executive director of the Audubon's Golden Gate chapter, said in an interview that a new ballpark built near the Lake Merritt Channel would devastate large numbers of bird species that nest each year at Lake Merritt, especially herons and cormorants.
The ballpark could cause a die off of birds and perhaps force them to leave the Lake Merritt area completely. And Margulis says she sees no way for the A's to prevent what she predicts will be an ecological catastrophe.
I run around that lake a lot, and let me tell you something: The birds are out of control. I have no beef with the herons, but if they could find a way for the new stadium to kill off the seemingly millions of geese and their poop that litters every inch of grass around the lake, then I'll personally contribute to the stadium.
Lake Merritt is a good looking lake. It's a small lake, and it can smell a bit, but it's a nice, downtown lake. People love to grill out and just hang on the weekends. It's packed with folding tables, grills, and loud, bumping music. I love it, but for the geese.
Geese suck. They poop white poop everywhere, they waddle around like they own the place, and they're jealous of the swans. Build the stadium. Damn the birds. Eagles are cool. Hawks are impressive. Owls: I'm in. The rest of them – meh. Birds are gross. Privately funded stadiums built near downtown are cool. Stadium > birds. – PAL
Source: "New Ballpark Could Devastate Lake Merritt's Birds", Robert Gammon, East Bay Express (11/07/2017)

---
Video(s) of the Week: 
---
PAL Song of the Week: Tim O'Brien & Darrell Scott – 'Long Time Gone'
---
Like what you've read? Let us know by following this blog (on the right side, up near the top), or:
Email: 123sportslist@gmail.com