Strong argument. 
---
College Coaches: Pass on Tennessee
Tennessee fans didn't want Greg Schiano as the head coach, and rather than claiming his mediocre head coaching record, they used sexual abuse as their rationale. You see, it was a moral issue, but not really
Backstory: From 1991-95, Greg Schiano served as a graduate assistant, then assistant coach for Penn State football. During that time, Jerry Sandusky was sexually abusing children, many times in within the Penn State football complex. We know how that story has played out. Per Joe Drape of The New York Times:
In a 2015 deposition, the former Penn State assistant coach Mike McQueary testified that another Penn State assistant coach, Tom Bradley, had told him that Schiano had talked to him about seeing Sandusky abusing a boy sometime in the early 1990s. Both Schiano and Bradley, most recently an assistant at U.C.L.A, have denied the allegation and said they had no knowledge of the abuse.
Since his time at Penn State, Schiano went on to coach at Miami, Chicago Bears, Rutgers, Tampa Bay, and now he's the defensive coordinator at Ohio State. He's had success as a coordinator, and less success as a head coach. At Rutgers he had a 68-67 record, the highlight being 2006, when the team finished 11-2. As the Tampa Bay Buccaneers head coach, he posted a 11-21 win-loss record in two seasons. Take out the 2006 Rutgers season, and he's been a below  average head coach if you simply look at won-loss. It could be he's better suited as a big-time coordinator.
Which brings us to Tennessee, a football program and fan base under the delusion that they are a premier SEC program, despite having won more than 10 games in a season exactly zero times in the last decade. They've won a single National Title since the Johnson administration.
Since they are delusional, they actually believed (I'm laughing as I write this) that they were going to be the program to lure Jon Gruden back into coaching. When – shocker – that didn't pan out, they offered the job to Schiano, a move that was vetted internally and approved within the program by the likes of  Peyton Manning. Word got out before it was announced, and the fans were not pleased, and they hung their argument on the allegation that Schiano knew about the Sandusky abuse and didn't do enough. They made enough noise that the University of Tennessee caved and re-opened the coaching search, despite Athletic Director, John Currie, providing this response to Schiano's vetting: "He received the highest recommendations for character, family values and commitment to academic achievement and student-athlete welfare from his current and former athletics directors, players, coaching colleagues and experienced media figures."
The only time Schiano's name ever comes up in the Sandusky scandal is in a deposition in which one coach (McQueary) said another coach (Bradley) told him Schiano saw Sandusky abusing a boy. Bradley and Schiano deny any knowledge of the abuse. That, as far as I've found reported, is it.
Fans didn't like the hire – not because of sexual abuse – but because Schiano was not successful enough as a coach. It wasn't a big name, and so they used child rape and molestation as front. I mean, my God.
No coach should take the Tennessee job (as of 12/1/17, 7:30AM PT no one has). 
Obviously, this won't happen – they'll pay someone a boatload of cash – but who wants to work at a place where absurd allegations from the fanbase can cause the athletic department balk?
A young hot commodity like Scott Frost will have other big-time offers within a year (the coaching carousel at big-time programs seems to constantly have openings these days. In just the last week, Jimbo Fisher seems to be on his way from Florida State to Texas A&M, UCLA hired Chip Kelly, Florida filled its position, and Nebraska's looking for a coach).
Here's to another decade of crap Tennessee football. They deserve it. – PAL
Source: "Tennessee, Greg Schiano and Moral Outrage in College Sports", Joe Drape, The New York Times (11/27/17)
TOB: I hesitate to so broadly paint the Tennessee fans. As Drape says:
"Certainly some of the people in Tennessee who objected so swiftly and vociferously on Sunday to the Schiano news were drawing a moral line. For others, though, this is about the University of Tennessee wanting to be good at football again. They want a better coach than Schiano."
The article makes it sound as though this started when someone painted the rock you see above. I believe the person who did so was in fact making a strong moral stand, and would have done so even if Schiano had Nick Saban's record. Yes, others piled on, many of whom would not have protested if Schiano had Saban's record. But the thing is, schools make unpopular coaching hires all the time. Fans call into radio, or flood message boards. But I've never seen anything like that. And while I think there's herd mentality going on, I do think the unique situation here (McQueary testifying that another coach told him Schiano had seen Sandusky raping a boy years before McQueary did) does fuel the flames. It's child rape. It's among the worst crimes that can be committed. And if there's a chance a coach turned a blind eye to that? Well, I get the outrage. I wouldn't want him coaching my school, either. The fact he's been a mediocre head coach just makes the decision even easier.
---
The NFL…Whatever.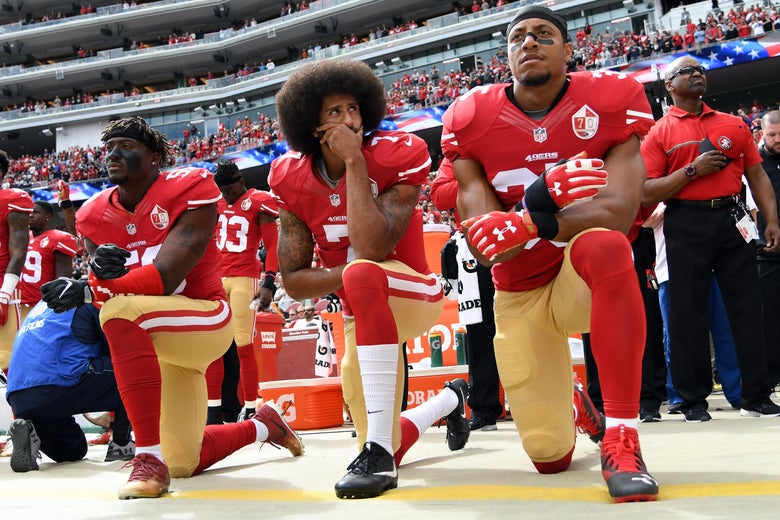 I am just so, so, so sick of writing about the NFL. It is such an incredibly cynical, ugly organization. But, I must. Under Roger Goodell, the NFL has tried to suppress any and all individuality among the players. They care about profits, and profits alone. So the NFL borrows a line from Michael Jordan, who once reportedly said, "Republicans buy shoes, too." That is – stay out of politics. Keep everything vanilla. Be everything to everyone. You can imagine, then, that the NFL hates the protests to the national anthem that have gone on for the last year and change. NFL ratings are way down – due in part to anger over the protests, in part to fan concern for player safety, in part to the continuance of a gradual decrease in ratings owing to a whole host of reasons. But the protests are tangible. It is something the NFL can do something about. So first, they tried to co-opt the protest. But many players would not budge, and continued the protests. So the NFL formed a taskforce with the Players Coalition, a group of 40 or so of the more vocal players, and promised to come up with some solutions. This week, the NFL and the Players Coalition released some news. The NFL would commit $89 million dollars to various causes "important to African-American communities." Wow! Hey! Not Bad! But the on the eve of that news, 49ers safety Eric Reid and Dolphins safety Michael Thomas publicly announced they'd left the Players Coalition as the coalition's beliefs were "not in [their] best interests as a whole."
Well, that's odd. I wonder what's…oh. Right. It's the NFL. So here's the real deal behind the this great-sounding deal: there are strings attached. While the agreement does not require an end to the protests, ESPN reports the NFL "hopes this effort will effectively end" the protests. On top of that, Reid said he was specifically asked if he'd stop his protest. Shocking.
Worse, the deal is not as great or generous as it sounds. For one, the $89M is to be paid over 7 years. Each owner only pays $250,000 per year, a paltry sum. The players pay the same amount. The balance, about $85M comes from the league. But even so, there's no guarantee the NFL couldn't simply reallocate funds already earmarked for other charity projects. And there's no guarantee the money will actually go to charities the players, or African-American communities, care about. The agreement calls for a group of twelve people – five players, five owners, and two league staffers, to determine how the money will be spent each year. That's right: the NFL owners and the league have a 7-5 majority, meaning the players' voices on that committee are effectively silenced. Finally, the NFL apparently threatened that if a deal didn't get done soon, the deal would be off the table and the NFL would take unilateral steps to ban the protests. Swell. As Deadspin's Barry Petchesky says:
"So, let's recap. NFL owners are pledging to spend a relatively paltry amount, not pledging that they won't just take that money from previous charitable pledges, not promising that they won't veto players' preferences on where the money should be spent, setting up a voting body specifically designed to outvote those players, and expecting that this will stop players from protesting during the national anthem."
Sigh. I can only hope Will Leitch is right, and that the end is already near for the NFL. -TOB
Source: "The NFL's $100 Million Ploy to Stop Player Protests", Jeremy Stahl, Slate (11/30/2017)
PAL: Every week we tell you "Here are our favorite stories of the week." This is not one of my favorite stories of the week. I'm not excited to share this with you, my friends, and talk about with over the phone or over a beer.
Is it an important story? Yeah, it is. And while we are absolutely aware that this is not a news site, and we are not journalists, in this small corner of the sports blogs, I for one want to take that moment to share what I think is worth your time.
When we look back on the year of 2017 in sports in 5, 10, 20 years from now, the NFL protests will at the top of the list of topics. That counts for something, and while I don't like writing about it time and time again, it is a national conversation transcending sports.
To the N.F.L., it's always about advertiser dollars and ratings. It has nothing to do with patriotism or protests. To take the money under those terms would mean nothing less than to be bought-off by N.F.L.. Good for those players.
---
What Does A Hero Owe His Hometown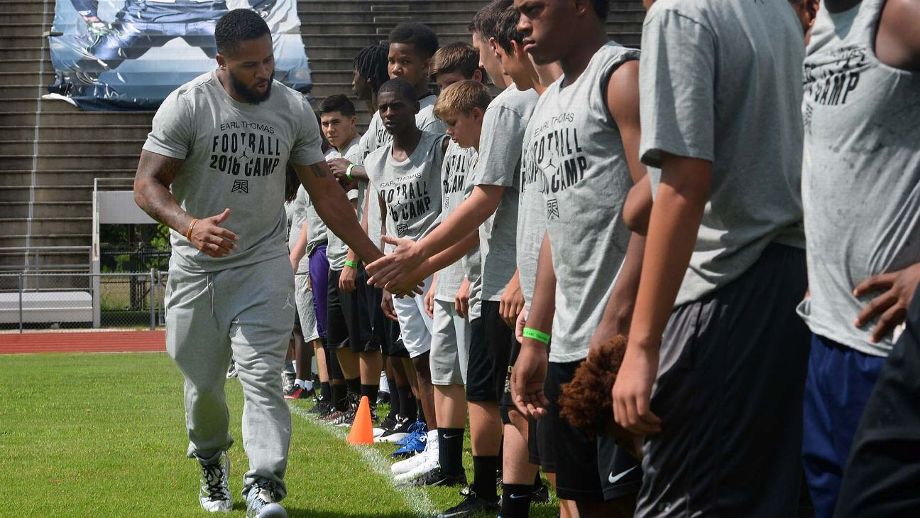 Here's a sports story I haven't read before: the small town boy done good, gives time and money to his hometown, but unlikely to return.
Earl Thomas III may be small (5'10"), but the 3-time all-pro has been one the most lethal safeties in football during his eight-year career with the Seahawks. Take it from Tight End Rob Gronkowski (6'6", 265 lbs), who said this Thomas hit was one of the hardest he's ever taken.
Thomas grew up in the southeastern Texas town of Orange. In his profile on Thomas, ESPN's Joel Anderson describes Orange, TX as carrying "a bedeviling legacy as one of Texas' most palpably inhospitable regions for black people, a town where Confederacy enthusiasts recently erected a monument on Martin Luther King Jr. Drive, to be seen from Interstate 10 and the 55,000 cars per day that pass by."
For generations, the Thomas family has been a rock of the community. Thomas' grandfather, Earl, Sr., worked at the grocery store for 43 years and built a church in the toughest part of town. His father, Earl, Jr., has been spending the weeks following Hurricane Harvey hanging drywall in the community, and his mother is an unpaid church secretary after retiring from the school district. 
While the longstanding dominance of West Orange-Stark high school football can bring the community together, it doesn't seem to carry over beyond Friday nights.
The bitter fights over desegregating the schools that took over Orange in 1977 don't seem that far off now, as the schools in the area are becoming more segregated by the year. While ⅓ of Orange is black, ⅔ of the student population at West Orange-Stark is black. Most white kids head north, out of Orange, for school. Add to that a recent Confederate monument erected on Martin Luther King, Jr. Drive, and – well – you can decide for yourself what that says about the state of life in Orange.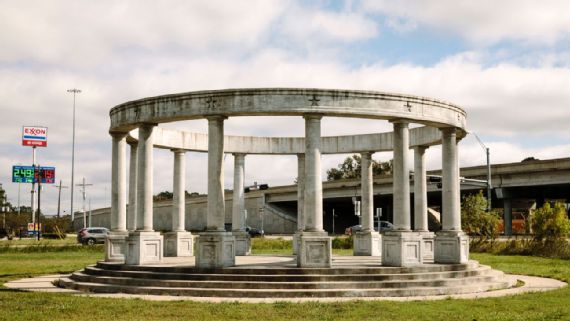 After Thomas starred at University of Texas for two seasons, Seattle drafted him in the first round.  Seattle is 2,410 miles away, but the distance in thinking might be even further. Thomas is still connected to his home and carries on the Thomas family legacy within the community. He still trains there in the off-season. He puts on free youth camps attended by hundreds of kids. He chartered buses for his community to watch the high school team play in the State Championship. After Hurricane Harvey, Thomas and fellow UT Alum Jamaal Charles were "this area's Red Cross".
No one questions his devotion to his hometown, but he got out, and unlike most everyone in Orange, Thomas' was allowed to see the world through a lens other than Orange.
It's so draining, and I think it's why [Earl Sr.] passed away so early. My uncle is going through the same situation. I feel like, going forward, the older I get, the more I kind of push away. I don't really grow as much when I'm back.
…I want my daughter to have the best schooling. I want my daughter to be around diverse people, where you don't see the racism and stuff like that going on.
I know I'm always going to maintain a presence there, but living there? No.
This one's worth the click-thru, folks. – PAL
Source: "Earl Thomas is the favorite son of a troubled Texas town", Joel Anderson, ESPN (11/24/17)
---
Hey, Everybody! Phil is Running a Marathon This Weekend!
Go get 'em, buddy!
Good luck!
---
Video of the Week: 
---
PAL Song of the Week: Burl Ives – "Silver And Gold"
---
Like what you've read? Let us know by following this blog (on the right side, up near the top), or:
Email: 123sportslist@gmail.com