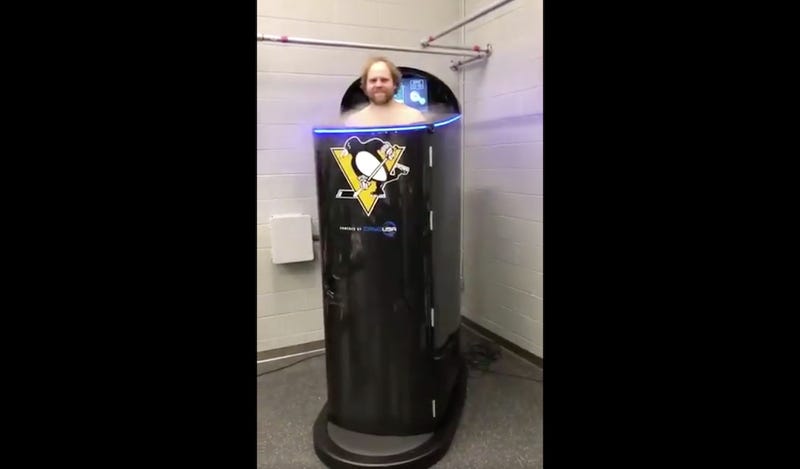 Phil Kessel is the greatest.
---
Keep Your Strava To Yourself
I'm a sucker for Strava. I like tracking my runs, staying on top of weekly goals, seeing progress over longer periods of time, and – I'll admit it – when I really kick-ass, I like to put that ish out in public. Most of the people I know use some sort of fitness tracker with some regularity. Since no one particularly cares where you or I live, the map of my our bikes/runs is of no interest to most.
There are people, or groups of people, whose patterns are definitely of interest.
Recently, Strava posted a global heat map to show two years worth of accumulated activity patterns of its users (they report 27MM users). To no surprise, major cities are a burst of light, but it gets interesting when you zoom into dark patches, especially in war zones.
In war zones and deserts in countries such as Iraq and Syria, the heat map becomes almost entirely dark — except for scattered pinpricks of activity. Zooming in on those areas brings into focus the locations and outlines of known U.S. military bases, as well as of other unknown and potentially sensitive sites — presumably because American soldiers and other personnel are using fitness trackers as they move around.
I'm sure you see why this is unsettling, and it should come as no surprise that the branches of the military are immediately reviewing their policies around fitness tracking.  
Who was the first person to make the connection between military positions and Strava's Global Heat Map? A student, of course.
Nathan Ruser, who is studying international security and the Middle East, found out about the map from a mapping blog and was inspired to look more closely, he said, after a throwaway comment by his father, who observed that the map offered a snapshot of "where rich white people are" in the world.
"I wondered, does it show U.S. soldiers?" Ruser said, and he immediately zoomed in on Syria. "It sort of lit up like a Christmas tree."
He started tweeting about his discovery, and the Internet also lit up as data analysts, military experts and former soldiers began scouring the map for evidence of activity in their areas of interest.
It just goes to show you – everyone loves a good humblebrag after working out. Until now, I'd say no one wants to hear about your run. Turns out, there might be an exception to that rule. – PAL
Source: "U.S. Soldiers are Revealing Sensitive and Dangerous Information by Jogging", Liz Sly, The Washington Post (01/29/2018)
TOB: As a non-runner, this story really amused me.
---
Mark Appel Is More Than A Bust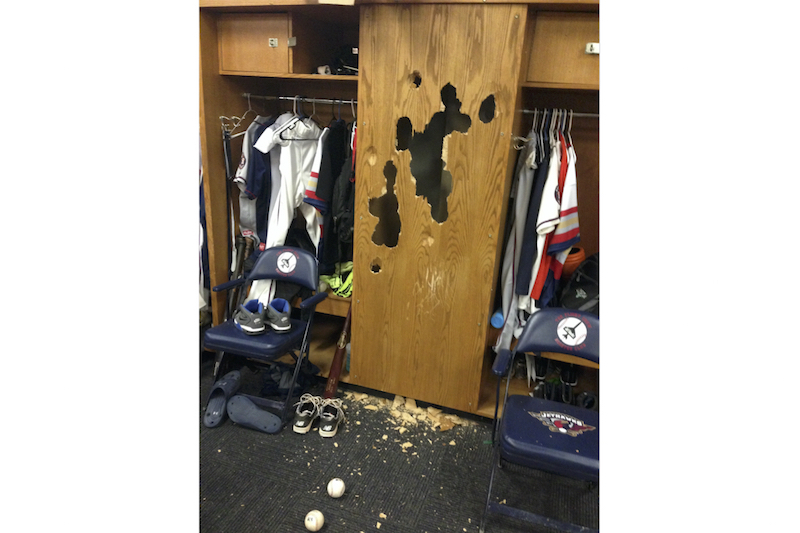 The Houston Astros, 2017 World Series Champions, drafted Stanford's Mark Appel as the number one pick in the 2013 amatuer draft. He signed a $6.35MM bonus. He was taken ahead of Kris Bryant (2016 N.L. MVP) and Aaron Judge (2017 A.L. Rookie of the Year, MLB Record for HRs by a rookie with 52).
He was to be the centerpiece of the Astros resurgence. General Manager Jeff Lunhow described him as "the most significant investment the Astros have made in their history in an amateur player". Hell, he is a prominent figure in the now famous 2014 SI article predicting the Astros 2017 championship.
Appel remains in exclusive company. He is one of three number one overall picks to have never played in a MLB game. At 26, after years of struggles in the minors, Appel is stepping away from baseball. Yep, he's a huge baseball bust.
But what's so interesting about Joon Lee's article catching up with Appel is that Appel seems pretty OK with how things have turned out, and not in a I'm telling you, really, I'm fine with it, but deep down it's eating me alive way. He really seems to have some perspective on it all…I guess $6.35MM doesn't hurt, but still.
I'm a guy who loves a game, who had expectations, goals and dreams and then has had everything tumbling, and then everything was unmet. Would I have loved to be pitching in the World Series? Absolutely. Some people have real struggles. I played baseball. I thought I was going to be great, and I wasn't.
To be honest, if I had that much potential heaped on me and didn't at least get to the bigs, I really think it would tear me up inside. And maybe he's just saying the right things to cope, but there is frankness to Appel in this article that has me rooting for him, regardless of the next steps entail.
About the picture above: after yet another disappointing appearance in the minors, Appel returned to the locker room unable to ignore the fact that it was falling apart. He was crying. Frustrated and infuriated. He picked up a ball and hurled it across the clubhouse. Then he did it again and again and again.
For 30 minutes, Appel threw 80 baseballs at the wall, cracking through the board and hitting the wall with a thud. When he was finished, he sat down, breathing heavily, grunting. Ten minutes after the noise ended, Appel's teammate, Josh Hader, walked out of the bathroom. He had heard the entire ordeal and was too scared to leave the stall. The pair laughed before Hader returned to the field and silence filled the room. Appel heard the crowd cheering outside, the air conditioner purring in the background.
Rather than pay the $600 to have someone repair it, Appel went to Home Depot to buy some wood and stain that matched the clubhouse. He repaired it himself. Maybe I'm being too simplistic or only seeing one piece of the puzzle, but that says a lot to me about the guy. – PAL
Source: "Why Mark Appel, Perhaps the Biggest Bust in MLB History, Is Stepping Away at 26", Joon Lee, Bleacher Report (02/01/2018)
TOB: Classic Stanford Man: a highly rated guy, who gets so angry when things don't go well that he throws baseballs at a wall for 30 minutes, and then claims he's ok with his failure because other people have bigger problems. WELL, I'M NOT BUYING IT, MARK. Classic Stanford Man. Classic. Try really hard at something, fail, claim you're fine without it because my life is still effing great. These are the lessons learned at Stanford (looking at you, Al). Enjoy your job in finance, Mark. 
---
Q: How Low Can You Go? A: Stealing 5K Race Medals
In the words of Mr. 5K, Ryan Mark Rowe, the best approach to a road race is to think of it like the first day in prison. "Be invisible, no eye contact, look out for #1…and stretch."
Put another way (although Mr. 5K really came through on that quote), there is some basic decorum to running in a race, be it a marathon, half, 10k, or 5k.
Unless you have a legit shot to win the damn thing, don't sprint out to the lead off the starting line

Don't sprint through the finish line unless you have miraculously found yourself in contention to win the damn thing

.

Don't shove your way through the crowd right at the start – you should've been there earlier if you're looking to P.R.

Don't collect a medal if you hopped into the race without registering.
That last one seems pretty obvious. While I've hopped into plenty of road races, you don't collect a medal at the end. One time, my sister was running the Napa Marathon. The plan was I join her somewhere between mile 16 and 19, depending on how she was feeling, to give her a little company during the dark miles. My brother-in-law and I stayed out pretty late at the bar the night before, but I wasn't sweating it – I had plenty of time to get my wits about me in the morning.
We saw Missy at mile 11. It was a hot day, and she clearly wasn't feeling it on that morning. She asked me to hop in at mile 11! That was a long 15 miles.
And when we approached the finish line, I did what any non-registered runner would do – I peeled off, knowing my job was complete. I sure as shit didn't collect a medal from a race for which I neither registered nor completed.
This was not the case at the Miami Marathon this past weekend, and the race director didn't let it slide. Not only did he take medals from people without bibs, the dude filmed it!
There's cheap, then there's taking a medal when you didn't pay the $35 for a 5K registration. There's also a name for these losers: 'banditing'. Get a life. – PAL
Source: "Race Bandits Attempt to Steal Medals at Miami Marathon", Tim Hubsch, Canadian Running (01/30/2018)
TOB: It's just so weird. Why steal these? You didn't earn it, so it has no sentimental value to you. You can't sell them, because no one would buy them – no one cares about your marathon medal when you earned it (the ultimate participation award), why would they care about one you didn't earn?
---
Hot Sauce Still Has It
You remember Hot Sauce, the breakout star of ESPN's mid-00s street ball show, And1 – a modernized Harlem Globetrotters. Hot Sauce had the craziest handles, and he would clown on everyone who tried to guard him.
Damn, that show was the best. Well, Hot Sauce is still around, and the Atlanta Hawks have been inviting him to games to do his thing with random people from the crowd. if they prevent him from scoring, they get a little cash, and if they steal the ball from him, they get more. It goes about how you'd expect, usually like this:
Aw, bro. And that's when Hot Sauce likes you. Word to the wise, do not piss off Hot Sauce, or he'll do you like this guy:
Ohhhh nooooooooooooooooo! -TOB
Source: "Forcing Hawks Fans To Try And Guard Hot Sauce Is Very Cruel And Very Funny", Tom Ley, Deadspin (01/30/2018)
---
Video of the Week:
---
PAL Song of the Week: Etta James – "I'd Rather Go Blind"
---
Like what you've read? Let us know by following this blog (on the right side, up near the top), or:
Email: 123sportslist@gmail.com