Chloe Kim's proud pops.
---
Straight Cash, Homie
Draymond Green is good at basketball (11 ppg, 8 rpg, 7apg) on a great basketball team but he also drives me crazy with his antics. He is constantly complaining to the refs, sometimes cheap-shotting opponents, and one time he may have cost his team an NBA title. Along with David West, Green brings a real edge to a supremely talented, kinda soft, team.
All of that is to say that I have mixed feeling about the dude. However, I appreciate how he settled his bet with Evan Turner. Green went to Michigan State, and Trailblazer Turner went to Ohio State. The two had to settle a Big 10 bet after the Blazers thumped the Warriors this week.
I appreciate the cash exchange. There is no joy in winning a bet, only to receive a notice on your phone that someone paid you $10. – PAL
Source: "At Least Draymond Is An Honorable Bettor", Tom Ley, Deadspin (02/15/2018)
TOB: Well, I have no mixed feelings on Draymond – I unabashedly adore him. I'm with you on this exchange, though. A man who timely pays his $100 bets, in cash, is a classy human being, and one worth being friends with.
---
Ya Boy is Back!
Brian Sabean, architect of three Giants World Series winning teams, along with one other pennant and three other division titles. He's a Hall of Fame GM. But following the 2014 World Series, he was placed into somewhat of an emeritus status with the team – "promoted" to Executive Vice President, while his longtime assistant Bobby Evans was promoted general manager, in charge of the day-to-day activities. Things have been…less than smooth. Though it's not clear that much of this is Evans' fault, the Giants quietly announced this week that Sabean will return to more of a day-to-day role, and the Athletic's Andrew Baggarly reports that the final word on decisions will be Sabean's. So, see a lot more of Sabean in his box seats, and I can recreate this.
When your team nearly loses 100 games, you're looking for any thread of hope to hold onto. I've gotten a few threads this offseason, and this is another. Let's go, Sabey Sabes! -TOB
Source: "Giants Ownership Directs Brian Sabean to Reassume Day-to-Day Responsibilities", Andrew Baggarly, The Athletic (02/15/2018)
---
Yes, Another Steve Kerr Story (or Two)
Look, I'm sorry. I know we've covered Steve Kerr a lot. But he keeps doing things worth discussing. This week we got a Kerr double whammy. First, in an attempt to connect to his team who he says is tuning him out a bit, Kerr let the players run the huddles in their game against the (terrible) Phoenix Suns.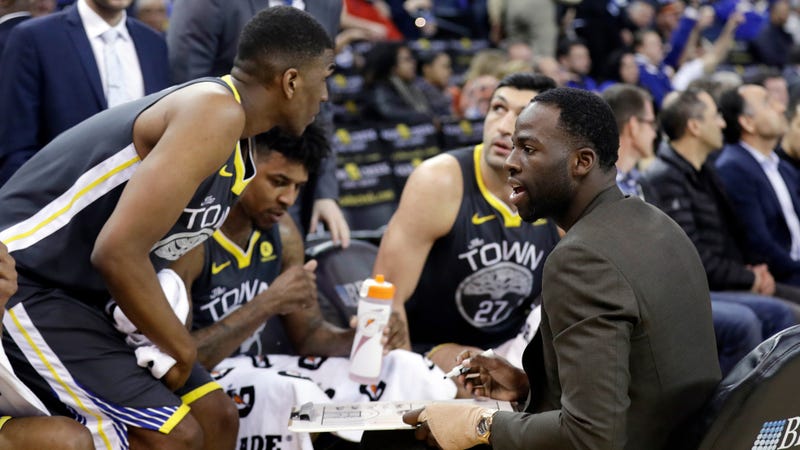 The players seemed to love it, as did every normal human being. There was, of course, some backlash. A couple Suns players called it disrespectful. A few coaches reportedly didn't like that Kerr was showing coaches are unnecessary. And the usual media suspects took the opportunity to make some #hottakes. But, by and large, Kerr's move was praised, rightfully so. Most coaches are simply not secure enough to do this, and it was pretty cool to watch.
Later in the week, our country endured yet another horrific mass shooting. This time at a high school in Florida. Seventeen people were killed by a former student. Kerr, who has grown increasingly willing to speak out about politics, was asked about the shooting and had this to say:
This shouldn't be hard at all, and yet here we are – nearly 20 years after Columbine, and nothing has been done. Hell, things have gotten worse. I lost hope on this topic after Newtown, when dozens of five year olds were killed. Five years old. And not a damn thing changed. But Kerr is right, there is something we can do. It's a strange world we live in when an NBA coach is more eloquent and makes more sense than our politicians. -TOB
Source: "Steve Kerr Let His Players Coach The Game And It Worked", Tom Ley, Deadspin (02/13/2018)
PAL: I'm now seriously considering if Kerr might be thinking about a life in politics after he's done coaching.
---
"Where Were You When Oddvar Bra Broke His Pole?"
How is a folk hero made? That's the question David Segal's trying answer in his dissection of Norway's version of "Miracle On Ice".
So here's what happened:
A man named Oddvar Bra is skiing the final segment of the men's 4×10-kilometer cross-country relay at the 1982 world championships in Oslo. Surging up a hill, he passes and sideswipes the only person ahead of him, Alexander Savyalov of the Soviet Union.
Immediately, Bra realizes that the impact has had a terrible consequence. His right pole has snapped in two.
"Let him get a pole, man!" shouts the sportscaster for what is then Norway's only national TV station.
As if on cue, someone in the crowd bolts into view and hands off a pole. His equilibrium restored, Bra battles Savyalov in a sprint to the finish line.
Let's recap. A guy breaks a ski pole and keeps racing. Not exactly the moon landing, is it? And to be clear, this isn't a come-from-behind story. Bra was actually leading after he broke his pole, because contact had knocked Savyalov to his knees.
Also, Bra didn't win, at least not outright. After staring at an image of the finish for about an hour, the judges decided that he and Savyalov had tied for first.
There's a statue of Bra in Norway for not losing. He's a folk hero, and there are specific ingredients that must be used to create the perfect folk hero for the land he or she represents. Bra has all the prerequisites for a Norwegian hero:
Bra's from the country. "

To be a folk hero in Norway, you need to grow up on a farm and you need a country accent," said Thor Gotaas, who is writing a biography of Bra and who studied Norse mythology as a student. "Norwegians don't trust people from the city. They like people who have struggled, people who have suffered."

Nordic Skiing is the Norway's specialty. Their folk hero should be a Nordic Skier, obviously.

Bra's a man of the people. He refused to race on skis that were manufactured outside of Norway.

He overcame adversity: Bra was winning national titles, but for years world championships and Olympic gold eluded him.
What's also very cool about this story is how different the story would be interpreted from the perspective of a Soviet back in the day. Same details, very different feel. Their guy got knocked down. The Norwegian aggressor broke his pole, only to have a fan give him a new one, mid-race. Your guy then overcame the obstacles, got back on his skis and chased down the Norwegian with a last-second sprawl.
This one's worth your time, folks. Beautifully written, funny and peculiar. – PAL  
Source: "The Ski Pole The Norway Will Never Forget", David Segal, The New York Times (02/13/2018)
TOB: Frankly, I'm surprised it was legal to be handed a ski pole by someone in the crowd, and I wonder if that would fly today. I suspect not.
---
Video of the Week
Up-20 and done for the day LeBron makes me unreasonably happy.
---
PAL Song of the Week: The Tallest Man On Earth – "The Dreamer"
---
Like what you've read? Let us know by following this blog (on the right side, up near the top), or:
Email: 123sportslist@gmail.com