That's the good stuff. 
---
US Women's Hockey: Clutch
I really wish I watched this one live. What I gather from the highlights and from Hannah Keyser's reporting, this gold medal matchup between Canada and USA was authentic in every way.
First off, the rivalry is real. Canada had won gold in the last four olympics, while the US team has won the last 4 World Championships (thing World Cup).
Also, there was a real interest from other athletes competing in the Olympics. For athletes and true fans, it was the spot to be. Look at Ice Dancing gold medalist Scott Moir getting into it after a beer or four:
And there were regular buzzed folks, too, which is always needed for a great hockey game. Per Hannah Keyser, the "overwhelming majority of the seats were filled with mostly drunk fans hanging on every play. They shouted chants of U-S-A and CAN-A-DA back and forth through overtime, coming together only to boo when the shootout was announced."
Overtime wasn't enough, so it went to a shoot-out. I'm not a fan of the shoot-out deciding a championship, but I heard Dan Patrick make a solid point on Thursday when he noted that the game is put in the hands of some of the best players, and a mistake doesn't decide it. Either way, a shootout for a gold medal is pretty much the recipe for a heart attack.
Then this happened:
The goal is beautiful. To be loose enough to be so fluid in a fake under those circumstances is just awesome. And don't sleep on the save – to shut the door on the 5-hole is hard stuff. A lot of players in a shoot-out try to get the goalie moving laterally, wait for the 5-hole to open, and punch it through.
Keyser does a really great job articulating why this Olympic success is particularly meaningful. A lot changes in four years, and I can't help but think about my 10 nieces when I read the following:
All Olympic events are a culmination, a public actualization of years, if not decades, of dedication to an often obscure sport. But this kind of intensity came at a very specific cost. That is: relegating the relevancy of these athletes—who will continue to play at a high level, many for teams that can barely afford to pay them, in the interim—to a game that only happens once every four years. The U.S. women had to threaten to boycott their own World Championship last year just to get a living wage. They were right to bet on themselves, regardless of whether they left Korea with silver or with gold, but this was their chance to prove it when everyone back home was paying attention.
So proud of these ladies for coming through in the most clutch of situations and setting a great example to girls – hockey players or otherwise – everywhere. – PAL
Source: "Team USA's Women's Hockey Gold Was The Most Electrifying Moment Of The Olympics", Hannah Keyser, Deadspin (2/21/18)
TOB: I was lucky enough to catch the third period, overtime, and the shootout live. The third period was a frenzy, with the U.S. controlling the game, trying to get the equalizer. It was intense. I just can't believe I watched this live, and Phil didn't. What is this world coming to?
---
NFL Scouting: Institutional Racism at Work
For decades, NFL scouts, coaches, and analysts openly stated that blacks were not smart enough to play quarterback. Many were forced into other positions, or were treated poorly, even as their intelligence, athleticism, toughness, and aptitude for the position shone through. There is a tendency, now, to think those days are over. There are a handful of black starting quarterbacks in the NFL now, and many think of the league as a strict meritocracy. But sometimes, the racism smacks you in the face, and I think it's helpful to confront it.
The NFL season is over, and so the NFL media turns its eyes to the draft. One of the top prospects is Louisville quarterback Lamar Jackson. In 2016, Jackson won the Heisman. In 2017, he finished third. He's a heck of a player. As with all prospects, the lead up to the draft is a bit of a wringer – flaws are exposed and picked apart. But some of the arguments against Jackson, and for other quarterback prospects, simply don't make sense.
ESPN's Bill Polian, the longtime Colts general manager, argued this week that Jackson should convert to wide receiver. Polian cited Jackson's athleticism (he rushed for over 3,100 yards the last two seasons), and supposed lack of accuracy as reasons for the switch. Comparing Jackson to other top QB prospects, Polian said, "Clearly, clearly not the thrower that the other guys are. The accuracy isn't there." This, despite having thrown for a combined 7,203 yards the last two seasons. Added Polian, "Don't be like the kid from Ohio State (Terrell Pryor) and be 29 when you make the change."
But The Ringer's Danny Heifetz does an excellent job countering Polian's argument:
Jackson has a strong arm, can fit the ball into tight windows, and has the touch to throw receivers open either 4 or 40 yards down the field. When he sets his feet, Jackson can have lethal accuracy, and he has an impressive ability to stay in the pocket and keep his eyes downfield while under pressure. The offense he ran at Louisville under head coach Bobby Petrino required NFL-level recognition and progressions with different personnel packages. When Jackson puts that entire skill set together, it's often jaw-dropping.
On that play, Jackson (1) sidesteps an unblocked blitzer, (2) steps up in the pocket and resets his feet while keeping his eyes downfield, (3) effortlessly launches a ball 40 yards in the air, and (4) throws it so perfectly that his receiver doesn't break stride, helping the wideout avoid a would-be tackler en route to the end zone. In scouting circles that's called "Aaron Rodgers shit."
As Polian notes, many scouts are down on Jackson's accuracy, pointing to his 59.1% completion percentage in 2017. This analysis is lazy, ignoring that Jackson often throws the ball deep, which inherently will have a lower percentage. But as Heifetz also points out, it's not even the best stat to measure accuracy.
Using Pro Football Focus's adjusted completion percentage, which removes throwaways, spikes, and batted passes from attempts and gives quarterbacks credit for dropped balls, Jackson's adjusted completion percentage is 73.1 percent, tied for 29th in the country, in part because his receivers dropped more than 12 percent of his catchable balls—almost twice the figure for Darnold.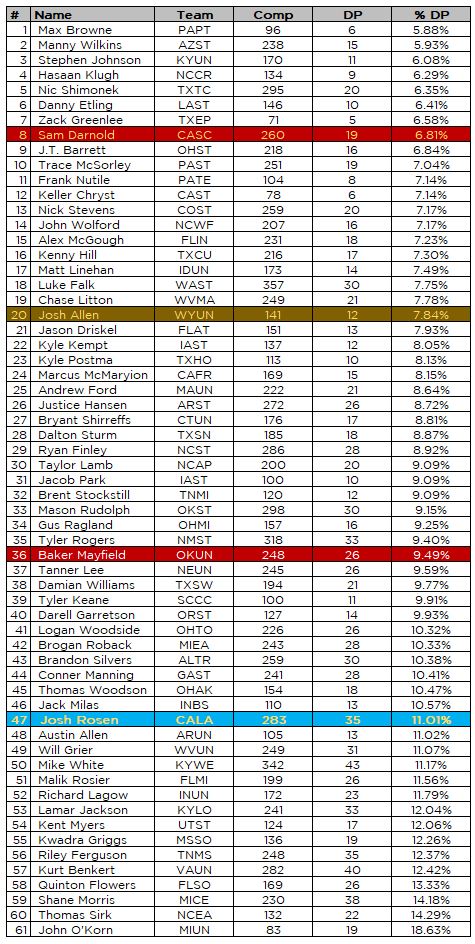 At twentieth on that list of quarterbacks ranked by the percentage of their passes that were dropped, you'll see a quarterback by the name of Josh Allen. As you can see, his receivers dropped 7.84% of his passes, a much lower number than Jackson, whose receivers dropped 12.04%. You may not have heard of Allen, but you will. He's a much-hyped quarterback from the University of Wyoming. He is big, has a strong arm, and seems relatively athletic. He's also white. Scouts love Josh Allen, despite the fact he only completed 56.3% of his passes last year, three points lower than Jackson. You will not be surprised to learn that Polian is not calling for Allen to move to tight end, or some other position. In fact, Polian said Jackson is not in the same class as Allen.
One of the scouts that loves Allen is ESPN's Mel Kiper, the longtime draft pundit. In his latest mock draft, Kiper has Allen as the first overall pick. Here's what Kiper said about Allen, and those who point out his low (remember, 56.3%) completion percentage, back on January 18th: "Stats are for losers in my opinion. The guy won." But just three days later, Kiper had this to say about Jackson, and why he isn't even a first rounder: "It's the accuracy throwing the football. Finished career around 57 percent." So, for one guy, stats are for losers. For the guy who was more accurate and had way more dropped balls, suddenly the argument begins and ends with stats. To make this even more galling, Kiper said this in that mock draft about Allen: "The NFL statistical comp I make to Allen: Matthew Stafford, who completed 57.1 percent of his passes in 39 games at Georgia and still went No. 1 overall."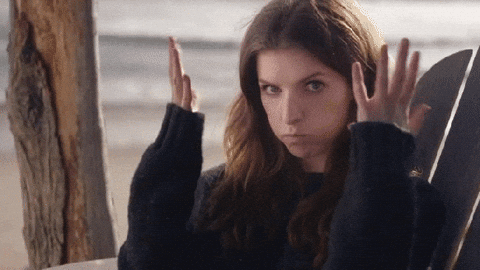 If you asked Polian and Kiper if they are racist, I'm sure they'd say no. And I don't doubt that they are not knowingly racist. But their careers and lives exist within a system with such deep-seated racism that they make racist arguments and statements without even realizing it. It's ok to like some prospects and not like others; but when you make an argument for one guy and then use the exact opposite argument against another guy, it's going to raise eyebrows. And when the first guy is white and the second guy is black, those eyebrows will raise even higher. Kiper and Polian should be forced to explain themselves. -TOB
Source: "Lamar Jackson is a Quarterback", Danny Heifetz, The Ringer (02/20/2018)
PAL: Ugh. We're talking about pre-draft stories. I'm not frustrated by TOB's write up; rather, I'm sick of the overanalysis of players that haven't yet played a professional game. It means so little and yet it takes up so much time during this particular gap in sporting calendar (between the Super Bowl and March Madness).  
I don't care where a guy is drafted (I know I'm in the minority here), and what impact does Bill Polian (former GM, now commentator) have on whether or not Jackson plays QB in the NFL? I would suggest very little to zero impact. A team will draft him, and he will very likely get an opportunity to prove his skills as a QB since he succeeded to the highest degree in college at the position.
Do I think there's some underlying, perhaps unintentional racism in Polian Kiper's analysis? Yeah, I think Heifeltz puts together a pretty compelling case, and TOB's commentary is rational.
I also think Polian and Kiper's employer expects one thing from these guys: say something that gets people talking, i.e., Heisman-winning QB shouldn't play QB in NFL.
So, if Polian and Kiper are hearing that Jackson isn't a first round pick, and they are strongly encouraged to have a hot take, the take of Jackson not playing QB is a safer hot take than saying a guy that's projected to be a high first round pick is overrated or fundamentally flawed in some way.
All of this pre-draft, mock draft crap is a complete waste of time.
---
Spoiled Brat Competes in Olympics
Have you seen freestyle half-pipe skiing in the Olympics? It's pretty nuts. Here's what the women's gold medal winner run looked like at a competition earlier this year (NBC's a bit protective of the videos, so had to pull a run from an earlier competition).
Pretty incredible! Most of the women engaged in similarly daring and talented performances. And then there was Elizabeth Swaney. Here's her run.
Umm, what? You're thinking there must be a story here, and there is. Swaney, from Oakland, California, decided she wanted to be an Olympian, so she gamed the system. To qualify, Swaney needed to finish within the top 30 at a few World Cup skiing events. Swaney thus entered contests with fewer than 30 competitors, and often when the top competitors in the event were competing across the globe at more prestigious events, thus ensuring she finished the in the Top 30. She also country-shopped. Swaney is American, but having previously tried to compete for Venezuela, she ended up competing for Hungary, where her grandparents are from.
I don't have a problem with country-shopping. If you're a competitor and you're one of the best in the world, but your country is especially deep in your sport and there aren't enough spots for you to qualify, then I have no issue with finding another country to compete for. But what Swaney is doing is not competing. There's no effort. There's no work. There's no skill. There's no blood, sweat, or tears. There's nothing. Anyone who has skied a few times in their life could go up and down the half pipe like she did. It's so far beyond the Olympic spirit. She found a loophole and…congrats? She used her money and privilege to travel around the world and qualify for the Olympics. She's an Olympian. I'm sure she'll be proud to someday tell her grandkids about the time she skied slowly up and down a slope. -TOB
Source: "The Winter Olympics Feature 2,951 Of The World's Greatest Athletes, And Also This Woman", Patrick Redford, Deadspin (02/19/2018)
PAL: TOB nails it – she has no interest in Olympic competition; she wants to tell people she was in the Olympics, and that sucks. She's externally motivated, and that dilutes the awesome achievements of the athletes pushed by an internal desire to be great.
Anyway, here's her dad's response to it. This one really bugs the hell out of me. If you want to read her dad's response to all of this, here is the most absurd response from a Laura Wagner story:
Some people do things that are lower probability and are not guaranteed success. I worked in the business world with start up companies and venture capital and so forth. There are ultimately billion-dollar venture capital firms that are going to be wrong 80 or 90 percent of the time; those investments that they made are the entrepreneurs who tried and failed. For every Microsoft or Apple, there are 99 other companies that didn't make it. So you have to have that mindset that you can succeed.
Sorry to break your little girl's heart, dad, but she isn't the Steve Jobs of half pipe skiing.
---
How to Set a World Record, and Only Win Bronze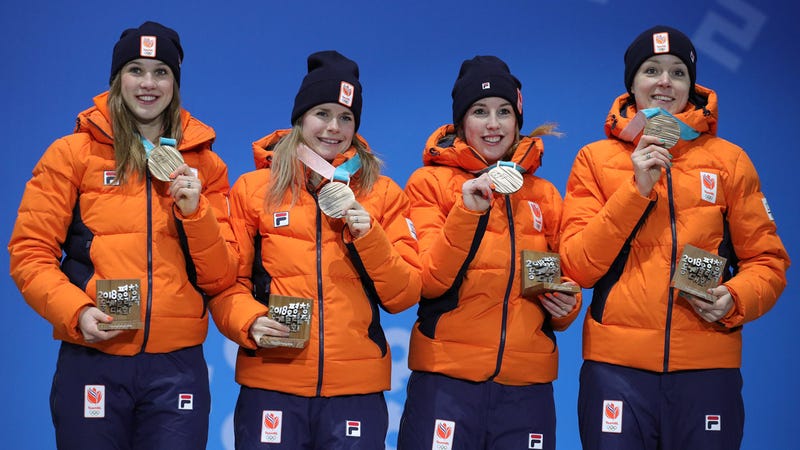 This week, the Dutch women's short-track speed skating relay team did something that seems rather impossible: They set a world record, only won the bronze, and didn't even compete in the Finals. Huh? None of those things seems to make any sense, but it happened.
Four teams compete in each heat. The Dutch team made the semifinals, where they didn't qualify for the finals. They instead competed in a consolation race, to determine final standings. There, they set the world record. Kinda cool, but one race too late, because it wouldn't garner them a medal, or any higher than fifth place. And then the final race took place: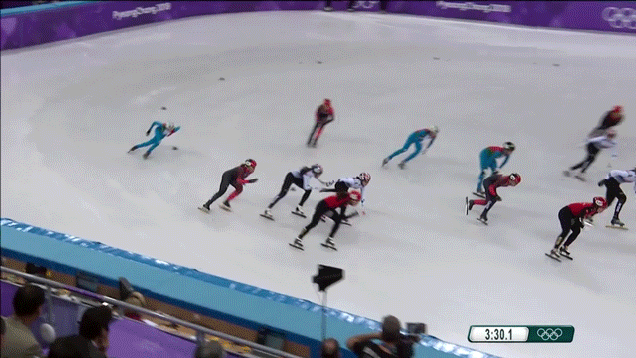 South Korea won the gold. China was disqualified. Canada was disqualified. Italy bumped up to silver. And that left the Netherlands to get the bronze. Kinda wild, but that's short-track speed skating: where you can miss the finals, set the world record, and still get a (bronze) medal. -TOB
Source: "Netherlands Short-Track Team Wins Bronze Medal For World-Record Race, Didn't Even Compete In Final", Dan McQuade, Deadspin (02/21/2018)
PAL: THIS. IS. AWESOME. By the way, I fully got into the Olympics this week. Speed skating, skiing, hockey, figure skating – ask Natalie – I'm an expert commentator on all of them at this point. 
---
I'm Still Out on Hunter Strickland
It's Spring Training, and so the season of stories of renewal and redemption are upon us. Take, for example, Hunter Strickland. Giants beat writer Alex Pavlovic wrote a mostly apologetic story on Strickland this week, about how Strickland feels bad for his Memorial Day intentional beaning of Bryce Harper, and the brawl that caused (a brawl, by the way, that essentially ended Michael Morse's career a few months early). Well, I'M NOT BUYING IT, HUNTER. I'm not buying it, because it's crap.
First, Hunter says, "It's tough to go out there and have people not like you and to have this perception about you that you're this hothead, because honestly I don't feel like that," he said. "I don't think of myself as a hothead."
Well, then you lack any semblance of self-awareness.
Second, Hunter says, "Obviously between the lines we're competitors, we're going out there competing, and that's our livelihood out there — that's how we're putting food on the table for our family, so we do take it personally," Strickland said. "Granted I do make mistakes. You know, I'm human — I understand that, so I do regret putting my team in situations like last year."
Let me get this straight: You understand that players are out there competing for their livelihood, to put food on the table for their families, and this justifies you being angry because Bryce Harper destroyed a couple meatballs you threw THREE years prior, and this also justifies you putting Harper's livelihood at stake when you throw a ball 100-mph at him? Oh, and by the way, put YOUR teammates' livelihoods at stake in both the ensuing brawl, and by subjecting them to potential retaliation?
GTFO here, dude. -TOB
Source: "Strickland Looks Back on Year that Was Overshadowed by One Pitch", Alex Pavlovic, NBC Sports (02/20/2018)
PAL: Guys get too cute with these personal growth stories. Strickland makes the mistake of trying convolute what should be a real simple response on his part, which would have been something along the lines of: I blew a personal gripe way out of proportion. I need to work on letting shit go while remaining ultra competitive on the mound.
Instead, he went with the "gotta make a living / misunderstood" response, which is so dumb, by the way. Who on this planet doesn't have to make a living, Hunter? That isn't an excuse, because it literally applies to every adult.
---
XC Skiing Just Sounds Terrible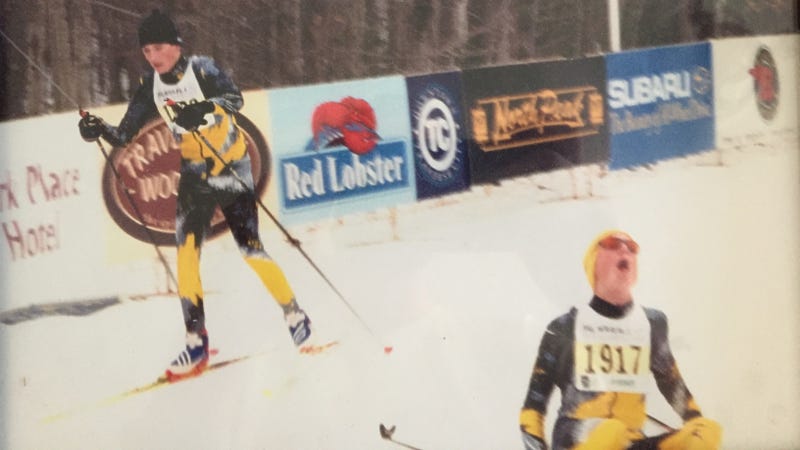 Other sports are grueling, but no other sport has world class athletes doing this feet after they cross the finish line:
Why is this? Bill Bradley (the dude looking like he's about to blow chunks in the top photo) spoke to some experts to get the lowdown beyond they fall because they are tired.
Cross-country ski racing—not to be confused with the enjoyable act of leisurely touring through the woods with a flask full of rye—is, to put it lightly, insanely difficult. It is the definition of a total body sport. It makes your legs and lungs and arms burn, all at once. Rowing and swimming are also total body sports. But rowers and swimmers don't have to contend with climbing formidable hills over the course of, say, 50 kilometers. There is no terrain in the pool.
…"Elite XC ski racing is essentially non-stop intervals which, of course, is highly reliant on both anaerobic energy (dominant during the intervals) and aerobic energy (dominant during the recoveries) to be successful," Dr. Dan Heil, an exercise physiologist at Montana State University, explained via email. "There is certainly no other endurance sport that equals elite XC ski racing's high reliance on both of these systems. When played out perfectly, both of these systems will have been exhausted for both the upper and lower body. Thus, it's much easier to just collapse in the snow rather than stand or rely on your ski poles to hold you up."
So how did Billy do in that race above? He edged out his buddy Andy (pictured) to finish just ahead of last. – PAL
Source: "This Is Why Cross-Country Skiers Collapse And Barf After Races", Bill Bradley, Deadspin (2/21/18)
TOB: We first moved to Tahoe when I was in second grade, and that winter my mom insisted we needed to cross-country ski as a family. We'd go rent the skis and boots and find some trail she read about somewhere (pre-internet, kiddos!) and then she'd proceed to torture us for two or three hours. It was the absolute worst. Why would anyone subject themselves to that? It's hard, it's exhausting, it's SLOW, it's COLD, and there's NO WAY OUT. You can't get back to the car without continuing to cross-country ski! I will never watch one minute of cross-country skiing at the Olympics because I know it is simply the fruit of the athletes' mothers torturing them just like mine did.
---
Video of the Week: 
---
PAL Song of the Week: Sean Rowe – "Madman"
---
Like what you've read? Let us know by following this blog (on the right side, up near the top), or:
Email: 123sportslist@gmail.com