---
---
Ten Years Later: Steph's Magical Tourney Run
The NCAA Tournament started last week. As an event, it's probably the best three weeks in sports. With the one-and-done rule, the Dukes and Kentuckys are comprised of uber talented but young and inexperienced future stars, while the also-rans are comprised of less talented but seasoned players who have played together for two to three years. It makes for great matchups.  And with so many games and so many players, you are guaranteed to see something spectacular. Some years, though, are better than others. Some years produce something truly remarkable. Like in 2010, when #8 seed Butler and #11 seed VCU both made the Final Four. Or in 2008, when #12 seed George Mason made the Final Four.
But what I really remember about that 2008 tournament, ten years ago, was the emergence of Davidson's Stephen Curry. He was skinny, so skinny. He wasn't not very tall, by basketball standards (he's 6'3). He was the son of a fairly famous former NBA player, Dell Curry, who made a name as a spot-up sharpshooter in the early 90s. And he, Steph, had an absolute baby face that made him look approximately thirteen years old.
But MAN. Could that kid shoot. He'd come off a screen, catch, shoot, splash. He'd crossover, step back, shoot, splash. He'd head fake, lean left, go right, rise, shoot, splash.
Coming into the tournament a 10-seed, Davidson had a hell of a run. They beat Gonzaga. Georgetown. Wisconsin. They finally lost to #1 seed and eventual National Champion Kansas in the Elite 8, by just two points. Curry was incredible throughout, though he did not shoot well against Kansas. He averaged 33 points and nearly 6 made threes per game.
Players have had better tournament runs, perhaps. But something about Curry, with that baby face and that quick 3-point trigger, captured our imagination in a way I don't think anyone has. He made us rethink the game. As Weinreb says, "[Curry] has completely altered the way basketball is both played and consumed. Because of Curry, the parameters of the court have been stretched farther and farther outward, and the game has become more fluid and less plodding." Weinreb presents a fascinating oral history of the making of Steph Curry, from his first days on campus through his emergence as a star, as remembered by those that were there. -TOB
Source: "The Birth of Steph", Michael Weinreb, The Ringer (03/14/2018)
PAL: That's the stuff! Love this story. I wouldn't call in an underdog story. It's just that people couldn't see what a special talent Curry would become because they hadn't exactly seen anything like him. He had 13 turnovers in his first collegiate game. He wasn't even the point guard his first two years in college! It came in pieces. In fact, could he have become the player he is if he had gone to a blueblood program? Weireb writes:
If Curry had gone to North Carolina, or if he'd gone to Duke, would he have been afforded the same freedoms that McKillop [Davidson coach] gave him? And if he hadn't had those same freedoms, would he possess the same levels of self-confidence and imagination that allowed him to develop into a singular talent?
TOB does a great job in his write up about the '08 run, but I also really enjoyed this nugget from the following season:
That junior season was another crucial cog in Curry's ongoing development, even if it was devoid of the same fresh thrill: He switched over to point guard, and improved his ballhandling, and led the country in scoring. Davidson went 27–8, but lost in the Southern Conference tournament and didn't make the NCAA tournament. But there is one game from that season worth a brief mention, if only because it foreshadowed the inevitable pall of cynicism that attends anyone who becomes a national commodity, even (or perhaps especially) someone whose game — and whose current team — often hovers on that razor's edge between joy and egotism. It came in November during a game against Loyola (Md.), when coach Jimmy Patsos decided to shadow Curry everywhere he went with two defenders and take his chances three-on-four against the remainder of Davidson's team.
How did Curry respond? "Coach," he told McKillop, "I'm just going to stand in the corner."
He went scoreless that night. Davidson won by 30.
What a great read, with some vintage Curry highlights to boot!  And when our grandkids come with some b.s. about a so-and-so from 2040 being the best shooter ever, we won't even dignify it with a verbal response. We'll just shake our heads.
TOB: His junior year, I tried to watch Curry as much as I could, and I actually watched that game. It was absurd. The other team used a triangle and two. Generally, in a triangle and two, two defenders guard the offense's two best players, and the other three defenders play a 2-1 or 1-2 zone on three remaining offensive players. It's rarely used because the talent gap between the two offensive guys you defend man-to-man must be so much better than their three teammates, and you must trust your two man-to-man defenders to actually guard those two with little to no perimeter help. But Loyola used a triangle and two with both of the man defenders on Curry. As Weinreb notes, the defense elected to play 3 defenders against 4 offensive players for the entire game. It was the craziest thing I've ever seen. The worst part was, after the game, the Loyola coach said, "Has anyone else ever held him scoreless? I'm a history major. Are people going to remember that we held him scoreless, or that we lost by 30?" If I was his boss, I'd have fired him on the spot. Anyways, Davidson showed that night that they weren't just Steph and the Stephettes. I still don't understand how they didn't make the tournament that year.  Interestingly, they lost in the NIT to St. Mary's and their future NBA point guard Patty Mills.
---
My Favorite Sports Story Of The Year, Every Year: The Minnesota State High School All Hockey Hair Team 2018
We've posted it every year, and every year I watch it over ten times. I love them so much. And while we're well past the point in which players know about the video, and therefore are trying to get on the video, this still comes from a place of truth. That truth is the following: ever since I can remember, we all watched each player announced before state tournament game. That skate up to the blue line and the camera – those 3 seconds are as purely Minnesotan as anything I can imagine.
Yes, the video is hilarios. The hair is spectacular. Just thinking about these kids growing it out since summer makes me happy. They bank on the fact that they are making it to State, and when they do their hair will be ready. I love it.
The writing on these videos is on the same level as Jack Handy. Creator John King, once told the Star Tribune he was inspired by the show Newhart. King really should write a comedy movie or HBO series about high school hockey in Minnesota. Here are some of my favorite lines from this year's video and added a screen grab for context. Enjoy!
This state's so manly if you type 'mn' into your phone it autocorrects to 'man'.
And the number one N.H.L. flow in all the world is Burnsville's own Brock Besser. Even Sid knows he's second fiddle. There's not a barber in the state of Minnesota that doesn't know Brock beats scissors.
---
– "Boys, that's some greasy letty, right Jacob?"
– "That's some deadly flop. Keep it up."
---
Hey, kid. If you're ever in Madison Square Garden wear a hat, or you'll win Best In Show at Westminster.
---
Our coach comes from Mankato East. Look at this guy. He makes me wanna run a 5K.
---
We had a lot of peaky boys at this year's tournament. A lot of peaky boys. (PAL – I think he's referencing Peaky Blinders…)
---
These next two kids are in here just cause they're so dang happy.
---
And leave it to King to get philosophical in a perfectly Minnesota way: "Some say there was less flow this year. I say you have to know where to look. Hockey will always have 'shorthairs' and 'longhairs', but unless you don't have a head, I think it's better to be a 'longhair'. Why? Cause the 'longhairs' are living free."
Instead of a story link, I encourage you to go over to the Hendrickson Foundation and make a donation – the video raises a bunch of money for the foundation, which has set out to grow the game of hockey in Minnesota by being inclusive to individuals with mental and physical disabilities.
http://www.hendricksonfoundation.com/home
Just do it. Not hard at all! – PAL
TOB: Cracks me up every year.
---
The Best and Worst of Ballpark Cuisine
In April, MLB will be hosting the first ever MLB Food Fest, in NYC. Each MLB team will be represented by one menu item available at its ballpark. The list: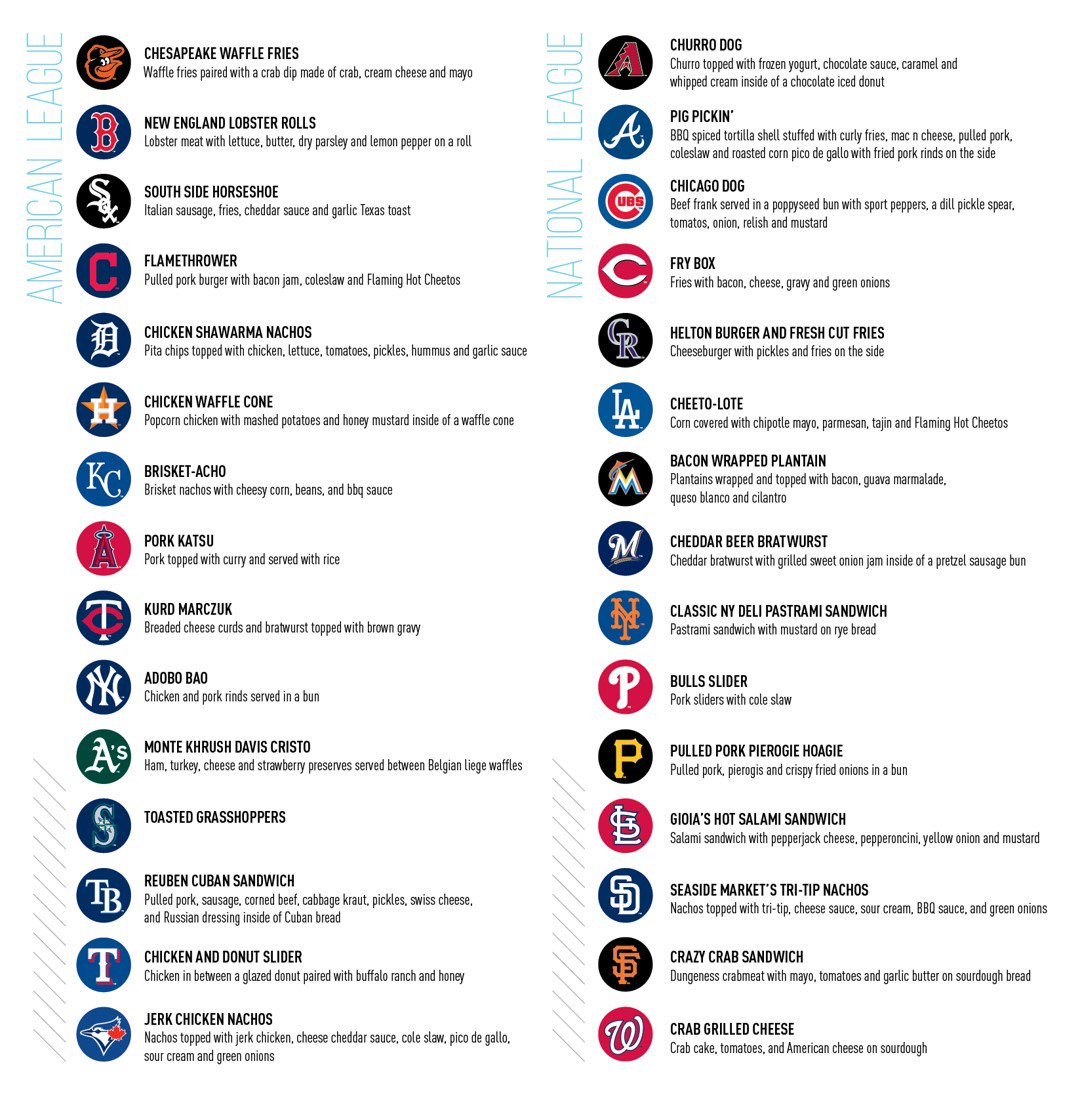 I looked it over, and I'm here to present some gd awards.
Best in Show: Jerk Chicken Nachos (Blue Jays); Runner-up: Cheeto-Lote (Dodgers)
Jerk chicken nachos sound amazing, and I think it's the item I'd be most happy with. It's also juuuuuuuust abnormal enough to be considered real ballpark food, but not so gluttonous as to be too much. The Dodgers' Cheeto-Lote (an ear of corn covered in chipotle mayo, parmesan, tajin, and flaming hot Cheetos) is very enticing, but is more of a side item, and loses points for that. Still, I might need to make another trip to Dodger Stadium to try it. Honorable mention to the Pirates' Pulled Pork Pierogie Hoagie (pulled pork, pierogis, and crispy fried onions on a bun).
Best Item If I Wasn't So Picky (Tie): New England Lobster Rolls (Red Sox); Reuben Cuban Sandwich (Rays)
I think seafood is fine, but I rarely choose it when I have other options. The lobster rolls does sound delicious, though. As for the Reuben Cuban, I don't eat beef (a deal killer for quite a few items on this list). But, if I did, the Rays sandwich with pulled pork, sausage, corned beef, sauerkraut, pickles, swiss cheese, and russian dressing on Cuban bread would be a serious contender for Best in Show. I also appreciate that the Rays tried to marry south Florida cuisine with New York cuisine, to make the local retirees feel right at home.
Item That Had Me Say "WTF" Out Loud: Churro Dog (Diamondbacks)
"Churro topped with frozen yogurt, chocolate sauce, caramel, and whipped cream inside of a chocolate iced donut." As if a churro sundae was not enough, they stuff it all inside a chocolate donut???? I'm sure it's delicious, but I'm also sure it will end you.
Worst Item:
Divorcing the fact I don't eat beef and am lukewarm on seafood, the item that sounds the worst is the Astros' "Chicken Waffle Cone" monstrosity. "Popcorn chicken with mashed potatoes and honey mustard inside of a waffle cone."
I'm sorry, I cannot abide this! This looks and sounds truly disgusting.
Best Item If Shame Is Not a Concern
So, so many options. I considered the Twins (see below) and Rangers (chicken and donut slider) here. But, ultimately, I had to go with the Diamondbacks' Churro Dog, our only multiple award winner. Look at this thing.  
I would feel so, so so ashamed ordering that thing. People would stare at me as I walked by, judging my gluttony. And rightfully so. I just can't do it.
Item That Sounds Good But I Know an MLB Stadium Can't Pull Off: Chicken Shawarma Nachos (Tigers)
This could be fantastic, but I do not trust a ballpark to make chicken shawarma, or hummus, correctly.
Best Normal Item: Gioia's Hot Salami Sandwich (Cardinals)
Super simple, obviously delicious.
Best Item Related to the Region/Local Cuisine: Breaded Cheese Curds and Bratwurst Topped with Brown Gravy (Twins)
There were a lot of options, as many teams seemed to be gunning for this category. Items considered for this award include the Red Sox, Giants, Pirates, Mets, and Yankees. But, ultimately, the Twins win out – because fried cheese curd, bratwurst, and gravy are all exactly what I think of when I think Minnesota.
Dang. Now I'm hungry.
Source: "Food Fest", MLB.com (03/13/2018)
PAL: No. No. No. Go to a game, get a brat, a beer, some peanuts and enjoy the company and competition. I know I sound like a grump, but I am OUT on these newfangled ballpark items. As TOB mentions, you'll get the best version of nothing at a ballpark. I can enjoy an average brat; I cannot enjoy an average cheese curd and brat topped with gravy (I just threw up a little in my mouth).
This entire food craze at ballparks is for the pretend fans anyway.
Hell, look at the first image from the very first post from 1-2-3 Sports! from May 4, 2014:
---
Once A Cheater Always A Cheater?
How would you describe number 21 for Lake Superior State in this, the 1988 National Championship game?
Now, take your words and apply them to a political candidate, because that's exactly what's happened. Pete Stauber (no. 21) is a republican congressional candidate from MN. He's looking to unseat Rick Nolan (D) who retained his seat by less than 2000 votes in 2016. Nolan retained his seat in 2014 by less than 4000 votes. In other words, a seemingly small detail, like a candidate's lack of sportsmanship 30 years ago, could determine the winner.
Here's the thing: Stauber has yet to address questions about his willingness to, as City Pages (Minneapolis) puts it, "risk everything and cheat to win" from that game a lifetime ago.
And here's what I know of Stauber: when the moment gets tight he looks for a way out. I'm not saying this is the truth – I am not familiar with the guy, and I'm sure he's a good and decent person – but the politics of this doesn't look good. Absurd? Sure, but isn't that politics?
I tried to give him a break and went to his website to learn about his political stances but they aren't laid out. The website tells me he's a republican, he captained a national champion hockey team, had a career in law enforcement, and his wife is a vet. With a lack of political info, I have to admit that this clip of him pushing the net off – coupled with the fact that he hasn't addressed it – makes me pause on this guy. – PAL
Source: "Congressional Candidate Doesn't Want To Talk About The Time He Cheated To Win The NCAA Hockey Title", Patrick Redford, Deadspin (3/13/18)
TOB: I'm not sure where I fall here, because I don't know hockey well enough to know how egregious this is. It certainly looks bad, and obvious. But is knocking the net off its moorings an accepted though annoying aspect of gamesmanship in the sport? Or is it straight cheating? For example, in basketball, flopping sucks and it annoys everyone. But it's also an accepted part of the game at this point, and I don't think anyone would use flopping to attack your character. On the other hand, if you're in a pick-up game and someone on the other team calls for the ball from an opponent, that is bush league, and you have every right to call them a piece of crap.
---
Video of the Week: 
GOAT.
---
PAL Song of the Week: Anderson .Paak – "Celebrate"
---
Like what you've read? Let us know by following this blog (on the right side, up near the top), or:
Email: 123sportslist@gmail.com