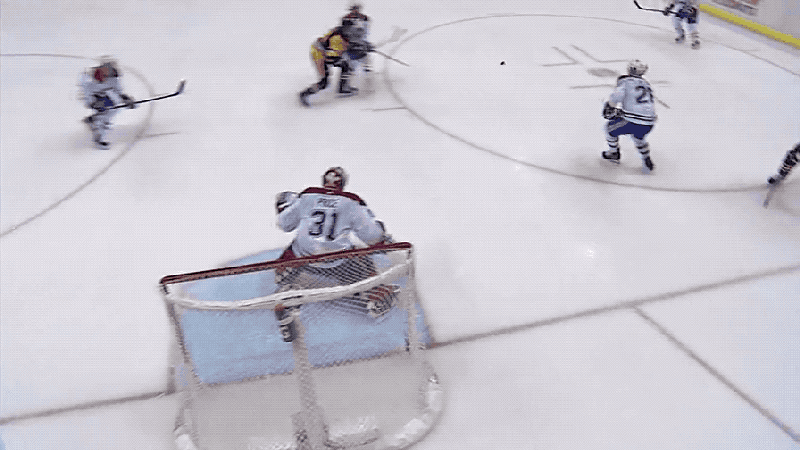 That's pretty good. 
---
It's a Mad, Mad, Mad, Mad March
Last Friday after work, I was sitting in a bar before going to the Warriors/Kings game, watching the NCAA Tournament. And for no apparent reason I said to my buddy Rowe, "When I was a kid I figured a 16-seed would beat a 1-seed at some point. It had to happen. But now, I'm beginning to think it won't happen in my lifetime." Just two hours later, the big screen at Oracle Arena flashed: Final – #1 Virginia 54, #16 UMBC 74. I almost fell out of my chair.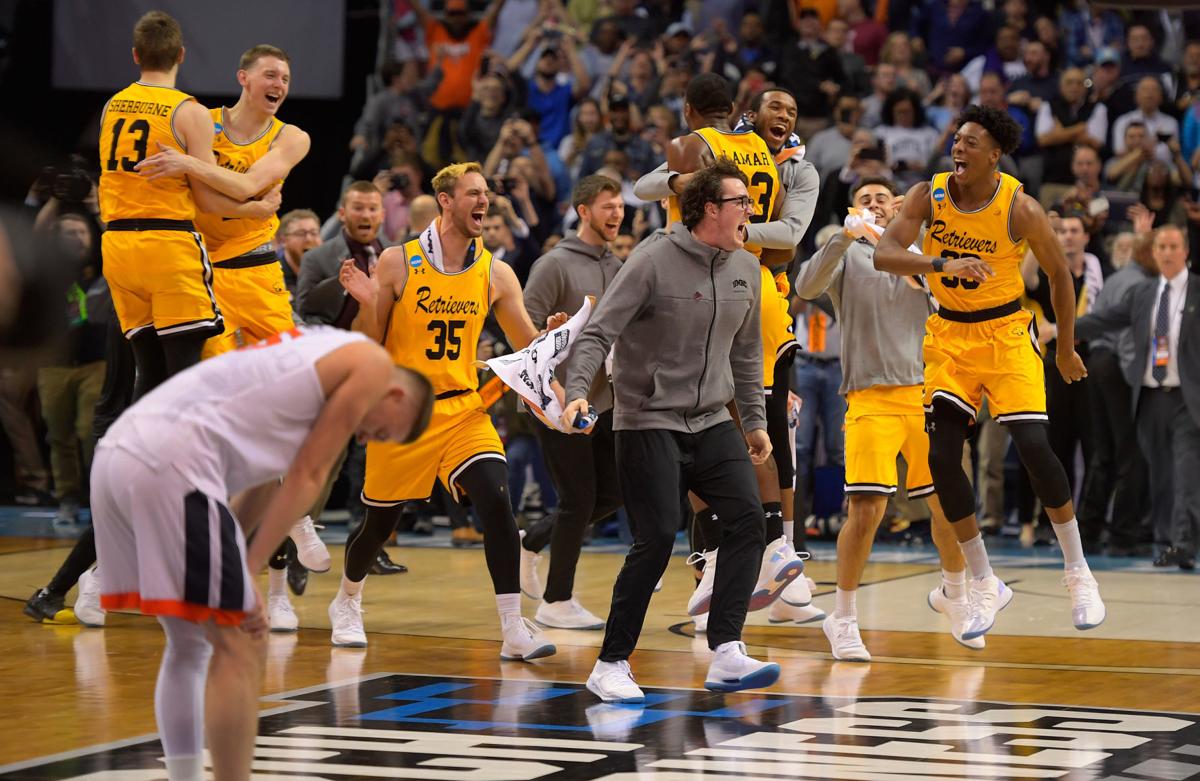 The NCAA Tournament always has upsets. It's the beauty of it all. Hell, the upsets are why we call it "March Madness". But we had NEVER seen a 16-seed win a game. Hell, I didn't even know who UMBC was, and here they had beaten the #1 seed Virginia. My wife asked, "Is that Maryland-Baltimore County, where my parents went?" I had no idea. Maybe!? UMBC was the #64 overall seed. Meaning, when they made the brackets, the selection committee felt Virginia was the best team in the country and UMBC was the worst team in the tournament. And I picked Virginia to win it all! UMBC didn't just win. They won by TWENTY. It's shocking, even a week later. As Rodger Sheman said:
Of all the no. 1 seeds to potentially lose, I never would've expected Virginia to be the Goliath to fall. Most programs don't notch nine wins against NCAA tournament teams in a regular season; the Cavaliers had eight double-digit wins against NCAA tournament teams. Virginia went 17–1 in the ACC, losing that one game by one point in overtime. Its largest deficit of the season was 13 points; 1-seeds Kansas and Xavier lost multiple games by more than 13 points. UVA suffocated opponents on defense, and scored better than opponents could score on them.

Virginia did not just win games; it made the best teams in the country look helpless. Being on a court with Virginia was not a situation for hope. The Cavaliers were efficient doom.
And UMBC was, to be honest, very much a 16-seed. They lost by 44 to Albany; they lost twice in the regular season to the best team in the America East, Vermont, by a combined 43 points; their only game against an NCAA tournament team was a 25-point loss to Arizona.
So how did it happen? I read a lot this week about how Virginia's style – shut down defense and deliberate offense without a go-to guy was responsible, but I don't buy it. The game was tied at the half, and UMBC got out to a hot start in the second. But with 14 minutes left, Virginia was down only 12, 41-29. They were still down 12 with 7:30 to go. If Virginia locked down on defense, they could have easily made up that deficit. But, they panicked. They didn't trust their defense and started taking too many 3s – they went 1 for 11 in the second half from deep, and 4 for 22 overall. This allowed UMBC to get out in transition and get baskets. Their second half shot chart is a modern basketball coach's dream: every shot attempt was in the paint or beyond the arc.
They scored 53 points in the second half. This season, Virginia held sixteen teams to 53 or less for the entire game.
In hindsight, my statement earlier that night was silly. It's basketball, which is a funny game. And these are kids, who can easily panic, as Virginia did. Still. This Virginia team? UMBC!? SMH. -TOB
Source: "UMBC's Historic Win Over Virginia Didn't Look Lucky", Rodger Sherman, The Ringer (03/17/2018)
PAL: I'll never forget switching this game on, seeing the score and the amount of time remaining – up by 20 with something like 4 minutes to play, and still having to convince myself it was already over.
When stuff like this happens, I wonder about people who claim that momentum isn't real in sports. Upsets are an obvious case for momentum – a far more talented team unable to be itself or reset. Momentum helped cause Virginia to freak out, to abandon its game plan that had been rock solid all year. Momentum allowed the 16-seed to stay loose and just keep jacking up 3s. Momentum is what made this a 20-point blowout.
---
In Other NCAA News: Dress For The Job You Want?
We're talking NCAA Tournament coaching attire, folks. We're talking about coaching attire because basketball is unlike football or baseball, in that coaches like normal adults (the same is true for hockey coaches). David Roth puts it this way:
Baseball forces older men—men shaped like heirloom eggplants, men in their 70s wearing those progressive lenses, men who are quite literally Charlie Manuel—to don the same baseball uniforms as their youthful charges. Football, branded to the gills as it is, takes those men and drags them through the Lawn Dad section of the team's Official NFL Gear Store, and the results are Crossfit Aficionado Golf Pro at best and Grown Man In Pajamas at worst.
But basketball lets the men who are not in uniform dress more or less as they like. In college, that generally isn't good news—it's mostly legacy slicksters in goofy Dick Tracy suits, aspiring legacy slicksters in somewhat less-shiny suits, some young comers dressing like Steve Kerr, and then a windswept plain of Jos. A. Bank stretching to either horizon.
But, as is the case in normal life, some dads take it upon themselves carve out their own 'look'. For some dads it's 24/7 golf clothes, for others it's Lululemon. There is a smaller group of dads that defines their look with facial hair. It rarely goes well.
West Virginia's Bob Huggins and Marshall's Dan D'Antoni were proof of that failure when the in-state rivals faced-off in the NCAA tournament (West Virginia won):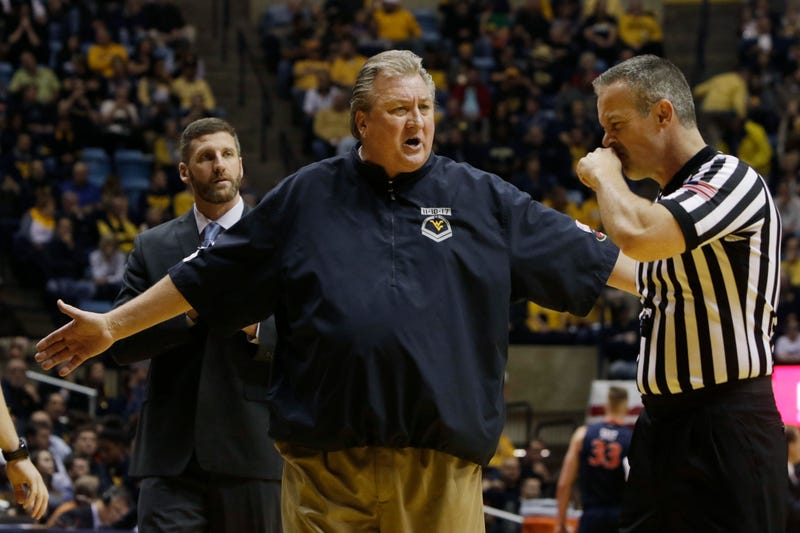 Huggins' has more or less given up with this attire (2017-18 salary:  $3.75MM). The not-really-short short-sleeve warm up can more accurately be described as a coverall. I'd say there's a 50/50 chance of a t-shirt under that warm-up (and if there is, then there's 100% chance said t-shirt has a BBQ sauce stain on it).
It wasn't that long ago he wore this out of the house:
But D'Antoni (2017-18 salary: $400K) is feeling his look. He's confident. He's thinking My God, I found the perfect outfit loophole. I'll rock a practice t-shirt under the blazer. It'll be fun, but not disrespectful, and I'll never wear a tie or struggle with the top button of a dress shirt again. Wife can't say anything – I have the blazer! Honestly, I'm in my 70s. Who's got the stones to complain about t-shirt/blazer combo? Comformal is what I'll call it. Hey, that's pretty good! Comformal. Yes, yes. This is it.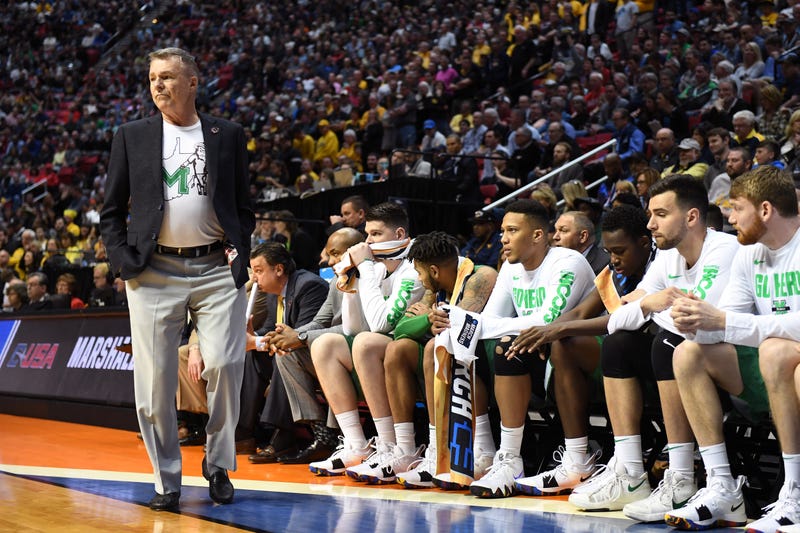 I mean, it's not like anything momentous has happened in the tournament this year. – PAL
Source: "Bob Huggins Met Dan D'Antoni In A Battle For The Future Of Men's Fashion", David Roth, Deadspin (3/19/18)
---
LeBron: Still the Best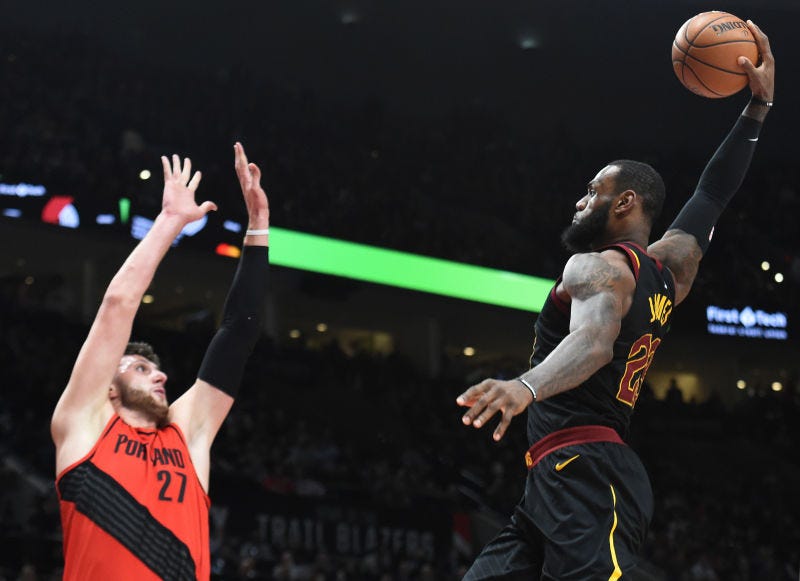 Harden may be more efficient. Curry a better shooter. Giannis younger and more explosive. But no one is better, even after fifteen years, then LeBron James. This week he went into a big showdown with the #1 seed Toronto Raptors. The Raptors jumped out to a big halftime lead, scoring more points (78) than any team had ever scored in a half against a LeBron team. But The King was not deterred. He played a near perfect game: 35 points on 11/19 shooting, 17 assists, 7 rebounds, zero turnovers. He made the biggest play of the game late:
Deadspin's Tom Ley makes a simple plea:
On any given night you can decide that you want to watch one of the best basketball players ever play some of the best basketball ever, and LeBron is there to scratch that itch. Last week, you could have watched him unleash one of the most beautiful and violent dunks you'll ever see. A few days later, you could have watched him go for 40-12-10 against the Bucks. He's just there, on TV, doing that, all the time. It's neat.

When I think about LeBron in this way I start to wonder why any of us do anything during the NBA season besides watch him play basketball. And then I start to think about how terrible it's going to be once he finally starts to deteriorate and eventually retires. What am I supposed to do then? Watch Ben Simmons? An impostor. Watch James Harden? Like eating vegetables that taste kind of good. Watch Anthony Davis? He's not my real dad.

LeBron's eventually going to leave and nobody will be able to replace him and it's going to suck. This is my simple plea to you: take in as much of him as possible, while you still can.
Amen. -TOB
Source: "What The Hell Are We Going To Do When LeBron James Retires?", Tom Ley, Deadspin (03/22/2018)
PAL: MLB Opening Day is less than a week away. NCAA Tournament in full swing. NBA's off my radar until the second round of the playoffs.
---
Moret Froze
This is the kind of story you'd hear if you ran into an old baseball player at a hotel bar and you both had a few. It's not about the best, the worst, or the most in [insert sport] – no. This is just a story so goddamn strange that it couldn't be made up. That's why I like it.
Roger Moret was a serviceable big league pitcher in the 70s. In '75 he went 14-3 for the Red Sox. He was bounced around a bit until he ended up in the bullpen for the Rangers. Everyone knew Roger did not have a sense of humor. In fact, the dude was pretty angry most of the time. Being from Puerto Rico, he not only didn't speak much English, but he didn't understand the financial system here, causing his Porsche to be repossessed. He was teased quite a bit, he dabbled in some drugs (that would hardly make him unique for an baseball player in the 70s), and then the shower show incident happened.
The Rangers were getting ready for its game against the Tigers that night. Players were taking grounders and B.P. After a couple odd incidents on the field, Moret retreated to the clubhouse where he…well, read for yourself:  
As word spread from Ranger to Ranger, the entire roster seemed to make an ant line from the field to the clubhouse. And there, in the middle of the room stood Moret. His left leg was off the ground, bent at the knee. His left arm was extended into the air and his right hand held a white plastic shower shoe. His eyes were glassed over. His mouth was closed. He wore white underwear, but no shirt.
…A psychiatrist entered the clubhouse but offered nary a solution. The administrator of Arlington Neuro-Psychiatric Hospital followed. He, too, knew not what to do. Finally, an exasperated Mycoskie administered five back-to-back-to-back-to-back-to-back sedative injections into Moret's arm.
Gradually, as his teammates returned to the field, the pitcher snapped from his state. He slowly, steadily slumped onto a chair, then laid flat on a table. By now 1 1/2 hours had passed.
This being the 70s, baseball teams didn't have a very good handle on mental health (did anyone?), and it was the beginning of an odyssey for Moret. He actually appeared in 5 more games for the Rangers that year, which is incredible. He was also invited to camp for the Indians, but it didn't stick. By 1987, Moret was living in San Juan making wallets, apparently diagnosed with chronic undifferentiated schizophrenia.
The last anyone heard from him was in 2016, when he returned to Boston to sign autographs at a Holiday Inn.
Is there anything more petrifying to baseball players – a group of individuals so dependent upon the control of a routine to mentally counter the absolute lack of control they have in a game – than to witness a fellow player lose it right before their eyes? Yes, there is – being the guy that loses it in front of a group of baseball players. – PAL
Source: "The catatonic pitcher and a shower shoe: Recalling the strange demise of Rangers pitcher Roger Moret", Jeff Pearlman, The Athletic (3/21/18)
---
49er Fans Can Thank Marshawn For Breaking Up the Seahawks
It is no secret that Marshawn Lynch is one of my favorite athletes of all time. We've written about him here at least a half dozen times over the nearly four years we've been writing this weekly digest. He arrived at Cal just as I graduated, and he was amazing. It wasn't just that he was a great player at Cal, which he was. He was also funny, and fun. There's the now-legendary time he drove the injury cart around the field after he put the team on his back to beat Washington in OT.
There was the time, after a touchdown, that he looked into the camera and said, "We shining! 24/7, 365 days a week!"
He projected a rough exterior, but he was a 3.0 student and his otherwise stoic head coach, Jeff Tedford, would light up like a Christmas tree every time he was asked about Marshawn.  All his teammates loved him. Hell, everyone loved him. Once, some Oakland gang members shot up his mom's house by mistake, and when they realized what they had done, they went back and apologized to her in person. When he got to the NFL, though he struggled a bit. There were times his personality shown through, like his legendary appearance with ESPN's Kenny Mayne about the Buffalo nightlife.
But then he had a couple small run-ins with the law and he became known as a bit of a malcontent. By the time he left Buffalo for Seattle, he was largely seen as a bust. But for Cal fans, he was like that indie band you saw in a small club one time, and you knew they just needed the right hit song to make it big. And then it happened, in one play:
It might be the greatest run of in NFL history, and I knew the secret of Marshawn, finally, was out. He finally had his hit record, and he was no longer our secret. I tell this story because I like any excuse to gush over Marshawn, and this week newly signed Philadelphia Eagle, Michael Bennett and his brother, Martellus, appeared on Bill Simmons' podcast this week. Michael was Marshawn's teammate in Seattle for a number of years. When asked about Marshawn, Bennett said that Marshawn's (temporary) retirement a couple years back basically was the end of the Seahawks' run:
"Marshawn's personality is so big and he's such a… he's one of those dudes, he's really like Nina Simone; he's just misunderstood. People misunderstand him all the time. He's such a great guy when it comes to doing community. He's such a great teammate. He's shows up to everybody's thing. He plays hard. When he practices, he practices hard. So when he left, you could feel it. He was just that guy that had swag that made the Seahawks feel like a different type of team."
These are the same types of things that Jeff Tedford used to say about Marshawn. So many of his teammates say similar things. It's fascinating to me, really – how a guy's public persona ("I'm just here so I won't get fined") could be so very different from what he is in private. I'm just happy that Marshawn is finally getting his due. As Marshawn came into the NFL the same year as Adrian Peterson, it's also fascinating how their reputations have reversed over the last few years. Now, Marshawn is the great teammate, the great supporter of kids and his community, while Peterson is the malcontent in the locker room and, worse, the child abuser. As for Marshawn, I can say I knew it all along. -TOB
Source: "Michael Bennett: Seahawks Never the Same after Marshawn Lynch Left at End of 2015 Season", Gregg Bell, The News Tribune (03/21/2018)
PAL: Where'd you go to school, TOB?
TOB: Augustana State. I played baseball there. You can probably find my stats online if you search hard enough. Also, one question: How dare you?
---
Video(s) of the Week: 
---
PAL Song of the Week: Dwight Yoakam – "Streets of Bakersfield" (Buck Owens)
---
Like what you've read? Let us know by following this blog (on the right side, up near the top), or:
Email: 123sportslist@gmail.com