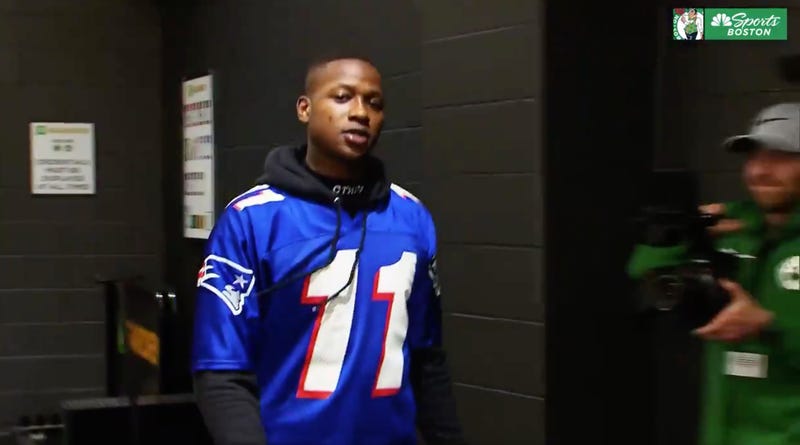 Terry Rozier gets the last word on Eric Bledsoe.
---
Strength: Analytics. Weakness: How to use a fungo
Photo credit: Michael Starghill
Baseball is measured differently today than it was 20 years ago. Hitting .300 or winning 20 games are not valued in the way they traditionally have been. We all know this. WAR, BABIP, and a parade of new acronyms are taking over. It shouldn't surprise you to learn that  different people – people who understand the new data and how to use it to make better decisions – are more influential within the organization. Typically, these data folks were tucked away in the front office, but the world champ Houston Astros are realizing their analysts might provide more value somewhere less cush than a MLB office.
The Astros and its General Manager Jeff Lunhow are no longer trying to build a winner. They now must sustain excellence with lower draft picks and less money to spend on amatuer talent. As Tyler Kepner learns in his excellent story, Lunhow believes the best way to do that is in making measurable improvements on the field – at all levels of the organization.
"Every team now values advanced metrics. Not every team has sent its top analyst to spend a summer as a first-base coach on the bottom rung of its farm system, as the Astros did with Mejdal last season."
"Mejdal" is Sig Mejdal, 52. His official title is Special Assistant to Lunhow, but these days you can find him in uniform in the minor league system. He's riding the bus, he's shagging balls, and he's also talking young minor leaguers in the game about pitch usage rate, hitter tendencies, situational data, and other intel that 2016 draft pick Colin McKee describes as "mind-blowing stuff."
But – again – every team adheres to the importance of new metrics. I mean, have you seen how often teams over-shift these days? What make the Astros different?
Front offices everywhere now teem with well-educated executives who have backgrounds outside baseball. Luhnow, who has an M.B.A. from the Kellogg Graduate School of Management at Northwestern, wondered how the Astros could get more from theirs.
"There is an ivory tower effect, if you will, where great ideas are being thought about and discussed at headquarters, but until you roll them out into the field, you don't realize all the challenges involved," he said. "Amazing ideas find all kinds of issues when you try to roll them out with human beings because that's all we are, a collection of human beings trying to do things to help players perform on the field."
In past years, Luhnow found, it was easy for executives to visit a minor league affiliate for a week but difficult to form more than a surface-level bond with players and staff members. In Mejdal, whom he had first hired with the St. Louis Cardinals in 2005, he had a trusted confidant with intimate knowledge of the Astros' culture.
A fun and thought-provoking read. A fresh take on the baseball metrics story. I think you'll enjoy the read whether you're into baseball, business, or stories about thinking a little differently. – PAL
Source: "A Numbers Guy Left the Front Office to Coach Prospects. Here's What He Learned.", Tyler Kepner, The New York Times (4/30/18)
---
The Bay Area Sports Mt. Rushmore
I stumbled on an article, which was short and not particularly well thought through, about the Bay Area Mt. Rushmore. It wasn't great, but it did get me thinking: who are the four greatest athletes in Bay Area sports history. For this argument, I'm choosing player performance in the Bay Area, so performance elsewhere is out and hometown kids (see Tom Brady) who played elsewhere are out.
I've put a good deal of thought into it, and here's what I got:
Joe Montana: Beloved – seriously, people friggin love this guy; I wasn't around, but I get the sense there was some deep-seated issues for the Bay Area and its wounded civic pride coming out of the 60s and 70s, and Joe provided a chance to be a winner. Speaking of winner, Joe was the winner of four Super Bowls and is generally considered the best ever at the toughest and most important position in sports, or at least was until Tom Brady came along.
Barry Bonds: Quite possibly the greatest baseball player of all time. He never won a World Series, but that's ok. Did he use PEDs? Maybe. Do I care? Not one iota. In hindsight, he made us not realize how hard it is to hit at ATT Park. He made it look so easy. Was he a jerk? I think it's extremely overstated, but the reputation is there. However, he was our jerk, and he was nice to us, so GTFO.
Willie Mays: I never saw him play, but his numbers were jaw dropping. Seriously check out his WAR (far right column) during his peak:
That's just stupid. And, again, he was beloved. He's probably tops on this list for that category. If you've ever been at a Giants game when he's announced, the reaction is incredible. On the dark day he's gone, this city will mourn communally in a way I've never seen.
Ok. The first three were easy. The fourth took some thought, but I landed on:
Steph Curry: Yes, there's recency bias here. But he's a two-time MVP and a two-time champ. He's universally beloved here, and aside from some petty fools, he's loved all over the country/world. He's the greatest shooter of all-time, bar none. It's not close. His shooting, in volume, off the dribble, closely guarded, is incomparable. But he's not one-dimensional, as he's got top notch handles and an incredible knack for making incredible finishes at the rack. His range is so deep, it changes the dynamics on the floor so incredibly that it cannot be overstated. Welcome, Wardell.
And now, the runners-up:
Ricky Henderson: Very good player. Less "beloved" than very well liked and funny. Some demerits because only 14 of his 25 (!!) years were in Oakland, which was a theme when I looked through the greatest A's.
Ken Stabler: Ehhh. Never saw him play. Old timers love him, but he doesn't resonate with younger generations.
Jerry Rice: Jerry Rice is the greatest wide receiver of all-time. Certainly the most productive. But I don't believe he was ever beloved by the Bay Area like Joe.
Tim Brown: Seriously? C'mon.
Steve Young: One Super Bowl vs. four says a lot. Plus, his peak was relatively short. And I think his post-career media has made him a smidge less likable.
Joe Thornton: I dunno, is he the best Shark? Maybe Owen Nolan? Arturs Irbe? Patrick Marleau? I dunno. But whoever it is is not making the Bay Area's top 4. -TOB
---
Returning from Tommy John Surgery Takes a Village
Sometimes you read a feel-good sports story and you're left feeling a little overwhelmed by the saccharine. But The Athletic's Andrew   nails this one, on Giants reliever Will Smith's return this week, thirteen months after undergoing Tommy John surgery. Smith made his season debut in the 7th, and struck out red-hot Padres first baseman Eric Hosmer (a former teammate) to end the inning.
Look at that smile. If you've ever worked really hard for something, you know that smile. All the grueling rehab finally paid off. But what I really like about this story is how Baggarly talks to the training staff who worked so hard go get Smith back here.
Smith received a handshake from Bochy upon reaching the dugout, and then swallowed head athletic trainer Dave Groeschner with a two-armed hug.
Groeschner stopped on his way to the bus, perched his sunglasses on his forehead and revealed a pair of glassy eyes.
"For us, it's awesome," [Groeschner] said. "It's really a great moment for our medical staff just to watch him and how excited he was. It was 13 months of working his ass off. Really, from Day 1, he was ready to work.

"He just went after it hard, and for this day, right here. And it paid off for him. I think that's why everyone is so happy for him."
For Smith, as with most individual achievements, there were people in the background providing support. I really liked how Baggarly highlighted that here. -TOB
Source: "Giants Face Significant Obstacles, But Will Smith Shows Them the Importance of Turning the Page", Andrew Baggarly, The Athletic (05/02/2018)
PAL: 13 months is a long time for a person to not do the thing they are best at and to live the tired, one-day-at-a-time cliche. Aside from the quiet monotony of the drills and exercises contained in those folders, I read about Smith and think about self confidence…even self worth. Being able to contribute at my job is a huge factor in my confidence, even my mood.
At some point, the cliche has to lead to a real payoff, and that was Smith getting on the hill against the Padres. He's in the box score. Good read!
---
Hit (and Field) Your Numbers
While I despise the opening line of this story, I enjoyed the hell out of the rest of it, the latest installment of ESPN's "Radical Ideas Series". Here's Sam Miller to frame the discussion:
"The point of ballplayer compensation is to compensate ballplayers, and a good system would fairly and efficiently pay the most valuable ballplayers the most money. The current system does not do this.
"That's what this system does: It creates a lot of players who are underpaid, whom we take for granted, and some players who are overpaid, whom we grow to hate with every bitter nerve in our body, and we call that an economic wash."
Both of these guys make a over 25MM a year. One is extremely overpaid, but is it possible that one of them is underpaid?
Setting aside that this is highly unlikely to ever happen, the solution to the problem is to treat baseball players like salespeople and pay them largely on commission (with a base salary of the MLB minimum, which is merely $507,500). Teams would be more than happy with this. No more Barry Zito contract blunders, and Mike Trout will earn what he's worth based on how he plays on the field.
Of course there are some flaws to this idea (injuries, for one, and how are we measuring success/ranking, The Players Union would never – I mean never ever ever – agree to it), but it's fun to think about, especially when we consider the fans' bystander role in the current system.
"We are constantly asking not whether the player is good but whether he is worth it. The player becomes equipment — a depreciating tractor, sputtering. We yell at it when it doesn't start. We talk about its resale value."
This story is for you if you have an upcoming date with the relatives and you're worried you don't have the small-talk skills to make it through another all-day affair the randos at a barbecue. – PAL
Source: "Radical Ideas Series: What if MLB players were paid on commission?", Sam Miller, ESPN (5/2/18)
TOB: As a thought exercise, this is pretty interesting. But in reality? How to deal with injuries? What happens to free agency? I do, however, think it'd be a good way to deal with pre-free agency players. It's insane that Aaron Judge made $500k last year, when he hit 52 dingers and had an 8.1 WAR (which is MVP-caliber). And it's insane he won't be a free agent until 2023. Because Judge was a late bloomer, in 2023 he'll be 31, the same age as good but past his prime Andrew McCutchen. That is to say, there's a chance Judge never gets a massive contract and will get paid very little compared to his level of play (Judge will be arbitration eligible in 2020, but the arbitration numbers never come close to fair market value for the best players).
So why not tweak Miller's plan: pay per WAR for pre-free agency players, so that a guy like Judge gets paid a fair amount when he hits 50 dingers.
---
Pitching Panda
As a fan, a baseball season is long. Your team plays nearly every day for six months. If your team isn't good, it's like being in a torture chamber. The Giants are showing some life, but in good and bad seasons, there are moments that make the grind worth it. Last weekend, Giants fans got one of those.
The Giants were getting smoked in the first game of a double-header Saturday, and so they brought in Pablo Sandoval to pitch. Anytime a position player is forced to pitch, it's must-see. But something about it being Panda made this even more exciting. And then…the dude pitched. A perfect inning. And not only that, he looked really good. He touched 88 on his fastball, which should make Dan Haren (Twitter handle: IThrow88) blush. He induced weak contact. And best of all, he dropped in this curve ball for a strike.
I couldn't stop laughing. When he was at bat, Yasmani Grandal couldn't stop laughing. Throughout the inning, both dugouts couldn't stop laughing. It was a great moment in an otherwise crappy game. But it wasn't meaningless. An as always astute Mike Krukow noted, as Panda ran back to the dugout after the inning, that the previously lifeless Giants dugout seemed suddenly energized, and he noted that could bode well for the second game of that double-header. Sure 'nuff. Giants came out firing in the evening, and then finished off the series win the next day. Again, it was one of those little moments in a baseball season that means so much. I encourage to watch the entire inning here.
What a great sport. -TOB
Source: "Pablo Sandoval Pitched A Perfect Inning, And It Was Just Fucking Perfect", Chris Thompson, Deadspin (04/29/2018)
---
Video(s) of the Week:
---
Tweet of the Week: As we approach Mother's Day, it's fitting that L.A. Clipper Patrick Beverly's mom dominated on The Price Is Right.
---
PAL Song of the Week: Oddisee – "The Carter Baron"
---
Like what you've read? Let us know by following this blog (on the right side, up near the top), or:
Email: 123sportslist@gmail.com
I feel like Neve Campbell in Scream II. She thinks she can go off to college and be happy and then the murderer comes back and starts killing off all of her friends. I learned a lot of lessons from that movie, this is just one of them.
-M.G. Scott