Augie sticking it to St. Cloud State in the NSIC Tournament, which I should have seen in person. Instead, I'm in Mesa, AZ writing this blog. American Airlines did not have a good day today. 
---
The Western Conference Finals: A Clash of Contrasting Styles
The Western Conference Finals kick off on Monday, and it should be a doozy. The Warriors, who have made the Finals each of the last three years, having won two titles, against the Rockets, who have stated they were built to beat the Warriors and come in with home court advantage. The Warriors have been there, and the Rockets are coming.
The matchup has been anticipated all season, but some may be surprised to see two offenses that don't look very much alike. There is a belief in NBA fan and media circles that the Curry/Kerr era Warriors have led a revolution in NBA offense, valuing the three pointer and avoiding the mid-range jumper like never before. It's a misconception. The Warriors shot 28.9 three-pointers per game this season, just 17th in the league. As Anthony Slater points out in this article, Kerr is actually old school – tailoring his offense to his personnel on the court at any given time. To illustrate, consider: When Curry is on the floor, 39.9% of the Warriors' shots are three-pointers, which would be third in the league if they averaged that the entire game. But when Curry is off the floor, that number drops to 29.5%, which would be bottom ten in the league. This is because when Curry is off the floor, Shaun Livingston and David West are on the floor. Unlike Curry, Livingston and West excel in the midrange, and so Kerr lets them do their thing, effectively.
Contrast that with the Houston Rockets, who truly implement a team-wide strategy to shoot threes and layups, and avoid the mid-range. This season, 50.2% of the Rockets' shots were three-pointers, easily an NBA record. But unlike the Warriors, the personnel on the court doesn't matter. When James Harden missed seven games earlier this season, the team averaged 44.8 three-point attempts per game, more than they averaged with Harden. To further illustrate this, consider Chris Paul. Last year, with the Clippers, Paul shot 322 mid-range shots to just 302 three-pointers, in line with his career numbers. But this year, his first with Houston, he shot 379 three-pointers and just 180 mid-range shots. As Slater notes, "that's the system overriding the personnel."
Kerr believes he's bridging the gap between his mentor, Phil Jackson, and the Rockets' Mike D'Antoni, who was the coach in Phoenix when Kerr was the General Manager there. I'm not going to look at the series as a referendum on either offensive style. I'm just going to enjoy the hell out of the show. -TOB
Source: "The Warriors and Rockets Aren't as Similar as You Think – It's a Fascinating Strategic and Stylistic Matchup", Anthony Slater, The Athletic (05/09/2018)
PAL: Kerr, referring to Curry:
"It reminds me a little bit of (Manu) Ginobili his rookie year with the Spurs. Pop was very disciplined. Ginobili would come down on a 3-on-1 fastbreak, throw a crazy pass out of bounds. Pop would be pulling his hair out. But by the end of the year, Pop got it. For every one of those plays, Ginobili would make five great plays. That 5-to-1 ratio is pretty good. Pop learned to live with Ginobili's insanity and I quickly learned to live with Steph's insanity."
For as blissful as it is to watch Curry play basketball, I've witnessed this insanity.
As you can see, that one bad play can be really bad – needlessly difficult, and/or too loose. It would be easy to say that Curry is a basketball genius that shouldn't be instructed, because what comes naturally to him is better than anything Kerr could teach. That's not what happened. Kerr will always defer to the player's talent, but he and the staff worked with Curry on how to move without the ball in order to maximize his awesome shooting talent. Yes, you live with the moments like the one above, but that doesn't mean the team has sat on its hands with Curry.
TOB covers the really cool breakdown of the differences between the Rockets and the Warriors. I thought Kerr's insight to fostering Curry's ability was a fascinating second piece to this story.
TOB: Frankly, Draymond should have caught that pass. And for every Curry play like that, there are five like this:
Ok, maybe not five like that, because that's incredible.
---
Actually, Speed Can Be Taught
The secret sauce to being an explosive skater in the NHL just might be figure skating. Like swing coaches for PGA players, many hockey players and NHL teams hire skating coaches like former Canadian figure skating champion Barb Underhill. There's also Laura Stamm, who worked with the Islanders in the 70s, and Dawn Braid. It's not just at the NHL level either. Diane Ness has built a small skating empire in Minnesota with Pro Edge Skating.
As Joe Smith writes, Tiger Woods helped Underhill see the potential for her to help hockey players. Aside from being the mother to a couple hockey players, it was seeing a split screen of Tiger Woods and her husband's respective golf swings.
"I said, 'Wow, you can see the difference when it's side by side. I've just got to find my Tiger Woods."
Underhill thought of retired Rangers forward Mike Gartner, long considered among the most gifted skaters in the league. She called Gartner and asked if she could film him skating. He said yes.
While figure skates and hockey skates are very different beasts, the power for each type of skating comes from the same mechanics and efficiencies. By teaching these mechanics and efficiencies, Underhill has helped Brayden Point go from an average skater to an elite skater – one that almost beat the fastest man on skates, Connor McDavid, in a race. Think about that for a second. You are not going to take a football player – either kind of football – with average speed and turn him into a blazer. That just doesn't happen in other sports. Speed isn't taught like it can be in hockey. That's a fascinating distinction! – PAL
Source: The Woman Behind Some of the NHL's Fastest Teams", Joe Smith, The Athletic (05/9/2018)
---
Soulless Surfing  
We've got ourselves a real pickle here, folks. Of course, most of us are massive surf fans and watch the pro circuit (I could look up the name, but then I'd lose the sarcastic point I'm trying to make). While most of us aren't serious surf fans…or even surfers, I think we all can appreciate the sport.
Perhaps unlike any other sport, nature plays a massive role in surfing competitions. Obviously, it determines where competitions are held. It also determines the quality of a competition and even the existence of a competition. No swell = no competition.
That was until the Wayne Gretzky of surfing, Kelly Slater, helped usher us into the future of surfing: a man-made wave created by a 100-ton mass of weight pushing through a 400-yard pool over 100 miles away from the ocean. There have been artificial waves before, but nothing like this:
At first blush, this is all wrong. Is a tube ride at all compelling in a pool? Where is the cerebral part of surfing. A huge part of the sport – whether you're Slater or a nobody – is being able to read the ocean. It's not enough to pick a set on the horizon; rather, you gotta know if it's wave two or three that's the best wave with the most power. All of this is gone in a wave pool. Don't even get me started on the conditioning needed in the ocean to paddle out to your wave. Unlike baseball or basketball or hockey, there is a connection to the big, powerful world of nature inherent in the sport of surfing. That does not exist in the pool, and that's a bummer.
You know what's not a bummer? Being a surfing fan during a pool competition. You can watch idols not from ½ a mile away through binoculars, but along the length of the wave like fans at a hockey game. What's more, it's a hell of a lot more TV friendly (see: reliable). And one could argue that by removing the variable of wave consistency, we actually see skill vs. skill.
And perhaps most important of all is the fact that surfing is an Olympic sport in 2020, for the first time. Japan lacks the consistent natural wave that one might find on the North Shore of Oahu. The stakes might simply be too high for the sport to leave it to nature. In order to showcase the athletes, likely Olympians – even those who are on the fence about the man-made wave – agree that the Olympics should be held on a man-made wave.
At its core, I would suggest that what makes surfing so goddamn cool and appealing is that it doesn't happen in Nebraska. Surfing only happens is idyllic places, and that's romantic, that's its special place in pop culture. And while the growth of the sport no doubt stands to benefit from Slater's pools (and – my god – he's going to make so much money on this), the spirit of perhaps the zen sport is being eroded in chlorine. This is a great read. Stop reading what I have to say, and read Brent Rose's kick-ass story. – PAL
Source: "Is The First Pro Surfing Contest In A Wave Pool The Sport's Future, Or Its Bastardization?", Brent Rose, Deadspin (05/9/2018)
TOB: As Phil points out, this is an interesting conundrum: what is lost in the sport of surfing when you take the unpredictability of nature out of it? Anything? Everything? As I read it, I went back and forth on this. Finally I came to a conclusion: surfing stops being zen and loses its romantic connection to nature when you put it in the context of competition. This affects a small number of surfers in the world, and only in the context of competition and winning prize money. But it doesn't change the sport for the vast majority of surfers who get up before dawn every day to catch some swells, brah.
---
The Neverending But Fun Debate: Jordan vs. LeBron
As LeBron carries his team to perhaps another NBA Finals appearance, which would be his 8th in a row, the clamor to determine who is better, Jordan or LeBron, continues to rise. I'm not sure there's a right answer – and I'm not sure I have my own decision, but I did enjoy this article by Kevin Pelton, who attempts to answer the question statistically with a stat he invented a few years back called Championships Added. It's a bit like WAR in baseball. It's a fascinating article, and I recommend you read it, but here's the short of Pelton's conclusion: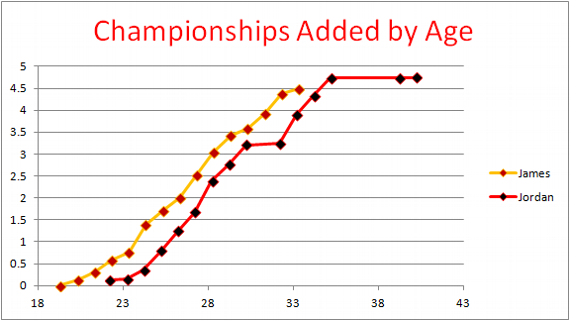 Peak: Jordan's peak was the best ever: the 1990-91 Season with a 0.70 Championship Added. LeBron's best comes close, 0.62.
Career: LeBron takes it here, especially when you account for strength of league. Pelton argues the NBA is stronger now, in part due to a much wider pool of players (read: non-American). When not accounting for strength of league, Jordan still holds a slight edge over LeBron, but LeBron could pass him as soon as this season depending on how these playoffs shakeout.
Pelton points out another interesting issue: when you go by the age of each instead of the number of seasons, LeBron is way out in front of Jordan. That, of course, is because LeBron started at 18 while Jordan started at 21.
As Pelton concludes, "A team drafting James' entire career would assure itself championship contention for more than a decade given his metronomic consistency and ability to avoid injury. Jordan might have been better at his best, but James has already put together the best NBA career we've ever seen."
I find it hard to argue with that conclusion. Jordan at his peak was better, but LeBron did more over the course of his career – and he doesn't even show any signs of slowing down yet. Jordan fans will argue he went 6-for-6 in the Finals, but that means he didn't make the Finals 9 times (7 times if you ignore his two seasons with the Wizards). Meanwhile, LeBron has made the finals 8 times in 14 seasons, and could make it 9 in 15 this year. Making the Finals and losing is a lot better than losing before the Finals.
What's remarkable to me about LeBron is that this debate is even close enough to have. When Jordan retired, people figured we'd never see a player better than him. As it turned out, we didn't have to wait long: LeBron's career began the season after Jordan's career ended (for good). On top of that is the fact LeBron did it in the face of unbearable expectations:
And LeBron has done it without a sniff of legal or personal trouble. So, I'm with Pelton. Give me Jordan for one year, give me LeBron for his career. -TOB
Source: "LeBron or MJ? How the King is Settling the GOAT Debate", Kevin Pelton, ESPN, (05/10/2018)
PAL: I guess we have to call TOB's love for James what it is at this point: a LeBoner.
TOB: How dare you.
---
NBA Player Nicknames in China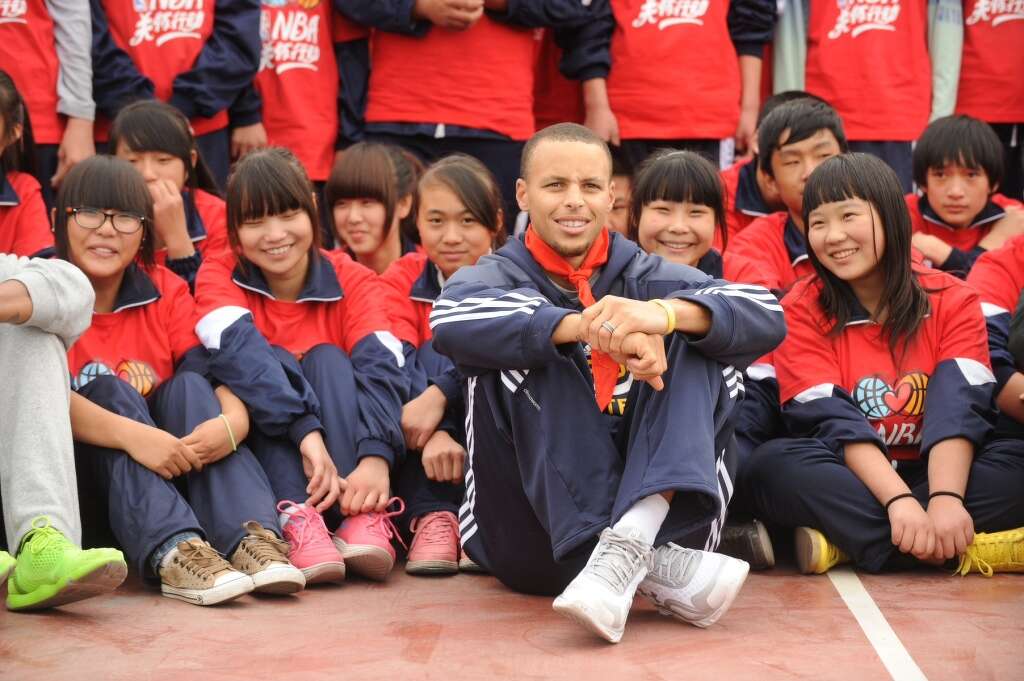 The title says it all: the funny nicknames people in China have given to NBA players. This started as a string of tweets. The writer then put a few of them into an article. There are some great ones, and I suggest you check his twitter feed for a lot more, but this is my favorite:
Steph Curry probably has more nicknames than any current NBA player except for LeBron. Many of these nicknames play on his relatively small size for a basketball player, including "The Elementary School Student" (小学生) and 萌神, which literally translates as "Sprout God," but might more naturally be translated as "Adorable God," since the Chinese character for "sprout" is a reference to the Japanese concept of "Moe" (萌え), describing feelings of affection and protectiveness for small, cute things.
But Curry's most interesting Chinese nickname is "Steph Skyfucker" (库昊), which derives from an elaborate series of interlocking visual and verbal puns. It turns out that Chinese also has the phrase "the sky's the limit" (天空是极限), just like in English. Over time "breaking through the sky" (捅破天) became a way to describe someone who vastly exceeded all expectations. However, in other contexts, the same characters for "breaking through" can be a vulgar slang term for "fuck." Since Curry defied all expectations to become a superstar, people started saying he had broken through the sky—or fucked it.
Skyfucker it is. -TOB
Source: "Sprout God, Porcelain Mamba, And Six-Step LeBron: The Stories Behind China's Best NBA Nicknames", Nick Kapur, Deadspin (05/11/2018)
---
Videos of the Week: 
---
PAL Song of the Week: Wings – "Arrow Through Me"
---
Tweets of the Week
---
Like what you've read? Let us know by following this blog (on the right side, up near the top), or:
Email: 123sportslist@gmail.com