---
The Newest Front in the Bullpen Revolution: Starting a Reliever
It is well known that a pitcher gets worse as he approaches his third time through the opposing lineup. Per FanGraphs, "a typical starting pitcher's OPS-against climbs from .705 to .731 to .771," in the first, second and third times through the order, respectively. That makes sense – the more times a hitter face a pitcher, the better he's going to see the pitches and understand what the pitcher is trying to do.
The Rays want to avoid this, while allowing the starter to go deeper into the game, and they have a strange plan to do so. Last weekend, they started former Giants Sergio Romo, a career reliever for the 1st inning to work through the #1-3 hitters. Then, they brought in the "starter" in the 2nd. Here's how this works in theory if the Rays threw a perfect game, facing 27 batters:
Starting a reliever allows the "starter" to finish the game without facing the #1-3 hitters a third time, thus using the "bullpen" for only one inning. In contrast, in a conventional situation, to avoid the starter facing the #1-3 hitters a third time, the starter would have to leave after the 6th, and then you'd need three innings out of your bullpen. Makes sense.
But what if, ya know, you don't throw a perfect game. This year, the average MLB team is sending around thirty-four players to the plate per game – that's seven non-outs. I'm going to add one runner per inning in innings 2-8 (of course, that's not how it usually works, but for the sake of discussion, that's what I'm using here):
Daggum. Look at that. Using the Rays' idea, the Rays' "starter" gets through the 7th, and the bullpen is used for a total of 3 innings (1st, 8th, 9th). But in a traditional setup, the starter only gets through 4 2/3, and the bullpen is used 4 1/3. I see two interesting things to watch here, aside from whether this will catch-on.
First, the "starter" may miss hitters #1-3 a third time, but how much worse is a typical #4-6 lineup than a #1-3 on the third time through the order? In other words, is this sort of rearranging the deck chairs on the Titanic? What actually makes the most sense here is to use your bullpen to get through #1-5 or so (you hope doing so over two innings, and not one), thus having your "starter" avoid the heart of the order, too.
Second, how will opposing teams respond? Will opposing managers rearrange their lineups, moving #7-9 up to the top and pushing everyone else down?
As you can see, for the opposing team, this would add either 1 1/3 or just 1/3 more inning of bullpen work for the Rays, depending on whether the Rays' start the reliever or the starter in response to the lineup change.  This would negate the Rays' tactic to a large extent. But then it seems it there'd be a race of lineup cards: who commits and turns in their finished lineup card first? Or would the Rays turn in their card, cause you to turn in your card with #7-9 hitting first, and then simply respond by going ahead and starting their "starter" having successfully moved your worst hitters to the top of the lineup? They'd lose that reliever for the day, but it might be worth the sacrifice.
As for the Rays, they used Romo on Saturday and Sunday last weekend, and he gave them a combined 2 1/3 innings of hitless ball. On Saturday, the tactic worked. Ryan Yarbrough, the "starter", got to the 8th, having faced the Angels' #1-3 only twice. He gave up one run in the 8th before leaving. On Sunday, they went further – going to two more relievers for a combined 2 1/3 innings, before turning to "starter" Anthony Banda in 5th to face the #6 hitter. Banda then finished the game, facing the Mike Trout only once (he would have faced him in the bottom of the 9th, but the Angels won 5-2.
Well, hot damn. This didn't make much sense to me when I first saw the headline, but after charting it out…it makes a lot of sense. I would not be surprised to see other teams follow suit -TOB
Source: "The Rays Are Making History With Strange New Pitching Strategies", Chris Thompson, Deadspin (05/20/2018)
PAL: The risk, as I see it, comes in valuing the number of times a starter faces the best hitters in a lineup over the situation a reliever enters. There's more data in waiting. In the scenario outlined in the story, Romo enters the game before any situation has played out in the game. Nobody on, nobody out, no score. That's a very different situation than, say, 2 on and 1 out in the 8th inning with a righty coming up. The "starter" might be done, regardless of how many times he's faced batters 1-3, and now the Rays have already burned their reliever who is the best bet to get a right-hander out in a critical situation. Admittedly, I'm presenting an argument for one game. The Rays are thinking about getting the most out of and managing a pitching staff over the course of a season.
I get the thinking, and I love that they actually tried it, but to me saving options until situations play out is more advantageous than the efficiency of running a reliever out there in the first inning. As always, it comes down to the quality of arms. A good bullpen can makeup for the extra at-bat for the top hitters, even over the course of a season. A bad bullpen can shit the bed in the first inning, too.
Also, I think the cat-and-mouse game of lineups is neutralized by rule 4.03 stating that the home team has to technically submit its lineup first.
TOB: Statheads call that "high leverage situations", and your point makes sense. The other issue you point out, which I glossed over a bit, is that it's impossible to know what will happen. In my almost never happening scenario of one base runner per inning for seven innings, this makes sense. But in most other situations (e.g., four base runners in the second) it seems like anything gained from this loses steam. Still, I always like to see teams try to innovate. Also, nice catch on Rule 4.03. I did not know that!
---
Best Of Warriors-Rockets, Games 3-5
Since this is such a hot series, we wanted to try something a bit different here and create a mini playoff series digest within the weekly digest. Here are the best bits of writing about games 3,4,and 5:
GAME 3 (Warrior W, 126-85)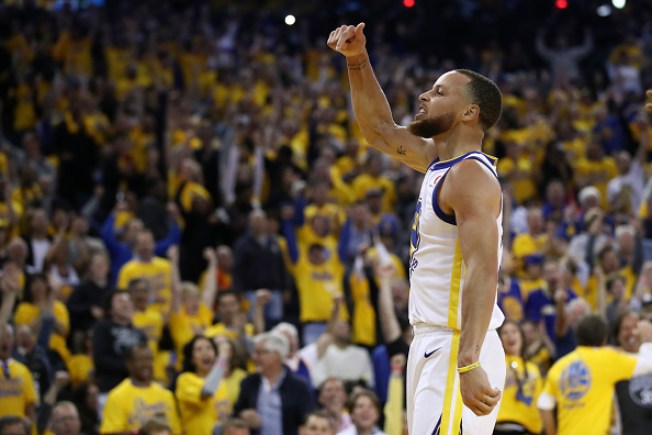 TOB: I'm just waiting for a good game. 
PAL: It's over. Steph is back, and there's nothing Houston can do to stop Golden State when they are right on offense. Harden can average 40 in this series and Golden State wins it. Houston doesn't have the firepower to hang with this team. That was a beatdown, one that the Warriors hope lingers with the Rockets for Game 4.
BEST BITS:
Then the third quarter started, and so did Curry. His dominance isn't the sort that leans on a team, wearing them out over the course of four full quarters, but the sort that descends, suddenly and without mercy, and wipes opponents away in minutes.

TOB: I wondered if Steph had ever shot so poorly (3 for 20 – 15%) over a 3 game stretch in his career. It happened once: February 27 – March 2, 2017: 4/31 (12.9%).
And then it happened. Curry produced a stretch of third-quarter magnificence that defined the Warriors' 126-85 victory over Houston — and an era.
It doesn't feel like it makes sense that the Rockets, the team getting precisely the match-ups they wants and whose schemes are unfolding without a hitch, are the ones with a 2-1 series deficit and a lot left to figure out. That's the power of the Warriors, though. You can stake out whatever strategic high ground you'd like, and they'll just go on soaring over your head.
TOB:

There's so much good writing about this series. Read this one – it does a great job showing you what the Warriors tried that didn't work early, what they switched to and when, and how that improved their defense. Good stuff.
Marcus Thompson II – The Athletic
The Warriors turn Paul into a shooting guard. They leave him 1-on-1 with good defenders and force him to score. The Rockets are doing their best to keep Paul away from Thompson, getting him switched onto better matchups. But that matchup — Curry or Looney, mostly — is baiting Paul into being the type of player the Warriors can beat.

As long as Paul is trying to get buckets, the Warriors are winning. The Paul the Rockets need is the one who makes average players look better because of how he sets them up. They need the Paul who breaks down defenses and basically makes the help pick the poison. So far in this series, in Game 3 especially, the poison is being consumed by Paul.
GAME 4 (Rockets W, 95-92)
TOB: Man. When Step Curry is on, there's nothing better in sports, for me. That third quarter run he had was incredible. With six minutes to go in the quarter, the Rockets led by 5. Then Curry went: Deeeeeeep three. Deep step back three. Three. Layup. Warriors up 3 just two minutes later. They pushed it to ten by the end of the third and then…terrible. Horrible. What the HELL was that? The Warriors blew it, and Harden wasn't even shooting well.
PAL: It's a good thing I don't really gamble, because if you would've given me a Warriors 10 point lead going into the 4th quarter at home, then I wouldn't lost my saving account. No ball movement in the 4th quarter. I don't know how or why the Warriors can get away from that when moving the ball on offense gives them such good looks. I guess they were missing those, too.
Also, don't tell me Iguodala's injury is that important to this team. Curry was the key to the Warriors dominance before Game 3. We can't be switching that title to Iggy now.
BEST BITS:
Complacency, Golden State's oldest and fiercest nemesis, had returned. The Warriors won Game 3 too easily,

beating the Rockets by 41 points.

They opened Game 4 too easily, building a 12–0 lead.

Golden State's vaunted offense produced more turnovers (4) than field goals (3) in the final period.
Desperation tends to help in finding a finishing kick, and heading into the fourth quarter, Houston was very much in a desperate place. Whatever fatigue the Rockets might've felt had to be conquered."
The Warriors flame-broil opponents alive, torching nets and their opponents' morale to the tune of 20,000 Bay Area screams. How are opponents supposed to react when Golden State does this? For four years, the answer has been simple: Just accept that there's nothing that can be done. When they're this hot, there is no hope. But on Tuesday night, the Rockets stared down Golden State at its hottest and came out with a critical 95-92 win in Game 4 of the Western Conference finals."
Game 5 (Rockets W, 98-94)
TOB: Again. What the hell was that? Harden again shot terribly – (5 for 21, 0-11 from 3) so many missed shots he usually drains. And the Warriors could not capitalize. And why is Quinn Cook getting crunch time minutes? He went 0-3, all threes, and all wiiiiiide open. I've never seen this team play so sloppy. And, I'm just going to say it: Kevin Durant is overrated. I've never been a big fan of watching him. But I'm so tired of him pound the ball into the ground and then taking a contested 18 footer from a weird angle. Anyways, the Warriors choked again. E-40 might need to rethink his line: "Do we panic do we flinch? Nope. Because the answer this series is: YUP. The Warriors have one saving grace – Chris Paul is out for Game 6 with a hamstring injury suffered in the final moments of Game 5. Harden won't shoot 0 for 11 from 3 again, though, so the Warriors still have a lot of work to do.
PAL: The Warriors fail to get a good look (or even a shot) at the end of a one possession game for the second game in a row. Really brutal. They are on the ropes, and the air of invincibility is no longer a factor in this series. I'm beginning to wonder if it ever was. But who cares, really.
My biggest takeaway from this game has nothing to do with the result. I don't want to see any more commemorations to the victims of mass shootings at athletic events. It's infuriating. No bands on the jersey like the one pictured above, no pre- (Kerr) or post-game questions about it (Harden), no honoring of the "survivors". While they might be survivors, they are also victims of a heinous and preventable recurring nightmare. It's going to happen again. We all know it. Another kid is going to walk into a school and shoot teachers and students this year. We'll all be shocked, albeit for a shorter and shorter amount of time, and then the news cycle will turn over. Conservative, liberal; NRA member or fierce advocate of stricter gun laws – we have to work together to figure this out. 
Yep, I'm on a soap box, but this is my takeaway from the game.
BEST BITS:
What we've gotten instead has been much worse. The Rockets' roulette ball has mostly betrayed them, and yet they still lead the series 3-2 because the Warriors seem to have lost themselves. Chris Paul and James Harden shot a combined 11-for-40 last night; the Rockets as a team shot 30 percent from three-point range;

James Harden has missed his last 20 three-point attempts

(PAL's emphasis). Somehow that all added up to a 98-94 win. If any team should be a prisoner to its own fluctuating efficiencies, it's the Rockets, but the Warriors were simply incapable of taking advantage in Game 5.

But the thing that made the Warriors The Warriors in the first place was never just the talents of the players on the roster, but their ability to use those talents to complement and lift each other. Tossing the ball to Kevin Durant on the block over and over and over again is something you'd expect the Knicks to do if Durant had the misfortune of playing for the Knicks. The entire point of Durant playing for the Golden State Warriors is to prevent him from ever having to play like an upmarket Carmelo Anthony in the conference finals.

Last night's game featured some of the biggest stars in the NBA and came down to the final possession, and yet it felt like watching a traffic jam.
But crunch time has become a sudden problem for these Warriors. The NBA defines it as a game that's within five points in the final five minutes. The Warriors and Rockets faced nearly the same amount of crunch time during the season — 107 such minutes for the Rockets, 110 for the Warriors. Houston was significantly better: +70 to +31.

Paul's injury isn't the only ailment looming over the remainder of this series. Andre Iguodala's knee contusion, suffered in the fourth quarter of Game 3, forced him to miss Games 4 and 5 and his status for 6 remains highly questionable.

Without Iguodala, the Warriors have failed to find a reliable fifth option in the most important moments of the past two games. Kevon Looney and Jordan Bell continue to get targeted defensively and helped off offensively. Shaun Livingston is in a sudden swoon. Cook bricked the biggest shot of his career.
---
The Best of Sports: Johnson High School Badminton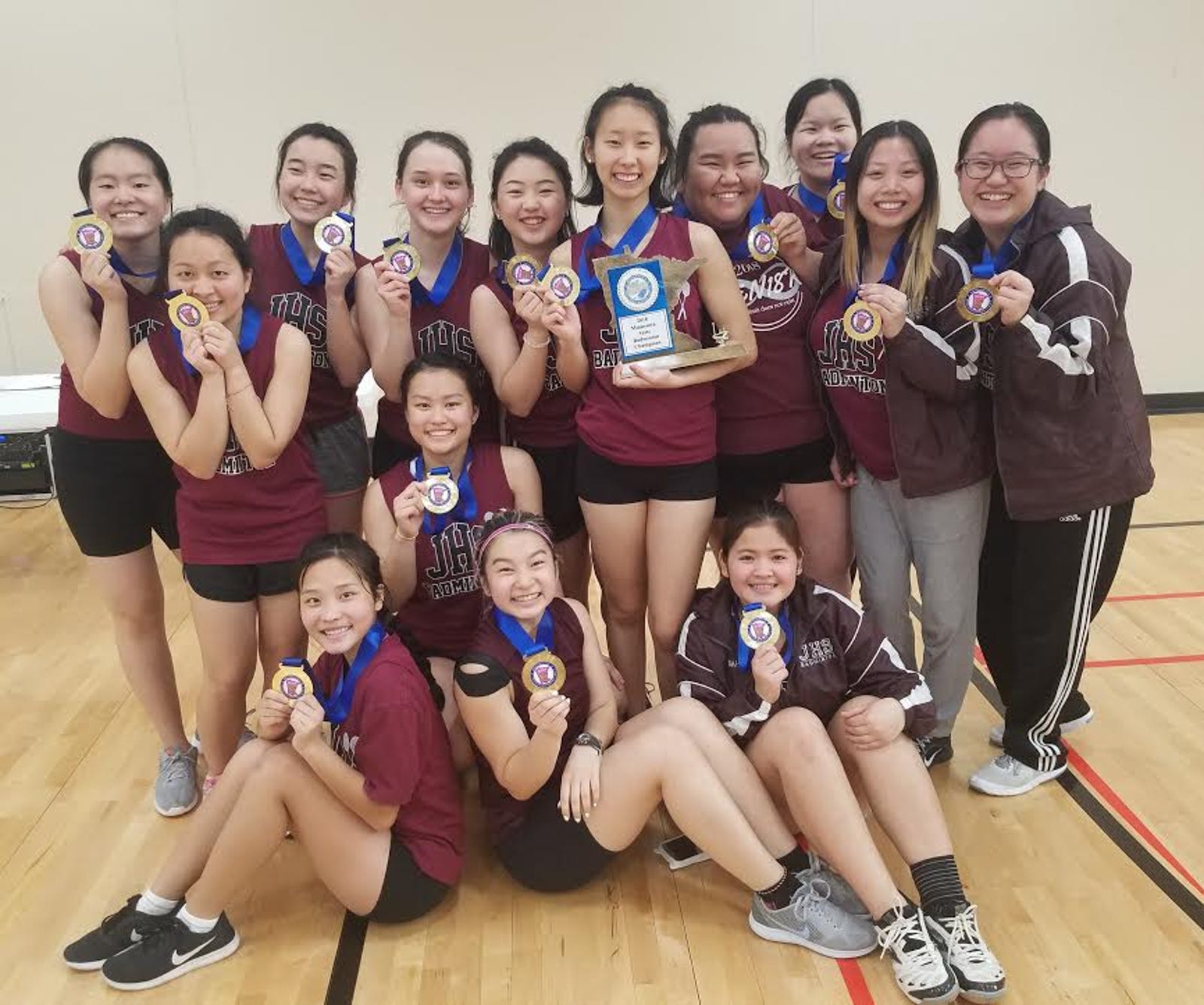 This feel-good story hits pretty close to home for me. St. Paul Johnson is less than 5 miles from I grew up, and nowhere in the United States in the Hmong community more prevalent. These were my classmates and neighbors, and this story athletic dynasty is a heartwarming example of the power of community, high school athletics, Title IX, and really impressive young women making progress than will be felt for generations.
First, a little history from Sarah Barker:
Hmong, an ethnic group that lived in the mountains of Laos and assisted the U.S. in fighting its "secret war" in the country during the 1960s and 70s, started arriving in Minnesota in 1975, the same year that badminton was introduced to high schools. Badminton enjoys great popularity in Asia, and Hmong refugees brought that enthusiasm with them. There are now more than 66,000 Hmong in Minnesota, the largest community in the U.S., concentrated in the Twin Cities metro area.
Many Hmong lived as farmers in Laos; some were illiterate in their native language. In 1990, only 19 percent of Hmong women in the U.S. had a high school diploma, and 44 percent of Hmong men. At that time, an estimated 65 percent of Hmong lived in poverty. Hmong women traditionally married young and had large families, limiting their educational and economic outlook. But as of 2010, more Hmong women than men earned bachelor's degrees, and poverty in the Hmong community dropped to 31 percent (still staggering in real numbers). In 1991, Choua Lee was elected to the St. Paul School Board, the first Hmong elected to any public office in the United States.
Like their east St. Paul neighborhood, Johnson High School's demographics do not speak to a gilded pathway: Thirty-one percent of students are English learners, and 82 percent are on free or reduced lunch. Fifty-four percent of students are Asian American, 24 percent African American, 10 percent Hispanic, 10 percent white. But 60 percent of this year's 1,302 students took part in early college programs.
How good in Johnson's team? Since 1978, the team has won 24 St. Paul City Championships and 9 State titles (I can't find when the first state badminton tournament was held, and the Minnesota State High School League website archive only goes back to 2003 for all sports).
Barker goes on to profile some of the young women who make up the top-ranked singles and doubles players on the team. This is not AAU basketball factory. While they are planning to go to college next year, none of the seniors on the team see badminton as anything other than a hobby.
Nou Chee Yang, the team's number 1 singles player is a state champ and also ranked 10 in her class. she's already taken college courses and will be going to college at Hamline University (St. Paul, MN) next fall. All of this with the responsibilities of a middle child of seven, which means babysitting, cooking, and generally helping out around the house.
And there's Josepheena "Lala" Thao – captain of the tennis, gymnastics, and badminton teams, ranked #9 in her class academically. Oh, and she has a part-time job, too.
These young women are just ass-kickers, on and off the court. They represent the best of the most popular sport at the school. More students are in the badminton program (over 80) at Johnson than participate in the football program. What may have started as an affordable Title IX adherence has become a point of pride for the community.
I never thought I'd root for Johnson, but this story highlights students that absolutely deserve it. – PAL
Source: "How An Inner-City Minnesota High School Built a Girls' Badminton Dynasty", Sarah Barker, Deadspin (5/22/18)
---
Geeze, MOOOOOOOM.
Moms are great, but sometimes they just don't understand.
Steph Curry knows. On Sunday, the Warriors crushed the Rockets in Game 3 by 41 points. Curry finally broke out in the third quarter. He was amazing, and he let the Rockets know:
The crowd at Oracle ate it up, but not everyone was so pleased. Namely, Steph's mom:
"She already sent me two home videos, showing me the clip and playing it back," Curry told ESPN. "She was telling me how I need to wash my mouth out, saying to wash it out with soap. It's a message I've heard before."
Reminds me of the time I ran across the key and tackled a guy about to shoot a free throw, starting a bench-clearing brawl that I punctuated by throwing a folding chair across the court. And my MOM somehow finds this moment, where I was defending her honor, less than savory! MOMS. Geeze. -TOB
Source: "Stephen Curry, Amid Breakout Rally, Fails to Hold Tongue: 'I Blacked Out'", Chris Haynes, ESPN (05/20/2018)
---
A Plea for Patience When an Athlete is Accused of Domestic Abuse
Over the last few years, there has been an increasing demand for teams to cut players involved in domestic violence incidents. Something about it hasn't sat right with me. Unless the league is going to prevent another team from signing the player, then what's the point? The team who currently employs the player cuts him, and only for the player to be signed by another team. And while the team signing the player gets some public pushback, it's nothing compared to the outcry when the originally employing team refuses to cut the player. For example, look at Greg Hardy, who was cut by the Panthers amidst justifiable outrage after horrific domestic abuse at his hands, only to be signed shortly thereafter by the Cowboys.
But in the wake of the Ray Rice abuse a few years back, something has gnawed at me even more: the immediate demand to cut a player upon the allegation of domestic abuse. Now, sports teams are not a court of law. They don't need to uphold the principle of innocent until proven guilty. They are businesses and are rightfully concerned with their bottom line. Still, something about this clamoring seems unfair, not only to the accused player, but to the team.
This offseason, we saw an illustration of this in the Reuben Foster saga. Foster, the 49ers 2017 first round pick and a very promising young player, was accused in February by his ex-girlfriend, Elissa Ennis, of domestic abuse. The details were not pretty.
Immediately, fans and sports media called for the 49ers to cut Foster. When the 49ers resisted, people were outraged. This struck me as unfair. The team had invested a lot in Foster and deserve to treat that investment as they see fit. To their credit, the 49ers weren't suggesting they'd keep Foster no matter what. Said General Manager John Lynch, "If these charges are proven true, if Reuben did hit this young lady, he won't be a part of this organization going forward." That seemed like a pretty reasonable position to me. It was not to others. But why not? Shouldn't the team be allowed to see this out?
As it turns out, the 49ers were wise to wait. Shortly after making the accusations, Foster's ex-girlfriend recanted the accusations to the District Attorney. Now, victims often falsely recant allegations for a number of reasons, including being paid, being afraid, or simply not wanting their partner to suffer the consequences. Accordingly, the D.A. pushed forward here. But it is clear now the D.A. should not have. Ennis testified at the preliminary hearing last week, and it seems she really did make it up. She testified Foster has never hit her, and that she made false accusations because she was angry at him for breaking up with her, and she wanted to "fuck up his career". What about the allegation he hit her so hard it broke her ear drum? Turns out she was involved in a road rage incident with another woman a couple days prior and had been injured during that fight. The fight was even caught on video, and the video was provided to the D.A. What about the accusation Forster threw Ennis' dog against the wall? She said it wasn't true, and a police officer testified the dog showed no sign of abuse. In fact, Ennis testified that she had abused Foster.
I am not writing this to crap on Ennis. I'm not writing this to suggest that people alleging domestic abuse should not be taken seriously. Stories like this are troubling because of the way they undermine true victims. The vast majority of domestic abuse cases are real, and many go unreported, for a variety of reasons, including fear and shame. But a high profile bogus accusation like this discredits all victims, and causes people not to take accusations seriously. As Katherine Redmond, herself a survivor of abuse and an advocate who trains athletes in violence prevention says:
"Yes, it hurts and this will be placed with Duke Lacrosse. And victims will constantly hear about these two cases when excuses are made for abusive behavior. People who have been abused tend to gravitate towards other abusers if they are not healed. Because that is what they know. They don't mean to and don't want to, but abusers find them and they cannot see clearly because of past abuse."
(Redmond's reference there to "people who have been abused" is actually about Foster, not Ennis: Foster's dad was abusive, and shot Foster's mom in the back while she held Foster, then a baby, in her arms. Foster's mom survived).
No, the reason I am writing this is for a plea for some patience: if an athlete is accused of a crime, absent clear video like the Ray Rice elevator abuse incident, can we all just let the criminal justice system do its thing before we start calling for suspensions or for a player to be cut? -TOB
Source: "After Damaging False Accusations, How Does Reuben Foster Regain His Reputation?", Lisa Olson, The Athletic (05/20/2018)
PAL:  I just spent some time looking up headlines and articles from April, before Ennis recanted her statements. There are some writers who hit publish too early on this one. And TOB's absolutely right – this is not about crapping on Ennis or calling our journalists who jumped the gun; rather, it's about everyone just pumping the brakes between shock and outrage.
---
Solid NHL Playoff Analysis
It feels like it's been awhile since we featured Barry Petchesky on the ol' blog, but he absolutely kills it with this nugget from the Capitals-Lightning series (the Caps ended up winning the series and will face the Vegas Knights – yes, that's right, the Vegas Knights – in the finals).
As we watch the NBA playoffs and the NHL playoffs, and as TOB gives us weekly updates on Ohtani (still looking good!), there are a couple paragraphs from this story that really highlight just how small the space is for success in professional sports. James Harden or Steph Curry just need a half second of hesitation in order to drill a three right in the defender's face. Mike Trout needs the pitcher to miss his spot on a slider by half an inch, and that's the difference between a ground out and a double. Nicklas Backstrom needs the defenders just aware of Ovechkin on the far hash in order to feed T.J. Oshie for a one-timer.
I'll cede the floor to Petchesky for the deep analysis:
There's a lot of subtle work going on here in order to give Oshie the "couple feet" of room Backstrom needs:
Ovechkin, in the left circle, doesn't have to do anything but exist in order to seriously distract Anthony Cirelli, defending in the high slot—look how many times Cirelli looks back over his shoulder. Evgeny Kuznetsov, down low, darts in front of net, not only getting Anton Stralman and Ryan McDonagh to lean the wrong way for split second, but screening Andrei Vasilevskiy. Even Backstrom is looking off Alex Killorn. "It's all about, try to look somewhere else," Backstrom said, "and pass it the other way."
So, when Cirelli was hanging back, and Stralman and McDonagh were slightly off-balance, and Killorn lifted his stick, then—and not a split second before, or after—did Backstrom make the pass.
Again, look how tight the space is that 10 guys occupy. Even thoughts take up space (Ovechkin stalking on the weak side). The precision is incredible, the misdirection critical, and the hesitation lethal. It's not a great story, but Petchesky does a great job dissecting a play and showing us just how good these guys are. Love it! – PAL
Source: "I'm In Awe Of This Nicklas Backstrom Pass", Barry Petchesky, Deadspin (5/22/18)
---
Video(s) of the Week: 
---
PAL Song of The Week: Richard Thompson – "1952 Vincent Black Lightning"
---
Like what you've read? Let us know by following this blog (on the right side, up near the top), or:
Email: 123sportslist@gmail.com