You get to go nuts when your grandson get a big hit.
---
Why Baseball Players Try to Hit Over the Shift
In the last few years, defensive shifts have become very popular in baseball. Hitters tend to hit to their pull-side, and so defenses are shifting a middle infielder to that side to make it harder to get a ground ball through. It sometimes looks like this: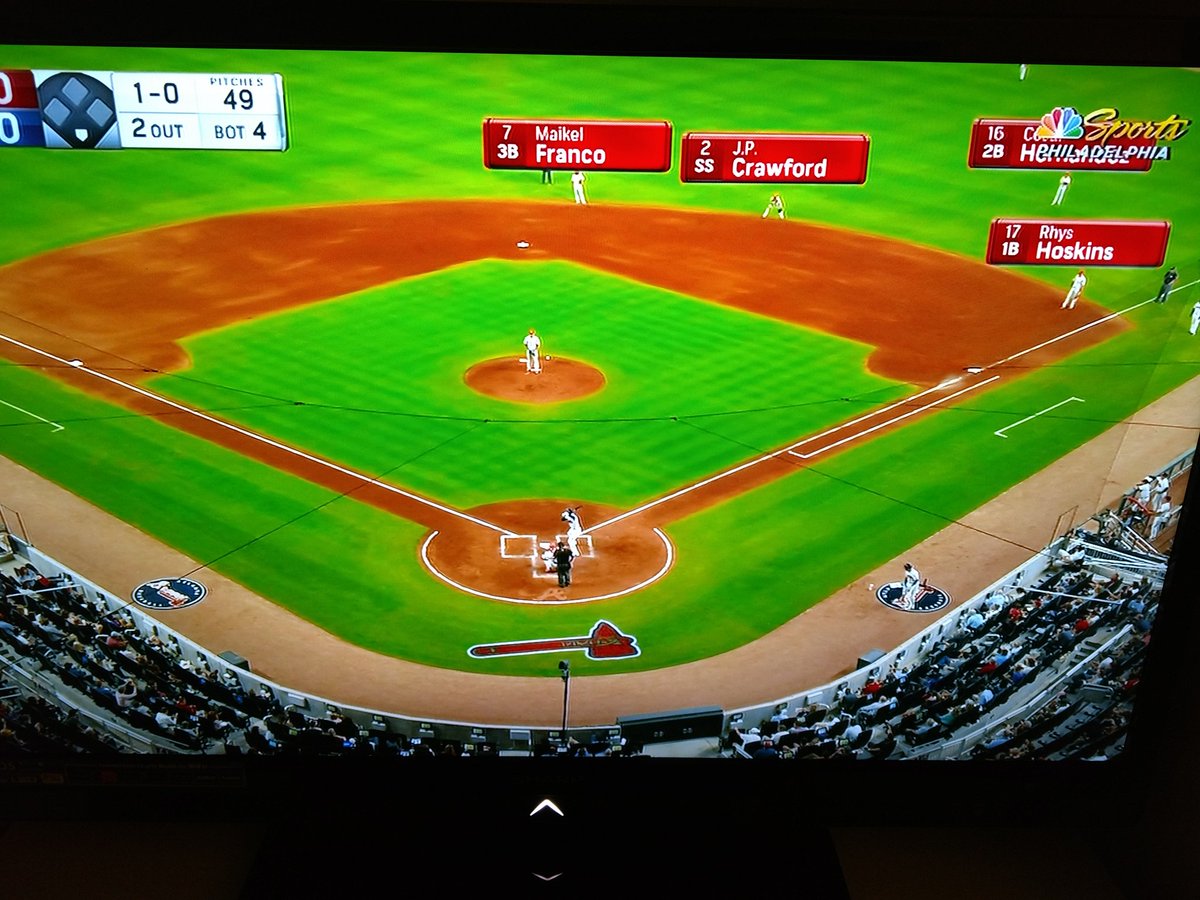 This is a fairly extreme shift. Usually the third baseman stays closer to his spot to prevent a double down the line. But even that normal set up leaves a gaping hole at shortstop. Fans clamor for the hitter to just lay down a bunt or slap a ball to the vacated shortstop position, and then get very frustrated when players hit right into the shift and fail.
So why do players hit into the shift? Why don't they slap a single the other way every single time? If you check twitter during a game, fans think the hitters are stupid or stubborn or unable. Perhaps there's some of truth in all of that. But three hitters who face shifts constantly – Daniel Murphy, Kyle Seager, and Matt Carpenter – provide a good explanation.
Here's Murphy on why slapping a single the other way isn't all that helpful to his team:
"It's really difficult to get three hits in one inning. If you hit three singles, it's one run. If you get a walk and a double, you might get one run. If you get a double and a single, you might get one run. So my goal is to touch second base every single time I step to home plate….I haven't really stolen bases for five or six years. If I drop a bunt down, what am I gonna do? I'm stuck at first base, so what I've done is ask our ballclub to get two more singles, or I've asked someone else to hit a double."
Seager says almost the same thing:
"It goes back to the question of 'How can I help the team the most?' Am I going to help the team the most over the course of the season hitting weak ground balls to shortstop [for a single]? I'm not a guy who steals a bunch of bases, so you're relying on a few hits to score me. If I try to drive the ball and I hit a double, it only takes one hit to score me."
Carpenter agrees, noting that slapping the ball the other way takes the power out of a team's best hitters, and adds that it's not as easy to just slap the ball the other way like fans seem to think:
"Think about which hitters teams shift against. They shift on guys who drive the ball. By trying to hit a ground ball to short — which is the one spot on the infield where you would be able to beat the shift — that's exactly what they want you to do.
"There's this whole narrative of 'Why don't guys just hit ground balls to short?' The answer is: (a) It's not that easy and (b) it's the complete thing you've taught yourself your entire baseball career to avoid. If a guy has a chance to hit a homer and a double, and he goes up there trying to slap a ground ball to short, the other team is perfectly fine with that."
Carpenter adds that the fan argument that slapping the ball the other way will keep defenses from shifting next time is simply not true:
"As defenders, when a guy comes up and hits a ground ball to short [to beat the shift], we still go to the same place the next time. It doesn't change anything."
Frankly, they've convinced me. Brandon Belt is one of the best first baseman, both with the glove and the bat, in baseball. Giants fans get on him for not slapping the ball to short to beat the shift. But he's also the Giants' best power hitter, leading the team in home runs, RBI, batting average, and more tellingly OPS, Slugging, Isolated Power and OPS+, all by a large margin. If he's slapping the ball the other way, he becomes Buster Posey (sorry, Buster) or Joe Mauer (not sorry, Joe). So, keep trying to hit dingers, Brandon. Dingers are good. -TOB
Source: "MLB Hitters Explain Why They Can't Just Beat the Shift", Jerry Crasnick, ESPN (07/10/2018)
PAL: Seager and Murphy mention that a single doesn't do that much for their team. Murphy says he's always trying to get to second. Seager says you still need multiple hits to score him from first. It all makes sense, but it makes be wonder if they are undervaluing the power of not making an out?
All of the guys mention how hard it is to aim a batted ball. We assume they can place a hit wherever they want, but all three dudes remind us that hitting a big league pitcher is hard enough without aiming it. Carpenter sums it up like this:
Just think about this: When there's a runner on third base and less than two outs and the infield is playing back, every hitter in baseball knows that all you have to do is hit a ground ball anywhere, and you score the run. And that success rate is still super small. That play is easy, and it gets screwed up all the time. Guys can't hit a ground ball when all they have to do is hit a ground ball to score a run.
He's not lying. Check out this from Fangraphs on scoring runners from third with less than two outs:
Great read!
---
We Are All Animals
I don't know about you, but in this era of robots, self-driving cars, and pet-cloning i am reassured when a story reminds us that we're all just animals trying to survive. That basic instinct hasn't left us, and one need not look further than the World Cup for proof.
Why do players from all corners of the globe have the exact same reaction when they fail? Why are these reactions essentially the same between sighted and congenitally blind athletes? According to Psychologists Jessica Tracy's work, the "display behaviors of pride and shame are innate and universal."
That is such a profound concept, isn't it? I mean, I may have had a shitty week at work and I may be a little off right now, but I find this assertion about the universality of pride and shame oddly comforting.
Another anthropological explanation that makes sense to me comes by way of Berkeley professor Dacher Keitner (so you know TOB's on board). "When people get startled unexpectedly, their hand will sort of move up to their head almost in a protective motion. The oldest kind of behavioral intention in that class of behaviors is to protect your head from blows."
So England's Harry Kane misses point blank in the semifinal. He feels shame, and – let's be honest – in that moment at least a tiny portion of him fears for his safety after failing to convert on such a prime opportunity. Think of the hooligans! His hands go to his head. It all makes sense. In that moment of failure I understand Harry Kane. We're just living life and trying to protect our heads. – PAL
Source: "Why Does Every Soccer Player Do This?", David Gendelman, The New York Times (7/10/18)
TOB: It's really quite fascinating. And it's not just players. You even see it in fans:
---
Amateur Baseball Is Crazy And I Love It
I'm putting the story link right here so you go read it.
As my Minnesota people know, amatuer baseball is a big deal up there. They get a little nutty about it, and this Patrick Reusse tale captures the quaint craziness of the town ball legacy. Any good town ball story has a good amount of ancestry, takes place in a small town, and features plainspoken but boiling feuds over a game.
This story takes place in Milroy, MN (pop. 243). It's about the Yankees and the Irish. After every Dolan in town (and there were a lot of them) played for the Yankees since World Ward II, there was a bit of a dustup after a bad season. Joe Dolan lost in on his (adult) players and was out as manager of the Yankees. What did he do? Well, he started a second amateur team in Milroy – The Irish.
Bob spent five years formulating the plan to start a team. He chose the name "Irish," suggesting it was the pre-Yankees nickname used for Milroy baseball. More likely, it was never an official nickname, but rather a reference to a team with all those Dolans.
Either way, Bob's new team started by playing a limited number of home games at Southwest Minnesota State's field in Marshall in 2009. A year later, neighbors Jim and Kathy Zwaschka gave Bob the bargain price of $1,000 per acre for 6 acres on a gravel road near Hwy. 19.
This is their story. Read it! Reusse is a bit of a legend in MN, and these small town stories are his sweet spot. – PAL
Source: "Family spat leads to two town ball teams in little Milroy, Minn.", Patrick Reusse, Star Tribune (7/9/18)
TOB: Look, this was a good read, but I got SO angry at the end when it was revealed the two teams have never played each other. COME ON. That's crazy.
But, town baseball sounds cool as hell. It reminds me a little of my first road trip as a freshman football player. We drove 250 miles or so to the small town of Winnemucca, NV, population maybe 5,000. It was a Thursday night game, and the JV and Varsity did not play until Friday night. At most freshman games, the parents showed up. Maybe a friend or two, or people waiting for the next games to start. But in the small town of Winnemucca? Damn near the entire town showed up for a Thursday night freshman football game. I love living in the city, but if I lived in a small town, I hope it'd be one that has town ball.
Also, I loved this part:
[Pat] became chiefly responsible for maintaining the legacy of the Dolan double-play combination, playing 22 seasons (1969-90) for the Milroy Yankees, primarily at shortstop. "There was a good reason I stayed at shortstop to the end," Pat said. "I also was the manager and wrote the lineup."
Reminds me of someone…
---
LA Sequel: Wilt and LeBron
Did you hear that Lebron James is now a Laker? I wasn't particularly interested in this news at first. For one, I was at the cabin last week, but I'm also burnt out on basketball. Then I stumbled upon this Ringer piece, and – goddamn I enjoyed it.
The premise is pretty simple: this is far from the first time a big-time star joined the Lakers, but LeBron is far more than a star; rather, he's a once in a lifetime player. He's in the most rarefied of air of all in that he's the player of a generation (or two). The Lakers have experience with this. They signed Shaquille O'Neal, but even more incredibly, the Lakers were able to acquire Wilt Chamberlain in his prime before the free agency era. Back then players remained under team control, even after a contract had expired, because of the "Reserve Clause".
The Ringer's Haley O'Shaughnessy kicks so much ass in writing this story, but I think she does an especially great job reminding us folks under 50 how big of a deal Wilt was and the parallels between him and LeBron (emphasis mine):
Some players are anticipated entering the league; Wilt was predetermined for superstardom. (Sound like any white-suited-up 2003 draft pick you know?) In the book 24 Seconds to Shoot, Leonard Koppett wrote that the league prepared for his rookie season by lengthening the schedule by three games (making it 75), while NBC expanded its coverage into the weekends. This was a 7-foot-1, 23-year-old Harlem Globetrotter out of the University of Kansas playing for his hometown Philadelphia Warriors, with higher expectations and a higher salary. (At a reported $65,000 figure, Wilt was making more as a rook than any player at that time, including established stars like Baylor, Bob Cousy, Bill Russell, and Bob Pettit.)
Before the Lakers, Chamberlain played for the 76ers. The half owner, Ike Richman, was extremely close with Chamberlain. When Chamberlain threatened to retire, Richman promised his star center ¼ ownership of the team upon his eventual retirement. Clearly against league rules, this was a verbal agreement that became messy when Richman died of a heart attack shortly thereafter
The following season, Wilt and Philly finally passed Russell and Boston clear out of the East. And after Philly beat the San Francisco Warriors, he finally brought a championship to his hometown. But there was other losing to account for; Kosloff said he had no knowledge of Richman's promise for 25 percent ownership and wasn't going to honor it.
Surprise surprise, this wasn't going to work for Chamberlain, so he and the other owner struck a new deal. The owner would tear up the last 3 years of the contract in exchange for a one-year deal with Wilt (preventing him from sitting out). The single year deal also had no reserve clause.
You can see how this plays out, but I implore you to read the story. So fun. – PAL
Source: "Wilt Chamberlain's Trade to Los Angeles, 50 Years Later", Haley O'Shaughnessy, The Ringer (7/9/18)
---
Video of the Week: 
---
PAL Song of the Week: Cahalen Morrison & Eli West – "Livin' In America"
---
Tweet of the Week: 
---
Like what you've read? Let us know by following this blog (on the right side, up near the top), or:
Email: 123sportslist@gmail.com