Chubby Bryce Harper is hilarious. Not pictured: Mike Trout receiving the tournament MVP trophy. 
---
Loyal Readers,
Thank you for your support in 2018. We had our best year by a long shot. Thanks you for continuing to recommend 1-2-3 SPORTS! to friends, family, and even co-workers with whom you are desperately trying to form some semblance of regular office sports banter.
We are trying something a little different this year for our year-in-review. Instead of packing our 5-10 favorite stories from the year into one post, we are going to feature a few each day for the next week for some mini posts. We'll mix in some of our favorite pics/videos/giphs as bookends, and PAL will share some of his favorite music finds as well. We'll wrap of the best of with a Funniest of 2018 post. If you haven't clicked through to read the stories we write about throughout the year, then these are the best of the best. Read them!
We kick things off with profiles on a world class Sherpa and his journey to working at an outdoors store in Manhattan, a victim of human trafficking becoming a DI track stalwart, the origin story of Ichiro Suzuki and how he can't shake it, and a writer dissecting her 'regular' dad's friendship with Charles Barkley. The stories are incredible, and so is the writing.
---
How One of the World's Best Sherpas Ended Up Working Retail in Manhattan
This is an interesting look into the life of Serap Jangbu Sherpa, one of the world's best sherpas, who scaled 11 of the 14 highest peaks in the world, including the most dangerous, K2, twice in one year. Serap retired a few years back, and now works unassumingly in a sporting goods store in Manhattan. The story looks at his young life, how he became a "Sherpa" (which is actually the name of the ethnic group), how and why he ended up working retail in Manhattan, still only aged 49, and tells of some of his most harrowing treks. For a taste, here's one such story:
Just before midnight on May 11, with four other Sherpas and two Koreans, they started up the North Col from the third camp and arrived at the summit at 11 a.m. They remained on the summit for 90 minutes, then Park and Serap started into Nepal. They climbed down in alpine style, connected to each other only by a thin lightweight rope, seven millimeters thick and 50 meters long.

Serap led, even though he'd never come this way before; he'd only ever reached the summit from the north face. They were climbing blind at 29,000 feet. Coming down the Hillary Step at 12:30 p.m., one of Park's crampons caught an old rope, and he slid to the edge of the exposed rock face. His headlamp flew off, dropping 8,000 feet to Camp Two.

Serap slammed down his ice axe and tied their rope to the handle. If Park fell, Serap would be pulled off with him.

Serap held the rope tightly; anything more than walking at that altitude felt impossible. After half an hour of wriggling to push himself up, an exhausted Park managed to grab onto a rock for support and with his other hand free his crampon.
A good read! -TOB
Source: "The Sherpa of New York", Ryan Goldberg, Deadspin (07/25/2018)
PAL (Jan, 2019): I hadn't read this story until we were reviewing the best of 2018, and I am very glad I did. For one, Ryan Goldberg writes the hell out it. We read a lot of incredible stories about athletes that are not household names, but Goldberg expertly balances Serap Jangbu's personal journey as both exceptional and representative of thousands of Sherpas who find themselves far from the himalayas in, of all places, New York.
Thousands of Sherpas have come to New York, their largest community outside of Nepal, trading the mountains for an uncertain struggle in a distant metropolis. They settled 7,500 miles away in Elmhurst and Jackson Heights, the most ethnically and culturally diverse neighborhoods in New York, and maybe the world, with 167 different languages spoken in a 1.64 square-mile area. In 2010, about 5,000 Nepalese lived in Queens, according to the census, a number that local leaders said was a significant undercount, and which they now believe has gone up by 60 percent. Despite only comprising one half of one percent of Nepal's population, the Sherpa people are the most populous Nepalese ethnic group in New York, numbering roughly 3,000.
There is a historical symmetry to this story that is powerful as well. After becoming the first person to summit Everest, Edmund Hillary opened several schools in Nepal as a thank you the Sherpa people who had been so generous to him. Hillary's lasting impact on the culture was the importance of education above all, and that is what brought Serap to New York – a chance at a better life and education for his children. Instead of risking his life to chase his own mountaineering dream, he put his family first and came to America where he, one of the best mountaineers ever, works at an which sells apparel that literally has him in their catalogue.
Inspiring, fascinating, and beautifully written.
---
Sad Story, Happy Ending
I've never read a sports story quite like this one.
Deshae Wise is a freshman sprinter on Cal's track team. She came to Berkeley from a small town in Oregon, where she was a Gatorade Athlete of the Year. Her name is climbing up the record books already, with the eighth and fourth fastest 60-meter hurdle times in Cal history. She carries a 4.0 G.P.A., volunteered for Habitat for Humanity, and she's joined the black business association on campus, too. And before all of this success, she and her mom were victims of human trafficking. This wasn't in some far off place halfway around. This happened right here in the U.S.A.
The initial moment Rebecca Bender, Deshae's mother, realized what was happening is heartbreaking and terrifying. She had met Khaled (not the guy's real name) in Eugene when she was around 19 or 20 and her daughter was still very young*. Six months after meeting him, Bender decided to move with him to Las Vegas to start their life as a family.
But the dream ended before it even began, according to Rebecca, whose recollection of the next several years is backed by FBI statements and court records, public documents and interviews. Less than 24 hours after arriving in Vegas, she says, things quickly turned. Khaled told Rebecca he wanted to take her out on the town. "Get dressed up," she remembers him saying.
Deshae stayed with Khaled's brother, but instead of heading to the strip, Khaled drove him and Rebecca to a dead-end street anchored by a deserted strip mall. Rebecca remembers just darkness and the hum of the car. Khaled, she says, turned to her and explained with a seriousness on his face: He needed money for the apartment, for Deshae's food. . . . And Rebecca had to pay him. Now.
Khaled, she says, pointed to a door with a security camera above it and told her to enter. Inside she found a smoke-filled room with three desks pushed next to one another, a woman seated behind each. Behind them, written out cleanly on a dry-erase board, were the words brunette, blonde, asian, redhead. . . . It was all too clear, too real. She was at an escort service, and Khaled expected her to sign herself up. No way. She was shocked, confused, and terrified.
Back in the car, Khaled slapped her across the face. Rebecca was suddenly terrified. She was in a new city. . . she didn't know her address yet. . . and she didn't know where her daughter was. The rest unfolded in a blur of fear and confusion. At some point there was a phone call from a "local" in the Green Valley area, 15 minutes away. Khaled drove to a townhouse, dropped Rebecca off and parked nearby.
Khaled is what they call a "Romeo" – a trafficker that uses romance to lure his victims (as opposed to a "gorilla", who uses brute force) – but he quickly turned violent towards Bender. He also would scare her by making threats on her daughter. Bender was mortified and trapped. Then she was "traded" to another trafficker. Kevin gave them nicer things, but he beat Bender and was paranoid the house would get raided. Deshae was getting older – she was in grade school by now – and she could say things to teachers, coaches, or other parents.
Writer Jeremy Fuchs does a really good job juxtaposing their nightmare with mother and daughter existing in the most common, ordinary backdrops. Soccer games, volleyball games, and school plays. They existed in our world, and no one knew the truth. They were very much captives.
Why didn't Bender just take Deshae and leave, you might be asking. She did try. Four times, in fact.
By the time Deshae was eight, Rebecca had tried to flee with her daughter four times. Once, they made it back to Rebecca's mom's house in Grants Pass, but Kevin tracked them down in Oregon and brought them back to Vegas. Another time, feds surrounded one of Kevin's houses in Vegas in the middle of the night as part of a tax-evasion investigation, and Rebecca took Deshae out the back door and climbed over a fence into a neighbor's yard.
If that seems like the perfect opportunity to escape, Rebecca didn't see it that way; she didn't see any choice but to stay with Kevin—a common sentiment among victims of trafficking. "There's the realistic stuff, like: How would I get a job? Or what is society going to think of me?" says Elizabeth Hopper, a clinical psychologist and the director of Project REACH, which helps trafficking victims. "Traffickers control the living space, the money, where to go. . . . And then: Is he going to come after me?"
In the end, obviously, Bender and Deshae do escape (it may surprise you as to how they get away), and we know the story has an incredible ending in Deshae signing an athletic scholarship at world-renowned academic institution. Perhaps most incredible of all is that Deshae was never abused. "The probability that I wasn't sexually or emotionally abused is so slim," she said. "In any other situation it would have happened to me—but it didn't."
This heavy, dense story, but absolutely worth your time. – PAL
*Fuchs never gives an exact age on Deshae when they move to Vegas with Khaled. She's a freshman now in 2018, and her mother moved back to Eugene around 2000 after getting pregnant with Deshae in Maryland. The story says later that Bender was traded after two years under Khaled in 2004..so she must of met Khaled in 2001 or 2002, which would've made Wise around 2 at the time of the move to Vegas.
Source: "Life After Escaping the World of Human Trafficking", Jeremy Fuchs, Sports Illustrated (05/10/2018)
TOB: God damn, an incredible story. Deshae's mother, Rebecca Bender, has started the Rebecca Bender Initiative, with the goal of equipping first responders with the tools to identify victims of exploitation and assisting victims to escape their traffickers and then assisting them re-adjust to society. In this video, Rebecca tells her story:
PAL (Jan., 2019): This story has stuck with me, and it's those two pictures of Deshea, and most specifically her eyes in those two picture: as a sprinter coming across the finish line with a look of pride and contentment, and as a child looking up from her desk. Those images will stay with me forever. So will this story.
---
Another Side of Charles Barkley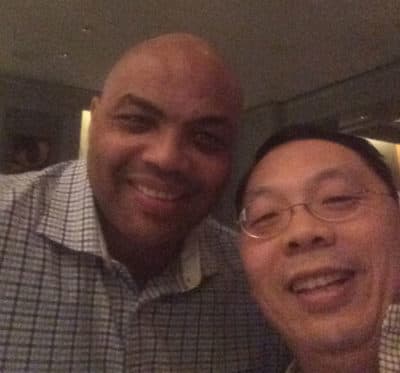 1-2-3 reader Alex Denny sent us this utterly fantastic story. If you read a good story, please send it our way at 123sportslist@gmail.com or on Twitter – @123sportsdigest.
Shirley Wang described her dad with the following:
He wore striped, red polo shirts tucked into khaki shorts and got really excited about two-for-one deals. He was a commuter. He worked as a cat litter scientist in Muscatine, Iowa. In short, he was everyone's suburban dad.
Lin Wang and Charles Barkley met in a hotel bar, and a friendship grew from there. On the surface, the most impressive detail about this story is that Charles Barkley became friends with a fan he met in a bar in Sacramento, who earned a living as a cat litter scientist, but that's just on the surface. In Shirley Wang's telling of this story – her favorite dinner party story (obviously) – she plays two roles: she serves as a stand-in for the reader with a healthy dose of skepticism about the true nature of the friendship, and she is the daughter who learns how proud her dad was of her from, or all people, Charles Barkley.  
When Barkley's mom died in 2015, Lin Wang flew to Leeds, Alabama and just showed up. This past June, Barkley returned the favor and showed up at Lin's funeral in the outskirts of Iowa City.
Wang's story is a fresh example of true friendship. Lin Wang and Barkley connected over similar upbringings, they were immensely proud of their children, and they both liked to have a good time. As Shirley Wang puts it:
It was not just a relationship with a celebrity — it shed light on the possibilities of this world. A world where someone like him could just say something cool, something charming, and befriend someone like Charles Barkley.
This is a late entry into one of my favorite stories from 2018, and it was featured on the 12/14/18 episode of the Only A Game podcast. More than worth your time. – PAL
Source: "Dad's Friendship With Charles Barkley", Shirley Wang, WBUR (12/14/18)
TOB (Jan. 2019): I did not get around to reading this story until we put together this Best of post. I had heard about it on TV and read headlines on Twitter. I figured that was enough. But I'm glad I finally read it, because it's a really heartwarming read. Shirley Wang tells a great story, especially about how she more or less rolled her eyes about her dad's claim of being friends with Charles Barkley, until she realized it really was true. And while I don't get the sense Wang is a writer, she does a fantastic job humanizing a celebrity, in this case Barkley, in a way that few writers seem able to do. Great story, and it doesn't take long to read. Give it a click!
---
Prisoner of Perfection
It doesn't feel like an overstatement to say Ichiro Suzuki is the Michael Jordan of Japan. He rents out stadiums to train. There are signs at every table of his favorite restaurant demanding no photographs. The Japanese press has covered his every move for his 26 seasons of professional baseball. At 44, Ichiro is prepping his last tour of MLB. While he looks to extend his career (Ichiro has previously said he wants to play until he's 50), his time is about done, so Wright Thompson attempts to look back at the obsessive rituals that have both made Ichiro a Hall of Fame player as well as perhaps a trapped individual.
The story is long, and completely worth your time. Thompson knows how to paint a picture, and there are so many fascinating nuggets throughout, including:
Japanese culture in general — and Ichiro in particular — remains influenced by remnants of bushido, the code of honor and ethics governing the samurai warrior class. Suffering reveals the way to greatness. When the nation opened up to the Western world in 1868, the language didn't even have a word to call games played for fun. Baseball got filtered through the prism of martial arts, and it remains a crucible rather than an escape. (end)
He could choose the best players in Japan to help him but he doesn't. He doesn't need to get better at swinging a bat. What he needs, and what he seems to find in this rented stadium, is the comfort of the familiar, a place where he knows who he is supposed to be. (end)
These stories are funny individually, but they feel different when taken as a whole. Like nearly all obsessive people, Ichiro finds some sort of safety in his patterns. He goes up to the plate with a goal in mind, and if he accomplishes that goal, then he is at peace for a few innings. Since his minor league days in Japan, he has devised an achievable, specific goal every day, to get a boost of validation upon completion. That's probably why he hates vacations. In the most public of occupations, he is clearly engaged in a private act of self-preservation. He's winnowed his life to only the cocoon baseball provides. His days allow for little beyond his routine, like leaving his hotel room at 11:45, or walking through the lobby a minute later, or going to the stadium day after day in the offseason — perhaps his final offseason. Here in the freezing cold, with a 27-degree wind chill, the hooks ping off the flagpoles. The bat in his hand is 33.46 inches long. He steps into the cage and sees 78 pitches. He swings 75 times.
Up close, he looks a lot like a prisoner. (end)
His relationship with his father has defined him, for better or for worse. Ichiro has been in pursuit of baseball perfection since he was three. He'd had a baseball routine for 40+ years, and anyone who knows him wonders if he'll be able to stop.
And while Ichiro and his father are not currently on speaking terms, Ichiro is still in some ways under his father's thumb, or, as Thompson more eloquently puts it, "Ichiro now does to himself all the things he resents his father for having made him do."
While there are some questions left open in this story, of which I'm sure TOB will address, this is one hell of a read. – PAL
Source:  'When Winter Never Ends", Wright Thompson, ESPN (03/07/2018)
TOB: Maaaaaan, do I love Ichiro. This story was sad, though; it's not only a portrait of an aging ballplayer, seeing the end of the road, with no plan for life after baseball (Ichiro has previously said, "I think I'll just die," when asked what he'll do after his career), a story we've seen before. It's also, as Phil said, a portrait of a man who made it to the very top of his sport, after a lifetime of obsession with doing so, by sticking to the same routine, day after day after day. Ichiro did so to the point I have to wonder, as a person absolutely unqualified to say this, not just whether Ichiro has OCD, but how severe and debilitating his OCD might be. And it's also the story of a father and son, and how the father more or less robbed the son of his childhood by forcing him into these routines, day after day, not letting him play with friends or be a normal kid, only to have it create one of the greatest baseball players ever. And it's about how, despite that success, the son resents the father for it all, even while continuing those same routines to this very day.
And as sad as that all is, there are some fantastic Ichiro nuggets in here, as always. For example, Ichiro's former teammate, Mike Sweeney, tells a second-hand story about an unnamed professional baseball player strolling through Central Park one day with his wife. The player saw a man in the distance, throwing a baseball 300-feet, and hitting balls against the backstop with the "powerful shotgun blast of real contact familiar to any serious player." Curious, the player got closer, only to discover Ichiro, on an off-day, getting in his reps.
Or this one:
The Yankees clubhouse manager tells a story about Ichiro's arrival to the team in 2012. Ichiro came to him with a serious matter to discuss: Someone had been in his locker. The clubhouse guy was worried something had gone missing, like jewelry or a watch, and he rushed to check.

Ichiro pointed at his bat.

Then he pointed at a spot maybe 8 inches away.

His bat had moved.

The clubhouse manager sighed in relief and told Ichiro that he'd accidentally bumped the bat while putting a clean uniform or spikes or something back into Ichiro's locker, which is one of the main roles of clubhouse attendants.

"That can't happen," Ichiro said, smiling but serious.

From that day forward, the Yankees staff didn't replace anything in his locker like they did for every other player on the team. They waited until he arrived and handed him whatever he needed for the day.
I will be sad when Ichiro retires, and I was very happy to hear the news that he had signed with the Mariners this week. I died laughing at this tweet, which shows Ichiro arriving in Seattle for the first time back in 2001, and again this week in 2018.
It shows not only the vagaries of fashion over the last nearly 20 years, but it also shows a young man, grown into an old man, and all that entails. I hope, whenever he retires, Ichiro doesn't "just die" as he suggested. But for now, as Wright Thompson says, Ichiro is like the rest of us: "out there, hungry for a chance to keep his routines in motion."
---
Best Media: TOB with the correct take.
---
Best of PAL Song of the Week 2019: 
---
Like what you've read? Let us know by following this blog (on the right side, up near the top), or:
Email: 123sportslist@gmail.com