---
There's No Crying in Basketball. Strike That. Reverse It.
I am writing this the night before Game 3 of the Rockets/Warriors second round series. By the time we post this next Friday, the series might be over, in 4 or 5 games. Or the teams could be preparing for a pivotal Game 6, with one of them looking for the closeout. But as things stand today, the Warriors look like the superior team. (Editor's Note: About that. We'll get to what really happened over the next three games, too.)
Here's a recap of the series so far: The Warriors won a tense Game 1, and the Rockets whined and whined about the officiating afterwards. The next day, they leaked an unsolicited report they created after they lost last year's Western Conference Finals to the Warriors, where they assigned themselves 18.6 points they claim were lost when the referees missed calls. On that basis, they claimed the Finals were stolen from Houston (ignoring the fact that even if they had won Game 7, they still had to play Cleveland). They were roundly mocked for this, justifiably so, and then lost Game 2.
As Brian Phillips says, the leak of the report is sad and embarrassing. When I first read about it I literally LOL'd, and then wondered how the once revered Daryl Morey, the Rockets GM, had done this to himself. As Phillips writes:
After losing to Golden State in three of the past four postseasons, Houston has become so immortally psyched out by Steph Curry and Co. that it would rather poindexter its way into PR humiliation than face the Warriors without a scapegoat. The Rockets apparently thought that penning detailed descriptions of 81 blown calls would create a groundswell of sympathy for their cause and that this groundswell would pressure the league into letting James Harden spend even more time at the free throw line than the 1,000 minutes per game he already spends there. Instead, the internet roasted them for a few days, the NBA shrugged, and the hubbub seemed to fray the team's already fragile nerves.
The report itself is stupid. As Phillips notes, you can't take a bad call in a game and say, "That cost us two points, so add two points to our total." That's not how basketball works. That's not how life works. Every action on the court changes the rest of the game. Phillips illustrates:
Say a player travels before a made 3-pointer and the official doesn't call it. To take three points off the board after the game wouldn't give you a more accurate result, because if traveling had been called, the rest of the game you saw would never have happened. The next play would have been different. The play after that would have been different. Basketball exists in a state of contingency and flux. You can't say "a career 66 percent free throw shooter drew an uncalled foul on a 3-pointer, therefore his team should get two points," because sometimes a career 66 percent free throw shooter makes all three, or misses three in a row, or grabs his own rebound and makes the putback but sprains his ankle on the way down. One thing affects another thing, and statistical tendencies over a very short period of time (a half or a quarter) can't tell you all that much. For instance, sometimes an excellent shooting team misses 27 3s in a row.
Man, that burn in the end is so good. But as Phillips points out – the Rockets' crybaby act has, to this point, ruined what should be a great series. We were so excited about this series last year that we wrote up game-by-game reactions. This year? After two games, I didn't have anything I wanted to say except to laugh at the Rockets. The series feels, to quote Phillips, "weirdly high-strung and legalistic." Let's hope it gets better. -TOB
Source: "Only the Rockets Can Save Themselves From Annihilation", Brian Phillips, The Ringer (05/03/2019)
---
The Night the Warriors Saved Their Dynasty
Well, for one night at least. Since I wrote the above about the Rockets whining, pulled out Game 3 in overtime, and then won a back and forth Game 4 to even up the series. Game 5, back in Oakland, was going to be pivotal. The Warriors came out on fire, and built a 20-point lead in the second quarter. And then they did what they've been doing all year, and instead of stomping on the Rockets' throats, they let them back in the game. The Rockets cut the lead to 14 at halftime, and kept chipping away in the third quarter.
Late in the third, the Warriors led by just one. Curry was playing like dog crap, again, and I began to seriously wonder if he was just simply on the downside of his career, or if the theories about his deferring to Durant had killed his confidence were correct. I began analyzing his jumper – something seemed off. His release didn't look the game. He was not getting his legs into it. Was his off-hand getting in the way? He certainly didn't look confident, and he was missing wide open looks, badly. He was 4 for 14 from the field, 1 for 8 from three, and shooting just 26% from deep for the series.
And then, when things already looked bleak, disaster struck. Kevin Durant hit a jumper to push the lead to three, carrying the team as he had all series. But as he jogged back up court he whipped around, looked at his calf, and then limped off the court. TNT's crew speculated about a possible achilles tear, and the Warriors dynasty appeared to be up in smoke.
What's more, suddenly it seemed like Oracle Arena had just 14 minutes to live. If the Warriors lost the game, it seemed unthinkable they could win Game 6 in Houston, meaning this would be the very last Warriors game ever played at Oracle.
Without KD, and with Curry unable to shoot and Klay ice cold since the first, how were the Warriors going to hold off this Rockets team? Players like Kevon Looney was going to need to step up, sure. But the core of Curry, Klay, and Draymond would need to turn back the clock and save their season, their dynasty.
And so it was. Curry suddenly found his confidence and his shot, and hit 5 of his next 6 attempts for 14 points. And then it was Draymond, who after drawing a charge and then picking up a technical, went right down and hit a three to put the Warriors up 5. And then it was Klay, who hit a three to put the team up 8, and then got the layup to seal it after a nice job by Looney to keep the ball alive after Klay nearly threw it away. Others contributed, but the Warriors relied on their old Big 3, and it was fantastic. They hunted for good shots, moved the ball, and took care of it, too, with just one turnover after KD went down.
They recaptured the magic of the pre-KD era, and hung on to win. Oracle lives to see another day, at least. I think Steve Kerr said it best, paraphrasing Liverpool manager Jurgen Klopp, whose team overcame a 3-0 deficit to win 4-3 in the Champions League the day before:
For one night, they were indeed. But they'll need to be fucking giants once more to get by the Rockets. -TOB
PAL: The circumstances in which the Warriors go into Game 6 are damn near poetic. The symmetry in this situation to last year, when Houston's Chris Paul went down at the end of Game 5 (Durant is clearly much better than Paul, but you get it) and hard to ignore. If the Warriors are going to keep the dynasty going, it will in large part up the core players who started the damn thing – Steph, Klay, Draymond, Iggy.
Kevin Durant makes them a better team, but does the Durant injury give the reigning champs an edge that is almost impossible to manufacture now that they've been at the top for so long?  If Durant is indeed on his way out of Golden State, and if his teammates know it, wouldn't a win in Houston tonight be a nice reminder to KD that they won before he came to town?
Does it force the Warriors to try playing that beautiful style of ball movement and not rely on Durant, as has been the case this playoffs? Yep (Strauss does a great breakdown here).
Also, Kevon Looney's game 5 performance is why the playoffs – in any sport – rule. Ever heard of him? This is a role player that, because of injuries to Durant and Boogie Cousins, will no doubt play a pivotal role in extending the Warriors dynasty or ending it.
TOB: Agree with Phil on Ethan Strauss' great article on the Warriors going forward without KD. Here's a key passage:
I asked a few ex-2016 Warriors whether that pre-KD squad exists within the current one, and the answers were somewhere between, "sort of," and "not really." To quote Andrew Bogut, "It's a completely different bench and roster. Half the roster's different." Then he started listing: "Harrison, Mo, Festus, Barbosa, Brandon Rush."
To many viewers, including Kerr, Wednesday night's crunch time felt like a time machine ride. It looked like that on the floor, save for Kevon Looney's presence (more on that later). But to the players who were part of the first two Warriors Finals runs, it's a different experience. The 2015-16 role players might have seemed like guys who got cameos in a show that was all about Steph, Klay Thompson and Draymond Green, but that's not quite how players experienced the journey. Guys who might seem peripheral to the viewer are sometimes huge presences in the locker room, on the bus and on the plane. The principals remain, but some of the guys who gave those old squads their esprit de corps are gone.
And yet, the Warriors may have unlocked something on Wednesday, if only for the brief time they need it. They are obviously better with Durant, but, since signing him, have played a style that does not optimize Curry's talents. That was the trade-off, and it happened to result in two championships.
Now, we will see what happens when the attack optimizes Steph in the way it once did.
I have Phil as my witness. During their 2014 and 2015 seasons, I always said the key to their success was that the bench would turn a 12 point lead into a 20 point lead. When they signed Durant, I wondered if they would be too thin on the bench to win. They weren't – but you can't plan for an injury like this, at a time like this, to a player like this.
Btw, since KD joined the team 3 years ago, the Warriors are 22-1 when Steph plays and Durant does not. Hm.
---
The Ultimate Trail Run
Not a great story because of the writing, but the ambition is worth sharing. One continuous trail across the United States. The Rails-to-Trails Conservancy (great name) has been working on connecting a network of existing trails across the country. It seems simple enough at first, but then you think about the amount of research that goes into something at this scale, and the amount of organizations from a local level that have to contribute, and you can see why this is such a beast of a dream. While we are still many years away from being able to bike or run across the country on the trail, there's enough completed to see it on a map, which is pretty excellent.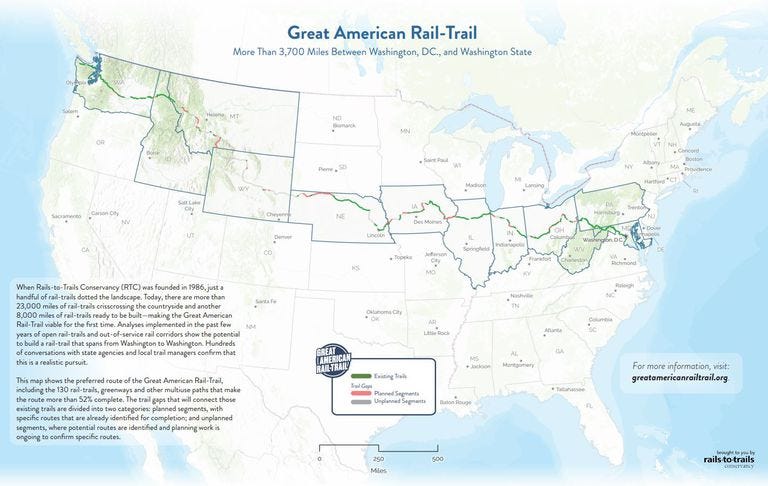 And I know it's corny, but I do think there's power in something as simple as a trail literally connecting a country, even in some small way. – PL
Source: The 4,000-Mile Trail System That Will One Day Connect Both Coasts Is Closer Than Ever Taylor Dutch, Runner's World, (05/08/2019)
TOB: Not corny, I think it's sweet.
---
Hockey Fan Has Great Idea
This had me laughing. Not uncommon for some fans to utilize the brighter of lights of the playoffs to make a statement. Both celebrities and wanna-be celebrities. This week, an 'influencer' made her presence known at a Blues-Stars NHL game:
Come on, lady. Really? Look at the meathead and the deep V sitting next to her, too. The best thing to come from it is this moment of pure genius in the following game:
I have nothing more. This was just excellent. – PL
Source: "St. Louis Blues fan has perfect response to Stars fan that went viral for her, well, you know", Christopher Powers, The Loop (05/8/2019)
---
Video of the Week
---
Tweet of the Week
---
PAL Song of the Week: John Prine – '(We're Not) The Jet Set' (Bobby Braddock)
---
Like what you've read? Let us know by following this blog (on the right side, up near the top), or:
Email: 123sportslist@gmail.com