Come on back to where you belong, Philly.
---
1-2-3-4-5-6-8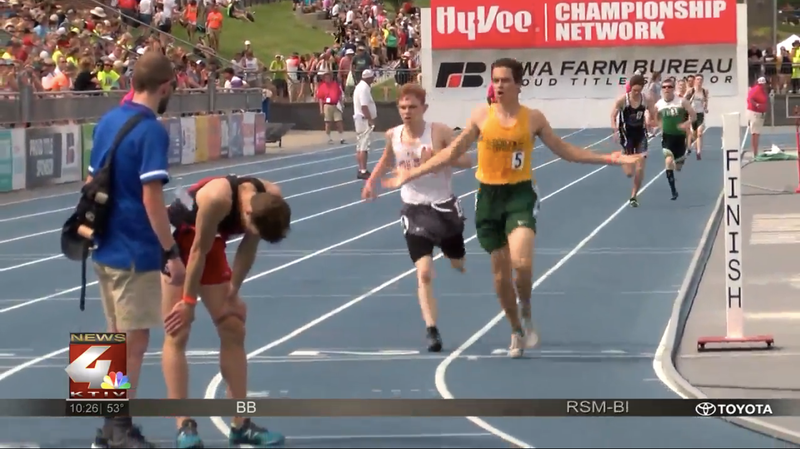 It is always a good sign when a story includes a video link to local news coverage. Let's just start right there. This one comes from Iowa's state high school track meet. The 3200 meter distance race is eight laps, with a bell rung after the seventh lap reminding the racers that they are on the final lap. One problem: the lady holding the bell lost count of the laps in the finals and rung the bell a lap too soon.
In a race that distance, competitors are holding back just enough to decide when to kick. Getting the wrong lap count threw everything in the trash compactor, with runners starting their kick too soon and stopping after the seventh lap. Joe Anderson was counting his laps, sniffed out what was happening, and kept running after the seventh lap.
The race officials were in a pickle. Did Will Roder, the leader after seven laps win the race, or did Anderson? Who do you think won? It's important, because twenty years from now both of these guys are going to be telling someone at the bar that they are a state champ, 3200 meters, and one of them, deep down in the dark part of their belly, will know they are still lying to themselves. – PAL
Source: "Horribly Botched High School Track Meet Awards, Strips, Then Awards Top Runner", Giri Nathan, Deadspin (5/22/19)
TOB: Let's pose a hypothetical. You, Phil, Runner of Marathons, are on the 21st mile of your latest marathon, approximately 80% done. You are constantly checking your time throughout the race, and you're on your expected pace, hoping to beat out your personal best. As you approach what you expect is the 22-mile mark, though, someone tells you it's the final mile. You think: The final mile? You check your watch. The final mile?? You're suddenly 20-minutes ahead of your pace. In that moment do you think, "This is correct," or do you think, "Someone messed up"? As you complete the 23rd mile, 87.5% of the way through a true marathon, there are people gathered. Do you stop running and celebrate? Or do you continue running? If you stop running, do you ask questions? And if you stopped, when everyone realizes that the course got screwed up because a turn was missed, do you from that point claim your time in this race as your personal best? If you do, you're Will Roder. There's no way that guy didn't know he was way ahead of his pace. He deserves nothing!
---
Smash the Draftiarchy!
The last decade has seen the four major American sports attempt to reel in the amount of money paid to draft picks by setting max or "slot" values for each draft. MLB takes it a step farther – once players do hit the majors, they are not allowed to hit the market for 7 years. In the first few years of after they make the bigs, they are paid the league minimum, or whatever their team wants to pay them. After that, players have a few years of arbitration, where the player and team argue for what the player's salary should be, and an arbitrator decides (if they don't come to an agreement).
Although there is zero reason minor leaguers should not be paid a living wage, compensation for MLB prospects is actually difficult. When an MLB team drafts a player, it's like buying a lotto ticket. Very few draftees become regular major leaguers, let alone stars. So MLB pays prospects very little, relatively speaking. It's one reason Kyler Murray chose football over baseball: he chose $30 million guaranteed over $4 million guaranteed and no chance to make bigger money for roughly 7 years. But that doesn't mean players have to accept this arrangement, and one MLB prospect just said, Nah to the whole process.
Carter Stewart was drafted 8th in the MLB draft last year by the Atlanta Braves. But the Braves offered him just a $2 million signing bonus (well under his slot value of $5 million). So he said, "No thanks," and went to JUCO for a year. Apparently his stock dropped a bit, and he was projected to be a second round pick with a signing bonus expected to be even less than $2 million.
So Carter again said no thanks, but he's apparently tired of waiting to get paid – so he signed with the Fukuoka SoftBank Hawks in Japan's Pacific League for a lot more money. Stewart will  be able to come to MLB when he's 25-years old, as a free agent. As Jeff Passan points out:
Stewart's decision makes easy sense financially. Say he stayed in the United States and signed for $2 million. Best case, Stewart would have started with a team's short-season Class A affiliate. In 2020, he would top out at Double-A and make less than $10,000 for the season. And if Stewart is that good, and moving that quickly, his team probably would keep him at scant wages in the minor leagues for all of 2021 too, and promote him around this time in 2022 to ensure it controls him for 6¾ years before free agency. In 2022, 2023 and 2024, Stewart would make the major league minimum — which, being generous and assuming the new collective bargaining agreement gives it a big bump, could be $750,000.
In a near-optimal scenario, Stewart would receive around $4 million for the next six years — and would not reach free agency until after the 2027 season, when he will be 28. His deal with the Hawks would guarantee Stewart $3 million more and potentially allow him to hit free agency three years earlier.
If he's good, he'll be ready to make big bucks. If he's not, well he made an extra $3 million and got to experience the world. Plus, he doesn't spend the next few years riding around the country on a bus. Win-win-win! -TOB
Source: "How a 19-Year-Old Prospect is Turning the MLB Draft Upside Down", Jeff Passan, ESPN (05/22/2019)
PAL: That's just a big kettle of hoppy common sense. The counter, I guess, would be he'd be out of sight and away from a MLB franchise infrastructure and preferred player development approach. As you mention, TOB, that really won't matter if he performs in Japan. Smart idea. I do wonder why more players in basketball and baseball don't go overseas instead of college. One would have to navigate the rules for each sport, but they can make a fair wage for their skills, and they can learn to be a bit more of an adult while living abroad in a professional setting.
---
Wait, What?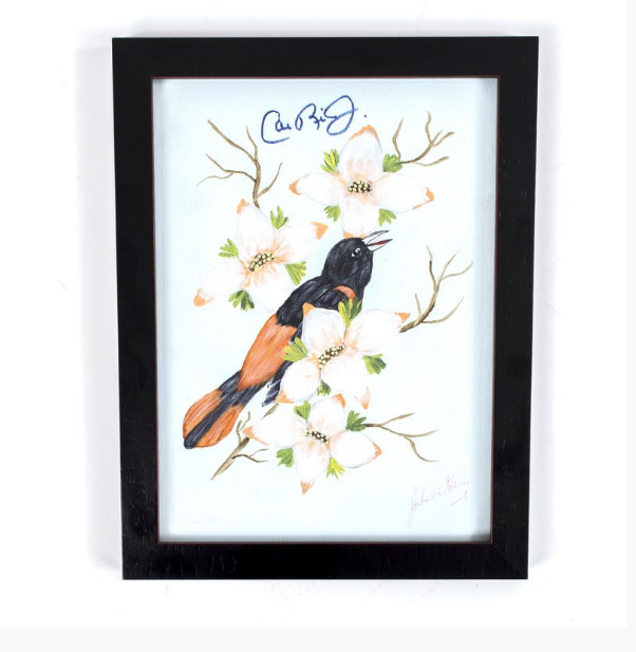 Here's a story about a John Wayne Gacy painting of an oriole autographed by Cal Ripken Jr.
You read that correctly.
Serial murderer John Wayne Gacy liked to paint when he wasn't sexually assaulting and murdering over thirty people in the 70s and 80s. The painting is being sold this week for a shade under $10K.
That factoid was obviously more than enough for me to read Dave McKenna's most recent story, but it only gets more strange and interesting from there. I started reading, then I scrolled and found I wasn't even halfway through the story, and I really didn't know what direction McKenna was going to take me: the odd niche of murder memorabilia, first lady memorabilia, art auctions, or whether or not Ripken actually signed a John Wayne Gacy painting of an Oriole. Spoiler: apparently Cal signs everything, so probably yes.
The sale of this is an odd talisman and reveals a market obsessed with serial murderers. Scroll the top podcasts or Netflix for any additional proof needed. Not only that, but it's a reminder of how these psychopaths became celebrities that, for a time, profited off their gruesome acts (before the "Son of Sam" laws were enacted).
And while this is the only Ripken item up for sale, it is not the only John Wayne Gacy art signed by baseball legends:
Legit or not, it turns out Ripken wouldn't be the only baseball all-timer to have his John Hancock on a John Gacy. A collector named Stephen Koschal is currently selling a 16"x 20" painting of baseball's Hall of Fame logo, from 1990, that he says he's gotten signed by 46 Cooperstown enshrinees, including Sandy Koufax, Willie Mays, Mickey Mantle, Ted Williams, and Joe DiMaggio. But not Ripken, oddly enough. (Oh, and noted baseball fan Richard Nixon also signed.) Koschal is asking $27,500 for that definitely one-of-a-kind piece.
Do with that info what you will, but good work by McKenna. I had no goddamn idea where this story was going, and I'm absolutely good with that when he's writing. – PAL
Source: "Did Cal Ripken Jr. Sign This Painting Of An Oriole By John Wayne Gacy?", Dave McKenna, Deadpan (05/23/19)
---
Video(s) of the Week:
Great work, Max:
Brutal:
---
Tweets of the Week
---
PAL Song of the Week: Perfume Genius – "Slip Away"
---
Like what you've read? Let us know by following this blog (on the right side, up near the top), or:
Email: 123sportslist@gmail.com