---
Thank You, Gabriele Grunewald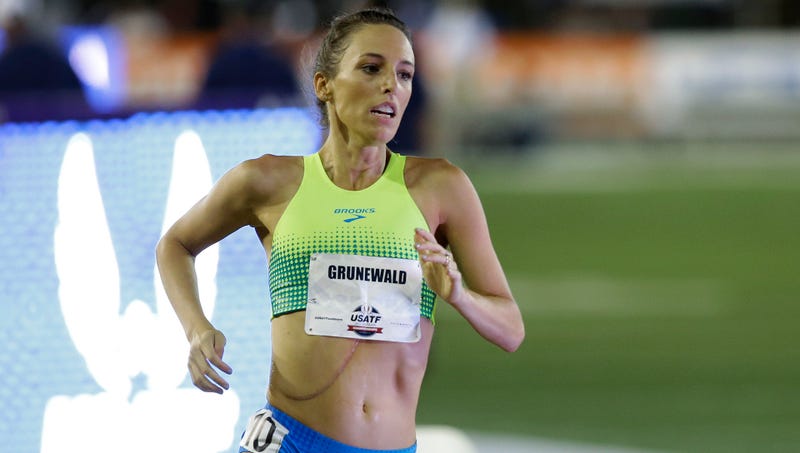 I had not heard of Gabriele Grunewald until news of her death at the age of 32 made it to the national websites, but that's not a good enough reason to keep this story to myself. To our Minnesota readers, let us know if Grunewald, a MN native and University of Minnesota graduate, has been a big topic recently.
For the rest of you, I just want to share with you her story so you can take the time to appreciate this incredible woman. Her drive, her dignity, and what looks like such a beautiful friendship and bond with her husband. You can read a more complete summary of her life here, but for those who don't click through:
Grunefield walked onto the track team at the University of Minnesota and turned herself into one of the nation's best at the 1500 meter distance. The day before a race during her senior year, she was diagnosed with adenoid cystic carcinoma, a cancer of the salivary glands. The next year, after surgery and radiation, Grunefield came back and kicked ass, finishing second in the nation in the 1500.
She signed a deal with Brooks and became a professional. Cancer came back in 2010. She kicked ass again. "It's like I lost all excuses for not pushing myself to reach my fullest potential," she said. In 2012, she fell one place short of qualifying for the Olympics, but put up a personal best time shortly thereafter. In 2014 she became an American Champion at the 3,000 meters. In 2016, she made it to the Olympic Trials final, despite the cancer coming back. Along the way, she and her husband, Justin, shared their story, inspired a hell of a lot of people, and raised a bunch of money.
"It's important to me to step on the starting line even if I'm not kicking everyone's ass. I'm doing my best, and that's what my story's about."
I say we all owe it to ourselves and Gabriele Grunewald to give it our best today. – PAL
Source: "Gabriele Grunewald, Who Defied Cancer By Racing At The Highest Level, Dies At 32", Patrick Redford, Deadspin (06/13/19)
---
Raptors Win. Klay Goes Down. What Just Happened?
I'm not exactly a Warriors fan, but I am a fan of the Curry-era Warriors. They play a brand of basketball that is so exciting, and they make the sport more fun. There's nothing better than a Curry hot streak – when every time he releases it you know it's about to drop perfectly through the net. So it's taken me about 24 hours to digest their NBA Finals loss to the Toronto Raptors.
A lot of people say, "Not to take anything away from the Raptors, but…" I'm not going to say that, because I do have to say that this is not a strong NBA Champ. I think we'll look back at this Raptors team and scratch our heads. It took injuries to one of the top 2 or 3 players in the NBA and a top 10-15 player in the NBA, and the Raptors still struggled to put the Warriors away, with Curry missing a three that could have forced Game 7. Nothing about this Raptors team is particularly exciting to watch, and the series should not have been close without Durant, and with Klay hobbled early (and out late).
But they won, and that's that.
I'm more intrigued about what happens now. Because the Warriors didn't just lose – they were decimated by injury, heading into an offseason where most expected Durant to leave. Now, with the achilles tear, does KD stay? Are teams really going to give him a supermax – he'll be 31 next season and it might be two full seasons before he's 100% healthy? Or does KD's injury cause him to reevaluate his situation and elect to take the extra $60M or so the Warriors can offer him over other teams? Or does he punt his decision for a year by not opting out and becoming a free agent next year? And if he does sign elsewhere, how does that affect other free agent decisions, knowing they'd be going somewhere (New York, Brooklyn, the Clippers) without KD for Year 1 of a 4-year plan? Does it affect Kyrie Irving? Kawhi? And what about a possible Anthony Davis trade?
And What about Klay? I think the Warriors give him the max, and I think he takes it. But where does his ACL tear leave the Warriors next year? They cannot sign any free agents of note to help them – whether they re-sign Durant or lose him – so what does that roster look like next year? The team was already aging, and now they essentially have to punt next season, in terms of being a true contender. Or do they have enough to make the playoffs next year, and then bring Klay back just before the playoffs? And even KD if he stays? Are they still a contender?
So while I think this Raptors team is kind of a blah champ, this Finals will still be unforgettable. It may be the end of one of the top dynasties in NBA history. Plus, in the span of less than two games, the course of the NBA future completely changed. Wild.
Also I want to give a special shoutout to Klay Thompson, who really tried to finish the game with a torn ACL, and even came back from the tunnel to drain his two free throws when he realized that if he did not shoot the free throws himself, he could not return to the game at all.
What a nail. -TOB
---
How Is This Legal?
Florida State University's athletic department is going private. What does this mean? Iliana Limón Romero of the Orlando Sentinel summarizes it as follows:
The switch will also give FSU athletics all the privileges of a private corporation, including declining any public-records requests while still preserving its sovereign immunity. The immunity clause for state agencies caps any jury judgments or settlements reached by the athletics department at $200,000. Any further settlements would have to be approved by the state Legislature to avoid undue burden on taxpayers, a privilege not enjoyed by traditional corporations.
The idea that a state-funded institution could decline public-records requests is insane. At the risk of oversimplifying the purpose of public-records requests, it seems obvious Florida taxpayers, as well as out-of-state students, parents paying tuition, and alumni deserve to know what's going on at the university, including the athletic department.
As Deadspin's Lauren Theisen points out, the athletic department at FSU needs more public scrutiny, not less (the same could be said for just about every big-time college athletic department). In the last five years, there have been multiple accusations of domestic abuse (former QB Deondre Francios), sexual battery (former QB Jameis Winston, who, in a separate incident, was later suspended by the NFL for groping an Uber driver), and animal abuse. In the Winston example, FSU settled with his accuser for $950K to drop the Title IX lawsuit. Info I think taxpayers, FSU students, FSU parents, and alumni have the right to know.
In Theisen's words:
Florida State gets these new privileges without one big drawback that usually goes with them—the athletic department still will be subject to an immunity clause that limits any jury judgments or settlements to just $200,000. Anything higher would have to be approved by the state legislature, because it'd be paid by the taxpayers. Obviously, that's not a perk a private corporation normally enjoys.
That minuscule limit came into play earlier this decade, to the benefit of UCF's athletic association, after Ereck Plancher collapsed and died during a football practice in 2008. In 2011, a jury awarded Plancher's family $10 million, but after the organization appealed all the way to the Florida Supreme Court, they didn't have to pay more than $200,000.
Under this arrangement, not only would Florida State's athletic leadership not have to be transparent in the event of a scandal or tragedy—similar to the way Maryland was held accountable after the death of Jordan McNair—but there also would be an artificial cap on the judicial consequences for their actions.
FSU isn't the first school to privatize its athletic department. University of Florida has operated this way for years, as has the University of Central Florida. This is calculated and sinister. – PAL
Source: "FSU announces plans to privatize its athletics department", Iliana Limón Romero, Orlando Sentinel (06/08/19); "Florida State Is Privatizing Its Athletic Department To Shield Itself From Scrutiny", Lauren Theisen, Deadspin (06/10/19)
TOB: The short answer is it's legal because the legislature, which undoubtedly has graduates/fans of the Florida and Florida State football teams crafted sweetheart legislation that harms the people of Florida but makes the Gators and 'Noles better able to field competitive football teams. Which is some real bullshit.
---
This 'Content' Wasn't Made For You

I am not sure you'll find this story as interesting as I did, but it touched on a subject that, as someone who works on creative for an ad-supported platform, I find myself debating on a nearly daily basis: what is an advertisement?
Considering you're reading this on an incredibly obscure website, we are alike. We love sports. We love watching games, we love reading great sportswriting, and we spend our commutes listening to sports podcasts or sports talk radio. We love just about all sports content. We are the reason all of this content exists, right?.
Not always.
In Tom Ley's words:
When editorial products and advertisements become more "naturally integrated," it becomes harder to determine just in whose service the work is being created. It muddles the nature of the thing you're reading, very much by design.
Instead of seeing a media company create something that it thinks its readers will enjoy and then presenting that thing to those readers alongside unaffiliated ads, we're seeing one create something that's meant to satisfy its advertising partner first and its readers second, if at all.
Which brings us back to that image at the top here. Notice the stat category. Check out the assist column. See the State Farm logo? You might think, No biggie. Maybe you're right.
So how about the video?
Is that an ad? As Ley points out, this "what-if" scenario is exactly the type of thing that Simmons has been doing for years, but would Simmons have done this segment if State Farm wasn't paying for it? Again, maybe you think, Who cares? What's wrong with that?
In that indifference a war is being fought and billions of dollars are being spent. Content people and ad people jockey over inches, pixels, and social influencers. Sellers trying to hit their numbers raise their voice to creative directors and legal to have a brand mentioned just one more time. Endless email threads with multi-colored, inline responses about hashtags, logo placement, and so many other seemingly pointless things fill the inbox. Slack channels churn with sidebars to the sidebar. I know, because I'm on the threads, the slack channels, the endless regroup meetings.
While standard advertising remains a powerhouse, the new horizon of advertising is where content and ads are indistinguishable from each other.
Like him or not, Bill Simmons has a major influence on what sports stories are told and how a lot of people get their sports content. As the CEO of a content company, he finds himself straddling the line between revenue and content. In this seemingly innocuous story/ad, he's is selling off his most valuable asset to an advertiser: they way he thinks about and talks about sports. In this instance, he's not thinking about creative sports content on our behalf. Those ideas were for State Farm.   
To be clear, this is happening everywhere. Sponsored content takes place on Facebook, IG, Twitter, YouTube. It's pitched every day at Pandora and Spotify. It happens on news sites, too. Digital advertising is keeping the lights on for every sports and news website and every podcast network. Any tiered service (free option with ads, subscription option with no ads) out there exists because of ad revenue. Outside of subscription-only services (Netflix, The Athletic), ad revenue is the business model.
It's a catch-22: for every State Farm sponsored "what-if" video that a sports and pop culture website spends time on, might there be an important story that lacks the resources or attention to be reported? On the flip, very few sports websites would exist without the likes of State Farm, and therefore even less stories would be told.
Of course I don't mind Bill Simmons doing an ad for State Farm, but I do have a problem when that ad is presented as content.
Ley thinks it's about how the ads are presented in the context of content.
An advertisement should feel somewhat intrusive, if for no other reason than to remind the reader that the ad has no meaningful relationship to the work it is appearing next to, and also that said work was created for the sake of the reader alone.
I don't know if I agree with Ley's solution – it minimizes the notion that advertising can be compelling, artistic, and inspiring while selling you something. It also has to be said that Ley is writing this story on Deadspin, a direct competitor with The Ringer.
All that said, I hope State Farm paid The Ringer a boatload of cash for this, and I hope they use some of the money to pay for some really great content that's made for me and not State Farm. Maybe they will, and maybe they won't, but I do know this stupid little assist logo and YouTube sponsored segment cheapens something that I care about. Even if just a little, it lessens my thought of The Ringer, and maybe I don't visit as often this month as I did last month. – PAL
Source: "Naturally Integrate Me Into A Hole, Please", Tom Ley, Deadspin (06/13/19)
TOB: It's gross, especially because the What-If segment is dumb. What a boring topic: "Let's go back in time 5 years and choose a random injury and wonder what happens to the NBA." And this was produced during a very compelling playoff season! And the discussion was bad! Also, if anyone wants to pay me money to work their brand into 1-2-3 Sports! content, please e-mail me at 123sportslist@gmail.com.
---
Video of the Week
---
Tweet of the Week
PAL Song of the Week: Rhye – "Open"
---