Sorry we missed you last week, we were too busy boppin' at the College World Series in Omaha. But we hope you enjoyed TOB's story on our trip to the U.S. Open. Now, get out there and enjoy the summer. 
---
The Generalist from Lakefield, MN
I'm back in Minnesota this week. Every year prior, I'd be back home helping my dad get everything ready for our Fourth of July trip up to the lake, but this year – in many ways – is different. For one, the family is not heading up to the lake but over to Keller Golf Course just off of Highway 61 to celebrate my parents' 50th wedding anniversary. In a month from now, my big family will all head out west to San Francisco for my wedding. And third, my friend is an NBA Champion who gets a Patrick Reusse column written about her in the friggin' Star Tribune!  
(For Bay Area folks, this would be like Ray Ratto writing a column about your college buddy) 
I'm filling up my Honey Bunches of Oats, about to enjoy the simple pleasures of a cup of coffee, a bowl of cereal, and the sports page on a quiet morning. Reusse's column is off to the side of the main sports story of the day about the guy who looks after the dirt at the horse track. The headline is non-specific -"Quiet, confident and top of her game" – but I see that Resch name right in the first sentence: "A conversation with Jim Resch quickly revealed the strength of his roots in southwest Minnesota." 
I know a Jim Resch from southwest Minnesota. Hell, Natalie and I were having a beer with Teresa's dad, Jim, not a month ago at the bar Local Edition just off of Market Street in San Francisco. That's because Teresa, my college roommate, invited Natalie and me to party after an NBA finals game between the Toronto Raptors and Golden State Warriors. Teresa is the vice president for basketball operations and player development for the Raptors. We all know how the Finals went for Toronto. Now, T-Resch as I know her, is getting her due in her home state with big column in the sports page. 
The column is vintage Reusse. It charts Resch's path to her role as a NBA executive, and how she truly is a pioneer for women in a professional sports league. Teresa's path started in Lakefield, playing basketball, starring on a state championship volleyball team, and earlier in life winning a champions trophy when she showed Spartinia, the ewe lamb, at the Minnesota State Fair in 1994. 
It talks about her time at Augie, where we met, and where Teresa became an All Conference volleyball player in the NCC, the now defunct North Central Conference. I'll never forget when that team her freshman year made it to the national championship match that was being played at Augie. We were sure they were going to win. The Elman was packed, and then we saw the Hawaii Pacific team come onto the court. They were all huge, adult women from Hawaii and South America. We didn't need to see more than a couple points to know how the season would end for Teresa and her teammates. 
Reusse then details how Teresa took an internship at the NCC office, where she was given from the league commissioner: "There's plenty of opportunities arriving for women in sports organizations. If you want that, go to grad school and get an MBA with a sports connection."
So Teresa did what she always done – she worked her ass off and wasn't afraid to take a chance on something new somewhere new. She earned an MBA in St. Thomas, Florida, took a bunch of unpaid internships and was eventually hired to work in the NBA League office. Teresa's ascent to her current role isn't as straight of a line as you might think from there, but now you can see how she got where she is today. 
So I'm reading this column about my friend (who better be coming to my wedding – RSVP, TResch!), and of course I'm pretty damn proud, but I am also surprised to learn something from my friend…through a quote of hers in the paper. 
The job has evolved in six years. It's tricky even to describe it. There's a new book called Range, and it's about generalists – people who do more than one thing, several things, for a business, for an organization. I'm one of those. My job is to try to ensure that everybody that touches the Toronto Raptors can compete in a championship organization.
Such a surreal moment that I will never forget. And I will never forget how hard she worked for this success. 
I texted T as I was reading the story. Her response: "Big question is did the photo of Spartinia make it?!"
Teresa or someone in her family sent Patrick Reusse a photo of a lamb for this story, and that is so excellent.

Of course that would be T's first question.
No, the photo of Spartinia didn't make it, Teresa. They went with this one instead:
You're living good when you get to watch your friends and family accomplish great things. With my parents 50th and Teresa's story in the local paper, I'm living really good these days. – PAL
Source: "Quiet, Confident and Top of Her Game", Patrick Reusse, StarTribune (06/27/19)
---
How to Manage a No-No
This is really cool. Giants manager and soon-to-be Hall of Famer is retiring after this season. Bochy has had a hell of a career, including 3 World Series wins and a fourth World Series appearance. He's also managed a bunch of no-hitters, and one perfect game. In this article, Boch reflects on those games, and the near-misses. You won't be surprised to learn that Bochy manages differently if a no-hitter is in play. 
There is no way to account for a bad hop or a bloop, but time and again, Bochy has tried to increase the pitcher's odds, even if it's just an incremental gain. Bochy's plan in those games is pretty simple. If the game is close, as it was with Peavy in New York, he might try to squeeze an extra at-bat out of his best hitters. But most of the historic games for Bochy's Giants have not been close through the middle innings, and he repeatedly has looked for an edge.
"Ultimately you're there to win the game, but you're also there to help the pitcher if he's got a legitimate chance to pitch a no-hitter," Bochy said. "That's kind of what you prepare for as you look down your bench. You ask, 'What is my best defense?' "
His biggest regret, though, was a change he didn't make, in a game where Jake Peavy took a perfect game into the 7th inning:
Peavy was perfect through six, but Mets starter Jacob deGrom hadn't allowed a hit, either. When left fielder Michael Morse grounded out to end the top of the seventh, Bochy thought about putting in Gregor Blanco to shore up the outfield defense for Peavy's run at history. Instead, Bochy decided to try for one more inning out of his powerful No. 5 hitter.
Daniel Murphy came up in the bottom of the inning and lined a ball to left. Morse initially broke in and to his right before going back on the ball, and by the time he tried to reach his glove up, it was too late. Murphy cruised into second with a double.
"I couldn't believe I didn't do it," Bochy said. "I thought about it, and sure enough, the ball was hit there, and the baseball gods punished me. That's what I'm always conscious of, to help the pitcher out. I gambled there, and it got me."
Bochy has gone to great lengths to not unnerve a pitcher. During Matt Cain's perfect game in 2012, he wanted to get a reliever loose, just in case. But he didn't want Cain to see him warming up in those on-field bullpens, so he had Shane Loux warmup in the batting cage behind the dugout instead. When Cain got to two outs in the 9th, Loux threw down his glove and ran to the dugout to prepare for the celebration.
This was just a really good article, interviewing a master of his craft. Enjoy! -TOB
Source: "How Bruce Bochy's Managerial Genius Manifested in Giants' No-Hitter Bids", Alex Pavlovic, NBC Sports (06/13/2019)
PAL: It's great to hear a manager prioritize the opportunity of a guy doing one of the coolest things – throw a no-hitter in a big league game – over pitch count or even a reliever getting ready in the bullpen. It also reminds my how asinine it was for the Dodger to remove a pitcher from a regular season game when he had a no-no going. Unforgivable.
---
Baseball's On The Clock
The current collective bargaining agreement between players and owners in MLB runs through 2021, but talks are already beginning. The New York Times' Tyler Kepner summarizes the urgency centers on the union's belief that "[Y]ounger players are rarely paid what they are worth, while veterans are now in much less demand, leading to lower salaries for what were once their prime earning years."  M.L.B., while making no promise to a change prior to the current C.B.A. expiring, is willing to sit and listen. 
I think there's a whole lot more at stake leading into 2021, and I think the players and the league know it. I think baseball, by far my favorite sport, is in trouble. 
We've conceded it's a local sport years ago, but I bet the viewing numbers locally are fading. We focus on the money regional sports networks generate for MLB teams (either through contracts or ownership), but I'm curious how many people are actually watching regular season games consistently. Here's a story from FanGraphs from last year that does a deep dive around attendance, viewing, and growth.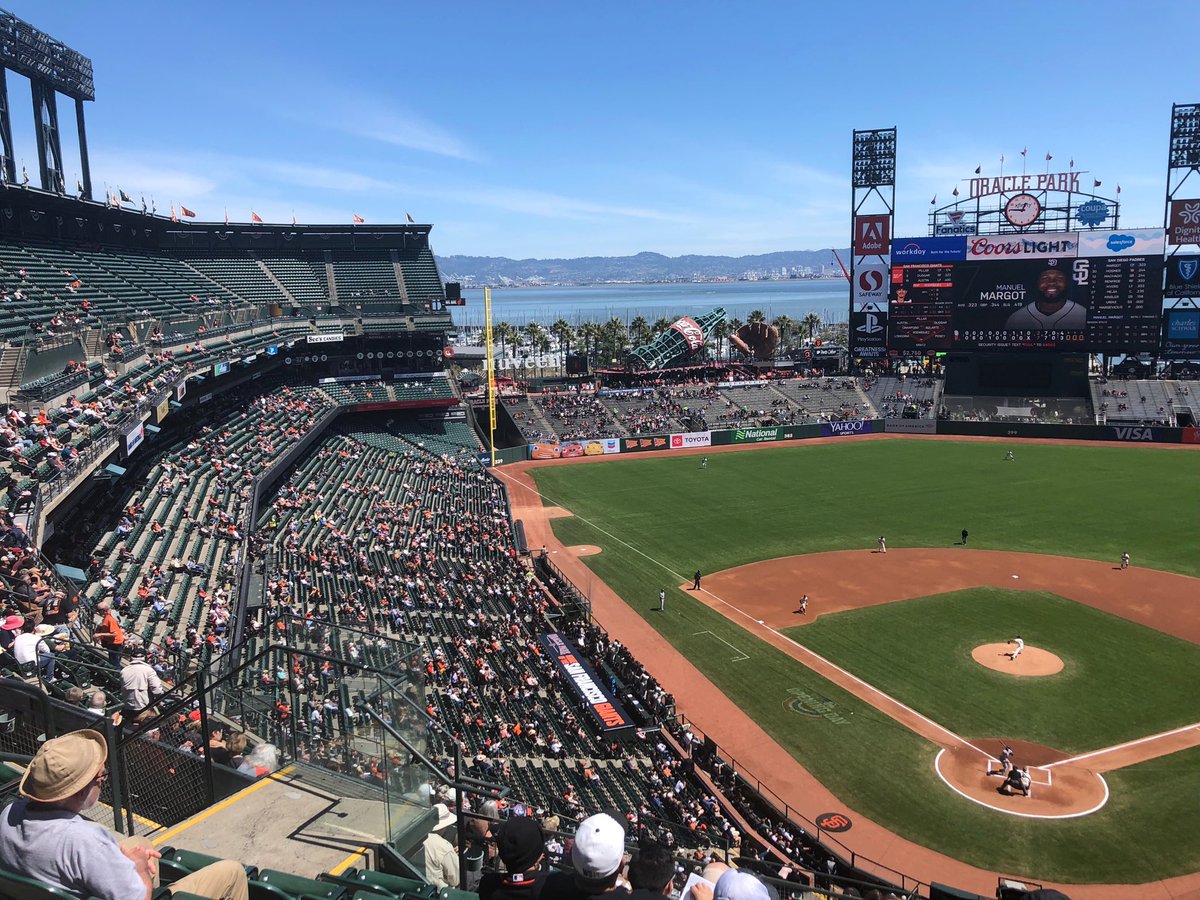 Home runs are boring. Big Mac and Sammy may have brought baseball back with the long ball in '98, and it was cool for the first 10 years I watched Baseball Tonight, but it takes something truly special for a home run to get me going. Home runs are up over 17% year-over-year, and MLB is on pace to break the single-season record for home runs by over 450 home runs. Strikeouts are up. Walks are up. Home runs, strikeouts, walks – they get pitchers and hitters paid, and they are so boring to watch. Dan Patrick nailed it earlier this week – there's no movement in baseball because of the adoption of the three true outcomes. I have no doubt the math proves this to be the best approach over a long season, but I don't care about watching the pursuit of these outcomes for 3-4 hours, much less all season long. I don't know what the solution is, but I sure love to watch an organization try to combat this trend with crazy speed, defense, and something crazy like a bullpen full of ambidextrous pitchers. 
Contracts are too long. Mike Trout might be the best player in my lifetime, and I've watched the Angels center fielder play less that 10 times in his 7+ years. The Angels are medium at best, again, and again this dude's going to win an MVP in obscurity. He's very likely staying in Anaheim for the next 12 years, earning over $35MM a year until 2031. I would do the same, of course, but Trout on a .500 team on the West Coast sucks for everyone but Angels fans. 
Look at the NBA right now. Player movement sparks interest on a national level. Baseball should cap contract lengths at 5 years, and young players should be eligible for free agency 4 years after they are drafted (assuming they sign). This will both allow for players to move from team to team, and prevent teams from holding young, exciting players in the minors to hold off free agency for another year. 
So it's good MLB and the union are starting chats now. They have time, they have a lot to figure out, and I hope they think outside the box for the long-term health of the game. We'll need a lot more than two roided out ball players hitting home runs to bring the fans back if there's a work stoppage in 2021. – PAL
Source: "M.L.B. and Players' Union Set to Begin Early Labor Talks", Tyler Kepner, The New York Times (6/17/19)
TOB: I'm less concerned about the home run/strikeout stuff – the game is constantly changing, and it's clear they have changed the ball, once again, to further increase home run rate. The balls are slightly larger, the seams are lower, the leather is smoother, and the ball is rounder. It amazes me when a successful organization cannot help but tinker. It reminds me of when the NBA tried to introduce a new ball, and the players nearly revolted. 
But I am concerned about the contract stuff. The system is so screwed up right now. Minor leaguers should be paid a living wage, and as Phil said, you shouldn't have to wait seven years after you hit the bigs to hit free agency – especially for any player who went to college, your best days are behind you by the time you get there. And, as Phil notes, teams have gotten smarter and don't want to pay the aging vets for past performance. So what's the solution?
One idea I like is giving everyone a mid-level base salary, and then using a stat like WAR to pay players large bonuses after the year. I'm sure the vets would balk – but if you produce, you get paid. If you don't, you still get paid, but you're not getting $30M to hit .220. Ahem, Bryce.
---
The NBA Toys With Major Schedule Change, But Will Fans Pay the Price?
It was reported this week that the NBA is considering major changes to its schedule, which has been 82-games since the beginnings of the league. Any changes would not take place until the 2022-23 season, but the changes are radical, as far as sports leagues, which change at a glacial pace, go. The discussion reportedly included reducing as few as a handful of games, up to a reduction down to 58 games, where each team hosts every other team once. 
The proposed reductions could allow the NBA to include some proposed tournaments. One such proposal a mid-season cup tournament (styled after European tournaments like the FA Cup, an English soccer tournament among not just the Premiere League teams, but all teams down to division 10). Another proposal is a postseason play-in tournament, where teams the bottom teams in each league play a single-elimination tournament for the last 1-2 playoff spots, but also retain the opportunity to remain in the lottery, even if they win. I'm not sure I get the point of the midseason cup, unless we allow the G-League or perhaps even professional club teams from Europe to compete. But fans clamoring for this are going to pay the price.
I think it's clear the season is too long. It's so long, and a reduction is player friendly. But a season reduction is not fan-friendly. I realize that the Warriors ticket prices are the highest in the league. But they are simply not affordable. It costs $100 just to get in the door, and that was at Oracle. It will get even worse next year when they move to their new arena. So what do you think will happen when they reduce the availability of their product? It's simple economics. The prices will go up. I imagine teams will universally raise season ticket prices, and that, plus product scarcity, will cause the secondary market to soar. Fans all across the country will get priced out. And that sucks. 
But that's not the only way fans will pay. As someone who cares about NBA history, I am concerned with how this will completely change the record books. No one will ever touch Kareem's (or LeBron's if he gets there) career scoring record. No one will come close to 73 wins. No one will come close to Curry's career 3-pointers made record. We will have to start a new record book, and I think we will lose a lot of the league's history when that happens. 
I am not generally a person who thinks we should do something the same way because that's the way we've always done it. And I think these new ideas are fun. But I do hope the NBA thinks of all the ways this will affect the fan… hahaha. Hahahaha. Sorry. What the hell was I thinking? Of course they won't. -TOB
Source: "Sources: NBA Talks Fewer Games, In-Season Event", Kevin Arnowitz, ESPN (06/26/2019)
---
Video of the Week
---
Tweet of the Week: 
---
PAL Song of the Week: Looking Glass – "Brandy (You're a Fine Girl)
---
Like what you've read? Let us know by following this blog (on the right side, up near the top), or:
Email: 123sportslist@gmail.com