---
Poppy Yaz and Young Yaz
The Giants' mid-season run to relevance has been fueled in part by a 28-year old rookie (he turns 29 on the day we publish this) with a last name familiar to baseball fans young and old: Mike Yastrzemski. Yes, as I told my Dad the other night, Mike is related to Yaz – Hall of Famer and Red Sox great Carl Yastrzemski.
Mike is Carl's grandson. Mike never caught the break he needed for years in the Orioles system before being traded this year to the Giants. He got his shot, and he has delivered – with 17 home runs and an OPS+ of 131 (very good!). 
The Athletic's Steve Buckley caught up with Yaz (the original Yaz, or Poppy Yaz, as Mike calls him) to get his thoughts on Mike (or Young Yaz, as I call him), and if this doesn't warm your heart a degree or two, I don't know what will.
His voice cracked a little last week, too, when, sitting in that box seat next to the Red Sox dugout after he had completed his Genesis Fund duties, the old ballplayer was asked about his grandson's ascension to the big leagues as a San Francisco Giant after six seasons in the Baltimore Orioles' farm system.
It was a simple question: Hey, how about that Mike Yastrzemski kid!?
He waited a full eight seconds before answering.
"You know, the main thing is, he's a great kid," said Poppy Yaz. "He's worked hard. He always thought he was going to make it and I'm very, very happy for him."
…
"To see him come play at Fenway . . . that'll be something," Yaz said. "And me . . . playing here for 23 years, and then see my grandson come in and play here. It'll be emotional, yes.
"I know how hard he worked, and to see him there, and having them announce the name Yastrzemski, I feel great because of him, how much he wanted it."
As Buckley points out, Young Yaz' debut at Fenway will have some bitter with that sweet. Carl's son, Mike's dad, was a good baseball player, too, and he got a small taste of the majors in an exhibition game in the mid-80s. But he got injured, never made it, and then passed away in 2004 from complications after hip surgery. He was 43. 
That's sad, but I really love the proud grandpa side of Yaz:
"I'm losing a lot of sleep. I have the Major League Baseball (package) and those games don't come on until 10:15 and I always get up 6:30 in the morning. I just always have, I don't know why. So to watch him play, yeah, that makes for a late night."
Young Yaz will have a few shots to bang one over the Green Monster his grandpa used to patrol in front of. He's a lefty, but given his home run spray chart, I think he's got a shot.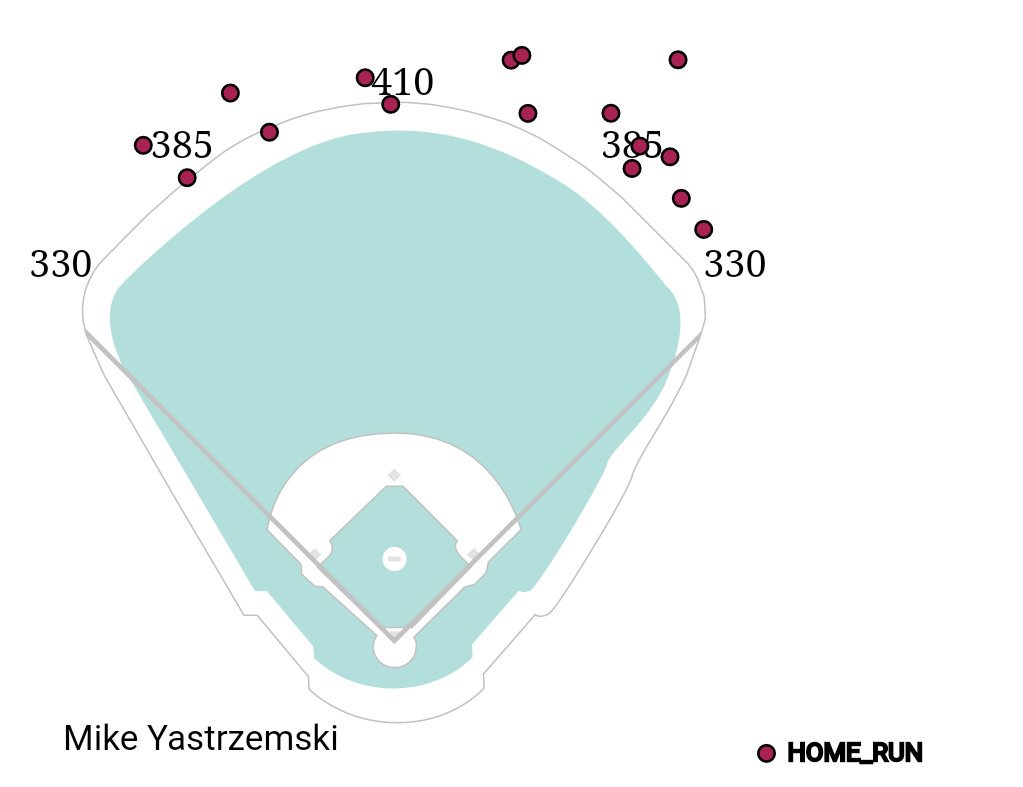 -TOB
Source: "The Red Sox' Lion in Winter: At 80, Carl Yastrzemski Looks to the Field, and Sees Family", Steve Buckley, The Athletic (08/21/2019)
PAL: My favorite part of the article is when, following Miguel Cabrera's Triple Crown season in 2013, Mike looks up his grandpa's stats – the last guy to hit for the Triple Crown in 1967 before Cabrera.
What jumped out to Yaz the Younger was not the Triple Crown numbers — .326 batting average, 44 home runs, 121 RBI — that were posted by his grandfather during the Summer of Yaz.
It was another number — 23 — at the very bottom of the ledger.
"I'm looking and I see that he played 23 years," he said. "And I'm 23 years old at the time. It suddenly hit me that every day of my life he showed up at Fenway Park. Every day of my life. And I couldn't register that. I kept thinking about that. I went to Vanderbilt for four years. I felt like I had this long stay there. I felt like I had accomplished just about everything I needed to accomplish other than getting a national championship.
"I had been to the College World Series, we won a super regional, all this really neat stuff that everyone dreams about when you go to college, and I'm, OK, I'll start my professional career and move on. But to take that four years and how long it felt and think about 19 more of those, it was, like, whoa, that's a lot."
---
Lee Trevino 'Never Had Much Use For Caution'
When's the last time Lee Trevino crossed your mind? I can't remember either. During what is widely considered a dead time in sports (MLB playoff runs haven't really heated up, NBA is dead, NFL camps just started, no college football, no NHL, golf majors are done), I read this absolute gem of a story about Lee Trevino's life. 
Elizabeth Nelson uses the 35th anniversary of Trevino's last major (he had 6 majors – one more than Mickelson and only one less than Arnold Palmer!) to share stories about the unlikeliest of golf icons. Like Charles Barkley, Mickey Mantle, Trevino one of those athletes that all of his fellow competitors have their favorite story about. 
Bernard Langer's Trevion story is a doozy:
One day, Floyd, who would go on to win four major championships and have a Hall of Fame career, received an odd overture to play for significant cash down in El Paso. 
"Raymond Floyd drove up with his Cadillac or his limousine, or whatever," Langer said. "So Raymond gets out of the car and Lee Trevino was the bag boy, and he says, 'Welcome, Mr. Floyd, let me get your bag for you, and what else can I do for you?' And Raymond Floyd says, 'Well, young man, who am I playing against today? Do you know anything about him?' And [Trevino] says, 'Well, that would be me, sir.' And so Floyd looks and says, 'What? I'm playing against a bag boy?' And Lee says, 'Yes, sir, and I'll see you on the first tee in a little bit.'" 
The obvious postscript to the story—the one in which an irate Floyd leaves the premises with his wallet considerably lighter and his mood commensurately darkened—is less crucial than the irrepressible levity with which Langer, the typically stoic and reserved German, relays it. Trevino was put on this earth to stand up for the little man—and make you laugh in the process.
Strangely enough, people love Trevino for much of the same reasons they love Caddy Shack and Happy Gilmore. He was the high school dropout and Mexican-American sharpie in Dallas who taught himself the game and stuck it to the stodgy country club folks with a grace and wit. He was a hustler, a gambler and – at his prime – a champion who could get a round with the president with one call. In Trevino's own words, "I Represent the Public Golf Courses, the Working Man, the Blue Collar Worker."
Other excellent tidbits from the story, which Nelson writes oh so well: 
He was struck by lighting…while waiting out a storm beside a green, while eating a hotdog.

Tom Watson said, "He always told me, 'You learn how to play under pressure when you've got five dollars in your pocket and you're playing for 10.' 

Nelson has a few outstanding lines in the story

"After a great shot he would waggle his club like a magic wand.

It wasn't done out of disrespect. It was just so exciting to be great."

"The original Dallas Athletic Club was located right in his backyard, and he spent afternoons watching the golfers amble by, alternatively ebullient or cursing the heavens, and wondering what the soap opera was all about. Eventually he'd find lost balls and sell them back for 10 cents a pop."

…he'd never had much use for caution
Loved the stories. Loved the writing. Loved the video clips…and I don't even really love golf! – PAL 
Source: "The Ballad of Lee Buck Trevino, Golf Legend", Elizabeth Nelson, The RInger (08/19/2019)
TOB: To answer your question: I think of Lee Trevino's cameo in Happy Gilmore waaaaaaaaaaaay too often.
So, not that long ago.
---
"The Appropriate Question Is: "When the Hell Are They?'!" – Doc Brown
Lots of sports writing is silly; much of it is unmemorable. But over the years I have found a small little subgenre of sports writing that is silly but highly entertaining and very memorable. The best way I can describe it is: Sportswriter Reveals Observed Quirk About Professional Athletes That Only Someone Who Spends Months of the Year WIth Athletes On a Daily Basis Would Know. The most memorable of the subgenre is Henry Abbott's story years ago on ESPN about how NBA players loooooooove Cheesecake Factory. Title: "The Cheesecake Factory Did Not Pay Me to Write This." Opening to the story:
In some ways, I have been working on this post for years, just by listening to things that NBA players say. They talk about a massive spectrum of things, of course, from AAU to Zydrunas Ilgauskas. But sprinkled in there among the things players talk most frequently — you hear it again and again — is the Cheesecake Factory.
Nowadays, if ever someone tells me that they bumped into an NBA player out in public, I like to stop them mid-sentence and guess: "Was it at the Cheesecake Factory?" It can make you look like a freaking genius, because once in a while, you'll be right. (If that doesn't work, I ask if it was at P.F. Chang's. Those two together account for a ridiculous percentage of player sightings nationwide.)
People always want to know what it's like to be an NBA player. I feel pretty confident that one of the easiest and most accurate things you could do to live just like an NBA player is to eat a meal at the Cheesecake Factory.
He then lists the many examples of the NBA player/Cheesecake Factory thing, and dives deep into why. It's great, and even though it's now over 11 years old, you should read it.
This week saw another entry into the Sportswriter Reveals Observed Quirk About Professional Athletes Hall of Fame, this time by the Washington Post's Jesse Dougherty.
Title: MLB Players Never Know What Day of the Week It Is.
I laughed before I even read the story, and when I did read it, boy did it deliver. Some choice quotes:
"Oh, it's impossible," Washington Nationals closer Sean Doolittle said. "Here's how it goes: Every start of a series is a Monday, no matter what. Every last game of a series is a Wednesday. But there are other wrinkles, too, like how every day game is a Sunday. So, wait, uh …"
Doolittle realizes the problem. By that logic, if it can be called that, a day game that finishes a series is both a Wednesday and a Sunday. Having talked himself into a riddle, further complicating the issue, Doolittle smiled, turned his palms to the clubhouse ceiling and shrugged. That was the blanket reaction when fellow Nationals were asked how to follow the calendar during the season. Nothing we can do about it.
Dougherty then gets into the reality of a major leaguers schedule: 162 games in approximately 180 days, and every 3-4 days you fly to a new city, stay in a new hotel, and the day of the week just simply doesn't matter. It's how I imagine it'd be on a cruise ship for a month. The day of the week is of no import; the only thing that matters is what day of the trip it is and where you are headed next. Dougherty then shows how this once affected Dolittle:
So it's hard to blame Doolittle, way back in May, discussing a pair of rough outings at his locker in Washington. It was a Monday. His most recent appearance had come that past Friday. But he kept referring to that appearance as "Monday" — because it was the first game of the series — and proceeded to do so six times in a 12-minute interview. Like, "I just didn't have it on Monday." Or, "Monday didn't go my way, but if I get out there today [editor's note: actually Monday], I'm confident these changes will work." It was trippy.
Dougherty gives some more examples and then the coup de grâce:
A confession: I'm relatively new to the baseball beat, about a year in, and so now I never know what day of the week it is either. I often wake up not knowing what city I just slept in. I first realized this in May, one morning in New York, staring at the ceiling and wondering where I was. So I started asking around the clubhouse — veterans such as Doolittle and Dozier, a younger guy such as Stevenson, Manager Dave Martinez — to see how the pros combat this confusion of time and space.
I love this story. The writer noticed something weird, asked about it, told the story, and now I have a funny little thought in my brain every time I watch a baseball game: these guys have no idea what day it is, and isn't that weird and funny. A welcome addition to the subgenre, Jesse! -TOB
Source: "MLB Players Never Know What Day of the Week It Is", Jesse Dougherty, Washington Post (08/22/2019)
---
Baseball's Wet Guys
Another laugh this week comes courtesy of David Roth. He brings us a story about something we already know, but maybe we haven't yet articulated: every baseball team now has "the wet guy". 
Sound gross. It's not that gross, but a little bit. What's a wet guy, you ask?
Brandon Crawford:
Clay Buchholz: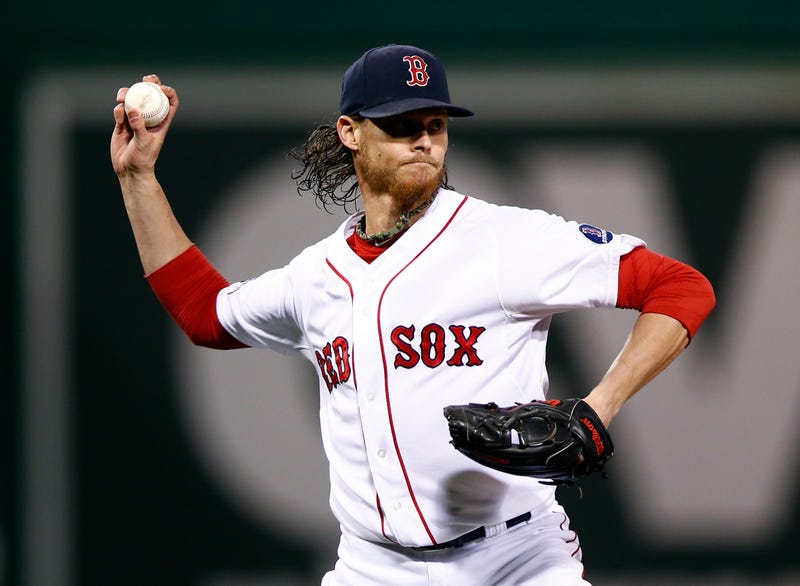 This guy on the Rays…or San Diego…who cares: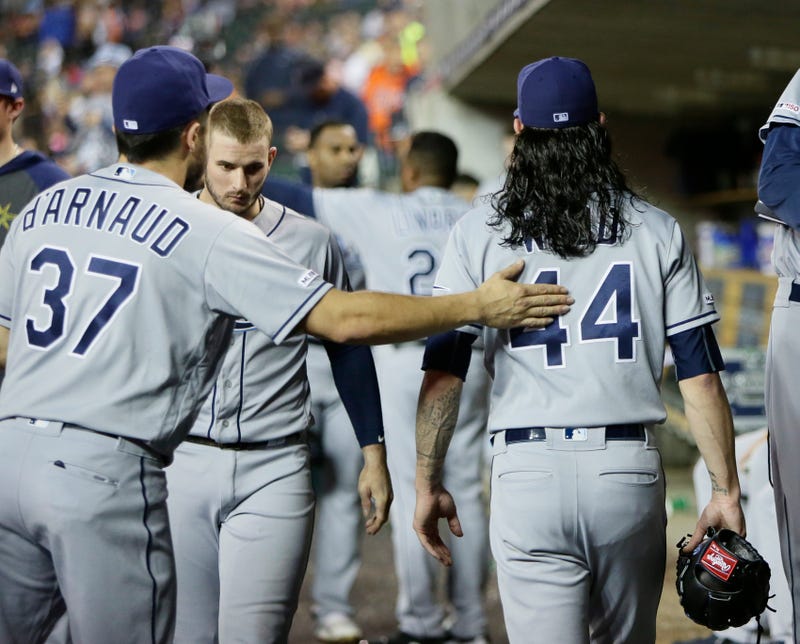 You get the idea. From where did this trend come? Who started it? Is there a competitive reason, or are baseball players just kinda dumb when it comes to this stuff? No worries – David Roth breaks it all down. 
Also, since you're here, this is a perfect time for me to break out my long hair style theory. Likey everything, every decade or so, long hair comes back in fashion. Unlike short hair trends, the long hair (and beard) trends hang on a little longer because, well, it took dudes six month to finally get that shit into a manbun; he ain't snipping it the first sign of a high-and-tight from the cool guy at the office. No, no, no. 
That's why you see so many baseball players still rocking the long hair they first grew out five years ago. 
Back to the story about the wet guy on baseball teams. It's hilarious. Real laugh-out-loud stuff. Get to it. 
Also, this: 
Source: "Every Baseball Team Has a 'Wet Guy' Now", David Roth, Deadspin (08/22/2019)
TOB: I mean, I lived it. Hell, I met you like that. But I still just don't quite believe it happened.
---
Last Week's Two 1-2-3 Subjects Collide: Bichette v. Kershaw
Last week, Phil was on The Endless Honeymoon, and I was low on energy, so you got a two story week. It happens, ya know. Those stories were: (1) How awesome Bo Bichette, Baseball Legacy, has been in his short time in the bigs, and (2) Clayton Kershaw whining. This week, those two subjects met. Let's see how things went:
Bang.
DOUBLE BANG!
Ok, ok. In between those two bangs, Kershaw dropped a hammer so nasty that Bichette had no choice but to laugh and ask his teammate, "Did you see that shit?"
Still. Two dingers? Game: Bo. -TOB
Source: "Bo Bichette Vs. Clayton Kershaw Was A Rad Time", Tom Ley, Deadspin (08/21/2019)
---
Video of the Week
Move over, Flash. We've got a Fridge now. Incredible.
---
Tweet of the Week
Also:
---
PAL Song of the Week – Tom Petty – "Honey Bee"
---
Like what you've read? Let us know by following this blog (on the right side, up near the top), or:
Email: 123sportslist@gmail.com