---
Siding With the Raiders Is Siding With the Empire
(All analysis here is related only to Antonio Brown's dispute that led to his release by the Oakland Raiders, and is not in any way related to the civil suit filed this week accusing Brown of sexual assault)
In the wake of the Raiders' release of Antonio Brown over the weekend, the great weight of public opinion seemed to side with the Raiders: Brown is unprofessional, I read. Brown had it coming, I heard. Brown is a diva and an idiot who cost himself $30M, I saw. And I feel like I'm taking crazy pills because this is almost completely on the Raiders. Let's recap his brief tenure with the Raiders, starting where the problems began:
Before camp, Brown suffers frostbite on his feet while undergoing cryogenic therapy. This is an admittedly odd injury, but it's hard to lay blame at his…feet. 
Shortly after, we find out that Brown was told by the NFL that he can no longer wear his helmet. It's the same helmet, not just the same model but the same helmet, he's worn his whole career (including college). Brown is not happy about it, because while some helmet models were banned last summer and players were given a one-year grace period, Brown did not receive advanced notice. Some thought this was ridiculous. But a football helmet is sacred to a player – football players have that ingrained in their heads from the first time they take the field as kids. Former NFL player Nate Jackson wrote about why this was so important to Brown:
Each new helmet design foisted upon players has a new shape and a new feel. It doesn't just change the shape on the outside; it changes the shape within. It changes the placement and feel of the pads that are touching the head. It changes the pressure points on your noggin. It changes the neurological response to a very specific tightness on your head. And because of the different shape, it changes your field of vision, the frame through which you see the field and everyone on it. This all forces you to think when you have no time to think—when thinking will get you hurt.
The Raiders seemed understandably frustrated, but all still seemed fine, and they publicly supported Antonio. So far, so good.
Brown loses the grievance. He tried to find a similar helmet that is approved. He puts out a nationwide call on twitter and actually finds one, but it fails testing. He appeals. He loses. He tried to find one he can use. He does. It fails testing. He files another grievance, and now Raiders rookie GM and career NFL Network analyst Mike Mayock gives his infamous "all in or all out" speech.
When I saw it, I expected fireworks. But Brown actually reported to practice. He picked a new helmet. Things seemed like they'd move forward smoothly. I drafted AB in both of my fantasy leagues, a steal in the third round on each. 
But then, the week of the first game, the Raiders, petty as ever, send Brown a letter letting him know they are fining tens of thousands of dollars for a missed practice and a missed walkthrough during camp way back in mid-August. So… when things were quiet, they turned up the tension with a fine. Why? Brown was understandably not happy. He gets in an argument with Mayock. He calls Mayock a cracker. People expect the Raiders to release him, but they don't. 
Instead, Brown apologizes – to his teammates and Mayock. He seems pumped to start the season and posts a video voiced over by a phone call between Brown and head coach Jon Gruden, that had me pumped for the NFL season. Seems like everyone is moving forward, right?
Buddy, it's the Raiders. They will do everything wrong at every opportunity. Saturday morning Brown tweets that the Raiders have voided the $30M guaranteed money on his deal. Brown will be forced to play on a week to week contract, with the Raiders able to cut him and owe him no money whenever they want. This is utter crap. NFL contracts are already crap and weighted heavily toward the teams. And apparently they're worse than we thought because the teams can walk away from the deal because a player yells at his boss. Brown is understandably pissed. I imagine he would have won a grievance about the voiding of the guaranteed money. But Brown didn't want to deal with it, and asked to be released. The Raiders obliged.
And people side with the Raiders? Do you root for Goliath? The Soviets at Lake Placid? I mean geeze. At every opportunity they had to move on, they instead escalated. To be clear, I don't think Antonio was blameless in this, and I don't think he did everything correctly. But it was the Raiders who escalated at every opportunity they had to de-escalate.
I wrote above early this week, and later in the week read this excellent interview with former 49er Jimmy Farris, who was friends with Terrell Owens during the rocky end of his tenure with the Niners. Farris basically agrees with me, and he makes some great points with his unique insight:
I thought they did a really good job of handling the situation up until they fined him. Other than Mayock coming out and doing that "he's all-in or he's all-out" thing, I think that probably got under AB's skin a little bithe didn't say anything about it at the time, but I feel like it's kind of a shot that was unnecessary. Maybe [it was] Mayock kind of trying to prove, Hey, I'm the boss around here, or whatever. It was like a call-out, it was like a public ultimatum to a superstar. [Brown's] whole thing wasn't that he was not all-in, or he didn't want to do it; he was just trying to get the helmet deal figured out.
And, look, people have different opinions about that. Was that even a legitimate thing for him to be taking it to the level that he was? Who knows, but that's just him, okay? That's Antonio Brown, and that's what you're dealing with. And you know that when you trade for him and you sign him to the big deal. So they publicly supported him. He was missing practices, and he was missing team activities doing that stuff. And you've got Gruden and everybody saying, "Hey, man, we support him," and Gruden's saying, "Hey, I like the fact that the guy's standing up for something that he believes in, and when he's out here, he's great, and he brings the level of everybody around him up, and he practices his ass off"all this stuff. So you get past all that.
You got the guy in the building, he's working his ass off, he's getting ready for Week 1, and then they turn around and fine him for missing some activities that were weeks ago, that when he was missing those activities you said you supported him. So that's why I said it was petty because you're telling him while he's missing those activities, you're saying, "Hey, man, we get it, just get this thing resolved and get your ass in here as soon as possible and let's go to work." So, he thinks, "Hey, they've got my back, they're supporting me." And then it's ****ing [five] days before the first game, you do this?
That was my thing. All the drama and the issues and all that kind of stuffyou'd gotten past it. It happened in training camp. It was over. He's in the building now, he's here, like, let's go full-steam ahead. And then, for whatever reason, some procedural reason or some reasonI really don't know, Mayock felt like they needed to fine him. To set an example or what? I don't know.
…
Sure, you've got to draw a line somewhere with guys, right? But if the biggest problem you've got with the guy so farlet's not make it more than it is, right? Yes, he's a quote-unquote diva, or he's a little eccentric or whatever. But if the biggest problem you've got with him so far is that he missed a couple of team activities, that's not a problem. I asked some guy this on Twitter, just responding to one of the comments: How many team activities did Ezekiel Elliott miss during training camp? The answer is ****ing all of them. He missed all of them. How many has Melvin Gordon missed? All of them. And how much did the Cowboys fine Zeke? They didn't. They signed him to the richest running back contract in history.
Jason La Canfora's tweet that I originally responded to was he said he talked to somebody high up in the Steelers organization that said there's a way to deal with personalities like AB, and that Mayock, being inexperienced, might not understand how to do that. That was my whole point. I agree 100 percent, because if Mayock knew what he was doing, he would know that you don't fine AB over some bull**** like that, and make an issue out of something that's not an issue.
…
[Asked prior to the Raiders cutting Brown] Do you think this is irreparable for AB and the Raiders?]
I had heard apparently what Brown had said to Mayock on the field, and what he'd called him, and what had happened. And so when it gets to that level, I feel like that was, like, some next-level type stuff that is probably irreparable for a personal relationship and maybe even a working relationship.
Here's the thing, though. Antonio Brown can still be a Raider this year, but it's going to take the Raiders organization being the bigger person and probably doing some things that'll cause them to take some hits in the media and around the league from people saying, "How many times are they going to let this guy walk on them, blah blah blah, and this and that."
All great points. The Raiders blew this. They gave up valuable draft picks to get AB, and because they are a complete clown show they gave him up for nothing, before he played a single snap for the team. Nice job, guys. So don't support the Raiders. Support the players. As I said last week.
-TOB
Source: "Why Good Organizations Know How to Handle Players Like Antonio Brown", Dom Cosentino, Deadspin (09/09/2019)
---
Mets Busy Mets-ing?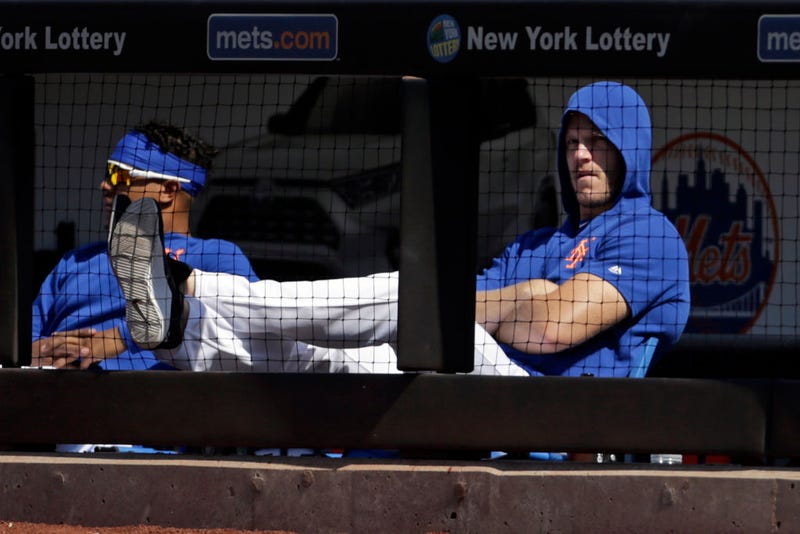 Every major league team carries two or three catchers. It being the most physically grueling of the positions, even the best catchers need a day off from the squat at least once a week, which means more than one catcher is getting semi-regular playing time. 
In many cases the second and/or third catcher is better defensively than he is as a hitter (if he was a good hitter AND good behind the plate, he'd be a starting catcher). The backup catcher is typically good at framing pitches, blocking balls in the dirt, keeping runners from stealing. The backup catcher's best contribution to the team is prioritizing the pitcher's performance ahead of his own. 
This is the case with one of the Mets' "ace" pitcher Noah Syndergaard (the real ace is reigning Cy Young winner Jacob deGrom). When throwing to either of the two backup catchers – Tomas Nido or Rene Rivera – Syndergaard has a 2.22 ERA in 11 starts. When he pitches to the starting catcher, Wilson Ramos, he has an ERA over 5 in 15 starts. 
Per Tom Ley: 
Over the weekend, Syndergaard went to Mets management and requested that he no longer be forced to pitch to Ramos. The Mets ignored that request, and Ramos was behind the plate on Sunday when Syndergaard gave up four earned runs in five innings; the Mets lost 10-7. According to MLB.com, Syndergaard was in meetings with management throughout Monday afternoon and evening, but wasn't in the locker room by the time it was opened for the press. Ramos was similarly nowhere to be found. Manager Mickey Callaway and GM Brodie Van Wagenen were around, though, and both made it clear that Syndergaard is just going to have to grin and bear it
Offensively, Ramos is clearly the best of the three catchers. Nido's OPS (on base percentage + slugging percentage) is a woeful .571, and Rivera is a career backup catcher with 17 total hits in the last two years. This year, Ramos is hitting .295 with 14 HR, 50 Runs, 72 RBI. 
With that info, you'd understand why Syndergaard would rather throw to Nido or Rivera and why management wants Ramos in the game. The Mets are only 2 games back in the NL Wild Card. With 16 games left, every game is pretty much a must-win if the Mets hope to make it to the play-in game.  
Of those 16 games, Syndergaard starts probably 3, maybe 4 games. In those starts, his pitching performance is much more likely to have a larger impact on the outcome of the game than that of the catcher's offensive performance. 
If we're just talking about winning, Syndergaard is right and the Mets should have Nido or Rivera start behind the plate in those games. They can be substituted out whenever Syndergaard is pulled from the game, thus giving Ramos 1-2 at bats in the last portion of the game if needed. 
There's more at play here. I think the Mets are tired of Syndergaard and they're trying to prove a point to him that he's got some work to do before he gets the "ace" treatment. He's having his worst year while deGrom is backing up his Cy Young performance in 2018 with another stellar year. 
And there's this: if management grants Syndergaard his wish, what's stopping deGrom from asking for the same (during his Cy Young year, he pitched to a backup catcher)? All of a sudden you have a backup catcher starting 40% of the games. All of a sudden you have an issue with your starting catcher and his playing time. All of a sudden, you've got a team-wide mess because an underperforming pitcher doesn't like pitching to the starting catcher. Syndergaard hasn't been good enough for that headache. – PAL 
Source: "Noah Syndergaard Is Mad About Catchers And The Mets Don't Care", Tom Ley, Deadspin (09/10/19)
TOB: I think the last paragraph is likely what's at play here, but it's still short-sighted. Syndergaard is 3 runs better 9 innings when the backups catch for him. Is Ramos creating 3 runs more per game offensively than his backups? I assure you he is not, because he would be the greatest hitter to ever live if he was.
---
Don't Get Bogged Down In Semantics: MIke Trout is the AL MVP
This week on his podcast, The Ringer's Bill Simmons argued that Mike Trout should not win the MVP because his team stinks (67-80 at the moment). Simmons argued the award says "Valuable" and therefore the most valuable player has to come from a good team because otherwise what "value" is the player if he makes a really crappy team into a merely crappy team? Simmons suggested a new award – the Most Outstanding Player award to the best player in the league – while also awarding the MVP to the best player on one of the best teams. This is all so stupid.
First, if you did that, the MOP award would quickly surpass the MVP. No one cares who the best player on the best team is. Everyone wants to be the best player.
But most importantly, his argument is illogical. Let's say I have $10,000 and you have $1,000. Someone gives us both $100. Is that $100 worth more to you or me? The $100 retains the same inherent value. $100 is $100. But the $100 actually means more to you because it is 10% of your total and just 1% of my total. So either the $100 is equally valuable to us, or it's more valuable to you.
But Trout isn't equal to everyone else. He's better. So let's say I have $10,000 and you have $1,000 and someone gives you $100 and they give me $50. The $100 is worth more than the $50, inherently, and it's worth more to you than it's worth to me. 
And what if, say, we both have $100, but someone gives me $50 four times (the Astros have 4 players in AL's top 10 in WAR), they give you $100 (Trout leads the AL in WAR, no one else on his team ). Are any one of those $50 worth more to you because you now have $300 than the $100 is to me because I only have $200? NO. It's a stupid argument, and I wish it would stop. 
Baseball is the most independent of the team sports – a player could hit 100 home runs and be the best center fielder in major league history, but his team could still suck if they didn't have anyone good hitters to help him and pitchers to prevent runs. In baseball, the MVP is the best player in the league. Period. -TOB
PAL: In team sports (outside of fantasy), winning is the currency, not personal performance…which makes the MVP award such a mucky and fun topic to debate forever and ever.
Your argument is completely logical. I agree; he's the MVP. His contribution to a win is far more than anyone else, but that doesn't change the fact that he is part of far fewer wins, which we ultimately value and count. Clearly not his fault, and it doesn't take much dissection to uncover just how big his contribution is to winning, but that's the truth.
The most valuable player is associated with far less of the thing I value most. He's the MVP, and who cares?
---
Video of the Week:
---
Tweet of the Week
---
PAL Song of the Week: Bon Iver – "Naeem"
---
Like what you've read? Let us know by following this blog (on the right side, up near the top), or:
Email: 123sportslist@gmail.com