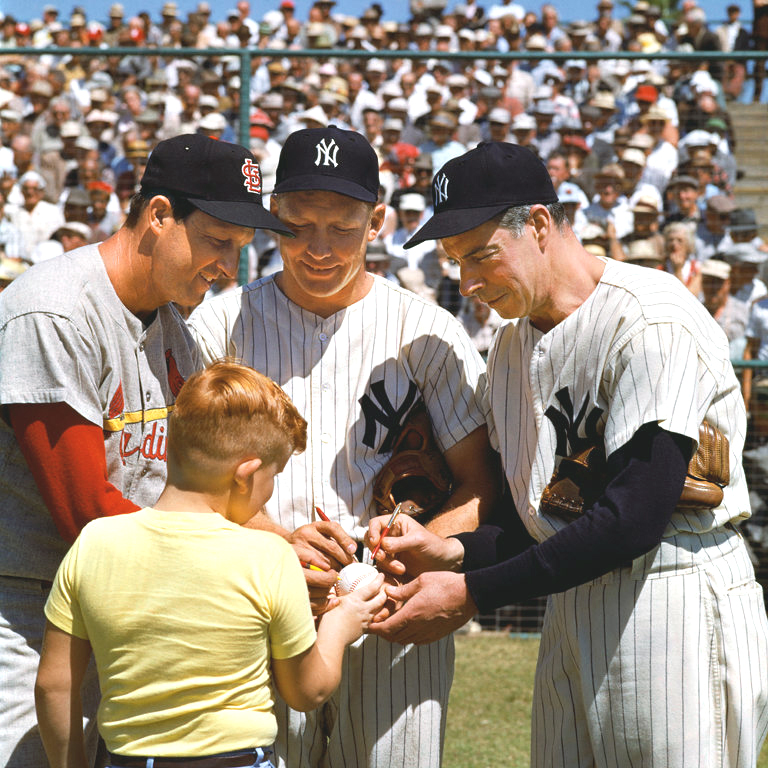 ---
*When a League Changes its Games, What Do We Do with the Record Books?
This week the NFL voted to officially expand its regular season to 17 games. I take no strong opinion either way – if the players are for it, then it seems fine to me. But The Ringer's Riley McAtee asked an interesting question: How will a 17-game season impact NFL record books? As in 1961, when people derided Roger Maris for hitting 61 home runs in 162 games when Babe Ruth's record of 60 game when teams only played 154 games, you have to think there will be healthy skepticism at some of the records that will surely fall.
For example, we are definitely heading for the first 6,000 yard passing season (remember when 3,000 was the gold standard??). We'll likely get 2,300 yards rushing. Maybe 25 sacks? Basically every major statistical record is in jeopardy, with teams playing 6.2% more games. So how will those records be treated?
My guess is that, as with Maris, as the record is broken (assuming it is not broken until Game
17), there will be people who will howl that the record doesn't count. That it deserves an asterisk. That the previous record holder is the true record holder. But as time passes, people will forget. Enough players will pass the old record holder, even in just 16 games, that eventually it won't matter anymore.
The career numbers are even more fascinating. A player playing 15 seasons gets almost an entire extra season of games. Is Emmit Smith's rushing yard total in jeopardy? Probably not, as the league has moved away from running and away from featured running backs. In fact, is Smith's record the only untouchable record? If nothing else, the debates about this stuff should be fun. -TOB
Source: "How Will a 17-Game Season Impact NFL Record Books?" Riley McAtee, The Ringer (03/31/2021)
PAL: Single most insane stat from this numbers-heavy story: George Blanda threw 42 interceptions in a 14-game season back in 1962. George, my man, the check down is your friend.
---
How a Meme Becomes a Meme, as There's a Drive into Deep Left Field by Castellanos and That'll Be a Homerun, and Why One in Particular is Funny
Last year, longtime Reds' announcer Thom Brennaman was caught on a hot mic using a gay slur. It was no accident. He was referring to some unnamed city (ahem) as being full of that slur. It was not good. Not long after, word had made it to Thom that his comment had gone out on the air, and he left the broadcast mid-game, first offering an apology. As apologies go, it was not good. He did not directly apologize to the group of people he slurred, and even apologized to his employers. But it was made so much worse by the fact that, mid-apology, without missing a beat, Brennaman casually called a home run by the Reds' Nick Castellanos.
The awfulness of the slur and the awkwardness of the call went viral over the next couple days. But then, slowly percolating in the Twitterverse, a meme began to rise weeks later. A copypasta, as it's known, in which people began copying and pasting Brennaman's home run call, "as there's a drive into deep left field by Castellanos and that'll be a homerun. And so that'll make it a 4-0 ballgame," and using it as a non-sequitur for comedic effect. It started to catch fire. A few funny examples:
This article breaks down how and why this joke went viral and why it works as a joke – which I really enjoyed. Sometimes you don't know why something is as funny as it is, you just know it is. But I enjoyed reading why this works:
Then there's the syntax. The home run call is itself a non sequitur, which enables the Castellanos call to be linked to any preceding sentence just as logically (or illogically) as it was when Brennaman first uttered the infamous lines. Just stick in a comma, add an "as there's a drive," and you're good to go. "The 'as' is the killer [word] there," Ingall says. "It lends itself with that 'as' to memeing so well." The "drive into deep left field," Baccellieri observes, is also perfectly situated between the "big-picture seriousness" of the "man of faith" clause and the "melancholy vibe" of the headset sentence.
It's a pretty fun read about how the internet turned a bad story into a good one. -TOB
Source: "How 'A Drive Into Deep Left Field by Castellanos' Became the Perfect Meme for These Strange Times," Ben Lindbergh, The Ringer (03/29/2021)
PAL: How can a story be this good while being so much longer than it needed to be?Still, this is a pretty fascinating exploration of the construction of a joke written, revised, and perfected by committee.
What stands up to replays is the timing of the home run. As Lindbergh highlights in his opening, all of the variables that had to line up exactly so in order for Brennaman's home run call to slot into his apology without missing a beat. Lindbergh revisits the at-bat later on when he writes:
If Castellanos had taken strike two, maybe Brennaman could have submerged himself in that sea of sorrys and avoided disproportionate attention. "If it was just the formulaic apology, then there would have been an eye roll and maybe some commentary about that," Milner says. "We would have moved on. But the incongruity of him calling a play in the middle, it just further punctuates how rote this must have been, that he wasn't even heartfelt enough to get through it without turning to this play call." The apology's performative nature was laid bare, all because of a drive into deep left field by Castellanos.
Can't say I've ever read a story like this one.
---
Video of the Week:
Tweet(s) of the Week:
Song of the Week: Cousin Wolf – "Kevin Elster"
More on this story, the songwriter, and the ambitious project next week.
---
Like what you've read? Follow us for weekly updates:
Email: 123sportslist@gmail.com
Twitter: @123sportsdigest
---
You're crying from Home Alone?
-Jerry Seinfeld