Tom Ammiano earned this varsity letter in 1958 and received it 50+ years later. Read why it matters so much that he received it here.
---
Pulling for Smooth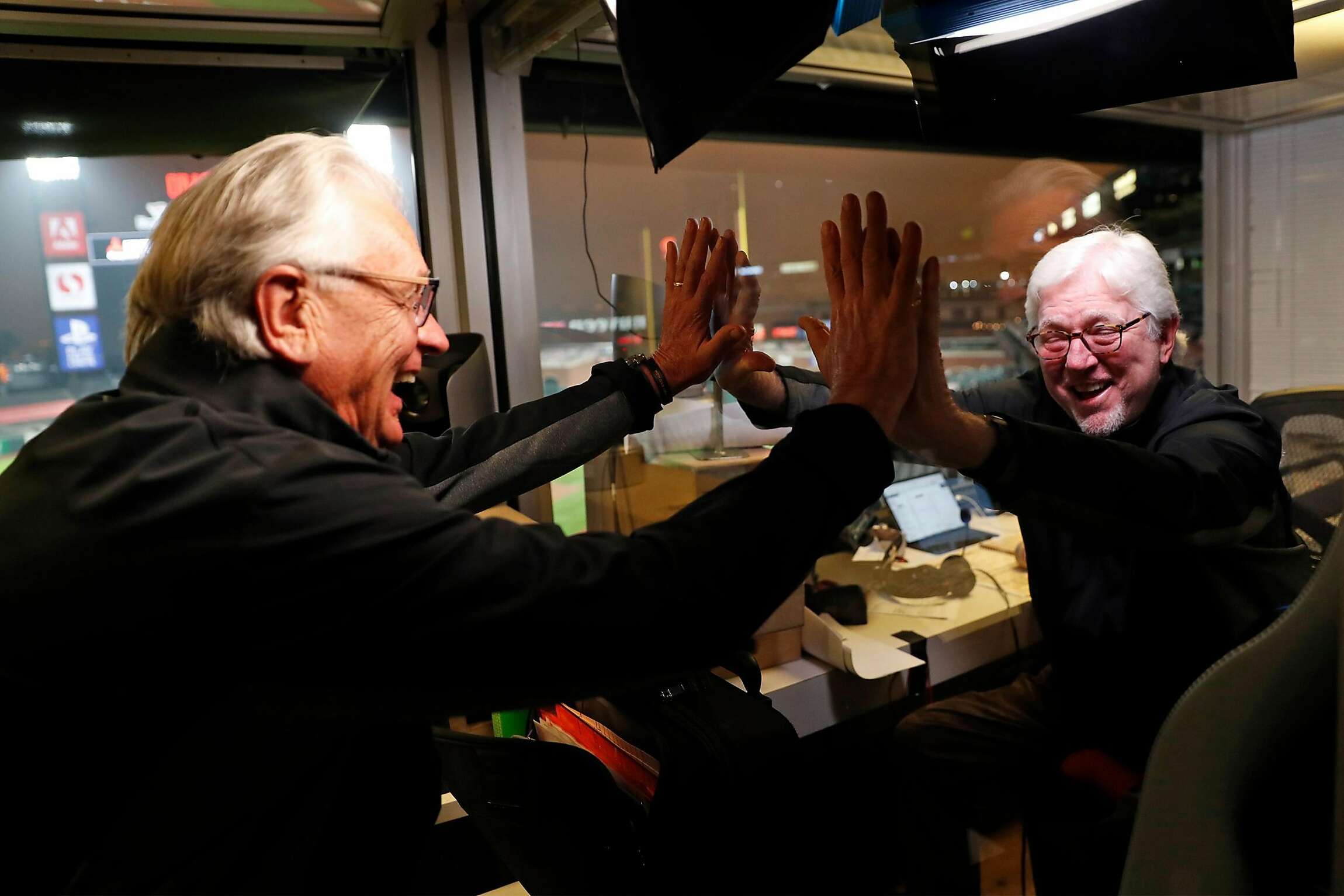 Earlier this week, Giants play-by-play announcer, Duane Kuiper, released a statement saying he would be missing some games as he undergoes chemotherapy for an unspecified illness. I was surprised by how the news stopped me. Friends and family, people we actually know and love dearly get sick all of the time; why did the play-by-play guy's illness leave me dazed?
After a moment, it's obvious, right? These announcers are voices in our lives nearly every day for six months. We do know them. They are in our family rooms most every night, stuck with us in traffic, the background conversation at any true sports bar that will have the audio on with the game.
Duane Kuiper, a.k.a. 'Smooth', and Mike Krukow have been here with me since I moved to San Francisco in the summer of 2004. They are, without question, they best baseball broadcast duo I've ever heard. There's so much I could say about the nuance to the mastery of them calling a game together, but the best compliment I can give is this: My wife loves them and so do I. The two of us watch Giants games very differently, and yet these guys somehow have the perfect tone for a very casual viewer in her and someone that has an in depth understanding of the gamer. They are the very rare combo where both the play-by-play and color commentator are former players.
While it comes as no surprise, I was nodding along as I read Bruce Jenkins' column, which included a handful of fans trying to summarize why they love Kruk and Kuip so much.
Constance Prodromou, acupuncturist and energy healer at the Marin Health Empowerment Center (of course she is):
But they're just the best in baseball with their wit and wisdom, always sharing great stories about the game and explaining things beyond the play-by-play. I feel like I know so much about them from their work. If I ever got to meet them, I could talk to them as longtime friends.
Ann Walsh, a retired schoolteacher/PG&E employee:
There's just something about the chemistry between Kruk and Kuip, they cover all of the bases. Even when I'm at the games, I bring my earphones in case there's something I need explaining. Problem with that is, people around you think you're the bible (laughs). Like, 'What did Duane say? Do you agree with him?'
I couldn't agree more with bartender Nick Shapiro when he says, "That's one of the great things for me — they are the perfect combination of being homers, yet objective. You know where their heart lies, but they call it straight."
There's a massive fanbase sending good vibes Duane Kuiper's way. Join us! – PAL
Source: "'I know Duane feels it': Mike Krukow, Giants community rallying behind Kuiper", Bruce Jenkins, San Francisco Chronicle (06/08/21)
---
The Great Substance Debacle in MLB
Let's get you up to speed: Pitchers in MLB are using this stuff called Spider Tack to increase the grip and, more importantly, revolutions on the baseball. It makes a huge difference. Imagine a batting glove that allowed a hitter to increase good contact by 25%. That's pretty much what's happening with pitchers and spider tack: a 25% improvement.
Pitching is dominating baseball this year. I mean, did you read TOB's summary about the 6 no-hitters that have already taken place this season, or did you check out that Jayson Stark story I wrote about a few weeks ago detailing how hitters are striking out at a historic rate, and singles and doubles are disappearing from the game?
Offense other than home runs is quickly fading away from the game, and MLB baseball is not a great product these days. Some can blame the prevalence of defensive shifts. Or there's launch angle for hitters and the general ambivalence they have to striking out? And then there are pitchers throwing damn near unhittable stuff. 
Baseball knows it has a problem, because they are experimenting with all sorts of crazy solutions in the minors (moving the mound back one foot, banning spider tack, regulating shifts to name three experiments taking place). They've taken even a step further, attempting to now regulate Spider Tack use in MLB – mid-season. For a couple of baseball junkies, this is a big story, so I wanted to share a few of the more interesting reads on the topic. 
For a general overview of what the actual hell is going on with pitchers using substances (which they've done forever), check out this story from Ken Rosenthal and Eno Sarris. It breaks down how Spider Tack is a departure from the usual grip suspects and why it matters so much. It's a meat & potatoes story on what's going on and why it's important. Here's one nugget:
This revelation has a chance to help baseball navigate this difficult space. For pitchers who are truly just looking to grip the ball and avoid hitting batters, there's a de facto grip substance that cannot be policed and is readily available. For pitcher looking to increase their spin rate by 500 RPM and their breaking ball stuff by a third, baseball can provide the fines and suspensions it takes to reduce the steady advancing march in league spin rates.

Baseball doesn't need to do a thing about sunscreen and rosin to arrest this trend, it turns out. Just getting rid of the highly engineered tacky substances might very well be good enough.
And for Spider Tack origin story (spoiler alert: invented by a strongman competitor to help keep a grip on those atlas stones), check out this piece from Stephen Nesbit. Here's a fun bit:
A little amateur sleuthing leads to a LinkedIn profile, then another, then an address, then a phone number, and then I'm cold-calling a pharmaceuticals lab on the outskirts of Denver. The woman who answers the phone patches me through to the lab's president and CEO, Mike Caruso. He is willing to talk. He is a retired strongman, once one of the strongest men in America. At 40, he's still so muscular he looks like he could crush a baseball with his hands.

This is the man who invented Spider Tack.

And he is confused about why I'm calling. When I ask Caruso what he thinks about his tacky — that's the term among strongmen and strongwomen — becoming the talk of baseball, he answers cautiously.

"This is news to me," he says. "I had no idea it was popular in baseball."
Of course, there are other variables at play besides Spider Tack. As Hall of Famer Rod Carew outlines in this podcast summary, hitters are reluctant to strategically respond to the defensive shifts (other than try to hit homers). Yes; Carew sounds a bit old in this approach – because it's not like teams are playing 3 infielders on the one side of the infield when speedsters like Byron Buxton or Billy Hamilton hit – but the broader point is correct. Hitters do need to counter the defensive strategies of the day, but it has to be said that is one hell of a task.
Hitters react to what the pitcher throws; pitchers and defense dictate the terms of engagement so to speak. Carew talks about too much guessing going on. And he's probably right, but I have to wonder if that's because these dudes are all throwing 100 with nasty off-speed that's moving a third more than usual, thanks to that spider tack.
Carew:
I think the shift is overrated, and I'm disappointed in the players who don't try to take advantage by making adjustments to go the other way. So many kids in today's game are guessers. They're guessing what the pitch is going to be instead of learning how to track the ball and then having an idea of what they want to do with it. I learned how to track the ball by trying to pick the ball up out of a pitcher's hands and reacting to that instead of trying to guess along.
So there you have it; an abbreviated guide to what's cooking with this spin rate spider tack story in baseball. – PAL
Sources: "How the difference between sunscreen and advanced grip substances could help MLB navigate tricky enforcement landscape", Ken Rosenthal & Eno Sarris, The Athletic (4/21/21); "Spider Tack is the stickiest stuff in baseball's foreign-substance controversy. Its inventor had no idea", Stephen Nesbit, The Athletic (06/07/21); "Rod Carew: Pitchers have always cheated; hitters need new approach", Michael Rand, Star Tribune (06/09/21)
---
Pick A Winner
Love the premise of this story from Tyler Kepner: of all the thousands of prospects selected in the Major League Draft, which player turned out the best for his team? 
For the purposes of his story, Kepner uses WAR as his measurement (Wins Above Replacement accounts for hitting, baserunning, defense. It also takes into account position, era, and ballpark). And by that measure, Mike Schmidt (30th pick)was the best selection in the history of the draft (the first amatuer draft was held in 1965, with Rick Monday going to the Cubs).
It helps, of course, that Schmidt played all 18 years with the Phillies while amassing 3 MVPs, 10 Gold Gloves, 500+ home runs and over 1500 RBI (and a lot of strikeouts, but we'll give him a pass).
Kepner's story then goes on to share the legend of the scout who discovered Schmidt: Tony Lucadello.
And while Kepner describes Lucadello as a scout who would've "fit well in the early scenes of 'Moneyball,' where graying scouts talk about "the good face" and the sound of the ball off the bat", he also signed 52 players who would make it to the bigs over his career. At the time, in 1980, that was more than all of the other Phillies' scouts combined.
I have no feelings about Mike Schmidt one way or the other. He was just before my time as a baseball nut, but I liked the idea of the story, and the details of how Mike Schmidt was discovered. Good read. – PAL
Source: "The Greatest Draft Pick Ever", Tyler Kepner, The New York Times (06/06/21)
Video of the Week
Tweet of the Week
Song of the Week: Steve Forbert – "Romeo's Tune"
---
Like what you've read? Follow us for weekly updates:
Email: 123sportslist@gmail.com
Twitter: @123sportsdigest
---