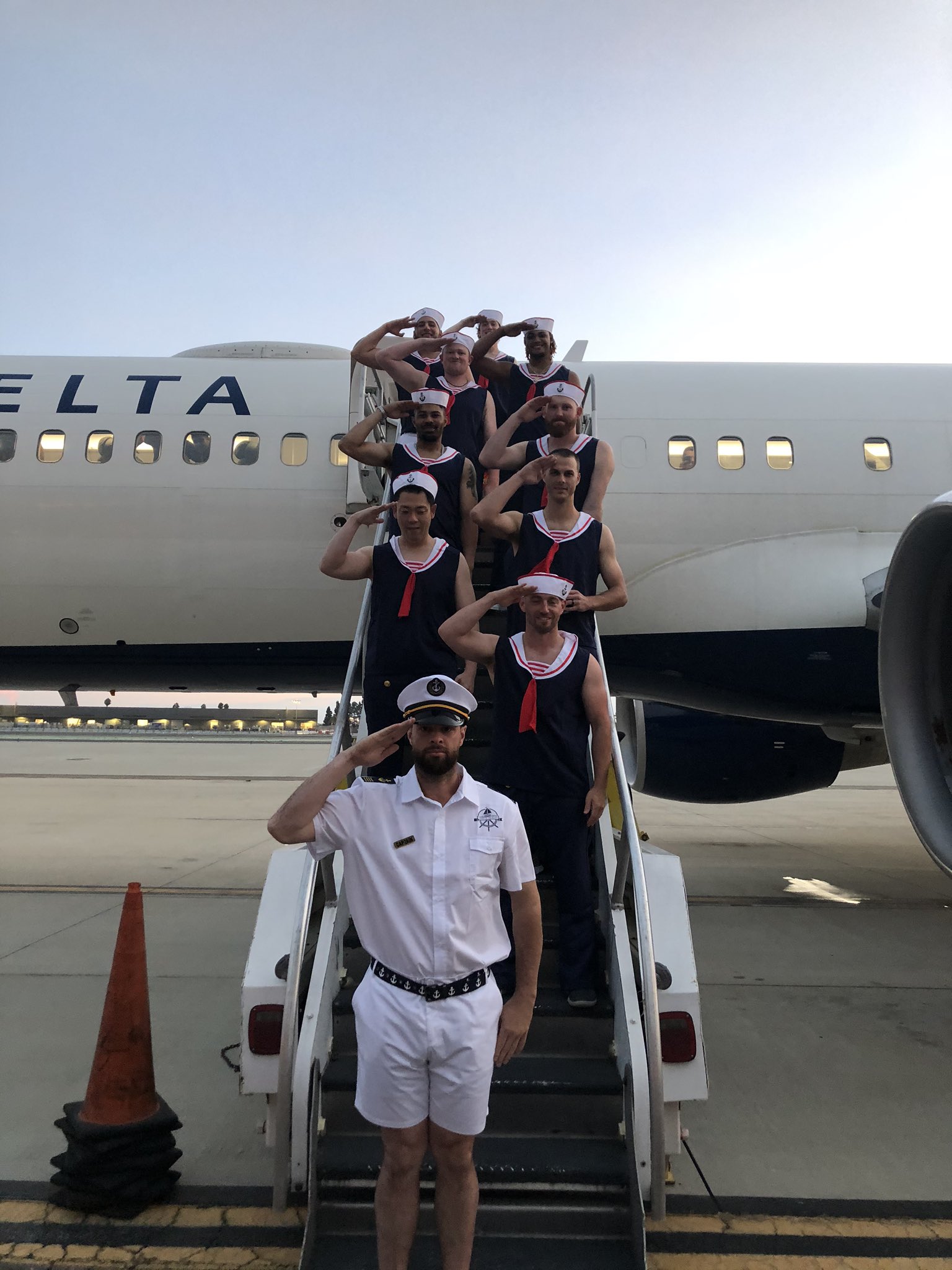 ---
MLB and the Looming Labor Dispute: Origin Story
Over the last few years, many MLB writers have been sounding alarm bells about a bitter labor dispute coming to MLB this offseason, when the current CBA expires. This article by Evan Drellich explains how we got here.
Drellich starts in 1994, the last time MLB had a work stoppage:
In the first labor deal the players and owners reached afterward, two important elements were introduced: revenue sharing between teams, and a luxury tax on payroll spending, known as the competitive balance tax. The league framed its desire for those mechanisms around improving competitiveness and parity.

"How it was sold to the players was that revenue sharing money was going to be used for competitive balance," the executive said. "Luxury tax was going to be a drag on spending, not a cap on spending. And that would equal competitive balance. And as a result, you know, there was good faith that teams would honor that concept.

"What happened is, it worked. … That wasn't good enough for Bud [Selig]."
As Drellich notes, Selig came from a small market team – before being commissioner he owned the Milwaukee Brewers. So, in his last negotiation, he fought for small market teams.
Prior to 2011, teams could spend what they wanted in the draft. The commissioner's office made recommendations as to each pick's worth, but teams were free to exceed them, and big-market teams often did.

The large-market teams had another draft-related weapon, too. Clubs who lost players in free agency often received compensation draft picks. The departing player didn't have to be a superstar, either — even more middle-of-the-pack players made a team eligible to receive a pick. So a deep-pocketed club like the Red Sox not only had an increased ability to sign players who had high-bonus demands in the draft. The compensation system also allowed the Sox to sign or trade for players whom they knew they could someday let walk, and gain a draft pick for in the process.

…

The union in 2011 agreed to allow the draft to be capped. Each team would have a fixed pool of money for signing players, and to greatly exceed that pool would bring penalties so onerous that no team would be likely to do so. A new system for free-agent compensation arrived as well: the introduction of the "qualifying offer," which was not so liberal in granting draft picks when players signed with a new team.
As a result, the free agent market has been depressed. The draft slot caps in particular changed things. As agent Scott Boras points out:
"Because of the draft, club behavior has changed dramatically," Boras said. "Where before you had to pay ($15.1 million) for Stephen Strasburg, now you only had to pay $6 million. And the key thing is you're assured of signing him. … When you have the No. 1 pick now, you're going to get the best player. Before, the No. 1 pick didn't ensure you're getting the best player, because you couldn't afford to sign him."
And as Drellich summed up:
The draft, in other words, provided more certainty than before for any team that wanted to get cheap, young talent. And because draft order had always been tied to win-loss record, the only way to guarantee high draft picks became losing. And when a team doesn't mind losing, it's probably not going to spend much in the free-agent market.
At the same time, teams got smarter and realized that, as one source said, "We're not going to continue to pay for what players did for us yesterday. We're going to pay for the guys who we think are going to help us tomorrow." In other words – don't pay aging free agents.
Interestingly, Drellich says some argue that the Competitive Balance Tax, the de facto salary cap, is not what is driving down player salaries:
But some people say the CBT doesn't matter much at all, usually for two reasons: A, some teams would never spend enough to reach the threshold anyway; and B, almost all teams have decided free agency is best used conservatively. That a groupthink has set in during the last decade, an outgrowth of "Moneyball" and analytics, where teams mostly value players the same way, and have settled on the value of youth.

"I think going over CBT thresholds made you a bad actor in the current ownership group," one industry source said. "Which didn't use to be the case. You also had a lot of the kind of old-school, big-market owners die off, or sell. Not having George Steinbrenner own the Yankees. Not having Mike Illitch own the Tigers. The places where you might get an owner's kind of emotional buying of a player which would drive the market, it doesn't really exist anymore. And those things … it wouldn't matter what's in the CBA."
It will be interesting to see if this is correct. If so, it would seem a spot the owners could have some room to move in negotiations in order to extract other concessions from players. My guess, though, is that this is wrong – MLB teams are smarter, I believe that. But they are not going to give up the CBT and allow a team or two to buy a championship without incurring major costs, monetarily and otherwise, to do so. As another source puts it, the CBT and ownership behavior are "inextricably linked."
In the end, the 2016 negotiation was such a blowout win for the league that one source suggests the league made a mistake – they exacted such a crushing win that the players are now pissed and ready for a fight. One source says a work stoppage is inevitable.
Maybe, maybe not. But when it goes down this offseason, it's nice to know the forces that brought things where they are. -TOB
Source: "How We Got Here: The Decisions and Changes of the Last Decade that Brought Players and Owners to a Looming Labor Fight," Evan Drellich, The Athletic (09/23/2021)
---
My New Favorite Twitter Follow: College Football Message Board Geniuses
Sometimes, a Twitter account hits you just right – it really gets you. For example, this year I discovered "Guy Who Yells Slater" who Tweets, "SLAAAAAATEEEEER" every time Giants' reserve outfielder Austin Slater does something good. For example, on Thursday when Slater hit a 3-run go-ahead dinger (in a game the Giants would eventually lose in extra innings):
I love it because *I* also yell SLAAAAAAATEEEEER every time Austin Slater does something good. But I digress.
I'm here to tell you about CFB Message Board Geniuses, an absolutely incredible account that simply tweets screenshots of the dumbest, most delusional things college football fans say on message boards. Man, it is funny. A lot of it is just a bunch of idiots wanting to fire every coach on every team, even the good ones. And a lot of it is delusional speculation on who a team might be able to hire as its next coach. A sampling, to whet your appetite:
Example:
Also, this:
And this:
Oh, and:
But my favorite are the guys (and, come on, we know they're all men) who think they would be better coaches than the coaches.
And this is the best of all:
-TOB
PAL: I went to college with a dude that had an 'about' section from his FB profile that was an all-timer. Basically everything you wouldn't want a potential boss to read when doing a cursory glance at a candidates social media pages. It was so over-the-top inappropriate that one of my friends wondered if this guy was actually a comedian genius that had us fooled for years. I think about that comedic genius comment when I read that last one from the assistant Little League coach. See, the 'assistant' detail – that's the stuff of genius.

---
Contract Jurisdiction
Here's a story about the limits of a team's rights when it comes to a player under contract. Jack Eichel (24), was the second overall pick in 2015, and his play has lived up to the franchise player promise: 355 points in 375 games, and generally improving year over year. Last year, a herniated disc limited Eichel to 21 games played. All parties—the Buffalo Sabres and Eichel—agree he needs surgery to fix it, but they disagree on the type of surgery. The Sabres want Eichel to get a fusion surgery, and Eichel wants to get a disc replacement surgery.
The Sabres and their doctors insist Eichel undergo fusion surgery, a common practice. It involves removal of the damaged disk. Two vertebrae inhabit the empty space and fuse together, either with time or the addition of a plate.

Eichel says no way, not a chance, never going to happen.

"Jack is not willing to move forward with what our doctors are suggesting," general manager Kevyn Adams said in KeyBank Center.Eichel's surgeon of choice, Dr. Chad Prusmack, informed the center that 25 percent of fusion patients require additional surgery at the 10-year mark because the procedure puts strain above and below the fusion point. Prusmack said the clock starts over at that point, meaning a patient could have three surgeries in 20 years.

…

So, Eichel wants artificial disk replacement, which is exactly what it sounds like. An artificial disk is inserted between the vertebrae, replacing the damaged disk. Though the surgery has never been done on an NHL player, it's hardly experimental. It's been performed worldwide for two decades. Eichel's doctor said fewer than 5 percent of recipients need additional surgery at the 10-year mark.

The Sabres and their doctors say no way, not a chance, never going to happen.
Players and teams disagreeing on medical treatment probably happens on a daily basis in professional sports. We hear of players wanting a second opinion. The nature of this injury, and the fact that it deals with a player's spine, really underscores the oddity of a team having "rights" over an employee's body much more than if it were a knee or elbow injury. At least for me it does.
What's more, the Sabres want to trade Eichel, so getting him healthy in the short-term helps with their leverage. To John Vogl's point, Eichel's health 10 or 20 years from now is not the Sabres' concern or problem.
I don't follow Eichel, and I don't know about any other circumstances around his relationship with the Sabres, but this column from Vogl, who's definitely in Eichel's corner on the issue, brought to the surface a sports scenario I hadn't thought too much about outside of CTE. – PAL
Source: "Jack Eichel should be allowed to live the life he wants, not the life the Sabres want for him," John Vogl, The Athletic (09/23/21)
TOB: Man, this article nails it in the first sentence: "The Sabres are wrong." What's frustrating about the article, though, is while there's an explanation of why Eichel doesn't want the fusion surgery, there's no explanation of why the Sabres refuse to let him do the artificial disc replacement. That seems an important part of the story and I wish I knew why.
---
A Story Where Everyone Kinda Sucks
There was quite the kerfuffle this week during a series between the Blue Jays and Rays. It started with this:
And it ends with just about every person involved looking bad.
Kevin Kiermaier Sucks.
What you're seeing in the video is the Rays' Kevin Keirmaier looking down, seeing the Blue Jays' catcher's game plan on how to attack the Rays' hitters, which had fallen out of his wristband. Kiermaier sees it. Pauses. Absolutely recognizes what it is. Quickly picks it up, stops complaining about the call, and immediately pop sup and head toward his dugout.
It's pretty bush league, if you ask me. Think what you want about the cards – but all teams now use them and I think anyone with a little integrity would see what it was and leave it. Kiermaier picked it up. That's kinda sucky.
Then, after the Blue Jays get upset about him sucking, Kiermaier provides one of the most rambling, b.s. answers I have heard:
So Kiermaier is saying that he didn't know what it was until after he picked it up. Which is a lie, because you can see the recognition on his face before he picks it up, and he doesn't look at it after he picked it up. He then acknowledges he was not going to give it back. Then he didn't think anything of it when he saw it, which is a lie. The only true thing he says is he knew it wasn't his and he wasn't giving it back. Ok, well, taking something of some else's is wrong and refusing to give it back is wrong. And, especially given what it is, it's unsportsmanlike. Kiermaier sucks.
Ok, so the Jays were rightfully mad. And what happens? Rays manager Kevin Cash apologized to Blue Jays manager Charlie Montoyo. Montoyo's response:
Ok, so far so good. It ended there, right? Nah.
Ryan Borucki Sucks.
In the 8th inning of the next game, Blue Jays pitcher Ryan Borucki tagged Kiermaier in the back. Kiermaier whined like a baby (see previous section re Kiermaier Sucks). But also, that's dangerous and it's not my thing, personally. So, that kinda sucks. But worse, Borucki denied it was intentional (I mean, ok, that's a lie but I get it – you can't admit that no matter how obvious it is). Borucki kinda sucks.
Kevin Cash Sucks.
Let's add a little context here. There is a good possibility these two teams meet in the playoffs and so the Rays getting the Jays' pitching strategy two weeks before the postseason is pretty significant. Kevin Cash apologized, which ok that's good. But you had to know your guy was going to wear one. Plus, he took it in one of the safest spots – the middle of the back. You have to expect it and move on. Instead, Cash threw a fit. Cash kinda sucks.
Charlie Montoya Sucks.
Ok, your team got its card stolen and that sucks. But don't accept an apology, tell everyone it's "agua under the bridge" (a good line, though!), and then have your guy bean Kiermaier. Either accept the apology or don't.
Joe West Sucks.
Just because.
But really, Kiermaier sucks. After writing this, I found this Jomboy video covering whole thing, which gives even more evidence about how much Kiermaier sucks, including footage of what he did when he got to the dugout.
Also, this video about Kiermaier from earlier in the year, stealing fly balls from his teammates.
What a tool. -TOB
PAL: This summary does not suck.
Taking the card is lame move, but—in the spirit of giving another side of the argument— it's not on the same level of taking a play card from an O.C. in a football game. For established pitchers at least, hitters know the location and pitches an opposing team will likely attack on certain counts.
Then again, I've never seen what's on those cards…it could be more detailed than that. Perhaps it has defensive alignment, signal sequences for when runners are on second base, the phone number of a lady in row 17.
---
Videos of the Week
Tweet of the Week
Song of the Week
Grouplove – "Deleter"
Like what you've read? Follow us for weekly updates:
Email: 123sportslist@gmail.com
Twitter: @123sportsdigest
---
Cornell commencement address? Sorry, but Tracy Jordan doesn't do safety schools.

Tracy Jordan