The Case for Patience with Coaches
As most of you probably know, I am a Cal football fan. Cal is not a blue blood program, though they were a national powerhouse in the 1930s! Since then, there have been random good years and lots and lots of bad ones. Still, I became a Cal fan in the modern golden era – the early Jeff Tedford years. And this requires a bit of history.
Tedford had been the offensive coordinator at Oregon when they first became nationally relevant. Prior to that, he coached at Fresno State. He coached four first round pick quarterbacks in a short span: Trent Dilfer, David Carr, Akili Smith, and Joey Harrington. Then he took over a 1-10 Cal team and turned Kyle Boller into a top 10 pick, while turning the team around to 7-5. Then they went 8-6, led by JUCO transfer Aaron Rodgers, with that season peaking with a win over eventual national champion USC, and culminating in a bowl win over a very good Virginia Tech team.
The following year they had a little buzz and I said I thought they could go undefeated. I was close. They went 11-1, with the lone loss being a close loss at #1 (and again eventual champion) USC – a game they outgained and outplayed the defending national champs, but lost after four straight failed plays with goal to go.
The next five years were uneven. Some good years, some very disappointing years. Then, because of Tedford's early success, the school was able to build a new training facility and renovate the stadium. But Tedford only lasted one year in the new stadium – he opened with an awful loss to Nevada, and the season did not go up from there. The team seemed to quit late in the season, and to top it off the team's academics were so bad Cal was close to a bowl ban. After that 2004 season, Tedford's teams went 8-4, 10-3, 7-6, 9-4, 8-5, 5-7, 7-6, 3-9. There's an obvious downward trend there. I was sad, but even I agreed Tedford had to go.
But the interesting thing about Tedford is he didn't stop coaching, despite serious and recurring health problems. Most notably, he returned to his alma mater, Fresno State, and turned a moribund Bulldog program around. The 2016 Bulldogs went 1-11. Tedford arrived after that season and they went 10-4. The next year, 12-2. In his third year, they went 4-8 and he retired due to those same health issues. Interestingly, he just returned to Fresno. We'll see how it goes.
But what I find most interesting about Tedford's return to Fresno in the last half of that last decade is the question it begs about his coaching ability and what happened at Cal. Why did he struggle so badly in the last part of his Cal tenure? He obviously didn't forget how to coach: he proved that at Fresno. There are lot of theories among Cal fans, but I am not here to settle that debate today.
Instead I am here to wonder what might have happened had Cal been more patient with Tedford. What if they had allowed him time to right the ship, both athletically and academically? No one can say for sure, but I can't help but wonder if he would have been like Kirk Ferentz, who has been the Iowa coach for over twenty years now. First, Iowa and Cal have similar histories. The programs are, if not equal, close. The similarities between Ferentz and Tedford are even more interesting.
Ferentz and Tedford are similarly aged and were similarly successful early on in their careers, though Ferentz a bit more, perhaps. Ferentz is five years older than Tedford and started at Iowa three years before Tedford started at Cal. Ferentz didn't start as hot as Tedford, going 1-10 and 3-9 in his first two years. But then he went 7-5, 11-2 (with an Orange Bowl appearance), 10-3, and 10-2. But then, like Tedford, Ferentz hit a lull. From 2005-2007, where he went a combined 19-18, and then particularly from 2010 to 2014, where he went 8-5, 7-6, 4-8, 8-5, 7-6. Since then, he's 63 wins and 23 losses in 7 years, including two conference championship appearances. Could Tedford have done the same? I don't know. But I do know this: there are lots of Cal fans unhappy with the current head coach, Justin Wilcox.
Wilcox took over a program in dire straits – a terrible defense for the entirety of the Sonny Dykes era, Cal football had become, for me, unwatchable. Even the good wins (Texas, twice) were exasperating. Wilcox turned things around immediately – what had been an historically bad defense was suddenly tops in the conference. Wilcox's early teams struggled on offense. But heading into the 2020 season, Cal fans expected big things: almost every starter from a pretty good team was back, including quarterback Chase Garbers who suddenly looked like a very good QB.
And then COVID hit and things fell apart. Cal got only 4 games in 2020. Many Cal fans wrote off the 1-3 record to the pandemic – Cal had multiple games canceled; they even had to travel to UCLA on 24 hours' notice after ASU had a COVID outbreak, before getting stomped. But they beat a very good Oregon team and fans were cautiously optimistic – especially because the NCAA declared 2020 a non season for player eligibility. And then Cal started 2021 1-5 and many fans jumped off the bandwagon. Many wanted him fired. Most wanted him to take the UW job or the Oregon job (Wilcox's alma mater) when those opened up.
But Cal is not USC. It is not Alabama. It is not Texas. Cal is Iowa. And Cal needs to be patient with a good coach, learning on the job, who wants to be there. Oh, yeah – that's an important part here: Wilcox was offered the Oregon job last week, and he turned it down. Oregon made a second run at him, he slept on it, and he turned it down. When asked why he turned down his alma mater he said he likes it at Cal and has unfinished business there.
Yes, Cal has instiutional barriers that make it harder to win at than many other schools. So Cal needs a coach who doesn't shy away from that; who embraces it. Wilcox is that guy, without a doubt. Now, can he be Cal's Kirk Ferentz? Can he be another Jeff Tedford? I don't know – but I think Cal needs to be patient and find out, and not make the possible mistake they made in firing Tedford. -TOB
Counterpoint: Urban Meyer Deserved to Get Fired After 13 Games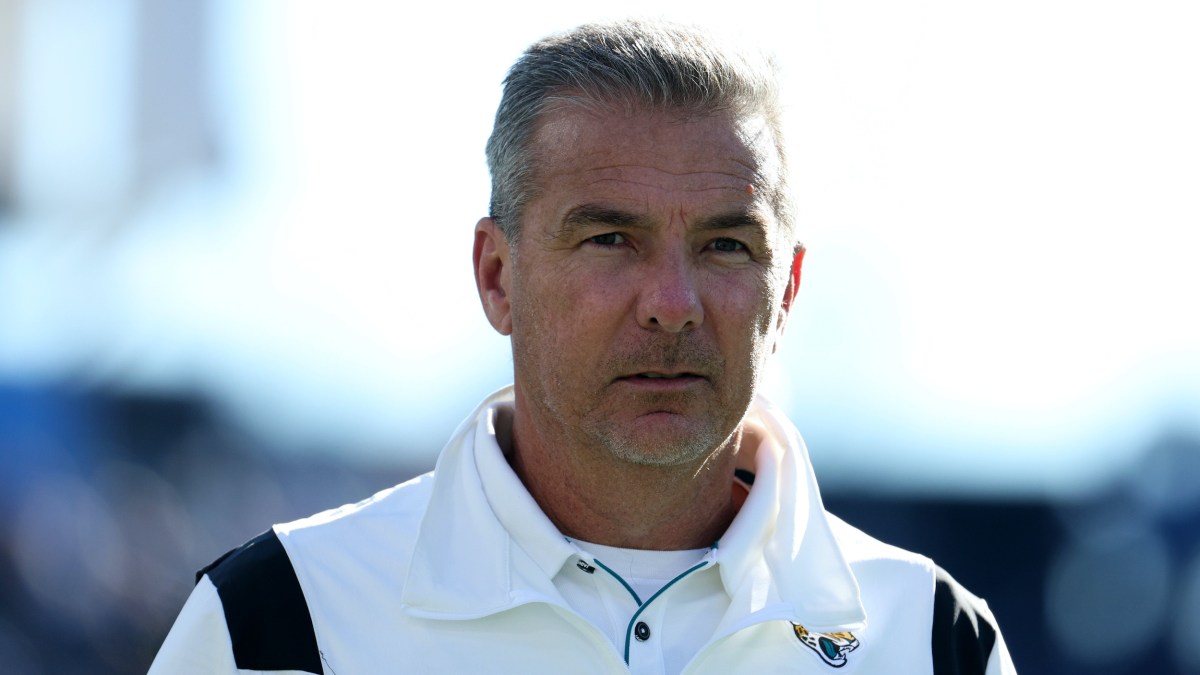 Urban Meyer was fired this week, just 13 games into his NFL coaching career. Defector's Samer Kalaf gives a great run down of Meyer's horrific tenure:
Though the team hadn't played since Sunday—a 20-0 loss to the Titans—the midweek firing seems to have been prompted by Wednesday's Tampa Bay Times report in which former Jaguars kicker Josh Lambo said Meyer kicked him at a practice during the preseason and called him a "dipshit." When Lambo told him never to kick him again, Meyer allegedly said, "I'm the head ball coach, I'll kick you whenever the f–k I want," and later told his kicker not to complain about it in front of the other players.

Kicking an employee was possibly the most actionable thing Meyer did as Jaguars head coach, but he packed a lot of mortifying behavior within his incomplete season. An NFL Network report Sunday morning uncovered a handful of terrible decisions: Meyer treated his players like children and pissed off receiver Marvin Jones Jr., a guy who's difficult to piss off; he called his assistant coaches "losers" in a staff meeting; and he benched running back James Robinson, then pushed the blame onto his RBs coach. That was one report. There were so many more.

Urban Meyer hired, then fired a racist strength coach. He brought in Tim Tebow, presumably so that at least one person respected him in the locker room. He called for an onside kick, and the opposing team returned it for a touchdown. He lost a Thursday night game in Cincinnati, stayed in Ohio while the team flew back to Jacksonville, and showed up in his own steakhouse with his hand in a woman who wasn't his wife. He looked like the biggest fucking sadsack in the subsequent presser, and basically every presser after that.
The Lambo kicking incident should be required reading for any NFL owner considering hiring a college coach:
"It certainly wasn't as hard as he could've done it, but it certainly wasn't a love tap," Lambo said. "Truthfully, I'd register it as a five (out of 10). Which in the workplace, I don't care if it's football or not, the boss can't strike an employee. And for a second, I couldn't believe it actually happened. Pardon my vulgarity, I said, 'Don't you ever f–king kick me again!' And his response was, 'I'm the head ball coach, I'll kick you whenever the f–k I want.'"

When reached by Stroud, Meyer denied the kick and said Lambo's characterization of the incident was "completely inaccurate." Lambo said Meyer "cornered" him the next day in the practice facility and told him to smile, which Lambo said he would do if his coach stopped kicking him. Then Meyer allegedly threatened to cut Lambo if he ever talked back to him again. "You're the first player I've ever let speak to me that way in my career, and if you do it again, you're gone," Meyer said, according to Lambo.
That is the kind of thing you can get away with as a sleazeball college coach, when dealing with young, unpaid players. But when dealing with grown men who make lots of money? It's not going to fly.
My favorite part of Urbant's NFL career was…well, ok, it was the pictures of him out at a club in Ohio. But my second favorite part was this press conference, about the above mentioned reports about how awful he is:
Incredible. Who does this guy think he is? A military general? I think he really does. The worst part about his firing is that he'll probably go back to a high paying gig at ESPN which will mean I'll have to look at his dumb, lying face way more often. Dang. -TOB
Source: "Jaguars Give Urban Meyer The Boot," Samer Kalaf, Defector (11/16/2021)
PAL: That kick might be the most expensive kick in history. If that helps the Jags fire him for cause, then they don't need to pay him the remaining (gulp) $50MM on his contract, and it sounds like the team doesn't intend to pay him (but the two sides will likely negotiate a middle ground).
The Cal-Iowa comp is right on, TOB. Dead-on. There are, what 10 schools that can look in the mirror and say they have a legit chance to make a national championship run at least once a decade? There are a lot of programs who foolishly think they are on that list. Add the University of Minnesota to likes of Cal and Iowa. As least Iowa recognizes what it is, and what it's not. I feel like deep down, amongst those KFAN listeners in MN, folks still think the Gophers could compete with Ohio State if they just found the right guy. Or maybe I've been wrong about used car salesman P.J. Fleck. Maybe he wants to be a cheesier version of Ferentz for the Gophers.
14 Peaks Review
"Giving up is not in the blood, sir. It's not in the blood."
There are 14 mountains in the world over 8k meters. The fastest to summit all 14 was seven years. Nimsdai Pursa and his team of Nepali climbers set out to do it in seven months. A must-watch documentary.
The advent of the drone and super high quality small cameras has captured the magnitude of some of these incredible outdoor documentaries (Alone On The Wall, 100 Foot Wave, The Dawn Wall), but the most compelling parts remain the personal stories. Why does Alex Honnold want to climb El Cap without a rope? What compels Garrett McNamara, on the wrong end of 50, to tow into a monster wave and let go of the rope? The exploration of these questions, coupled with the sweaty-palmed beauty of the footage, is what makes for an exhilarating viewing.
At the center of 14 Peaks is one of the biggest, most positive bad-asses to come across my TV. Before becoming a superstar of the mountaineering world, Nimsdai Purja, was a special ops for 16 years, first as a Gurka, and then as the first Gurkha ever to join the UK Special Ops.
There's a part in the doc when Nims gets hooked up to some sort of oxygen thinner machine in a lab in what I think is London. They have him get on the stationary bike to measure his endurance and decision-making skills as he pushes harder and harder while the oxygen thins. Nims has a pot belly. You can tell the guy is strong, but he's not "ripped". He proceeds to flabbergast the scientist with his decision-making while charging on a bike with little oxygen. He goes for 3 minutes, while world-class triathletes tap out in under 1 minute.
His military comes into play on more than one occasion when 'Nims' and his team come across other climbers in serious trouble on the mountain. This dude is breaking records and saving lives at the same time.
Of course, 'Nims' can't do this alone, and he has a team made up exclusively of Nepali climbers. In sport where historically Nepali climbers are helping clients up the summit, it was cool to see them pursue the crowning achievement for their people.
Nims charges so hard, but he also seems so happy to be alive. There's a real joy pursuing such an audacious goal. Whereas someone like Alex Honnold's achievement and skill inspire me, I feel so far away from whoever he is as a person. With Nims, the dude's spirit is so goddamn infectious. I really loved watching him and his team risk their lives one day, and celebrate life (with a bit of booze) the next, then climb again the day after that. – PAL 
More Good Stuff
Song of the Week
Like what you've read? Follow us for weekly updates:
Email: 123sportslist@gmail.com
Twitter: @123sportsdigest
I don't need you to tell me what I don't want, you stupid hipster doofus.

Elaine Benes