Watch out for the A's in October, folks. Do us all a favor and take the Yankees out, boys.
---
Da Birth of Da Bears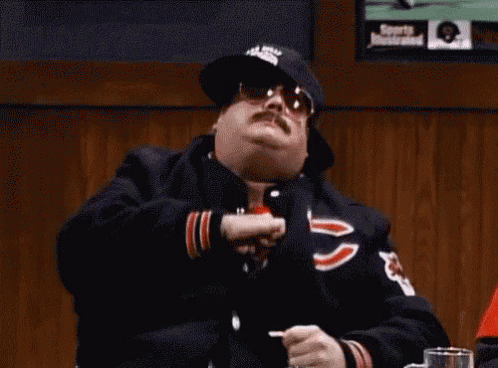 How about a light, fun sports story this week, eh? It's one of the most iconic Saturday Night Live sketches of all-time – "Bill Swerski's Super Fans":
Of course it was hilarious, and of course it gave us some vintage Farley moments, but the recurring sketch represented more than a couple laughs. In this enjoyable deep dive, The Ringer's Aln Siegel goes beyond the heart attacks and gets the origin story of Robert Smigel's brainchild that took over the nation.
Little did Smigel know that he'd created an archetype. His now 30-year-old characters remain the only-slightly-exaggerated embodiment of America's obsession with sports. Every depiction of a comically devoted fan over the past three decades owes a debt to Smigel's portly, mustached diehards.
The inspiration for sketch came not at a Bears game, but at a Cubs game.
It was a surreal Chicago moment, one of many Smigel has experienced since his first game at Wrigley back in the early '80s. That afternoon, when he heard people in the bleachers shouting, "Left field sucks!" and "Right field sucks" at each other, and watched home run balls being thrown back onto the field, he was smitten. "In Chicago, the best seats in the house are the shitty seats," he said. It's a lesson that served him well when he created the Super Fans. The irrationally positive, thick-accented men squeezed into Bears jerseys were funny enough to transcend provincialism. After all, every city has a version of those guys.
As with most any great cultural moment, a bunch of seemingly insignificant and unrelated factors coalesced. Chicago teams were having a moment in the 80s (Cubs, Bears, White Sox to a lesser extent) and that was followed with the Bulls run in the 90s. A writer's strike in '88 gave Smigel and fellow SNL writer Bob Odenkirk some time to try some wackier stuff at a stage revue over the summer (Conan O'Brien's "In The Year 2000" bit came from this same revue). Lastly, the idea of sport reporters sitting around talking about sports as a TV show was just taking off.
There's so much more in this story, and it's a treat to read. Loved it! – PAL
Source: "Da Story of Da Bears: How an 'SNL' Sketch Defined Sports Fandom", Alan Siegel, The Ringer (9/27/18)
TOB: Loved this! Nice find, PAL.
---
Another Way to Consider Tiger's Comeback
Some of you might be aware that TOB and I made a friendly bet before the Masters this year. I said Tiger would win at least one major before next year's final major – the British Open (the PGA is moving to April next year). Without Tiger, I might watch the back nine of the US Open and the Masters; with him (and our bet), I've been locked in. He makes golf matter to the general public. No one moves the needle in his or her sport like Woods.
He's obviously played much better this year. I thought I was going to win the bet at the British Open and Brooks Koepka was a beast holding him off at the PGA Championship, too. So I wasn't surprised that he won this past week, but I should be very surprised. Four back surgeries. Four knee surgeries. Setting aside the rehab and personal issues, I have no friggin' idea how someone swings a golf club like this after repeated back and knee surgeries:
As Josh Planos writes on fivethirtyeight, there's a different way of contextualizing Woods' turnaround: strokes gained. As Planos describes it, strokes gained is "a metric that measures each shot a player takes based on how much it reduces his expected score on a hole relative to the field average."
In other words, I CANNOT wait to be at Pebble Beach next year (1-2-3 Already got the tickets!) to watch Tiger win the U.S. Open amongst a sea of people going bananas, turning to TOB, and simply holding out my hand. – PAL
Source: "How Tiger Woods Finally Put It All Together Again", Josh Planos, fivethirtyeight (9/24/18)
TOB: When Phil asked me for this bet last December, I felt extremely good about it. I gave him 20-1 odds, but only let him bet $5. I figured it was an easy beer he could buy me. But over the last seven months, I am feeling far less confident. Now, I'd probably go no higher than 5-1.
Hell, at the PGA Championship last month, I was half rooting for Tiger on Sunday, as Phil was whoopin' it up next to me. This was not a very rational thing for me to do, considering it would have cost me $100. Such is Tiger.
---
The Truth Behind Nike's Kaepernick Campaign
As I said a few weeks ago, Nike's Kaepernick campaign, while powerful and I believe Good (capital G), was also a business decision by a billion dollar corporation. This week, some of the details behind how this ad came to be, and, unsurprisingly, I should have been even more cynical than I was.
The ad is powerful, and Nike drew wide praise (and criticism) for it. But as the New York Times reports, it almost didn't happen.
In the summer of 2017, a debate raged in Nike's headquarters in Beaverton, Ore., over whether to cut loose the controversial, unemployed quarterback — and the company very nearly did."
Ultimately Nike decided the ad would gain "credibility the company would gain with the young, urban market it has long targeted," and thus "made good business sense despite the risk of angering the N.F.L."
Worse yet, the decision to actually run the Kaepernick campaign, more than a year after he last played a snap in the NFL, came only after Kaepernick's lawyers argued that Nike's decision to "keep him within its stable of sponsored athletes without using him" left Nike in violation of its contractual obligations.
The play seems to have worked. Nike's stock closed last week at an all-time high of $85. -TOB
Source: "Nike Nearly Dropped Colin Kaepernick Before Embracing Him", Julie Creswell, Kevin Draper and Sapna Maheshwari, New York Times (09/26/2018)

---
Video of the Week:
---
PAL Song of the Week: Khruangbin – "Lady and Man"
---
Like what you've read? Let us know by following this blog (on the right side, up near the top), or:
Email: 123sportslist@gmail.com