Not cool, hockey guy.
---
Longevity = Greatness?
The most successful athletes today – Tom Brady, Serena Williams, Roger Federer, Rafa Nadal, Lionel Messi, Cristiano Ronaldo – are doing something the past greats never did: they have transcended eras. Lebron James' has averaged over 25 points per game in 13 seasons (astounding), whereas Jordan's dominance lasted 10 seasons.
Pete Sampras won his then record-breaking 14th Grand Slam at 31 years old, running on fumes, then never played again. This year, Federer (36) and Nadal (31) split the 4 Grand Slams. Nadal has 16 Grand Slams to his name, while Federer has collected 19.
You can see where this is going, and you can fill in the blanks for Brady vs. Montana, Messi and Ronaldo vs Maradona and Pele. There is no exaggeration when I say we are seeing individual feats in sports that have never been seen before, and it's in large part due to the fact that athletes are performing at the highest level for much longer.
Does longevity tip the scale in LeBron's favor in comparison to Jordan? Is Brady truly better than Montana, or has he just done it longer? Chris Almeida puts it this way: "While it's clear that our standards for recovery and decline are being distorted, it's unclear how this generation of athletes will change our comprehension of greatness."
At the highest level, more time = bigger numbers, and so the numbers established by greats of past eras will fall by the wayside. But, as Almeida points out, greatness is not limited to addition:
For as strongly as greatness is linked with statistics and head-to-head matchups, those have never been solely what the concept is about. Greatness is about dreams and images, and in that respect Michael Jordan is something that no athlete who succeeded in 2017 — not LeBron, Serena, nor Cristiano Ronaldo — is: monolithic, spotless, mythic. He represents the model of dominance in sports as it's always been understood.
Solid read! – PAL
Source: "The Year Age Stopped Mattering in Sports",  Chris Almeida, The Ringer (12/27/2017)
TOB: *hot take alert*
I did NOT like this article. I considered a full-on Phil-Style Breakdown, but I'll just say a few things:
This is NOT new. Medicine (of legal and illegal varieties), Medical Care, Nutrition, and all sorts of other ways athletes have learned to take care of their bodies, especially as the money in sports have soared, have had athletes playing at elite levels far later for the last decade or two. Saying 2017 is the year this broke through is a strong overreach.
Saying Derek Jeter was elite across generations? OH COME ON. It's such a strange choice as an example and really took me out of the piece. Jeter was NOT elite for long, and baseball is not a sport where this is new. Jeter was above league average (I'm being generous here) for fifteen years or so, which has been the on the low end of the baseball standard for Hall of Famers for decades. Willie Mays, for example, was elite (not just above average) for just over twenty years, until age 40. DiMaggio was elite for thirteen seasons, until age 36, but he lost three seasons to World War II. His career began nearly eighty years ago. This is not new for baseball.
As I've said here before, I love Federer. But you're not payig attention at all if you say, "There is no reason to expect a sudden decline." A year ago, Federer looked possibly done. He took many months off, won two Majors, and then looked toast again. I would never bet against him, but don't be surprised if he never wins another Major.
"[W]hat LeBron has already done is less interesting than what he seems to be capable of, or where he might harness those capabilities." UGH. More overreach. LeBron has had an amazing career, and the fact he seems as good as ever is crazy. But does anyone think he's going to get BETTER? He might ride his peak into an extended plateau…but up? I just don't buy it. And if the argument is "what's more interesting is how he might continue to do what he does at an advanced age", ok, fine. Maybe if he sees no drop-off another five years, that'd be nuts. But it wasn't long ago people argued LeBron looked toast (the 2015 Finals, for example). He's human, and for elite athletes, the end often comes quickly.
I don't follow tennis a lot, but doesn't the staying power of Federer, Nadal, and the Williams Sisters speak more to how weak the generation behind them has been? Does anyone think Serena Williams now could beat Serena Williams at her prime? I sure don't.
I also don't get his point about men's tennis and how it will change our perception of tennis greatness in the future. Even against their own peers – Federer, Nadal, and Djokovich sit 1-2-4 in the career Major titles list – that's insane. Federer is a few years older, but more or less three guys from the same generation gobbled up every title for a decade or so. Yes, they are great. But it also seems like a very top heavy era, as opposed to anything to do with longevity.
"The most interesting part of Brady in 2017 is the idea of him excelling in 2022." Stop saying that!
If it wasn't clear, I did not enjoy this article.
---
Iron Sharpens Iron
Mike Davis once took the Indiana Hoosiers, an 8-seed, to the NCAA Tournament's championship game, in only his second year as a head coach. So the man knows something about coaching winning basketball. His career never really took off after that early success, though, and he's presently coaching at small school Texas Southern. The team is 0-13 so far this year. So, why are they a favorite to make the NCAA tournament? The answer is in the schedule. As they are finally set to begin conference play next week, here are the teams Tigers have played so far: Gonzaga, Washington State, Ohio State, Syracuse, Kansas, Clemson, Oakland, Toledo, Oregon, Baylor, Wyoming, TCU, BYU – 9 of the 13 were against Top 50 opponents. All 13 were on the road.
Wait, what? Davis believes in sharpening his team by playing tough, non-conference road games. He believes it gets his team ready for conference play, and thus a better shot at winning the conference and then making the NCAA Tournament.
It's hard to argue – under Davis, Texas Southern has made the tourney three of the last four years. In fact, Davis says he will ALWAYS schedule all his non-conference games on the road:
Economics also come into play. In 2016, Texas Southern made $900,000 in paydays for non-conference road games. Meanwhile, as Davis puts it:
"To have a home game you've gotta pay the officials $4,000-$5,000. The people [working the scorers'] table are another $2,500. So in order to have a home game, we've gotta clear $10,000. We're not gonna clear $10,000. And I don't want to waste my time playing NAIA teams. If we play a lower team, nobody's gonna come in and see that. The math is simple."
Again, I can't argue with that. Davis' stated goal is to win a national title at Texas Southern. This seems crazy to me, but then again, Butler almost won a few years back, and who would have seen that coming? -TOB
Source: "This 0-13 Basketball Team Is A Favorite To Make The NCAA Tournament", Dan McQuade, Deadspin (12/27/2017)
---
A Real Cinderella Story
This crowd has gone deathly silent, the Cinderella story, outta nowhere. A former greenskeeper and now, about to become the Masters champion. It looks like a mirac- it's in the hole! It's in the hole!
The "Cinderella" sports trope is well-worn, especially in college basketball, where an underdog team can catch fire for a couple days and become a big story for the tournament. But in football? College football? The blue bloods tend to win, and it's very difficult to break in to that group. It's so difficult, and there is so much money at stake, that coaches tend to be very conservative in their assistant coach hires. They spend big money to hire coaches who have proven themselves at the highest levels, or at least for guys who have proven themselves at a half-rung below. They have way too much money to lose if a hire goes poorly.
But Oklahoma State head coach Mike Gundy is not most coaches. First of all, he's a man. He's 40!
(No, I'll never stop playing that in my head every time I see his face or hear/read his name, and we're at the ten-year anniversary)
But Gundy set himself apart when he hired his current offensive coordinator, Mike Yurcich, in 2013. Gundy's three previous offensive coordinators had been plucked away (all for head coaching jobs) after two or fewer seasons in Stillwater. Gundy was tired of the turnover, and decided to try to find a good coach at the lowest levels of football in order to engender some loyalty. So, he started looking on the internet:
Gundy went online and looked up offenses that excelled both with rushing and passing numbers. He then narrowed the search to no-huddle, tempo-based offenses similar to Oklahoma State's. Next, he found coordinators who also coached quarterbacks. The last step, the trickiest, was identifying lesser-known coaches who might stick around even after successful seasons.
Gundy found Yurcich, the offensive coordinator for Shippensburg University, a DII school in Pennsylvania. It took some effort, but Gundy got some Shippensburg gamefilm. It took some more effort, and Gundy got ahold of Yurcich. The two met at a hotel in Pennsylvania, and spoke for three hours. The next day, Gundy called and offered Yurcich the offensive coordinator job for Oklahoma State:
"Mike, here's the deal," he told Yurcich. "I'm going to offer you the job, and I have a three-year contract that pays $400,000 a year."

Silence. Three seconds, four, five, six … Gundy worried that Yurcich had been caught in a snowstorm.

"Are you there?" he asked.

"Yessir."

"Well, do you need to talk to your wife?"

"I don't need to talk to anybody."
Yeah, no kidding. I love this story. And to top it off, it has a happy ending. Gundy got a lot of flack for the hire, from fans and the administration, but he stuck to his guns. Yurcich has done so well he's been in the mix for some head coaching jobs. Gundy seems happy for him, and vows to conduct a similar search when Yurcich does leave. Gundy doubts he'll have much competition, as most coaches don't have the guts to make such a hire. It's hard to disagree. Also, I'm starting to think Gundy is a hell of an offensive coach. -TOB
Source: "How Mike Gundy Found His Offensive Coordinator on the Internet", Adam Rittenberg, ESPN.com (12/28/2017)
PAL: Perhaps as important, let's get an update on Gundy's mullet. This thing has been going on for quite some time now. He just looks like a mullet guy, doesn't he? This may have started as a joke, but it's not any more. I mean look at him. Here he is in the week leading up to their bowl game against Virginia Tech. This is a guy that loves the 80s:
Is that a fake tan?
Here he was as a player:
I mean, this guy was trouble.
And here is the car I bet he has somewhere in his garage:
You can all but hear Mötley Crüe's Dr. Feelgood blasting as he peels out of gas station.
TOB: And that reply, folks, is why Phil gets paid the big bucks by Big Sports Blog. Bravo!
---
The Most Controversial Anthem Protest Yet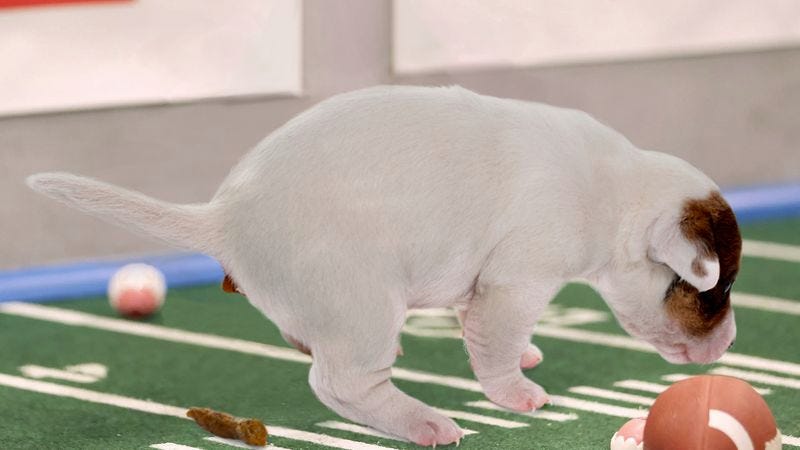 Yes, it's an Onion article. Yes, it's mildly amusing. Yes, it's short. Yes, it was an excuse to post that photo. You should go read it.
Source: "Controversial Puppy Bowl Star Shits During National Anthem", The Onion (02/05/2017)
---
Video of the Week
That was awesome, but that can't count…can it?
---
PAL Song of the Week: My Morning Jacket – "Holding On To Black Metal"
---
Tweets of the Week
---
Like what you've read? Let us know by following this blog (on the right side, up near the top), or:
Email: 123sportslist@gmail.com