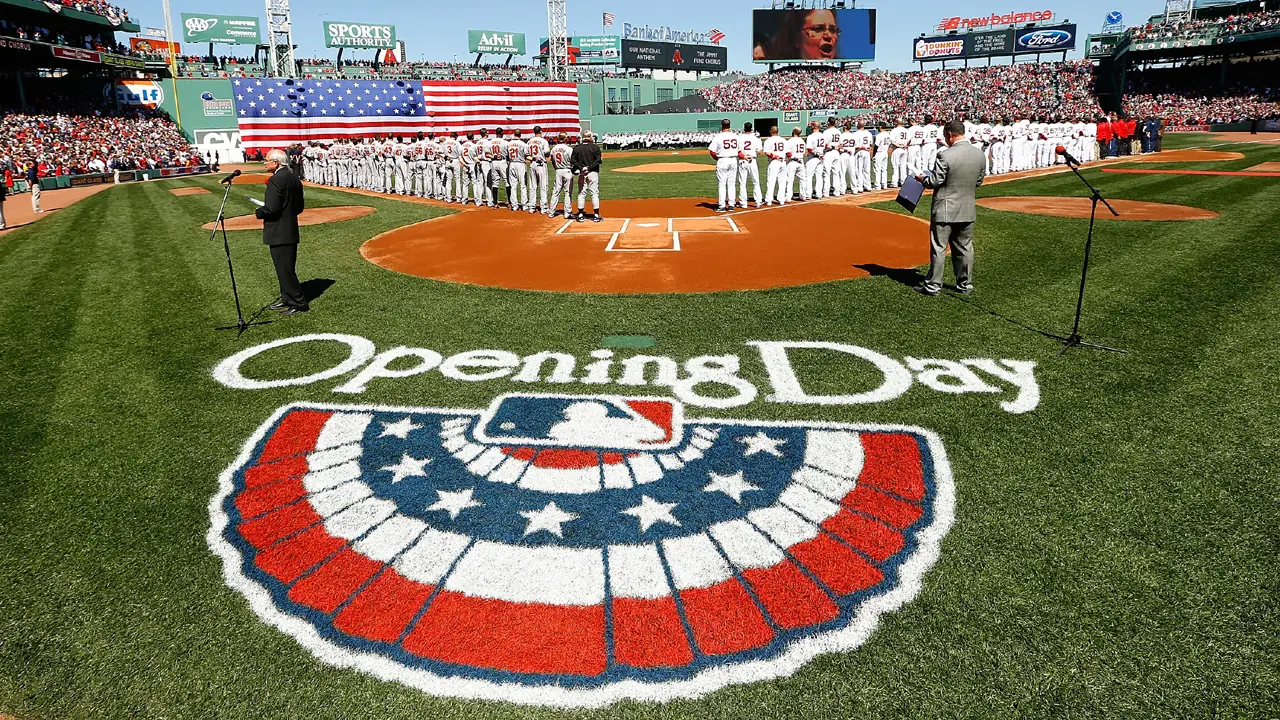 What a wonderful day. 
---
The Most Wonderful Day of the Year
Thursday was Opening Day, and for the first time in a long time, it was the most wonderful day of the year for all baseball fans. For the last few decades, MLB has gone with an Opening Night, with just one or two games. A few times they've had two teams play a week early in Japan to kick things off. And frankly, it sucked. I'm not getting excited to see Cardinals/Cubs or Mets/Nationals. I want to see my team, and I want to see them now. Well, for the first time since 1968, MLB wised up and gave fans what they want – a true opening day, for all teams, with games damn near 'round the clock.
The beauty of Opening Day is that little ray of hope. Maybe this is the year the Nats put it together and win it all, their fans tell themselves. Indians fans, too. Fans of many teams wonder if their team will  be this year's Twins, who went from 103 losses in 2016 to the Wild Card last year. As for me, if the Giants want to contend for a playoff spot, they have little room for error. And so it had been a bad seven days – losing two starters, Bumgarner and Samardzjia, along with their closer, Melancon, all on the eve of the season. Of course they kicked the season off against Kershaw in Dodger Stadium, and no the Dodgers were not good sports and let Kershaw pitch even though Bumgarner could not. The Giants instead ran out Ty Blach, who has been something of a Dodger killer in his career, sporting a 2.23 ERA in 36.1 innings pitched. But, the Bumgarner injury and facing Kershaw on Opening Day felt like a harbinger of doom.
Instead, the Giants led off the game with two singles. Then they got two more hits in the second. They knocked Kershaw around, but couldn't get the big hit to get anyone home. Until Joe Panik snuck one around the right field pole to score the first run of the game. Blach gave up just 3 hits over 5 innings, and the bullpen held on for the win. It felt like a playoff victory, even though it was just one game. The Giants still might suck this year, but for one night, at least, the hope of Opening Day decided to stick around -TOB
PAL: One of the best days of the year. Well-said, TOB.
---
Architecture of History: Josh Gibson and Buck Leonard 
As we begin a new baseball season, one of the main storylines is Aaron Judge (2017 HR: 52) and Giancarlo Stanton (2017 HR: 59) have joined forces on the Yankees. It's a good time to remember another fearsome duo: Josh Gibson and Buck Leonard. They played for the Grays of the Negro League.
These guys were the real deal. They won (two Negro League World Series, 8 Pennants), they are accepted as greats by baseball historians (Bill James considers Gibson the best catcher of all time and Leonard the best first basemen in Negro League history), and the they are the subject of folklore (ever hear the one about Gibson hitting a 580-foot home run out of Yankees Stadium?).
But what's missing are the statistics. As Robert O'Connell writes:  
The disgrace of the time, that qualified stars were barred from the Major League Baseball because of their race, echoes now as a statistical frustration. While their white contemporaries enjoyed M.L.B.'s tidy schedules and scrupulous statistics-keeping, the black players of the early 20th century made do with a mixture of official and unofficial contests across borders of league and nation. The numbers that resulted are slapdash and incomplete; in the case of Gibson and Leonard, the statistics obscure the truth as much as tell it.
The fact that folks didn't even keep stats that same way or with any consistency for Negro League games, or the fact that the teams played 200 games a year, interspersing their schedule with games against independent and semipro teams out of "economic necessity" makes it damn near impossible to accurately portray Gibson and Leonard's greatness. There's assumptions even in my writing this! 
Gibson is credited with 800 home runs on his Hall of Fame plaque, but they are qualified as "in league and independent play", i.e. "all of these don't really count."
In a game where we want numbers to still mean something, this borders on a travesty.
Collective memory helps fill the gaps that numbers leave. "The statistical data doesn't always paint the real picture about these guys," Kendrick said, "so you do get a lot of oral history as it relates to these players, and that's one of the reasons why the myth and legend that surrounds them is so great."
In the architecture of baseball history, though, numbers are sturdier than words. There is some small forgetting every time Negro leagues players fail to show up in a comparative chart, every time conjecture has to substitute for a box score. But to the shepherds of those players' stories, there is little doubt as to their place in the game.
That collective memory part worries me. Only the living have memories. As my grandparents' generation dies off, that living connection is weakening by the day. O'Connell nails it when he writes, "numbers are sturdier than words." Excellent read.
Aside: isn't that a perfectly written sentence? "In the architecture of baseball history, though, numbers are sturdier than words." Simply perfect rhythm and imagery. – PAL
Source: "Baseball's Unappreciated Power Duo", Robert O'Connell, The New York Times (3/27/18)
---
When Will Teams Stop Hiring Tom Thibodeaux?

Timberwolves coach Tom Thibodeaux, or Thibs, made his name as a defensive savant as an assistant with the Celtics in the late 00s. Since then, though, he's become known as something else – a head coach who will run his best players into the ground. He did it in Chicago, with players like Derrick Rose and Joakim Noah's careers being shortened due to injury. His teams also often seem to fade in the playoffs.
It's happening again in Minnesota. The TWolves core is young and talented – with a core of Jimmy Butler, Karl-Anthony Towns, Andrew Wiggins, along with Taj Gibson, and Jeff Teague to round out the starting five. But all five of those guys are averaging between 33 and 37 minutes per game this year. Before Butler's knee injury, no one else was averaging even 20 minutes per game. Butler leads the league in minutes per game, Wiggins is tenth, and Towns is 14th.
The fatigue is setting in. On Monday they lost to the lowly Grizzlies, at home. The Grizzlies had lost seventeen straight road games and are actively tanking. The Wolves fell apart in the 4th, shooting just 3 for 17 with 8 turnovers. After the game, Thibs blamed his players, predictably, saying, "It's a hard-fought game going back and forth. You have to have the resiliency and the mental toughness to get through that. Not every game is going to be free and easy."
Thibs' stubbornness may cost him his job. The once promising Wolves season is in free fall. Just a few weeks ago they were in 3rd place in the brual Western conference. Now, they are in 8th, and just 1.5 games ahead of 9th and thus out of the playoffs. If they don't make the playoffs, I'd be surprised if he wasn't fired. And if he is – I wonder if any team would be dumb enough to let Thibs run their roster into the ground again. -TOB
Source: "Tom Thibodeau Is Burning Out the Timberpups", Paolo Uggetti, The Ringer (03/27/2018)
PAL: In a way, Thibs is conservative, which in this case comes off as a coaching weakness. Playing the starting five so many minutes tells me that he doesn't trust his less talented players on the bench. In other words, he can't coach up the second unit enough to get 18 solid minutes out of them. Yet he positions a loss like the one to the Grizzlies as a failure of toughness. Where's his toughness? Hell, I could run the starting five out there for 40 minutes. That doesn't take any skill!
Thibs' real issue is the Wolves have some serious talent that's underperforming in Towns, Butler, and Wiggins. That's two borderline All-NBA guys and Wiggins, who has the talent to be a all-star. They can get another coach, but they can't just roll over and wake up to a trio like that.
---
Confirming and Debunking Rumors on Catcher Performance at, Not Behind, the Plate
This is a really fantastic article for any baseball fan. I don't have much to editorialize, and the author helpfully summarizes the premise as follows:
With help from a few new-age numbers and a couple of catchers who've been in the fire, let's examine three theories about catchers' performance at the plate: that umpires extend them the courtesy of more favorable strike zones; that they have an advantage against pitchers they've previously caught; and that they have a harder time hitting when paired with pitchers who rely on the catcher's nightmare, the knuckleball.
Spoiler alert: Two of those theories are proven correct; the other is wrong. This is really well written, researched, and presented. -TOB
Source: "Two Truths and a Lie: The Hidden Forces That Affect How Catchers Perform at the Plate", Ben Lindbergh, The Ringer (03/26/2018)
PAL:  I don't want to spoil which are the truths and which one is the lie, but I'll tell you I was very surprised where the chips fell. I caught from age 11 to 22, and I honestly sometimes forget how different my view/perspective on the game is to most everyone else. When people say the game is slow and boring, it doesn't compute right away, because I'm thinking about all the decisions and interactions that take place between pitches. Great article! Good find, TOB.
---
Buck Feeling Good
Ever read something and, as you're reading, realize that the writer is articulating something you've always known to be true but never expressed it with any degree of clarity?  That was my reaction to Dan Haye's article on Byron Buxton from Tuesday.
Growing up, we're told how important confidence is when playing sports. For us regular people, that's true, but only to a certain extent. The curveball, footspeed, height, strength – are these the barriers that keep us from athletic successes, not our mental approach. For Byron Buxton – a supremely talented athlete – confidence might be the difference between him being an All-Star and a AAAA player (a AAAA player is a guy who is too good for highest level of minor league ball and not good enough to play in the bigs). In other words, feeling good is very, very important to Buck.
As Buxton and coaches will tell it, his season (and maybe his career) turned around in Boston on a night in which he went 0-3 with two strikeouts. There were some minor mechanical adjustments, but it was mostly about changing his state of mind while at the plate.
Buxton has always been an outstanding defensive player. In the minors, he had been a force at the plate.This combination made him a top prospect. His first two years in the Majors did not go well offensively. He thought he'd turned a corner by ending 2016 strong, but he struggled again to open up last year.  
Buxton was carrying that doubt and frustration to every at bat. As teammate Brian Dozier tells it, you cannot hit big league pitching when you care that much about failure.
Back to Boston. After a good session with hitting coach James Rowson, Buxton felt good in the box against the Red Sox ace Chris Sale. Although he struck out twice, Buxton did hit the ball hard in one of the at-bats, and that reinforced the positive feeling from the pre-game hitting session far more than a bloop single.
"I just got that little inch of positivity that something felt good and ran with it," Buxton said. "I try to be as positive as anybody possibly can. Me never failing to get to this point was very tough. Honestly, I'm definitely glad I failed at some point. It definitely has made me a lot stronger, definitely has made me a lot more confident. If I get in a slump, I know that I've got what it takes to get out."
Buxton went on to hit the ball harder after the Red Sox series (higher exit velocity), making "loud contact", but the hits were slow to follow. When they did come, they came in bunches and they came just in time for the Twins to gut out a Wild Card birth.
Watching Buxton play baseball is a treat. He does something spectacular in center field at least once a week. He's so fast, so athletic, and he wants to win so bad. He gets me pumped up to be a Twins fan.
He plays at max effort at all times, and in baseball that doesn't always help, especially at the plate. Feeling good at the plate a can be elusive, but it's everything. It's why Cal Ripken changed his batting stance 112 times (approximately) in his career.
Here's to Buck feeling good at the start of the 2018 season. – PAL
Source: "Byron Buxton's Offensive Awakening", Dan Hayes, The Athletic (3/27/18)
Note: The Athletic is a subscription service that, as far as I know, does not allow folks to view articles without at least signing up for a free trial (which I recommend). I want to give credit to the story, but I don't think you'll be able to read it unless you sign up for the trial.
---
NFL Draft: Always Good For A Laugh
The hype and analysis leading up to the NFL Draft is stupid. Hell, the draft is stupid. Until we see what the dudes do on the field, none of this matters. With that in mind, you can understand why I kind of lost it when I watched this video of Browns coach Hue Jackson fluff Baker Mayfield by talking about the QB's commanding a room.
Now, Jackson might be trying to throw other teams off the Browns scent of what they are actually thinking about with the #1 pick, but at what cost? He sounds like such a tool praising the headband from Oklahoma for a call and response cheer as if it means anything. Also, now might be a good time to remind the readers of Jackson's NFL coaching record with the Browns: 1-31.
The best part of the video is that Jackson thinks he's pulling a real Daniel Day-Lewis acting job. He's feeling his performance. – PAL
Source: 'Hue Jackson Fondly Remembers The Time Baker Mayfield Went "Hee Hee!"', Tom Ley, Deadspin (3/29/18)
---
Video of the Week: 
---
PAL's Song of the Week: Víkingur Ólafsson – "Glassworks: Opening" (Reworked By Christian Badzura), originally written by Philip Glass
---
Like what you've read? Let us know by following this blog (on the right side, up near the top), or:
Email: 123sportslist@gmail.com