---
U.S.A.! U.S.A.!
Last week was a very big week for women's sports (and, I would argue, sports in general). On Wednesday, the US Soccer Federation announced that, under a new collective bargaining agreement, the men's and women's teams would be compensated the same. More than that, both teams agreed to the exact same terms with the federation. Hell yes!
But it's more impressive than the same salaries. As Claire Watkins breaks down in this story, other national teams are tracking towards equal pay for the men and women. In 2019, the Netherlands agreed to a gradual increase in pay until the women are paid the same in 2023. Same goes for Australia, New Zealand, and Norway. In the agreement reached between teh US Soccer Federation and the men's and women's national teams, the pay will be the same immediately.
The other major factor in this comes by way of FIFA, and its World Cups (incredibly, the 1991 was the first Women's World Cup…in the 90s people!) …and the prize money that comes with it. For the men, teams divided up $400M in 2018, with $30M going to France for winning it. The women' purse, although growing, totaled $30M, with $4M going to the victorious U.S. team.
While the World Cup money is increasing for women, the prize money gap is widening. And FIFA, a non-profit that at least on paper exists to grow the sport, doesn't give a shit about equal pay. Which led to something pretty remarkable from our USNT and USWNT players.
Per Watkins:
It should be noted that FIFA, like U.S. Soccer, is a non-profit organization ostensibly dedicated to the growth of the sport of football for everyone. Revenue arguments, as tantalizing as they may be, aren't relevant to these organizations per their own internal logic. If you have a mission statement that your job is to grow the game in all corners of the world, subsidization comes with the territory until we live in a society of equal opportunity. If your organization isn't committed to making equal opportunity a reality, then subsidization will be around for a while.

But with FIFA's financial reluctance towards the women's game being what it is, U.S. Soccer made it very clear that they could not shoulder the burden of replicating the eight-figure gap, and that the solution had to come from the players themselves. That part of Wednesday's agreement is truly historic, and progressive in a way that clearly still makes some people uncomfortable.

The men and the women will pool their prize money, meaning that whatever is earned in Qatar in 2022 and Australia in 2023 will become one (hopefully large) sum of money shared equally. Perhaps even more significantly, the same approach applies to the 2026 and 2027 tournaments, the first of which will be hosted in North America,with the hope that the USMNT might make their deepest World Cup run yet.

To see how this is good for everybody takes a little faith and vision, and the USMNT do deserve credit for having both. Rather than focusing on the men giving something up, one has to see this as the financial burden of sexism now equally affecting both teams. With solidarity achieved in writing, further pressure will hopefully be placed squarely on FIFA to address the gap they've created, and encourage other federations to take the same step. If everyone gets on board, and the USWNT keeps winning, the men don't stand to lose much at all.

The solidarity goes both ways, as the USWNT pushed to add paternal leave and other parental privileges into the men's contract, with the understanding that men deserve non-gendered treatment too. It's also an important step toward a relationship between the men and women's teams that has historically been slightly strained, as the men's failures became cannon fodder for arguments against the federation's treatment of women.
How badass is that? That's a reason to be patriotic. Watkins does an excellent job breaking down this landmark moment and all that led up to it. Excellent story – PAL
Source: "Why Equal Pay For Equal Work Finally Became A Reality For The USWNT," Claire Watkins, Defector (05/19/22)
---
Where College Sports Stands, One Year into the NIL Era
Last year, in response to a series of lawsuits and court decisions forcing their hand, the NCAA limited its prior restriction on college athletes being compensated for license of their names, images, and likeness (commonly referred to as "NIL").
The result has been something of a wild west atmosphere – anything goes. It's hard to know exactly what is going on and how much money players are making. From the information we do know, it seems like there is a small group of elite earners earning the most money: the biggest stars, and shall we say photogenic female athletes. For the rest of the players, word trickles about a few grand here and there, but not huge deals.
The most interesting development has been the formation of so-called "collectives" – program boosters are pooling their money to pay for recruits, retain current players, and lure transfers from other schools (oh yeah – players are now allowed to transfer one time in their career without sitting a year, as before). The collectives are supposed to be divorced from the school – it's like a Political Action Committee, in that way. The school is not supposed to organize or direct the funds. Yeah, good luck with that.
Well, we are one year in and the fun is really starting to begin.
This week, Alabama head coach Nick Saban, in my opinion the most successful college football coach of all time, spoke at a public event and called out Texas A&M, coached by Saban's former assistant Jimbo Fisher, for "buying" players on A&M's way to the #1 ranked recruiting class in the country. Alabama's class was ranked #2, and Saban claims they bought no recruits. Instead, Saban said Alabama "did it the right way" – with their current players getting paid $3 million based on their accomplishments and popularity.
Now, Jimbo Fisher lost his mind at this, even suggesting Saban has some skeletons in this closet.
"It's despicable that a reputable head coach can come out and say this when he doesn't get his way," Fisher said. "The narcissist in him doesn't allow those things to happen. It's ridiculous when he's not on top."

"Some people think they're God," Fisher said. "Go dig into how God did his deal. You may find out … a lot of things you don't want to know. We build him up to be the czar of football. Go dig into his past, or anybody's that's ever coached with him. You can find out anything you want to find out, what he does and how he does it. It's despicable."
But Jimbo's reaction suggests to me Jimbo is not very bright. Saban wasn't accusing Jimbo and A&M of paying recruits directly. He was stating the well known fact that A&M's booster collective paid those players.
And Saban wasn't criticizing A&M. Saban also said that Alabama is not going to be "able to sustain [a high level or recruiting] in the future [without paying recruits]." People, like Jimbo, seem to have overlooked that comment, but that's Saban's tell. He was not criticizing Jimbo, but instead telling Alabama boosters to form a collective and help him recruit by offering that money to high school players. Notably, Jackson State head coach Deion Sanders (who Saban also singled out for paying a recruit $1 million) did pick up on this, noting in a statement that Saban's comments were directed at Alabama boosters.
But the coaches do seem, overall, worried about this situation. After all, there is a finite amount of money available from any booster base. If they are paying players, who is going to pay the coaches' salaries? Who is going to build the lavish facilities? Who is going to donate the money that funds women's sports and keeps the school in compliance with Title IX?
The first two questions threaten a coach's comfort. As Jason Gay writes:
Imagine a frustrated college football coach talking to someone in another business.

COACH: I'm so mad.

BUSINESS OWNER: Why?

COACH: We changed the rules so that employees are seeking compensation. If they don't get it, they might go somewhere else.

(long pause)

BUSINESS OWNER: You're kidding, right?
But the third question is a serious one facing all college athletic programs. If you start to pay football and basketball players, whose efforts rake in cash that the colleges use to fund the revenue-negative sports, what does that mean for women's college sports? Or for smaller men's college sports? No one really knows. And that's pretty interesting. -TOB
Source: "Nick Saban, Jimbo Fisher and the Comedy of College Football's 'Chaos'," Jason Gay, Wall Street Journal (05/20/2022)
---
Move Over, Wordle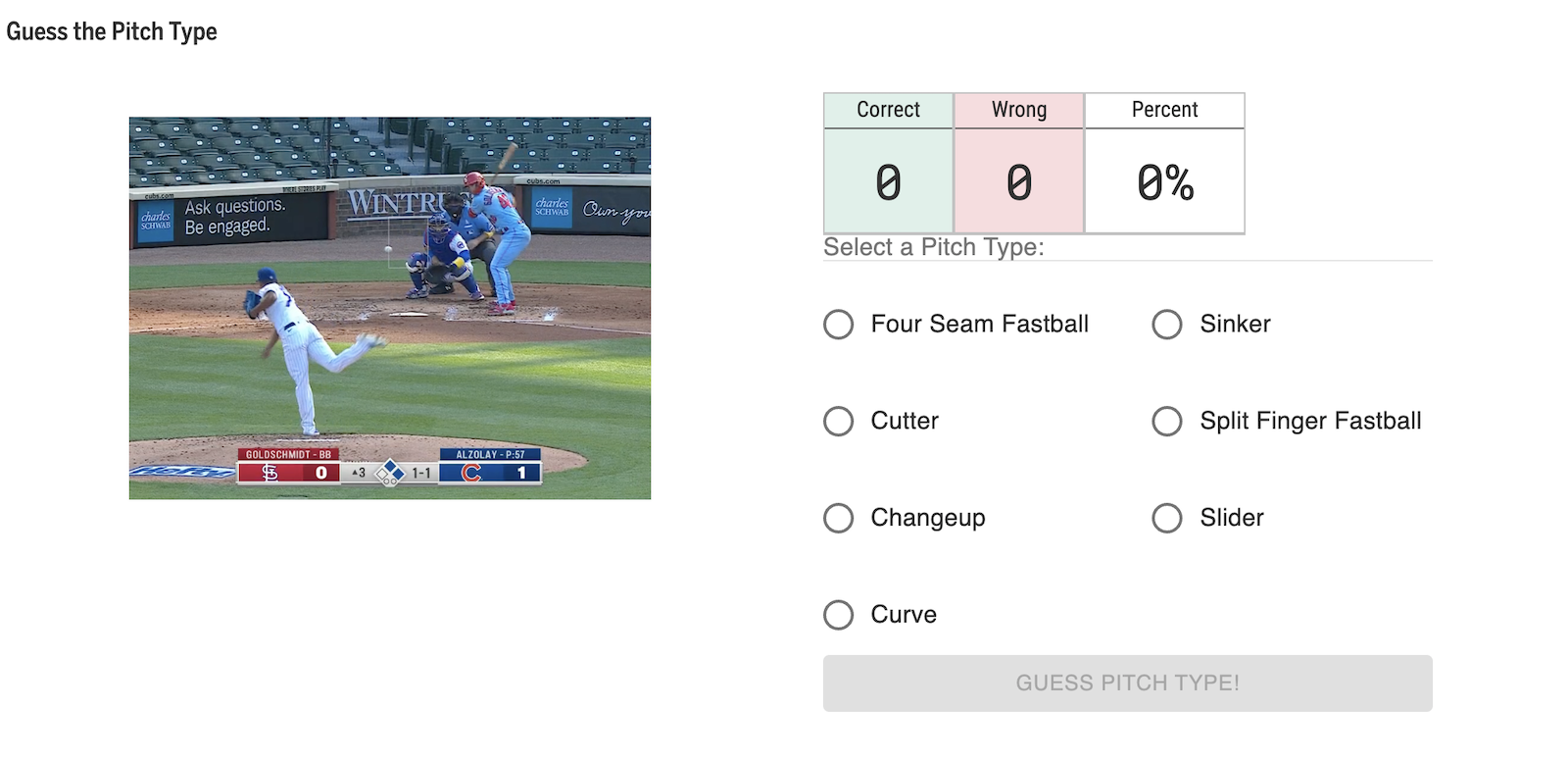 We've all heard it, so let's start the eyeroll together: the hardest thing to do in sports is hit a baseball. First of all, what a ridiculous statement, Ted Williams. How the hell would you know, Splendid Splinter? If you were comparing it to fishing, or even flying, then I'd listen, as it sounds like you were outstanding in those areas as well.
But the hardest thing to do in sports? Dunno…playing QB in the NFL looks pretty challenging. Driving a race car has some high stakes. Judging by the amount of times the kids fall skateboarding in the parking lot at the Rockridge BART parking lot, skateboarding seems like a higher fail rate than .300.
So who knows if hitting baseball is the hardest, but Kathryn Xu shared something this week that helps us regular folks get a taste of how hard it might be to just recognize a big league pitch. Forget hitting it, just identify what pitch is thrown. I can't stop playing this game.
Before you give it a go, some insight from Xu:
Some information is constant: pitch speed, pitch location, etc. But without knowing the pitcher's repertoire, the variety of different pitch profiles across the league renders creating a firm set of characteristics a futile task. A curveball can have straight 12-to-6 drop, or it can have some horizontal movement, like a slider. A four-seamer is a straight, occasionally rising fastball if you're a spin warrior, unless it happens to have lateral run—shout out to Brusdar Graterol. A four-seamer can range anywhere from 88-105 mph. On the other hand, some people throw changeups at 88 mph or, in the extreme case of Gerrit Cole freakery last season, throw a 95-mph change immediately following a 102-mph fastball.
You ready? play here.
I challenge TOB: 20 pitches. Whoever correctly identifies the more gets a brat and a beer. Readers: share your score with us! – PAL
Source: "By God, I Will Get A Good Grade On Statcast's Pitch Type Guessing Game," Kathryn Xu, Defector (05/19/22)
TOB: I got 13 out of 20, and 8 of my last 10 as I got the hang of it. Pretty happy with that score!
PAL: I got a string of sinkers…hard to ID those…I also had one view from behind the plate…didn't help. 7 out of 20…YIKES.
---
The Packers' President's Fan Mailbag Column is Hilarious
Mark Murphy, president of the Green Bay Packers writes a weekly fan mailbag column, called Murphy Takes 5 (aka MT5). In a recent column, the "question" was a Packer fan complaining that the Packers didn't draft enough white players. Hooooo boy. The woman then counted all the white players drafted in the first two rounds (11) and claimed it wasn't enough, and accused the NFL of being racist against whites. Hooooooooooooooooo boy. Murphy's response, surprisingly, is pointed but polite. Per Anantharaman:
In response, Murphy offered an answer far more polite than Marilyn's email warranted, assuring her that the Packers make draft decisions based on ability and reminding her that "Vince Lombardi, who was discriminated against because he was Italian, helped change things when he came to Green Bay and built the Packers into a dynasty by focusing on bringing in Black players
What's interesting here, as Anantharaman points out, is not only that Murphy answers her earnestly but that he answers her at all:
I was curious: If you're not going to roast the hell out of Marilyn in your answer, why bother accepting this question at all? Marilyn's seems like precisely the kind of email the MT5 screener makes it three words through before smashing the delete key and moving on to Audrey's request to "please bring Paul McCartney back to LAMBEAU, it was the best concert ever. Please please please!" At the very least, don't the team president and people in charge of the team website have some interest in concealing the fans' true horrible nature?
So Anantharaman dove into the archives and found that Murphy does this often. He answered a question about the Davante Adams trade that began, "What the f… are you and your sidekick doing?" In response, Murphy provided a thoughtful answer. I kinda have to hand it to Murphy – most mail bag columnists are not answering a question that opens with WTF.
But it's the other two answers from Murphy, as highlighted by Anantharaman, that I really enjoyed.
A question from Sam, The Real Big Packer Fan

Hey Murphy, why don't you ever answer me? I think I know the answer to that, you're a joke you know I'm right. The offense is starting to look good but this defensive unit once again stinks and why? Because every year you pass up really good defensive linemen and inside linebackers in the first round in the draft. Gary was the only player you picked, he's a decent player but there were plenty of better players still on the board. Two years ago I was excited when I saw you guys moved up in the draft, I was thinking we're going to get one of the best LBs still on the board, but what did you do? You drafted Love as you can tell we don't need a QB yet you ass…! Well because of you and Gutekunst our offense is going to have to carry this team once again, pitiful!

Because you never ask questions, Sam. MT5 is based on answering five questions from fans, not responding to five complaints about our team. Thanks for understanding.

A question from Duane

Murphy! Get that jerk Gutekunst to get off his butt and make a play to get Julio Jones on the Packers!

Thanks for the email, Duane. Thanks as well for the 20 previous emails you've sent MT5 in recent months. Interestingly, there is not a single question among the 20 emails.
The answer to Duane continues, but I just love how Murphy is scolding these guys for sending complaints, not questions. Hilarious. -TOB
Source: "The Dark Heart Of The NFL Beats Within The Packers Mailbag Column," Maitreyi Anantharaman, Defector.com (05/13/2022)
---
Video of the Week
Tweet of the Week
Song of the Week –
Arcade Fire – "Unconditional I (Lookout Kid)"
---
Like what you've read? Follow us for weekly updates:
Email: 123sportslist@gmail.com
Twitter: @123sportsdigest
---
There's something about the underdog that really inspires the unexceptional.

"Robert California"