Happy Birthday to our co-founder, Phil: the best friend/blogging partner/brewing buddy/sports debater anyone could ever ask for. One hell of a guy.
---
Save It, Coach
Locker room speeches are the best part of most every sports movie, so I'm going to add some of the best in here as I share with you Joshua Kloke's excellent piece about how those locker room speeches are changing in the NHL.
 In my head, I think of locker room speeches as pleas to players emotions – inspirational words that invigorate the meekest of players or tongue-lashings that break the most prideful of the bunch. Turns out, these types of speeches are becoming less and less frequent in NHL lockers rooms. I think of these types of speeches (warning: language, and a lot of it – headphones recommended).
In talking with several current NHL players and coaches, as well as minor league coaches, Kloke has found a growing trend that the intermissions between periods are used more and more for video analysis (now clips from the previous shifts are immediately available), concrete feedback, and positive talk. The younger guys typically respond better to that approach, and the older vets have already heard every clichéd rah-rah speech.
In today's NHL, players insist coaches cannot waste the little time they are afforded in-game to garner the attention of an entire team. Instead of spouting platitudes, many NHL players believe the best dressing room speeches from coaches should focus on how a team can implement their own tactical adjustments in a game.
Another facet of the game that has changed over the years is the general acceptance that the players are the draw and ultimately hold the power. Talented players no longer "conform" to the coach; in fact, the inverse is now true.
All of this makes perfect sense, but there must still be a place for emotion in these speeches, even at the professional level. Can coaches play that card every game? Of course not, but there are moments where a coach has to reach beyond the X's and O's and speak to the soul of a team…which is precisely that kind of emotional crap – the soul of a team – that falls on deaf ears of today's hockey player. 
Per Kloke's research, I think Jimmy Dugan's speech might be best suited for today's NHL player. Short, specific advice on the bunt, and mostly positive. – PAL
Source: "The Evolution of the Dressing Room Speech, From Emotional Outburst to Tactical Adjustments", Joshua Kloke, The Athletic (01/24/2019)
---
The Tao of Ratto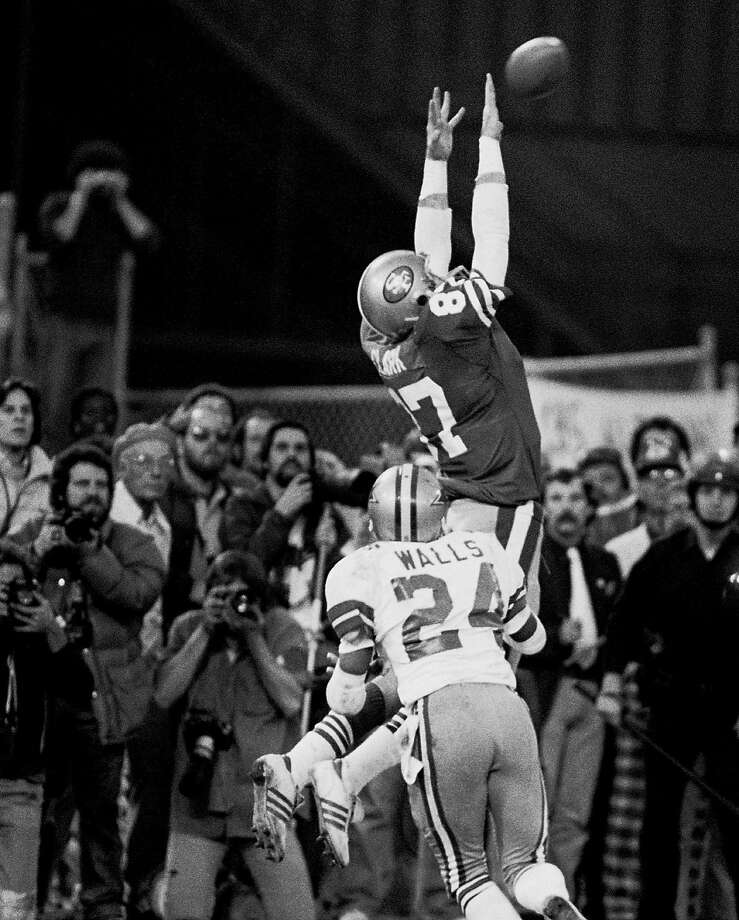 Allow me to set the scene: Friday morning. Hot cup of coffee and good breakfast in front of me. Dog's walked. Apartment is quiet, and I'm looking for one more story for this week's post. I pull up all of the usual sites to scan the headlines, but I only make it to the first tab when I find The RInger's Bryan Curtis has a profile on the Bay Areas recently unemployed sports columnist Ray Ratto. If you're wondering who the hell Ratto is, he's the mustachioed guy in the background of that Dwight Clark picture.
Or, as Curtis puts it, "Ratto is the kind of big-city sports columnist who used to exist everywhere and now barely exists anywhere."
I take a sip of the coffee and spend the next few minutes savoring every word of Curtis' story.
A quick backstory on Ratto. He was born in Oakland and never left. At nineteen he was the copy boy for the SF Examiner and found a mentor in Nick Peters. Copy boy leads to sports columnist, and he's been covering the Bay Area teams ever since. Also, Ray Ratto is quick with the insults. It's kind of his thing. Oh, and he wears ugly sweaters. Curtis spends the story trying to figure out the "Tao of Ratto". There is a deeper, more caring person somewhere underneath the sweater, but he's not showing his face without a fight (and some wine).  
He's a bit of a legend amongst his peers. Here are some examples as to why:
Young Ratto was interviewing Giants manager Frank Robinson for a story. Robinson blew him off with a couple of short answers. Ratto recalled: "I finally said, 'Well, look, if you don't want to do this, let's just not do it.' And I got up and walked out. He said, 'C'mere!' I said, 'Yeah?' He said, 'What do you want to know?'"
Ratto: "When [a sportswriter] comes to games in a suit and tie, you say, 'Who are you trying to impress? What kind of overstuffed asshole are you?'"

Once, the Chronicle sent Ratto to cover a meaningless late-season Oakland A's game. It was an NFL Sunday, so the story was going to run inside the section. Ratto's gamer began thusly: "Meanwhile, back here among the tire ads …"
As Curtis says, every town has or used to have the old columnist, and I think that writer played a huge role in how we experience the games. Maybe that's a bit less now as folks like Ratto don't have that regular column.
Curtis' work has been featured on 1-2-3 Sports! several times. Dude can write a sports story. I like the idea that, while writing this story, he and Ratto had four glasses of red wine at some Oakland cafe. They ordered three, but then the bartender gave them a round on the house. A fan of Ratto.
Ratto responded, "Give it time. That'll blow over."
What a fun read. – PAL
Source: "The World According to Ray Ratto", Bryan Curtis, The Ringer (01/25/2019)
TOB: Nice write up, Phil. Ratto's not wrong, though – he doesn't have many fans. There may be a heart in there, but he's cantankerous, to put it nicely. I will also say it's impressive how long he stayed in one place, with his style, because when he felt appropriate he took aim and fired at each and every sports team or person in the Bay Area. As I was thinking about Ratto, and that last sentence, I wondered if my memory of his writing over the years was overly harsh. But if Ratto has a tao, to borrow the bit, he says it right in the first few lines of Curtis' article:
"I think when you want to say something nice about somebody, it should be private. When you want to say something shitty, everybody should see it."
I fully believe there's a softer side to Ratto, and as his friend and fellow sportswriter Tim Keown put it, Ratto uses the insults as defense mechanisms. I've seen it a few times, especially on TV. And it's right there in the quote above – he can be warm, he just does it privately.
One of my favorite Ratto moments was his response to A's owner Steve Schott's defense of the Mark Mulder trade (Ratto responses in parentheses):
We're a small-market team (which the A's absolutely are not), and we have to make hard choices (which are different in many ways from suicidally stupid ones) and we really regret having to trade Mark (which they absolutely do not regret at all) but those are the conditions that prevail (yeah, when you're squeezing those quarters so hard that George Washington wishes Cornwallis had shown a little more gumption).
It's sardonic and pitch perfect. (Although, in hindsight, the A's were correct to trade Mulder, who had one more pretty good season (ERA+ 116, 2.6 WAR), and then fell off a cliff (ERA+ 58, -2.7 WAR – WOOF!) before falling out of the league at age 30. In return, the A's got three players who created about 20 WAR over the next three seasons. Not a bad trade).
But the best part of this story, in my opinion, is Ratto's warning to sports columnists of today and tomorrow:
Ratto insists he'll be OK if he doesn't get another column. "Only because the nature of the business is changing," he said, "so there are fewer and fewer jobs that you can feel good about. More and more jobs are connected to companies that have interest in teams or leagues. Now, all of a sudden, you have to figure out, Well, how much of a whore are they going to ask me to be?"
"I can't all of a sudden become a shill," Ratto said.
---
Video of the Week:
---
PAL Song of the Week – Francoise Hardy – "Le temps de l'amour"
---
Like what you've read? Let us know by following this blog (on the right side, up near the top), or:
Email: 123sportslist@gmail.com
You're just a babbling brook of bullshit.
-Larry David