He makes that bottle of Cristal look like a bottle of MGD Light.
---
Requiem for a Great Team
Hoo, boy. The Warriors. What the hell happened? Did they tire themselves out going for 73? Maybe. But if so, I support it. They have a title already. Go for history. So what was it? Was Curry injured? He seemed good at points, but he definitely had a tougher time creating space with his dribble (see that last possession where Kevin Love defended him) and had an even tougher time getting to the rim and finishing (see that last possession where Kevin Love defended him; also see what seemed like 1,000 times he got swatted at the rim in the series against OKC and Cleveland). Did someone actually castrate Harrison Barnes? Did teams figure simply figure them out? They could have easily lost 3 or 4 against Portland; probably should have lost to OKC; and did love to Cleveland. So, maybe. Or…was there something more at work? Karma, perhaps? Back in early April, the Warriors were 68-7. They weren't playing quite as well as they had in November and December, but damn. 68-7. And then owner Joe Lacob opened up his conceited rich venture capitalist asshole mouth in the New York Times. If you haven't read it, you should. It was hilarious and dumb and widely mocked at the time. After the Warriors lost, it's even better. The most important passage was this:
"He boasted that the Warriors are playing in a far more sophisticated fashion than the rest of the league. 'We've crushed them on the basketball court, and we're going to for years because of the way we've built this team," he said. But what really set the franchise apart, he said, was the way it operated as a business. "We're light-years ahead of probably every other team in structure, in planning, in how we're going to go about things,"he said.
What an asshole. There are actually insightful moments, but there are way too many moments where you think, "God, what a rich prick."
Ok, so. 68-7. Lacob opens his big mouth. And the Warriors record since then? 20-11. That's a solid record! But that's not an all-time great team's record. So, the Warriors lost game 7 to the Cavs. You might think Lacob would, you know, tone it down.You might think that, if you don't know rich pricks. Lacob spoke this week (less than 4 days after the Warriors lost the Finals) at Stanford University (OF FRIGGIN COURSE). And he said more dumb things. Dumber things, even:
"We drove this idea of small ball, and it's a different style of play," he said. "Having said that, I think it's important to know that whenever everyone else starts doing things, it's time to start doing what's next. We're on to the next idea — How can we iterate to evolve to get an advantage? I can assure you we're very forward thinking in that regard."
Oh, REALLY, Joe? You're moving on from small ball. How are you going to do that? Are you going to trade Curry? Draymond? Both? Sign a bunch of 7'2 centers? GTFOOH. I'm tired of you. You make it quite easy to be glad the Warriors didn't win another title. -TOB
Source: "Shut Up, Joe Lacob", Patrick Redford, Deadspin (06/22/2016)
PAL: Hot take alert! Hot take alert! Here's my real take away from the NBA Finals: I'm not a true fan of basketball or the Warriors. I say that relishing and thoroughly enjoying this season. I love it! And yet, when they lost game 7 I slept like a baby. I'm a baseball fan. I love the Minnesota Twins, and I like the San Francisco Giants. I would be sick if the Twins lost a game 7 after being up 3-1. Sick and mean. When LeBron blocked Iggy my reaction was not "NO!"; rather, "Damn, that's impressive."
As far as owners go – the hell with 'em. No one cares about you, Mr. Lacob. Your recognition comes in the form of tremendous wealth and court side seats. Enjoy, because that's all you get. You can't buy admiration or credit.
---
My Problem With LeBron James
I have a problem with LeBron James. On paper, he is nothing but extraordinary – the rarest of athletes that exceeds expectation on the court and avoiding any semblance of trouble off of it. He's a superstar of the highest order, yet perhaps his signature move is a pure hustle play – the chase-down block. He hasn't forgotten where he's from, and he puts his money where his mouth is in terms of charitable work (He's committed to donating $41M – forty-one million – to send kids to college, for starters).
So why does he rub me the wrong way? For no good reason.
23. Dude, get your own number if you want your own legacy. Kobe didn't even wear 23.
The Announcement

Why I hated it: "I'm going to take my talents to South Beach."

Who in this world says "I'm taking my talents…" anywhere. What a turd.

Who breaks his home state's collective heart on national TV.

Me, me, me.

 

Why I'm wrong:

He was 26 year-old who didn't go to college and never left home…I made much worse mistakes at 26 – I can assure you of that.

Do we really care that ESPN milked his free agency for all that it was worth?

The telecast raised $6M for charities.
The Miami Pep Rally

Why I hated it: When his coronation took place in Miami, James' response to coming to Miami to win championships was "Not 2, not 3, not 4, not 5, not 6, not 7…"

Why I'm wrong: It was a goddamn party. He's having fun and getting the crowd going. Upon re-watching, he's really just going with the moment and feeding off the crowd.

 LeBron isn't cool…

and he really wants to be: You know what made Jordan cool? Me! Upon reflection, was his McDonald's ad cool? No. Was his "Be Like Mike" commercial cool? NO! Corny crap. The 10 year-old version of myself made him cool, and that shit seeps into our adult head, and we call it nostalgia. He was cool because there was some mystery to him. All we saw was panel group tested campaigns, which is the exact opposite of cool. MJ in his prime on Instagram would have absolutely lowered his cool factor. We consider Jordan cool because he didn't to try to be cool, and that's wrong; he was cool because all we knew about him is that he won and the spoonfed message Nike, McDonald's, Gatorade, and Hanes allowed us to gobble up. He was also cool because he won. And yet what made him a winner is that he was (and remains) a cold-blooded, obsessive-compulsive, single-minded m-effer on the court. Know anyone like this in your life? They are not cool!

LeBron is immature and passive aggressive

. 

Again – and, god how I hate this argument, but…social media was built upon passive-aggressive behavior. So Kevin Love wasn't in the

team photo

…and neither were 7 other dudes on the team. Besides, why is that on LeBron anymore than it's on Kevin Love? And why must 14 adult males who work together all hangout together at all times?

He's contrived and self aware.

Sure, but find me a superstar that plays harder than him (you won't). 

Find me a superstar that actively involves his teammates and at his core is more of a team player (you won't).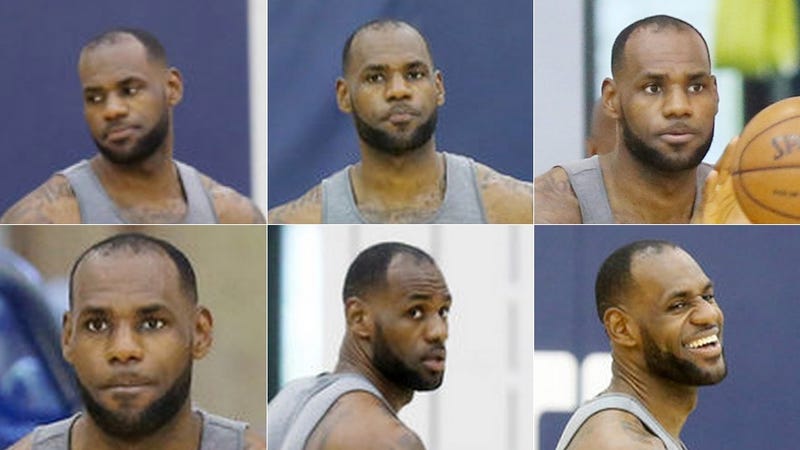 His hair. 

No joke. LeBron would get so much love if he shaved his head tomorrow and said, "I fought the good fight. It's over. I can bring championships to Cleveland, but I can't bring my hair back, no matter how hard I try." It drives me nuts that someone who has so much make a pathetic attempt at controlling the one thing – literally the only thing God didn't give him. What does that say about his personality? It says he's like just about every thirty something who's losing his hair: It sucks, and he's trying to hold on. There's nothing that makes him more human to those that don't know him than his attempt to hold onto a lost cause.
He has more influence on a sports team than any other athlete. Stop getting coaches fired, and stop demanding trades, LeBron. You aren't the GM. Just ball.
Yet no one – no one person – directly contributes to the competitive and financial success of the franchise more than LeBron James. With only 5 players on the court, no other team sport is dictated by the talent more than basketball, and LeBron might be the most talented player we've ever seen. By all accounts, he's a brilliant basketball mind, and the team rides or dies with him anyway…you could do much worse than LeBron as a GM, not to mention he isn't thinking about the long-term future of the Cavs, which fans should love right now!

Why wouldn't I support more power to the working force? The more power and influence LeBron has, the more

earning potential

the mid-level player has. While the new TV deal would have been big even if LeBron never existed, he's not a bad cherry on top either.
I still don't like LeBron James, but I don't know him either. If the worst thing he's done is be somewhat of a harmless tool who is exceptionally talented and who tries really hard, well…then I just need to let it go, because there are a lot of athletes much less talented and less accomplished than LeBron that are so very much worse than he is. All that said, he's a Yankees-Cowboys fan…so I retract everything that I've written. Only the rarest of tools claim both of those teams. – PAL
Source: "LeBron James dazzles hometown crowd in Akron title party", Dave McMenimen, ESPN (06/23/2016)
TOB: You seem to have mostly talked yourself into LeBron, welcome to the light. Everything is great here. You get to root for the best player in basketball, and will get to tell your kids you saw one of the two greatest basketball players ever play the game. But a few pointed retorts:
"Taking my talents…" – I did not know this, and NO one seems to remember, but I saw this recently:
Kobe used that dumb phrase first! Which is not really a vote in LeBron's favor because Kobe is the absolute worst. But LeBron got a ton of crap for that line, and as it turns out, he was just copying Kobe. Copying Kobe is never a good thing. I think LeBron has learned his lesson.
Jordan and "Cool" – You hit the nail on the head there. No one cool would EVER dress like this:
Or this:
MJ was great at basketball. That is about it.
LeBron's influence on team decisions: This is as old as sports. Nothing new. Magic got a coach fired in his second year, for example. He's the best player of his generation and his legacy will be determined by how many championships he wins. Damn right he deserves a say (he of course cannot blame his supporting cast if he chooses them). We also don't know how much influence he actually has. We just have rank speculation that he does.
Self-awareness: Yes, he's a little contrived and hyper-self-aware. But he's been under the national spotlight since probably his junior year of HIGH SCHOOL when he was on the cover of Sports Illustrated. And in those 15 years, he has never had one iota of trouble. His self-awareness has allowed him to do things like commit to send 3,200 kids in his hometown of Akron, Ohio to college, and unlike someone else we all love, LeBron will actually follow through.
Passive Aggression in Social Media to Teammates: How would YOU like to play with lazy a-s Kevin Love? If you've got to call out a teammate who is supposed to be an All-Star, then that's on him.
The hair: Yeah, ok. Shave that shit.
---
The Texas Rangers: Forcing Me to Publicly Agree with Bill Simmons (ugh)
You've probably seen those incessant TV ads for Bill Simmons' new HBO show, Any Given Wednesday, where he takes a page from Crash Davis and lists the things he believes in.
For example, Simmons, ever the dork, thinks soup is the perfect food. Ok, buddy. (Though the worst is the Kanye one), He closes with the only thing he says worth saying: billionaires should pay for their own fucking stadiums.
We've covered that before, but there's an especially egregious situation in Texas, where they have decided for some reason that the 22-year old Ballpark at Arlington (seriously, it opened in 1994) isn't good enough anymore, and so they're building a new one. The new stadium will cost $900M to build, it is being pitched as the costs are being split equally between the city and the team. Cool, cool. Fine. Not great. No city should spend $450M on a stadium. But it could be worse and I'm really jaded about these deals. But…as it turns out, the 50/50 split is a load of bull. You see, this deal included an "admissions and parking tax" for people who use the stadium. In most cases, this money is what the city uses to raise its share of the cost of the stadium. But not here. In this deal, the Rangers get that money themselves. It is expected to be about $300M over the 30 year financing of the deal. Which means that the city is turning tax revenue over to the team and is thus really paying closer to 80%. That is outrageous. I don't live there, but shouldn't those people be outraged? Why aren't they outraged? Why aren't they picketing? This is the side of sports that can make you so cynical. Phil, I hope you have something happier for us this week. -TOB
Source: "'Unprecedented' Clause in Rangers Ballpark Deal Will Sneakily Cost Taxpayers a Few More Hundred Million Dollars", Barry Petchesky, Deadspin (06/22/2016)
PAL: You know what else these bullshit stadium deal-with-the-devil scams do? In the spirit of not raising (or minimizing) tax increases, they pull from a general fund. This is money set aside for – you know, public schools and parks – and that fund can be depleted in the name of not raising a stadium tax. Here's a little excerpt about the new Atlanta Braves stadium (its current stadium was built for the 1996 Olympics, by the way):
"Every time a city or county funds a stadium through hotel taxes or by dipping into a general fund, local politicians and team cheerleaders proudly say that residents won't see their own taxes go up. This is a damned lie.
"Not only does putting public money toward a stadium take away money that could actually go to the public good (SunTrust Park was approved at a time Cobb County schools were desperately slashing budgets), but the general fund is no longer there to prop up existing and future bonds, forcing taxes to be raised to pay off those debts."
While there won't be a stadium tax, taxes will be raised for many other things once the general fund gets wiped out covering the stadium costs. There is no sport-related issue that I'm more passionate about than the scam that is publicly funded professional stadiums.
---
The Best Father's Day Gift J.R. Smith Could Give
J.R. Smith is, uh, colorful. He's had his ups and downs, but he just played a key role in winning an NBA title, defeating the 73-win Warriors in the process. It happened to be Father's Day. And J.R.'s dad happened to be there. During the postgame press conference, someone asked J.R. about his father, and, damn.
Is someone cutting onions in here? But don't worry, J.R. Smith isn't changing. That same night the Cavs flew to Vegas to celebrate (God, that does sound awesome. Why couldn't I have been 6'6 with a 40" vertical) and ESPN reporter Arash Markazi tweeted video of J.R. pouring an entire bottle of champagne on a female server's head. SMH. -TOB
PAL: That's nice. I'll be the insensitive turd here…my single favorite part of this video is the concert poster behind J.R. Smith's dad:
TOB: That's ok. I laughed at that, too.
---
PAL Song of the Week: Fruit Bats – "When U Love Somebody"
Check out all of the weekly picks here. It's the good stuff.
---
Video of the Week:
---
Like what you've read? Let us know by following this blog (on the right side, up near the top), or:
Email: 123sportslist@gmail.com
---
"All I'm gonna do is write essays. I don't know what they're going to be. They might be erotic. I don't know. But I'm just going to write lots of essays."
-Richard Jefferson, retiring NBA player