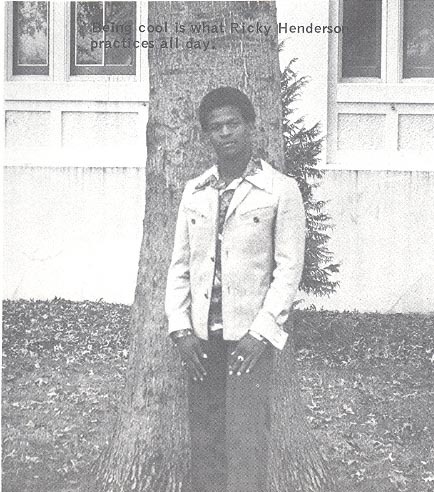 Swaggy since high school.
---
Going D-I
As fall and winter college sports begin to be cancelled or postponed, a lot of attention has been spent on the big-time football conferences and teams (Ohio State, USC, Texas, Clemson, etc.). Top prospects sitting out or missing the season, what the playoffs will look like (if any), and whether this is the moment when the major conferences officially break from the NCAA and start their own thing. We'll be talking about blue blood basketball programs, the NCAA tourney, and the game's top college prospects next. Billions of dollars, a public health crisis, and the very idea of amateurism – these are a few factors at play. 
That's one end of the spectrum, but there's a high stakes game on the other end of the D-I spectrum: schools trying to break into the D-I ranks (a four-year process). Replace Ohio State, USC, Texas, and Clemson with UC San Diego, Bellarmine, Dixie State, and Tarleton State. There's also been talk at my alma mater – Augustana, a tiny school with 1,700 students – about jumping from D-II up to D-I. 
The first step in the process is for the schools to pay the NCAA 1.7MM for a D-I application. That's a pricey bit of paperwork! What follows is an odyssey: booking non-conference games with known schools to raise the visibility of the new programs and earn some revenue in those early seasons; recruiting kids to take a chance on a program and school for which they never dream of playing, constantly trying to raise money and sweetalking rich alumni. 
For example, UC San Diego was scheduled to play TOB's Cal in its first game as a D-I basketball program. Cal would've paid for the privilege of beating up on the Tritons, and UCSD would've used the game as a centerpiece of a weeklong celebration for donors, not to mention making it a recruiting bonanza. With non-conference schedules being the first part of the schedule to go in the pandemic, the revenue, marketing, and recruiting goes with it. 
Per Brian Bennett:
COVID-19 has already wreaked havoc on guarantee games, which most low-major teams vitally need. The typical going rate for those contests has been anywhere from $85,000 to $100,000, and playing a handful of them can fund an entire athletic department. Especially with no football this fall — Dixie State was supposed to enter its first year as an FCS independent before postponing — the school hoped to make money on basketball games, most notably its road trip to BYU. 

Those guarantee games also provide a crucial and one of the only major sources of revenue during this transition. And make no mistake: Moving to Division I isn't cheap.

The NCAA charges schools $1.7 million simply to file the application for Division I membership. Dixie State and Tarleton State used fundraising efforts to pay for part of that tab.

Required facilities upgrades, required expanded coaching staffs…

UC San Diego helped fund its move with an increase in student fees. In a May 2016 referendum, students who voted approved the fees hike by a 70 percent majority. Ever since, the students have been paying $480 more per year in fees to underwrite Division I sports while waiting for an actual higher-level game they could attend on campus. Total fees over a four-year period run close to $3,500 per student.
All of that for the privilege to get whooped by Cal? What's the point? The point can be found at the end of a long play, and that point – as it usually is – is money. 
Teams new to Division I must go through a four-year transition period during which they are not eligible to compete for NCAA championships. They also don't get any money from the NCAA Tournament or other NCAA revenue streams until the transition is complete. It is up to them to balance budgets for four years until that spigot is turned on.

The ultimate goal, of course, is to grab a slice of that juicy NCAA Tournament pie. The tournament reaped a reported $933 million in revenue in 2019, and the NCAA distributes money from that pool to conferences based on performance. These are divvied up into "units," which is how the NCAA defines wins and at-large bids in the tournament field. One tournament unit — which would be what a one-bid league whose representative loses in the first round would earn — was scheduled to be worth $282,100 in the 2020 bracket that never was. Teams that advance deep into the tournament can earn millions more for their conferences.

Most leagues, like the WAC, hand out that tournament cash equally among member schools. According to a 2019 study by the Associated Press, the SWAC earned the minimum amount from the NCAA's basketball fund and received $25 million in payments from 1997 to 2018. The Big Ten brought in $340 million over that same period.

The prospect of all that dough is tantalizing, and it has led to an explosion of growth in Division I men's basketball. 
Those are big numbers. That's why the number of D-I schools has ballooned to nearly 350, that's why I wouldn't count out the NCAA basketball tourney just yet, and that's why the SEC, ACC, and Big 12 football teams are making a go of it this fall. That's a ton of money established programs and conferences are used to pocketing. It reaches all corners of the universities and the surrounding communities. And if someone is of the mind that this pandemic is being blown out of proportion to begin with (I am certainly not one of them), then it's not that far of a leap to push for games being played. 
No matter what, a big loser in all of this will be these schools just beginning their journey towards D-I relevance and revenue. This will be a tough academic year for them to keep afloat. This was an excellent read about a part of college sports we don't usually hear much about. – PAL 
Source: "Transitioning in these trying times a challenge for four new Division I programs", Brian Bennett, The Athletic (08/24/20)
---
In Appreciation of Yaz
The MLB trade deadline is Monday, and the Giants find themselves in a tougher spot than last year in answering the question: hold 'em or fold 'em? Last year they were just outside the WIld Card at the trade deadline and decided to split the baby – holding Bumgarner and Will Smith, moving Melancon, Dyson, and Pomeranz, for prospects. After a monster July got them into the playoff picture, they tanked in August and September and fell way out. Still, it's hard to say they were wrong for keeping Bumgarner and Smith: first, we don't know what offers they had on the table; second, they got compensatory picks in the June draft which gave them both more picks and more signing bonus money to spread around.
So, what do they do this year? Like last year, they approach the trade deadline on an upswing – before Thursday's brutal double header loss to the Dodgers, the Giants were winners of seven straight. Plus, in the four games prior to those seven wins, the team had blown three wins in the 9th, two of them to the A's, one of the best teams in baseball, and the two leads blown to the A's were BIG leads. And all three blown wins were at the feet of the same pitcher – Trevor Gott. If Gott doesn't go all 2001 World Series Byung-Hyun Kim, the GIants would  have entered Thursday tied for 3rd in the NL.So there is reason to think this team, suddenly in line for a playoff spot, might actually be good.
Meanwhile, the Giants traded for Mike Yastremzki last Spring for basically a can of beans. Yaz, the grandson of Hall of Famer Carl Yastremzki, had never broken through to the majors after many years in the Orioles' organization. The Giants acquired him and he made his big league debut when he was almost 29, very late for a baseball player. But Yaz has turned into a star. After a very good 2019, he is out of his mind this season. I will admit the sample size is still a little small, JIFF,  but he's putting up MVP, literally! MVP!, numbers. 
All of this begs the question: what should the Giants do with Yaz? He's now 30. His stock has never been higher. The fanbase loves him – he looks like JT Snow but puts up numbers like peak Jeff Kent, and plays the outfield like Jim Edmonds. For weeks, I've been wondering what the Giants might do with him. I would understand why they'd move a 30-year old late bloomer for a top prospect, but also…the team is in this thing! And the fans love Yaz. I was starting to get nervous, and then I read this from Roger Munter:
History tells us that prospect-for-veteran trades invariably favor the team acquiring the vets — even though our dumb lizard brains remember the ones that favor the team getting the future star. They're all John Smoltz for Doyle Alexander, right? The vast majority of prospects moved in deals turn into trivia answers ("Man, you remember who they got Yaz for?"), not stars.

So have I set the stage appropriately for why this can't and shouldn't happen? The risk involved in moving Yaz is too much to bear. End of story. The Giants front office has a bonafide win in hand — they turned career minor leaguer Tyler Herb into a Star, Capital "S." Once you've traded your broken down milk cow for magic beans and the beans led you to the goose that lays the golden egg….what exactly could another milk cow have to offer to tempt you into trading the goose for it?
Maybe I wanted the above to be true but I have to give it to Munter – he brought me back to the light. Yaz is 30, true, but he still has a few good years left, and because he's a late bloomer, he's cheap. If he's a star, he can absolutely help the next good Giants team. And, as we've seen (Dubon, Davis), trading for a highly regarded prospect doesn't always work out. At this point I'd rather have a star like Yaz for 3 years, than the chance someone like Dubon, who is struggling, turns into a star. Plus, being a fan favorite matters. 
The Giants have a lot of choices once again as the trade deadline approaches. I hope they keep the guys who are helping them win now, and can also do so in the future. -TOB
Source: "Let's Make a Deal: Mike Yastrzemski," Roger Munter, There R Giants (08/26/2020)
---
The Ultimate Bartender
Every morning starts the same. After I get my coffee and breakfast ready, I open up the laptop and start with the same three tabs: The New York Times, San Francisco Chronicle, and the Minneapolis Star Tribune. Being a St. Paul family, the Langs were historically a Pioneer Press bunch, I must say, but the non-digital subscription got to the point where even my parents switched.  
Most of the sports stories from the Star Tribune and The Chronicle could more or less be interchangeable if some team names swapped: you have your recap of the in-season sport, the 365 days a year obsession with the NFL, some homer columnist heaping unearned praise on nearest university, and a profile of some high school prodigy once a month or so. 
Sometimes I'm in danger of forgetting what sports page I'm reading, but every now and again a story like this one comes along – a story so utterly St. Paul that I nod along as a I read. 
Tim Tschida is about as St. Paul as one can get. If the name sounds familiar, then you were likely a hardcore baseball fan, because Tschida was an MLB umpire for 27 years. He got in early – he umpired his first MLB game at the age of 25 –  and got out early. He was far from an old fogie when he called it quits in 2012. So he traded his umpire uniform for a hawiian shirt and went back to the job he'd work to make some extra dollars while a minor league ump: bartender.
He started bartending at the legendary Mancini's Char House in St. Paul (damn good steak) and at Giggles Campfire at the State Fair (never heard of it). 
As Pat Ruesse puts it: 
A man constantly on the road as an umpire for 32 years, he's been single since 2012, lives in a duplex near West Seventh, works for the Mancinis and Giggles; meaning at 60, Timothy Joseph Tschida is back to being as thoroughly St. Paul as when he was a bat boy for a Jack Morris-led baseball team.
That Jack Morris reference is perfect, because when you think about it, who would have better bartender stories than a guy who umpired in the bigs for nearly 30 years? Seriously, can you imagine the tales? I mean, here's just a taste:
The one dearest to Minnesotans would be his involvement as the plate umpire on Aug. 3, 1987, when Twins starter Joe Niekro was suspected of trying to make baseballs less aerodynamically predictable for hitters.

"Joe wasn't exactly suspected," Tschida said. "We knew what he was doing. We also knew scuffing the baseball was absolutely out of control that season.

…

"I finally had to go out there. I said, 'Joe, I want to see your glove and your hands.' He turned a whiter shade, stammered a little, and then put his hands in his back pockets.

"As it turned out, he had a hunk of sandpaper trimmed and glued to the palm of his left hand. It was touched up to look like flesh. And when he wanted the extra movement, he would take off the glove and rub the baseball as if he was trying to improve the grip.

"He had his left hand in that pocket, trying to work the sandpaper off his palm while making more of an act out of going into his right pocket. He took out a small photo of his son Lance, maybe 11 or 12 then — great kid, by the way — and tried to sound defiant, saying, 'I have a picture of my son, OK?'

"Davey Phillips said, 'Dig a little deeper, Joe,' and out came the emery board. That's what most people remember, but I wouldn't have thrown him out for the emery board. I would have just said, 'Keep that in the dugout.'

"What happened is the piece of sandpaper fell out of the other pocket. Joe wound up getting a 10-game suspension and the appearance on Letterman."

Tschida paused with a smile and said:

"Best quote of the night came from Gene Mauch, managing the Angels. He said, 'Those baseballs weren't scuffed; they were mutilated.' "
My post-pandemic to-do list is growing, but I think TOB and I need to make a trip to Minnesota next summer and throw back a few local brews at Mancini's when Tchida's working and report back to the readers. – PAL 
Source: "Brew chief: Former MLB ump and St. Paul native Tim Tschida goes from behind the plate to behind the bar", Patrick Reusse, Star Tribune (08/25/20)
---
Video of the Week:
---
Tweet of the Week: 
---
Song of the Week: Bon Ever – "AUATC"
---
In Italy, you must always wash your hands after going to the bathroom. This is considered to be polite.
-Michael Scott