Life advice.
---
Jim Harbaugh Never Ceases to Amaze
I do not say this facetiously: Jim Harbaugh might be the Most Interesting Man in the World of Sports. He's a hell of a football coach. We recently covered his insane competitive streak. But Harbaugh is interesting because his interests don't stop at the turnstiles to the football stadium. Harbaugh first made a name for himself as a coach at Stanford, and he did that in no small part due to his early adoption of Twitter as a recruiting tool. He'd use veiled references to potential recruits to send them public messages, without running afoul of the NCAA prohibition against coaches commenting publicly on unsigned recruits. Some of these tweets were pretty heady, laced with obscure literary references.
So it was only with some surprise that I read Harbaugh's tweet critical of President Trump's proposed defunding of Legal Services Corp., a group providing legal aid to low income persons.
It was, however, with much surprise that I read this corresponding interview of Harbaugh by Politico. Harbaugh, it seems, has been involved with LSC for a number of years. Frankly, Harbaugh reveals himself to be well-educated on the issues LSC aims to address. For example:
One of the biggest issues that got me most fired up is how fines and fees are being used to punish the poor. I've learned how the devastating effect it can have on lives of low income Americans. I mean across the country 48 states have increased civil court fees since 2010 and they're using those fees to pay for government services and not just courts but roads and generating millions and in some states billions of dollars.
But basically the crux of it is when people can't afford to pay a fine or a fee for things like a speeding ticket or municipal violation then they get additional fees. Late fees can start piling up and these fees can double, triple, quadruple the total amount due and if somebody has an inability to pay that fine that can quickly snowball into a driver's license suspension or driver time. People aren't even able to go to work. So you can't pay a fine or a fee and then you lose your driver's license. You're not able to get to a job, and a lot of people, I mean, they've got to work.
As you can see, Harbaugh is fully into this, which should be no surprise because Harbaugh doesn't do anything half-assed. Though I do love how Harbaugh he is about it, talking about how it got him "fired up." But I really loved this exchange:
Politico: Is there a line you try to walk on political issues? There are other high profile coaches who have increasingly begun speaking out about politics.
Harbaugh: No, I wouldn't say that. I'm not saying this as a football coach, I'm saying this as an American. I'm for America first.
Politico: Well that's a Trump slogan right now—America First.
Harbaugh: I wasn't aware of that.
Politico: Yeah, he likes saying that.
Harbaugh: As [Madison] said in Federalist 51, 'Justice is the end of government, the end of civil society. It ever has been [and] ever will be pursued until it be obtained or until liberty be lost in the pursuit.'
Oh, DANG. First, Harbaugh "unknowingly" drops a Trumpism. Is it really unknowing, though? Or is Harbaugh throwing shade Trump's way? And then Harbaugh drops an off-the-cuff quote from the Federalist Papers!? Are you kidding me? Get the hell out of here, man! Harbaugh for public office! -TOB
Source: "Why Jim Harbaugh Took a Shot at Trump's Budget", Daniel Strauss, Politico (03/25/2017)
PAL: If you think that Federalist Papers quote was off-the-cuff, then I have some magic beans to sell you, TOB. I'll admit that I'm impressed he's been involved with the organization for a number of years. It's no surprise that he's all-in for real, because I can't imagine him having a passing interest in anything. All this is good—a genuinely interesting tidbit—but if you think he wasn't up the night before the Politico interview googling "justice quotes", or at least copying the quote from the bottom of the Legal Services Corp. monthly newsletter, then you're simply kidding yourself, TOB.
TOB: You continue to underestimate how deeply obsessive and weird Jim Harbaugh is.
---
What 'Hitting the Wall' Actually Means
It's a terrible, irreversible moment. We've all experienced 'hitting the wall' at some point in our lives, whether it was during your first marathon, during a competitive game back in high school, or even swimming in a lake at altitude; At some point during a physical workout, the body says 'nope', and that's the end of it, whether we realize it or not.
But what's really going on in our body at that very moment? I mean physiologically – why do our legs stop pumping and our minds get cloudy? This story, with the help from Sports Scientist Ross Tucker, provides the fascinating explanation with a painful-to-watch example, courtesy of runner Joshua Cheptegei.
In normal circumstances, e.g., out on a run at a comfortable pace in the cool evening, the brain monitors the health of the body – the temperature, the energy distribution to the muscles, blood pressure, oxygen. All this works as a complex algorithm.
In extreme situations, e.g. running in a professional cross country race in front of a hometown crowd on an 82 degree day, that algorithm can get way out of whack in a hurry. As Tucker puts it:
Body temperature is perhaps the most obvious: you go too fast, you produce too much heat, and if you can't lose it, your body temperature rises. And which organ is under threat? The brain, because it doesn't do well at all once it hits temperatures around 40C (104F). So basically, the judgment of pace is a balance between how much muscle can be activated before the potential for physical harm becomes too great.
For 9,400 meters of a 10K race, it appears to the observer that Cheptegei's algorithm is processing perfectly.
Cheptegei was sailing. Smooth, untroubled, strong—you could point to him and confidently say, "That's what running is supposed to look like." Knees high, chest forward, the look of a champion. Sure, he'd already run a blistering 8000 meters, at a pace the very experienced Kamworor would later called "suicidal," but see—he was clear, he was going to keep it up. With only five-ish minutes of running remaining, he was invincible, focused, glorious.
And then, in the amount of time it takes to make a few camera switches, this happens: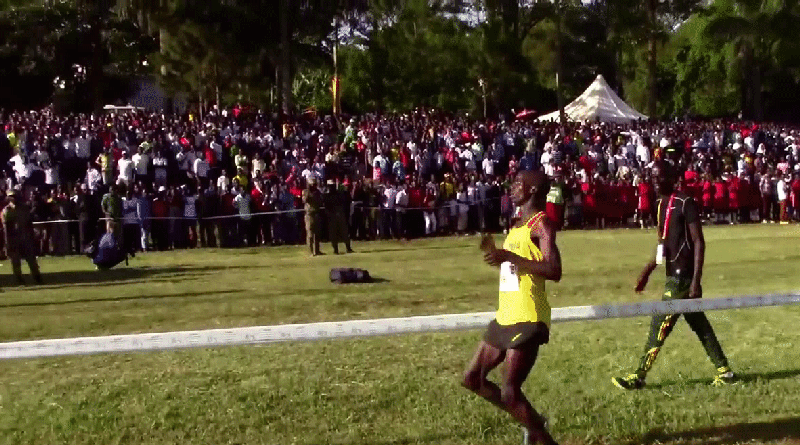 The human body is spectacular — in triumph and in failure. – PAL
Source: "Ahead For 9,400 Meters, Joshua Cheptegei Wobbles To Finish At World Cross Country Championships", Sarah Barker, Deadspin (3/28/17)
---
That Didn't Take Long
The writing was on the wall, but now it's official: The Oakland Raiders are moving to Las Vegas after Alameda County refused to publicly subsidize a new stadium. Meanwhile, Clark County (Vegas) has promised an estimated $750MM ($354 per resident) for a new stadium via a hotel tax hike.
I've given my rant on the scam that is publicly financed stadiums. Aside from the fact that this hotel tax will reduce the amount of tax dollars going to public schools, and let's ignore that Oakland and Alameda County taxpayers are on the hook for $163MM after the Raiders and Warriors leave town, what's really great about the Las Vegas Raiders is how quickly this became so, shall we say, strippy.
[B]ordello owner Dennis Hof plans to open a new Raiders-themed 'sex palace' some 70 miles away from the Las Vegas strip. It will reportedly be called the Pirate's Booty Sports Brothel and it's scheduled to open in 2020, around the time the Las Vegas Raiders stadium will open.
I wonder if Hof will have to pay a licensing fee to the NFL? Whatever the case may be, Raiders players and staff should rest assured they'll be taken care of in the brothel department: Hof also plans to give Raiders players and staff a 50% discount. – PAL
Source: "Raiders-style brothel already planned for Las Vegas area", Alyssa Pereira, SFGate (3/28/17)
---
Video of the Week: 
---
PAL Song of the Week: Willie Nelson – "Stay a Little Longer"
---
Like what you've read? Let us know by following this blog (on the right side, up near the top), or:
Email: 123sportslist@gmail.com