On the weekend we celebrate one of our most loyal readers, the many faces of Ryan Rowe.
---
Yip, Yip, Yip.
ESPN has a very interesting and well-researched story about LeBron James' free throw struggles this season. Whereas most free throw shooters, especially the good ones,  maintain the same pre-free throw routine for their entire careers, LeBron who is right at the league average for his career, has altered his pre-shot routine considerably throughout this season, and even within the same game. Whether it is blowing into his right hand, rocking back onto his left foot, or shrugging his shoulders, LeBron has employed 18 distinctive variations to his free throw routine this season, and he has used those 18 variations in countless combinations. Why? LeBron, shooting only 67.9% from the line, by far the worst of his career, might just have the "yips".
http://www.espn.com/video/clip/_/id/19417706
It is, surprisingly, affecting how LeBron plays the game. This season, he took only two free throws (on the same trip to the line) in the final minute of a one possession game – way back on December 29. That's it. That placed him in a tie for 117th, with a couple guys I've never even heard of. That's not normal for LeBron. He's averaged 18 such shots per season in his career, with as many as 32 in 2007-08. This tells us his free throw woes are changing the way he plays, because he is simply not trying to get to the rim in late and close situations. Could this affect his quest for a fourth title in the rubber match against the Warriors? It very well might.
There was another interesting nugget in this story:
In 1993, a white-haired podiatrist from Long Beach, California, named Tom Amberry etched his name in the Guinness World Records by making 2,750 free throws in a row. In March, Amberry died at age 94, leaving behind a 144-page manual, published in 1996, on mastering free throws. It includes seven steps to successful free throw shooting, stressing the importance of keeping things simple and routine. In a 1994 Sports Illustrated profile, Amberry offered this advice: "You have to perfect all parts of your technique, then it's just focus and concentration. A free throw takes six seconds, and you can't think of anything else during those six seconds — you have to put all other thoughts out of your mind. Each shot is a separate shot, and it's the same ritual every time."
First of all, 2,750 consecutive free throws made is incredible, moreso for a guy who was 70 years old. Second, I reeeeeeeally want to find that manual. How can someone write a 144-page manual on how to shoot a free throw? I bet it's insane and hilarious. Someone find it for me. -TOB
Source: "Fifteen Feet of Trouble", Tom Haberstroh, ESPN (05/19/2017)
---
Becoming Curry
Danny Chau writes about Game 1 of the 2013 Western Conference Semifinals between the Warriors and Spurs, the night Steph Curry broke out and started to become the unstoppable force we know him as today. Prior to that postseason, Steph Curry was a pretty good, oft-injured, player mostly known for his outstanding three-point shooting, and not much else. He missed the majority of the previous season with the latest in a long line of ankle injuries that appeared to seriously threaten his career, and he was still so skinny that it just seemed impossible a guy his size could ever withstand the physical grind of an NBA season.
I'll never forget that series, because I was particularly invested in the Warriors' playoff success. Indulge me. That season, I was involved in a game of Turnerball, invented by my friend, Turner Sparks. Turnerball is simple. Starting at the all-star break, each player picks three teams to win a game, straight up, each week. You cannot pick a team more than once. After the regular season ends, the players then select who they think will win the NBA title in order of their regular season finish in a draft conducted through e-mail.
I had the 9th pick, and I was eyeing the #6 seed Warriors, playing the #3 seed Nuggets. Complicating matters was the fact I was on my honeymoon during the draft, and in fact would be on a long flight when the #7 and #8 selection was to be made. I was hoping the Warriors would be available when I landed. When I did, I turned on my phone and eagerly checked my e-mail. Despite having warned the group of my flight, I had a few e-mails wondering what the hell was taking so long, but I didn't mind because the Warriors were there.
As I expected, the Warriors pulled the first round upset against the Nuggets (who were selected fifth in our draft). They went on to play San Antonio in the second round, and though they lost, Curry was a one-man wrecking crew. The offense was get Steph the ball, get out of the way, and let's hope he shoots us to a win. The Warriors absolutely gave away Game 1, and still got the series tied at 2, before the Spurs closed it out in Games 5 and 6.
But Curry put the league on notice. He had arrived. He did things we've never really seen before – taking deep, contested threes, and making them over and over at a clip (watch the video above, but the shot at 03:52 into the video is illustrative). He might be my favorite basketball player to watch, and it all started in 2013, coming full circle this week when the Warriors brushed aside the Spurs, albeit without the retired Duncan or the injured Parker and Leonard, in four largely noncompetitive games in the Western Conference Finals. A rubber match with Cleveland awaits, and I can't wait to see the best team and most exciting player against the best player. -TOB
Source: "The Night Steph Curry Became a Star", Danny Chau, The Ringer, 05/23/2017
---
Missed It By That Much
It's one thing to never come up short on a dream by a lot. Take, for instance, me. I dreamt of playing for the Minnesota Twins when I was a pipsqueak. Spoiler: It didn't happen. It was never going to happen. I got over it.
It's another thing to come up short on a dream by the thinnest of margins. That must be a little harder to get over. That's what Billy Witz's story is about – the guys who made the last out in a World Series.
We've all heard it. Hell, many of us probably uttered the familiar lines while playing in the back yard. Bottom of the ninth. Two outs. Down by 3. And [enter your name here] walks to the plate as the [enter your team] last hope for a World Series…
Michael Martinez, a utility infielder for the Indians last year, lived a real version of that. So did Babe Ruth, Jackie Robinson, Tony Gwynn, Carl Yastrzemski, Willie McCovey, Mike Piazza and Honus Wagner. And they all made the last out of a World Series. Read the story below to learn of the incredible way in which Ruth ended the 1926 season.
This story is also about Martinez, and his journey to that moment when he grounded out to Kris Bryant, ending the Cubs 100+ year championship drought (and extending the Indians 65+ year drought).
Baseball is the best. – PAL
Source: "We All Remember the World Series Celebration. How About the Guy Who Made the Last Out?", Billy Witz, The New York Times (5/22/17)
---
The Time Tupac Ran Into the Long Beach Poly Football Team at an In-N-Out in Barstow Just Hours Before He Was Shot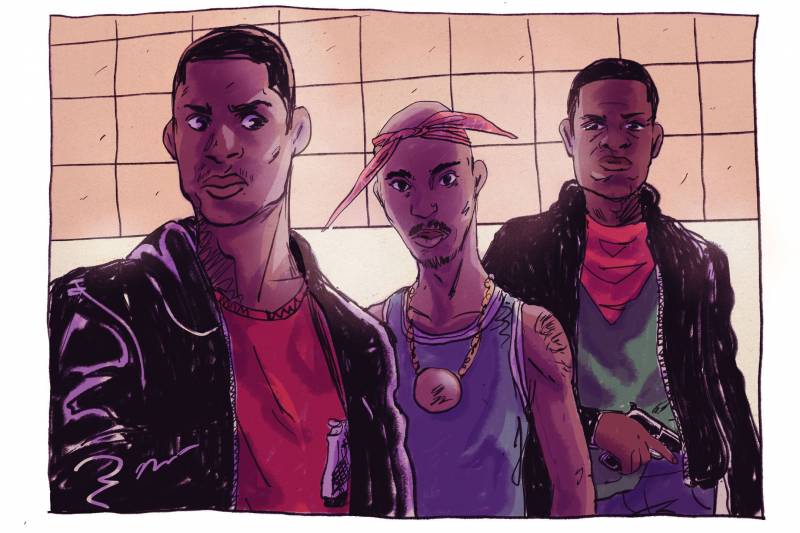 That title was a mouthful, but there's really no other way to put it – and this is a fun story. Long Beach Poly is one of the country's best high school football programs, producing tons of talent over the years, including DeSean Jackson, JuJu Smith-Schuster, and Willie McGinest. In 1996, the coaches decided it was time to take the team on their first out of state road trip. They decided to go to Las Vegas, to play the defending Nevada State champions. It was a disaster. A team of mostly inner-city kids from Long Beach staying on the Las Vegas Strip? Yeah, most stayed out all night drinking and gambling…what you do in Vegas. Predictably, the team was listless the next day and got their butts kicked. On the way back, they stopped at an In-N-Out in Barstow. Who happened to be at the same In-N-Out, heading to Vegas?
After the two buses pulled into the allotted parking spaces along the northern side of the In-N-Out, players wearily rose from the green vinyl seats, when Robert Hollie, the Jackrabbits' backup quarterback, gazed out a window and said, softly at first, "Yo, it's Pac!"
What?
"It's Tupac!" he yelled. "It's Tupac!"
That's right. Tupac. Pac and his crew happened to be heading to Vegas to see the Mike Tyson/Bruce Seldon fight that night. Suge Knight was there, too. The kids made a bit of a mistake, though:
Hollie and Gary Barnes, a nose tackle, led a dozen or so teammates toward Tupac. According to multiple witnesses, the rapper had his back toward the players and was speaking loudly—and animatedly, with his hands—to the small number of Knight's Mob Piru members beside him. They were leaning against the black SUVs. At one point, Tupac heard the approaching footsteps and spun. Meanwhile, two of his colleagues pulled out what looked to be Glocks. Hollie, Barnes and the others stopped in their tracks. "Bloods, you can't be walking up on me like that!" Tupac yelled. "You don't know me like that!"
"He was extremely paranoid," Croom says. "He started cursing—he was irate. We were just kids, so it was definitely an overreaction."
"He yelled, 'Don't run up on me!'" Lewis says. "The guys with him were big dudes. Really big."
According to Rideaux, Tupac looked over the Long Beach Poly group, noted the collective youth and seemed to calm down. Around this point Knight had returned from inside the In-N-Out, and the players were equally shocked to be in his presence. "It was crazy," Lewis says. "Not your ordinary rest stop break." Tupac realized the teenage boys did not pose a threat.
"Where are all y'all little niggas from?" he asked.
"We're from Long Beach," Hollie replied.
"Oh, so y'all know my homie Snoop?" Tupac said.
A few nodded. They did indeed.
Everyone seemed to take a deep breath. The Glocks were put away.
"When we first approached Tupac, I wasn't star-struck—I was scared," recalled Rideaux. "There was this feeling of anxiety and unease. Growing up in Long Beach, you had these moments when the police would pass you and slow down to question you, even though you did nothing wrong. And you get that anxious feeling in your stomach. That's how this felt at first.
"But because of the way Tupac embraced our group, it got a little lighter. A couple of guys peeled off as soon as they saw the guns and heard him talk angrily. But those of us who stayed around connected with him. It was brief, but it was a little connection. So that was nice."
Tupac would be shot later that night, and died a few days later from the injuries. Reading the above, I can't help but wonder – was living in fear like that Tupac's every day life, or did he know something was up on that particular day? The story reminds me of the time I stopped at a fast food spot in the middle of I-5 in Nowhere, California, and in front of me in line was the WWE's Big Boss Man and Dustin Runnels aka Golddust. I was not a huge wrestling fan at the time, but I knew them both from when I was as a kid. Still, it wasn't Tupac. What a wild story. I can't believe it took nearly twenty years to tell it. -TOB
Source: "Tupac, Glocks, and In-N-Out: A Football Team's Run In With the Rapper Revealed", Jeff Pearlman, Bleacher Report (05/23/2017)
---
Video of the Week
---
PAL Song of the Week – There's only one choice on this bachelor party weekend…Banda MS – 'El Mechon'
---
Like what you've read? Let us know by following this blog (on the right side, up near the top), or:
Email: 123sportslist@gmail.com