Merry Christmas, everyone!
---
Another Side of Charles Barkley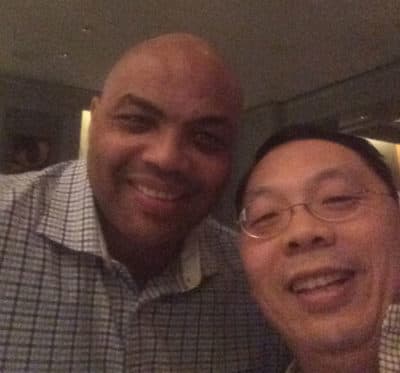 1-2-3 reader Alex Denny sent us this utterly fantastic story. If you read a good story, please send it our way at 123sportslist@gmail.com or on Twitter – @123sportsdigest.
Shirley Wang described her dad with the following:
He wore striped, red polo shirts tucked into khaki shorts and got really excited about two-for-one deals. He was a commuter. He worked as a cat litter scientist in Muscatine, Iowa. In short, he was everyone's suburban dad.
Lin Wang and Charles Barkley met in a hotel bar, and a friendship grew from there. On the surface, the most impressive detail about this story is that Charles Barkley became friends with a fan he met in a bar in Sacramento, and who earned a living as a cat litter scientist, but that's just on the surface. In Lin Wang's telling of this story – her favorite dinner party story (obviously) – she plays two roles: she serves as a stand-in for the reader with a healthy dose of skepticism about the true nature of the friendship, and she is the daughter who learns how proud her dad was of her from Charles Barkley.  
When Barkley's mom died in 2015, Lin Wang flew to Leeds, Alabama and just showed up. This past June, Barkley returned the favor and showed up at Lin's funeral in the outskirts of Iowa City.
Wang's story is a fresh example of true friendship. Lin Wang and Barkley connected over similar upbringings, they were immensely proud of their children, and they both liked to have a good time. As Shirley Wang puts it:
It was not just a relationship with a celebrity — it shed light on the possibilities of this world. A world where someone like him could just say something cool, something charming, and befriend someone like Charles Barkley.
This is a late entry into one of my favorite stories from 2018, and it was featured on the 12/14/18 episode of the Only A Game podcast. More than worth your time. – PAL
Source: "Dad's Friendship With Charles Barkley", Shirley Wang, WBUR (12/14/18)
---
Should Kyler Murray Choose the NFL or MLB?
Last year, Kyler Murray was Baker Mayfield's backup at Oklahoma. Fast forward 12 months – he had a great baseball season and was drafted 9th overall by the A's, receiving a $4.66M signing bonus. The A's let him play one more year of football, and he won the starting job at Oklahoma. Then he went out and won the friggin Heisman, and is preparing to lead his team against Alabama in the college football playoff. So, it's been a good year.
But things are about to get more complicated. Murray has a big decision. Murray had previously said he'd play baseball – hence the high draft pick and big signing bonus from the A's. But no one expected his football season to go this well. So what should Murray do?
The general consensus is that he should play baseball. It's better for his health, and that can't be understated. There's also a chance for a 20+ year career, and once you hit free agency in baseball, the money has the chance to be much better (not to mention guaranteed). But therein lies the rub.
Before Murray gets to baseball free agency, he's in for a long and unglamorous road. As Michael Baumann puts it:
If he chooses baseball, he'll start his professional career, if he's lucky, with Oakland's Low-A team in Beloit, Wisconsin. (I've been to Beloit, by the way. It's more depressing than playing for the Browns.) There, Murray will play in front of crowds of hundreds, taking long bus trips in the Midwest League, until he gets promoted to High-A and does the same thing in Stockton, California, then he'll do the same thing in Double-A in Midland, Texas. If Murray starts in Low-A and advances one minor league level per year, it'll take him until 2022 to even get to an interesting minor league city (Triple-A Las Vegas). If Murray goes into the NFL draft, 2022 would be the last year of his rookie contract.
Then, if Murray makes the big leagues, Oakland will have the ability to pay him the major league minimum for three years, and he'll be under team control for at least six seasons, probably seven. It's true that baseball is far more lucrative than football for players who reach free agency. But while Samardzija did, the average big leaguer doesn't. That goes double for draft picks, even high draft picks straight out of college. The median career bWAR for the no. 9 overall draft pick is 0.0.
Thus, Baumann argues, Murray should take the guaranteed eight-figure deal in the NFL. It makes some sense. He's got $4.66M in the bank, but that's going to need to last him a while. But he's going to need that to last, because he'll be paid less than minimum wage for the next few years in the minors, and then league minimum for a while after that. And then, as Baumann points out, there's huge bust potential. About 50% of players drafted 9th never produce in the big leagues. Meaning they're not getting that big free agency money.
The major flaw in Baumann's argument is that it assumes Murray will get an eight-figure guaranteed deal in the NFL. I don't think that's a sure thing. He's only 5'10, which is a perfectly normal height, but short for an NFL quarterback. He'd also need to be in the top dozen or so picks of the first round to get those eight figures guaranteed, and if he slips to even the first pick of the second round, his signing bonus will be smaller than the one he got with the A's.
It's hard to gauge Murray's NFL projection right now. His baseball status undoubtedly deflates his value; still, USA Today has a 3-round mock draft and Murray is not in it. If he gets a first round grade, I would agree with Baumann's assessment. But otherwise, baseball seems like the safer (figuratively and literally) bet. -TOB
Source: "The Completely Logical, Financially Prudent Argument for Kyler Murray Choosing the NFL", Michael Baumann, The Ringer (12/19/2018)
---
The Committee of 101
When I think of booster clubs, I think money, private jets, and generally seedy behavior around major college sports programs. So I was happy to come across this story of Kentucky's Committee of 101. The club is a group of old-timers that, more than anything, volunteer their time. Since the 1960s, the group, now more than 300, volunteer at basketball and football games and organize team banquets. Back in the 60s, they were a bit more involved with the recruiting until the NCAA nixed that. Adolph Rupp's assistant at the time, Joe Hall, saw the potential advantage the 101 could give to Kentucky:
What Hall wanted most was help with recruiting. He was not shy about enlisting the Blue Coats, whether it be to feed the families of visiting players in a postgame hospitality room, call prized prospects and make a pitch, bombard their mailboxes with letter-writing campaigns or show up in force at a high school game, decked out in those not-so-subtle blue blazers — all in an effort to make it clear just how much Kentucky fans love their basketball program. Sometimes, Hall would even get a club member to drive him across the state to see a recruit so the busy coach could catch a few winks in the passenger seat.
"Joe worked extremely close with us. He'd assign it, 'Hey, call this guy,' " says 81-year-old Rex Payne, a former IBM employee who did not get in on the original telegram but joined the club the next year. Like Trosper, he's still working games at Rupp Arena more than a half-century later. His and the 101's role is a lot different these days. "We would go to a high school game and wear all our stuff and sit in a big group so a player would look up in the stands and see all that blue and go, Wow. We went up to see Kent Benson, which didn't turn out too well, but Joe did convince him to come down to visit Kentucky and we made a big poster for him. I'd gotten a program from his high school game and he was on the cover, so the (club) president said, 'Take that and see if you can blow it up.' We went to a printer here and blew it up a little bit bigger than life-size, so when he got off the plane, we were holding that up and he did quite a double-take."
Look, it's likely that cheating back in those days was just a little more Rockwellian than it is now, but the idea of regular fans getting involved with a team to such an extent comes off as interesting and fun, almost as fun as the story about how they got the name Committee of 101.
The club started when some UK fans over at IBM thought it would be fun to send a telegram to Rupp's 1966 team, wishing good luck before a game. As the season went on, more and more guys wanted to add their names to the telegram, until they finally tallied an even 100 names on the telegram.
"But then one of our buddies came hollering, 'Wait! I want on there! I want on there!' " the now-85-year-old Weir tells The Athletic. "That's the whole reason we became the 101, because one more guy showed up at the last minute. Lyle wrote something like, 'From the 101 to No. 1' and it listed all of us. Coach Rupp must've really liked that, because he mentioned us on his television program the next Sunday. He says, 'My gosh, there must've been a thousand names on that thing!' It's really what got us started, because when Coach Rupp said that on TV, we thought, We ought to make a club out of this."
Fun read about what endears a program to its fans. These traditions, almost as much as the success of the team, keep people connected to their college teams. – PAL  
Source: "It's the People, Like the Committee of 101, That Make Rupp Arena What It Is", Kyle Tucker, The Athletic (12/18/2018)
---
Old Timey Baseball Player Name of the Week
---
Video of the Week:
---
Tweet of the Week
---
PAL Song of the Week: 'Silver and Gold' – Burl Ives
---
Like what you've read? Let us know by following this blog (on the right side, up near the top), or:
Email: 123sportslist@gmail.com